How To Veganise Your Bakes
Prep
The world of vegan baking can sometimes seem quite daunting and yes, it may take a bit of persistence and testing to achieve that perfect recipe that you are going to want to bake time and time again.

The great thing however is that the replacement baking ingredients that you might need are much more readily available in supermarkets. Plus websites like Baking Mad and Pinterest are brimming with vegan recipe inspiration.

Here at Baking Mad, we have a varied team, who like much of the population, have intolerances too and we are passionate about building up our existing recipe collection of free-from recipes. We have been experimenting with baking substitutions such as Aquafaba (check out our The Aquafaba-ulous Egg Free Alternative article) and there is much more to come.

We have broken down below some of the simple ingredient swaps that you can make to help Veganise your bakes.


Butter


Most baking recipes contain butter as a staple ingredient but this can be swapped like for like with the folllowing; vegan butter, coconut oil, most brands of margarine (check the ingredients) and olive oil.

Eggs

We have touched on how Aquafaba works as a good egg substitution but if the thought of chickpea water isn't for you, why not try puréed Tofu (1 egg = 57g tofu) or mashed banana (1 banana per each egg required in the recipe) Alternatively, why not utilise ingredients you already have in your baking cupboard? Did you know 1 tsp of baking soda mixed with 1 tbsp water and 1tsp of oil is the equivalent to using 1 egg? For more egg substitutions have a look at our handy Egg-less article with printable PDF you can stick to your fridge or recipe book.


Milk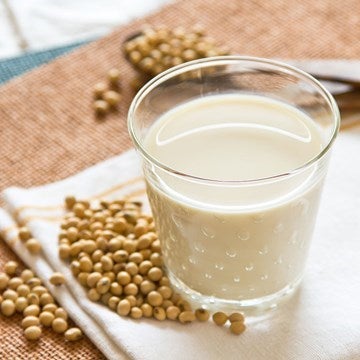 Supermarket aisles these days are full of every variation of milk imaginable, which makes substituting animal milk in bakes much easier. If your recipe calls for buttermilk try whipping up your own using soy milk with 2 teaspoons of vinegar (we like apple cider vinegar for this substitution because the flavour is quite light). Coconut milk makes a great alternative for condensed or evaporated milk. For a cream replacement, chill coconut milk for 48 hours in the fridge and use the thicker milk at the top of the can in your bakes.



Sweeteners

You will find that most sugars are suitable for vegans but if your recipe calls for honey a simple and delicious twist is to swap this out for maple syrup. This will give you the same consistency and sweetness required.


We hope that this guide proves helpful with your vegan bakes.