Homemade Hot Chocolate
Prep
Homemade Hot Chocolate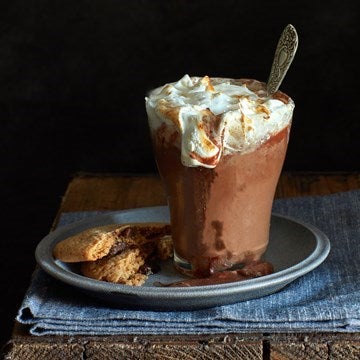 There is no greater comfort than snuggling inside on a cold Autumnal day with a delicious creamy mug of homemade hot chocolate.

Obviously it has to be the greatest, all the trimmings hot chocolate too. We are talking, sweet chocolate, topped with helpings of thick cream and ground cinnamon. You could even add your favourite tipple or a handful of marshmallows too.

Juliet Sear has created the Ultimate Homemade Hot Chocolate recipe that we just had to share. It would be rude not to…

Prep Time: 5 mins

Make Time: 10 mins

Serves : 2


Ingredients

450ml Whole milk

100g 72% cocoa chocolate, finely chopped, grated or blitzed

60g Good quality milk chocolate (minimum of 35%) finely chopped

75ml Single cream

Large pinch Ground sweet cinnamon

Pinch Salt

1-2 tsp Billington's Unrefined Golden Caster Sugar to taste

Optional ingredients

Dash of your favourite tipple

Marshmallows to serve


Method

1. Warm 150ml of milk in a pan over a gentle heat (you should see steam rising), and stir in the chocolates. Continue to stir until the chocolate has melted into the milk, then whisk in the remaining milk and the cream.

Top Tip: It's easy to get accidentally take your mind off things and burn the milk. Boiling over results in a bitter aftertaste. Not something you'd enjoy drinking! Make sure you keep focus when stirring, as it'll be worth the taste.

2. Heat for a few mins until the mixture is hot, but not boiling then add the cinnamon and a pinch of salt. Add sugar to taste.

3. Add a dash of your fav' tipple if you wish (Brandy, Grand Marnier and Baileys work really well!) For a frothy finish, whisk vigorously with a whisk or milk frothier before serving and if desired top with some mini marshmallows.