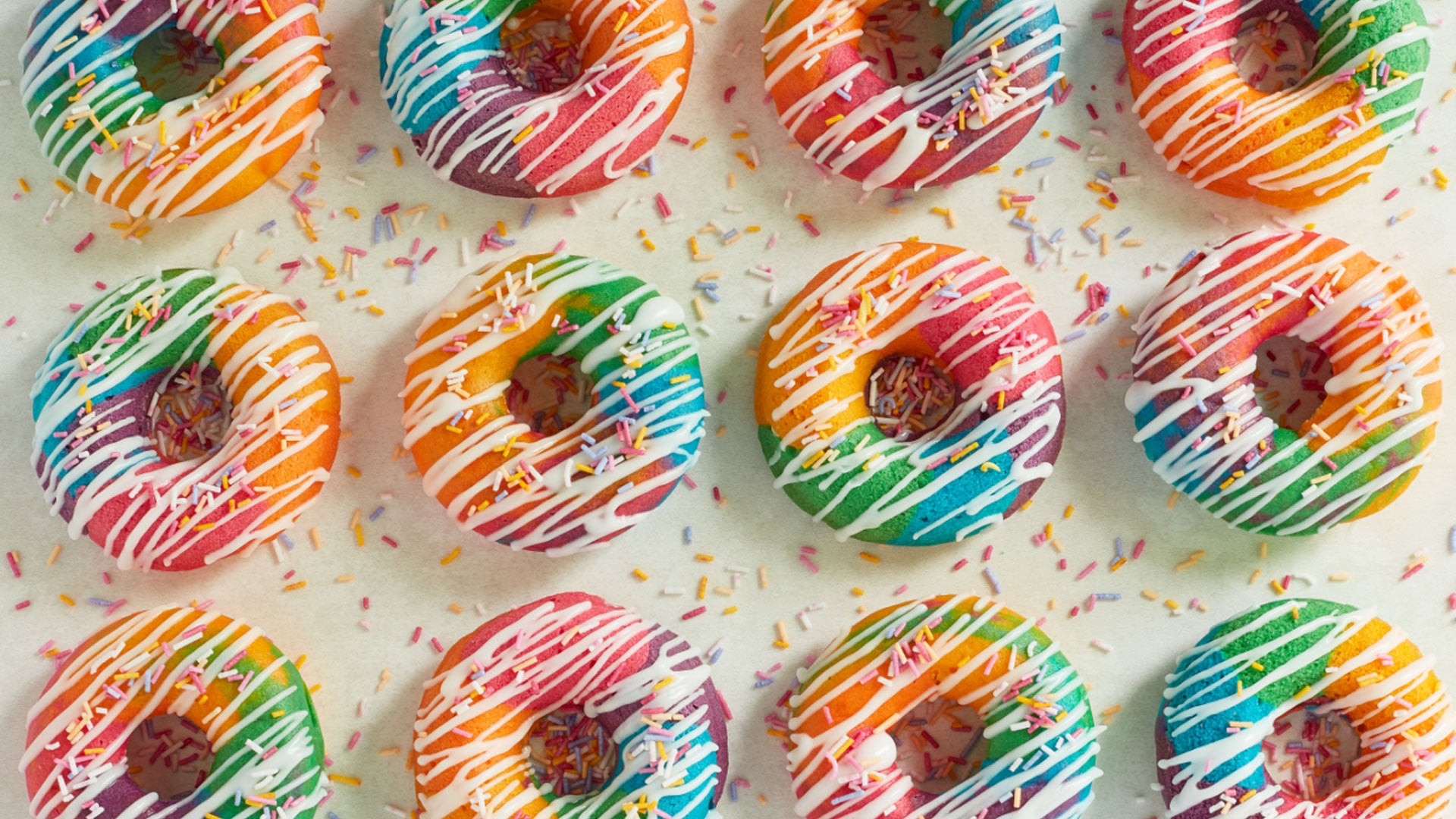 About our Baked Rainbow Doughnuts recipe
Rainbow doughnuts are such a fun way to make doughnuts. These colourful tasty treats are great for adults and children alike.
To get the rainbow colours, we recommend using gel colours rather than liquid as the gel colours tend to be brighter and don't lose colour through the bake. Treat your family to rainbow doughnuts this weekend!
If you enjoyed this recipe, give our rainbow traybake a try!
Method
Step 1:

Preheat your oven to 180ºc (160ºc fan), gas mark 4. Combine the dry ingredients together in a bowl and then gradually add the wet ingredients (except the dyes) until just combined.


Step 2:

Divide the batter equally into 6 bowls and colour with each of the food colourings.


Step 3:

Using a teaspoon (or piping bag), place the coloured mixtures in small amounts into each cavity of the doughnut pan, until 3/4 full. Swirl a little to acheive a marbled effect, or leave the colours in blocks.


Step 4:

Bake for 15 minutes or until the doughnuts have risen. Remove from the oven and allow to cool in the tin for a few minutes before removing to completely cool on a rack.


Step 5:

To make the icing

Combine the icing sugar and lemon juice in a bowl. Mix these together until a runny icing has formed. If it's too thick, add more lemon juice, a teaspoon at a time. If it's too runny, add a tea spoon of icing sugar at a time to thicken it.

Wait until the doughnuts have completely cooled before decorating them. Once iced, top with sprinkles, or however you like!




Best way to ice your doughnuts

Hold each doughnut by it's edge and drop this into the icing. Fish it out and this will leave the top covered nice and evenly.
Ingredients
For the Batter

300g

 

Self Raising Flour

120g

 Silver Spoon White Caster Sugar

1/4 tsp

 

Salt

190g

 

Greek yoghurt

1

 

Egg

80ml

 

Olive oil

80ml

 

Milk

1 tsp

 Nielsen-Massey Vanilla Extract

3 squirts

 

Food colouring x6 colours

For the Glace Icing

110g

 Silver Spoon Icing Sugar

3 tbsp

 

Juice of one whole lemon
Utensils
Mixing bowl

Doughnut pan

Teaspoon or piping bag

Cooling rack
Recipe Reviews
The doughnuts look amazing but unfortunately the taste does not match up. The doughnuts themselves are not sweet enough. The flavour of the greek yoghurt is too strong and the glaze is just awful. We re-made them using more sugar in the batter and we substituted the lemon juice in the glaze for water. They were much nicer the second time around.
I think you have missed some steps out!
There's me thinking doughnuts are fried! You also missed out some equipment, not sure a whisk is important but a "doughnut pan" might be.
Ingredients
For the Batter

300g

 

Self Raising Flour

120g

 Silver Spoon White Caster Sugar

1/4 tsp

 

Salt

190g

 

Greek yoghurt

1

 

Egg

80ml

 

Olive oil

80ml

 

Milk

1 tsp

 Nielsen-Massey Vanilla Extract

3 squirts

 

Food colouring x6 colours

For the Glace Icing

110g

 Silver Spoon Icing Sugar

3 tbsp

 

Juice of one whole lemon
Utensils
Mixing bowl

Doughnut pan

Teaspoon or piping bag

Cooling rack