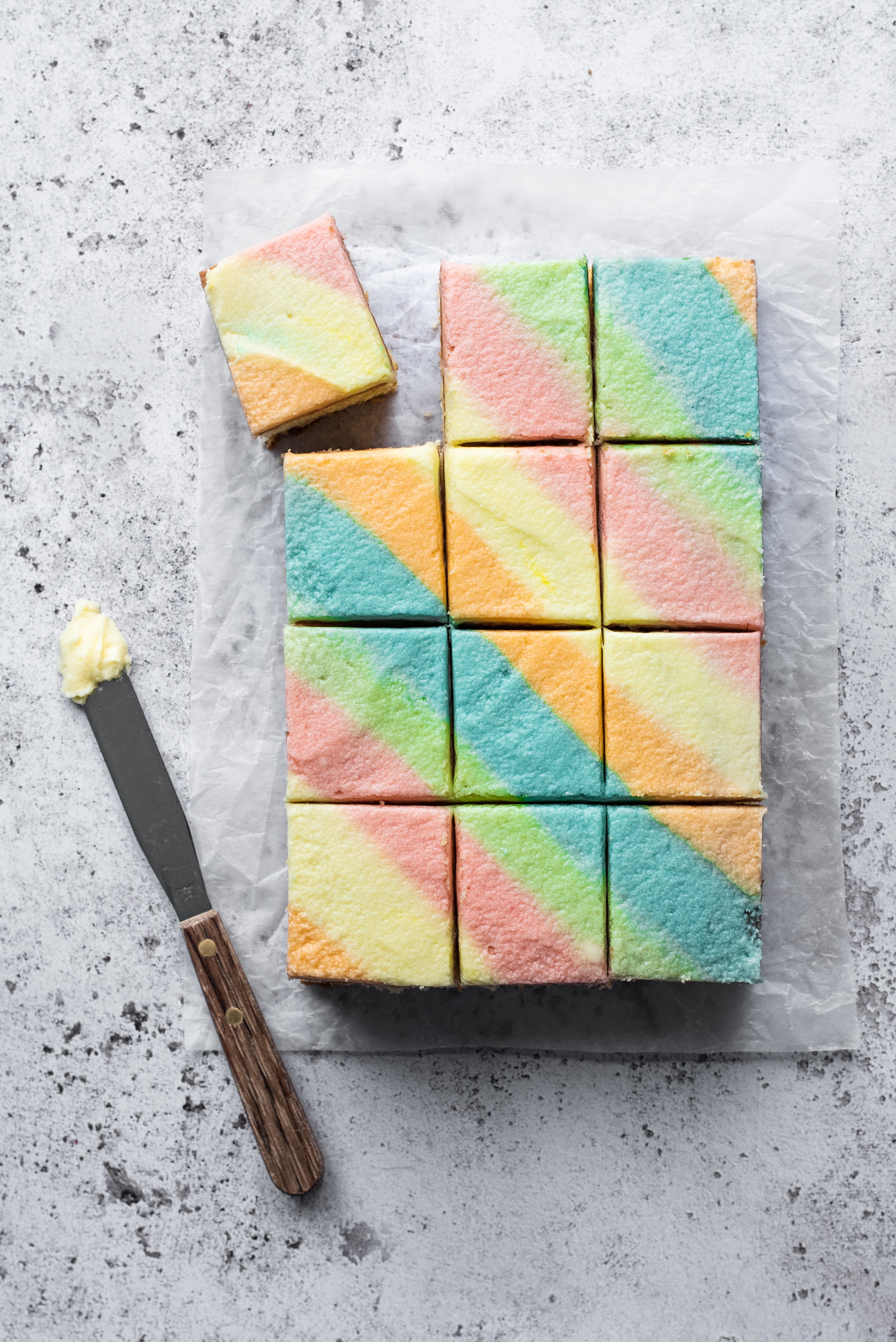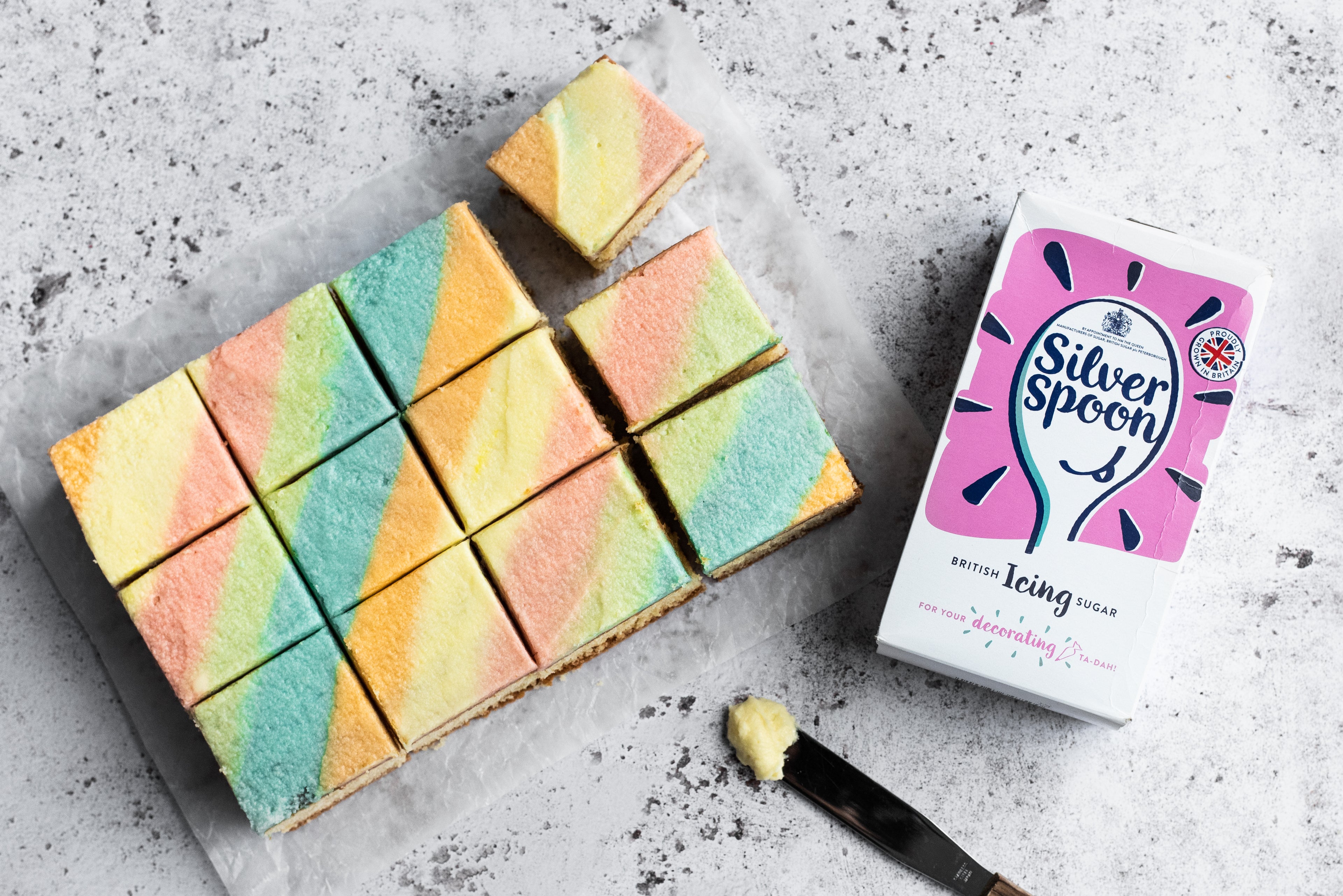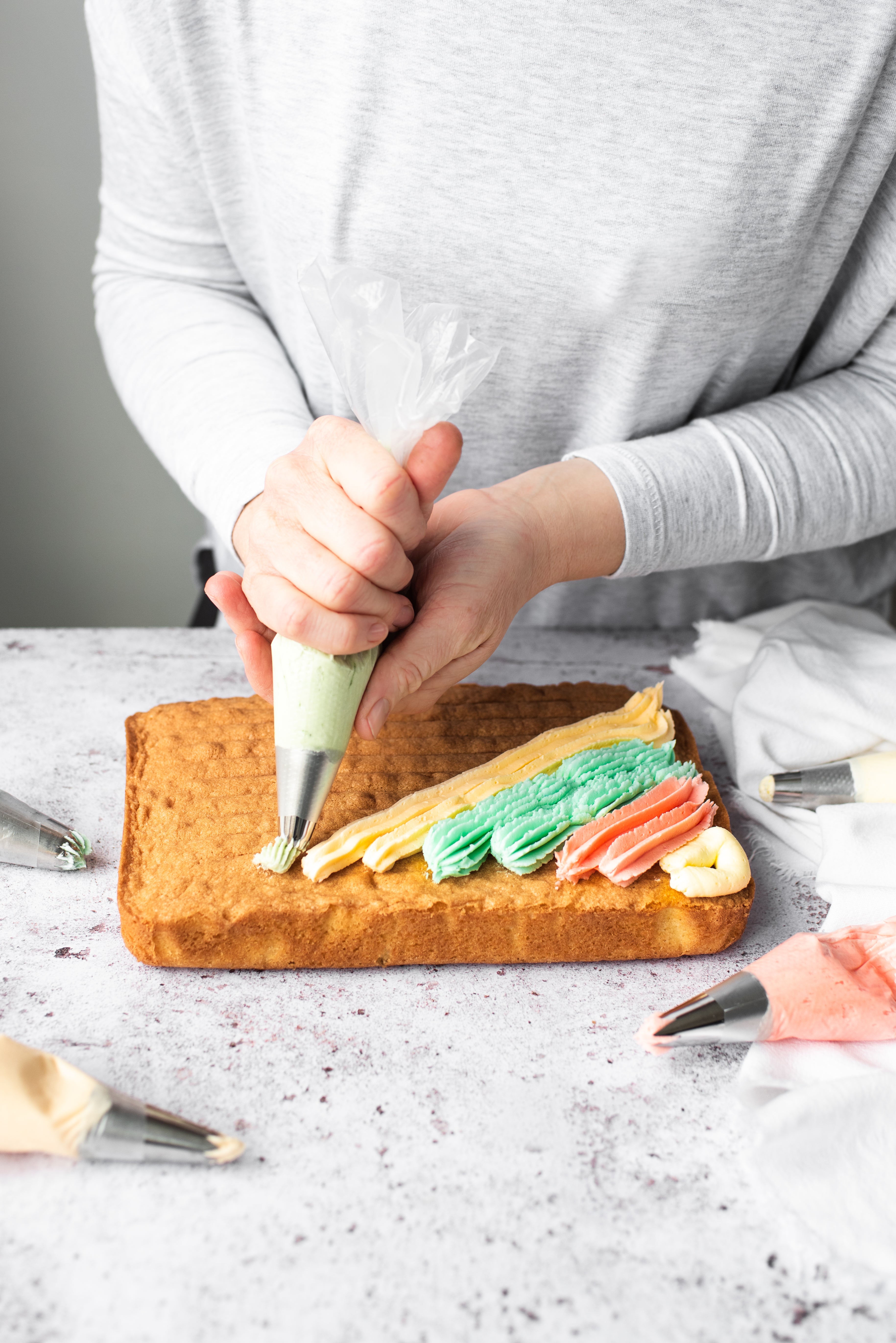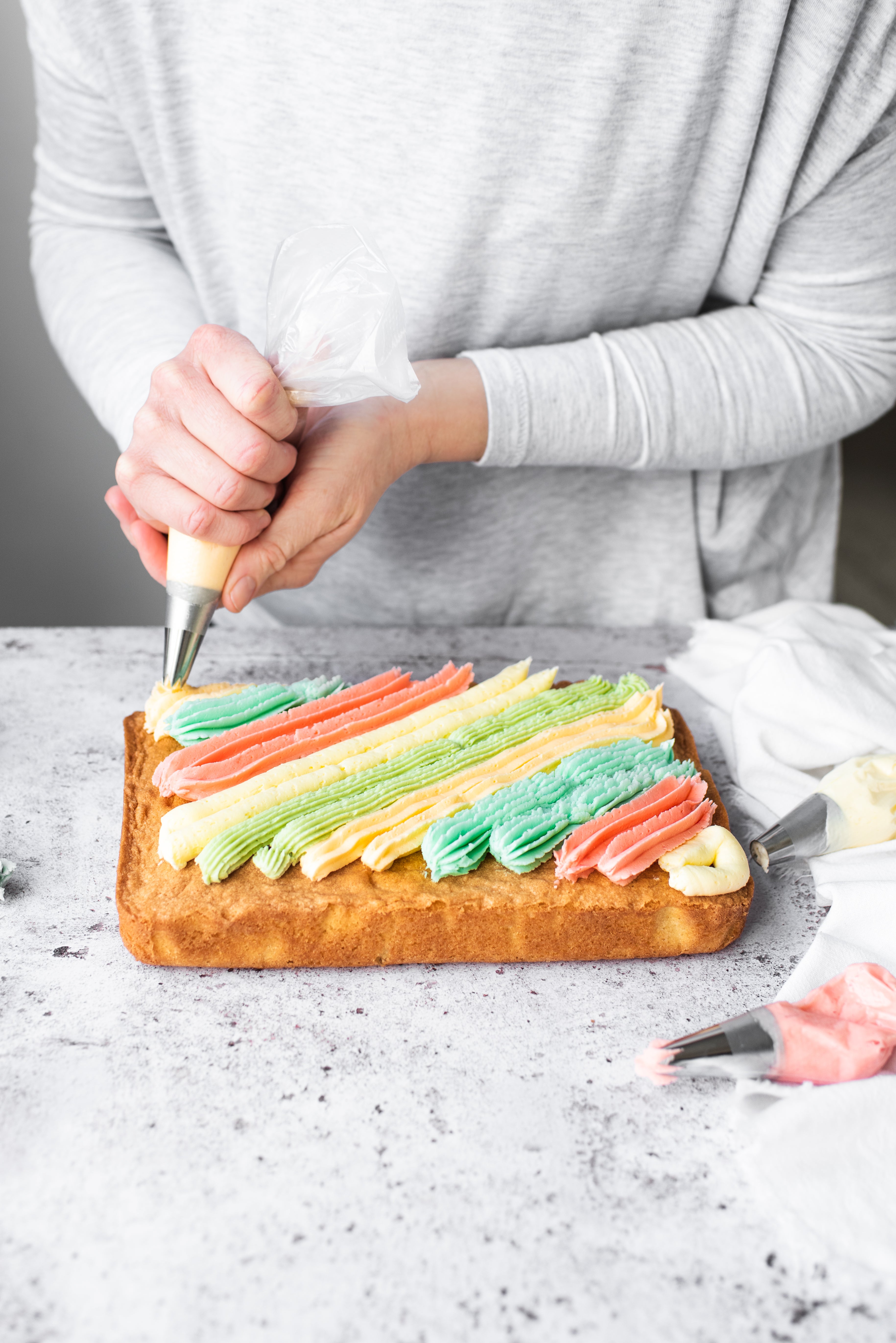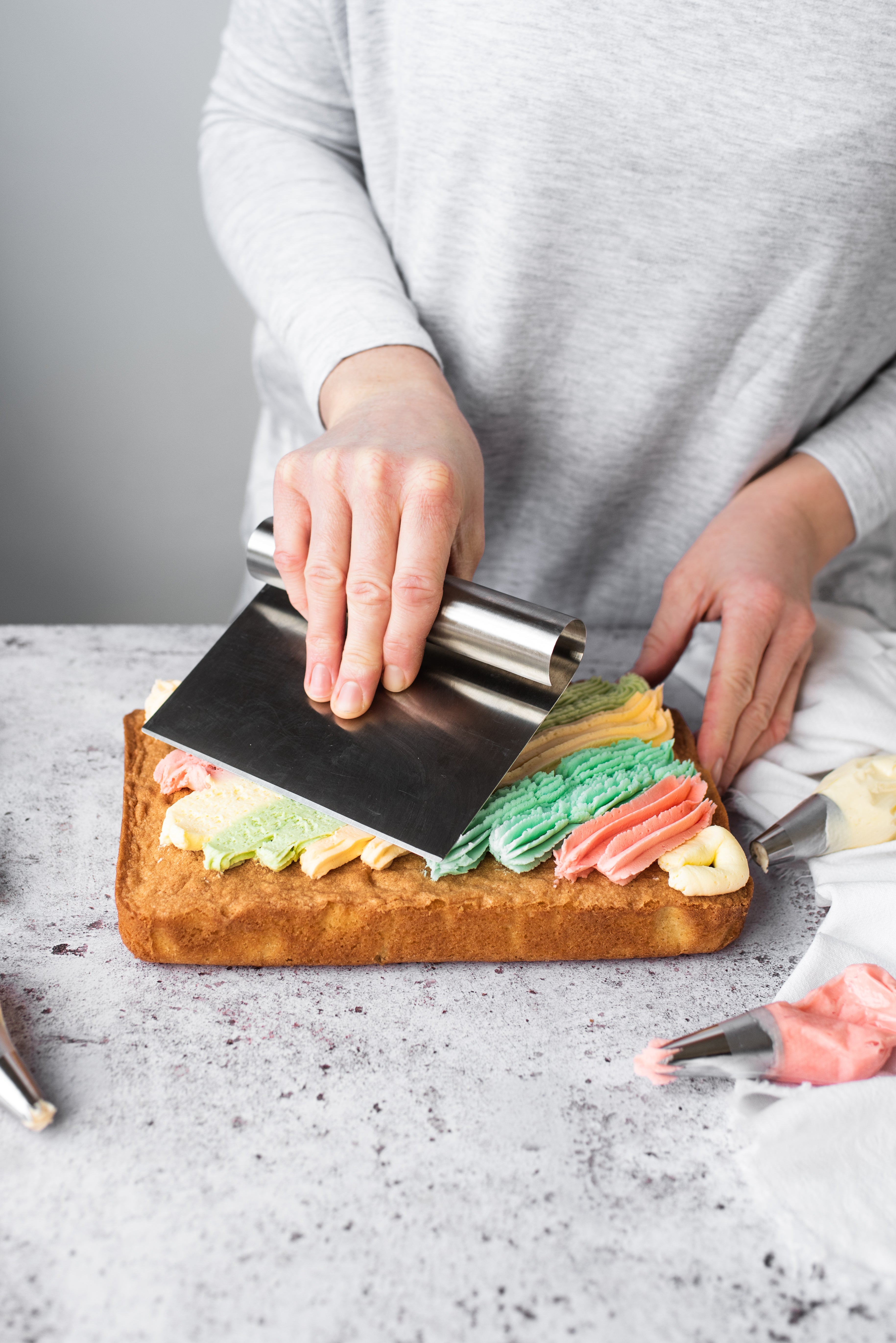 About the bake
This rainbow sponge traybake recipe is a great time saver. It's for a simple traybake (or sometimes known as a sheetcake). This quick and easy traybake serves 12 and only takes 20 minutes to prepare. We've decorated ours with rainbow buttercream for a really fun look which the kids will love.

If rainbows are your thing, try out our rainbow meringues recipe next!
Method
Step 1:

Preheat the oven to 180ºC / 160'c fan/ Gas 4. Grease a 23 x 28 cm shallow traybake tin and line the base with baking parchment paper.


Step 2:

Using an electric mixer beat together the butter, caster sugar, eggs, self raising flour and baking powder for about 2 minutes until soft and smooth.


Step 3:

Spoon the mixture into the tin and then spread it to ensure the whole tin is filled to the same level. Bake for 35-40 minutes until well risen and the centre of the cake springs back when lightly pressed with a fingertip.


Step 4:

Allow it to cool for about 10 minutes in the tin before turning it out onto a cooling rack and allowing to cool completely.


Step 5:

To decorate, beat together the butter, icing sugar and vanilla extract until soft and smooth. Separate the buttercream into 5 equal portions. Add a small squeeze of food colouring gel to each portion and mix thoroughly. You can choose any colours you like for this.


Step 6:

For each piping bag, use a large nozzle- it doesn't matter which shape they are, as the applied buttercream will be smoothed afterwards. Fill your piping bags: one for each colour. Using your first bag, pipe the corner of the cake to form a triangle. You want to aim for around an inch width for each colour.Use the piped triangle as a guide for where to start your next colour. Using your second colour, form a large stripe next to the triangle making sure it touches. Continue to do this, alternating all your colours until your cake is covered with buttercream stripes.


Step 7:

Use a cake smoother to blend the stripes into an overall covering. Make sure you follow the direction of the buttercream stripes so the colours don't bleed. Rinse and dry your smoother each time to stop the colours mixing.


Step 8:

Once you've finished, cut your cake into squares and serve.

Ingredients
For the Sponge

225g

 

Butter (unsalted)

225g

 Silver Spoon Caster Sugar

225g

 Allinson's Self Raising Flour

2 tsp

 

Baking powder

1 tsp

 Nielsen-Massey Vanilla Extract

4

 

Eggs (medium)

For the Buttercream

100g

 

Butter (unsalted) room temperature

200g

 Silver Spoon Icing Sugar

1/2 tsp

 Nielsen-Massey Vanilla Extract
Utensils
Mixing bowl

Electric mixer

5x Piping bags

5x Large nozzles

Food colouring gels (we used 5 different ones)

Cake smoother
Recipe Reviews
Good different new recipe! Most brownies tend not be bright and colourful but this is something new and looks excellent!
Went down a treat I used strawberries and whipped cream and it was incredible!!!!
I love this even though some people might not like this it looks delicious which is amazing thank u for sharing This
Me and my kids loved making this rainbow traybake - it worked so beautifully.
A really lovely sponge mix and loved the way of doing the icing to make it look different. I only used three colours and it still had a lovely effect. Definitely making again.
Ingredients
For the Sponge

225g

 

Butter (unsalted)

225g

 Silver Spoon Caster Sugar

225g

 Allinson's Self Raising Flour

2 tsp

 

Baking powder

1 tsp

 Nielsen-Massey Vanilla Extract

4

 

Eggs (medium)

For the Buttercream

100g

 

Butter (unsalted) room temperature

200g

 Silver Spoon Icing Sugar

1/2 tsp

 Nielsen-Massey Vanilla Extract
Utensils
Mixing bowl

Electric mixer

5x Piping bags

5x Large nozzles

Food colouring gels (we used 5 different ones)

Cake smoother