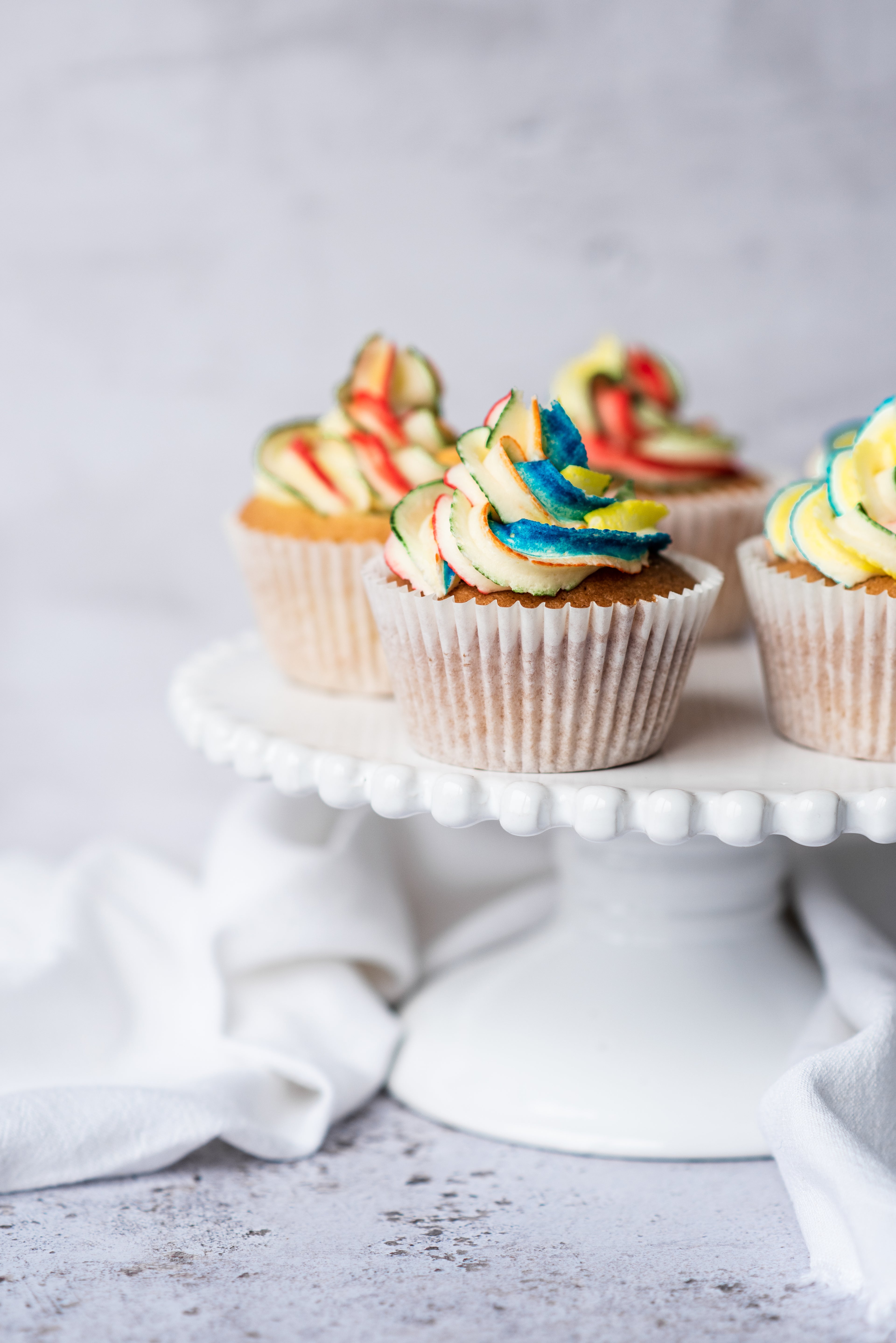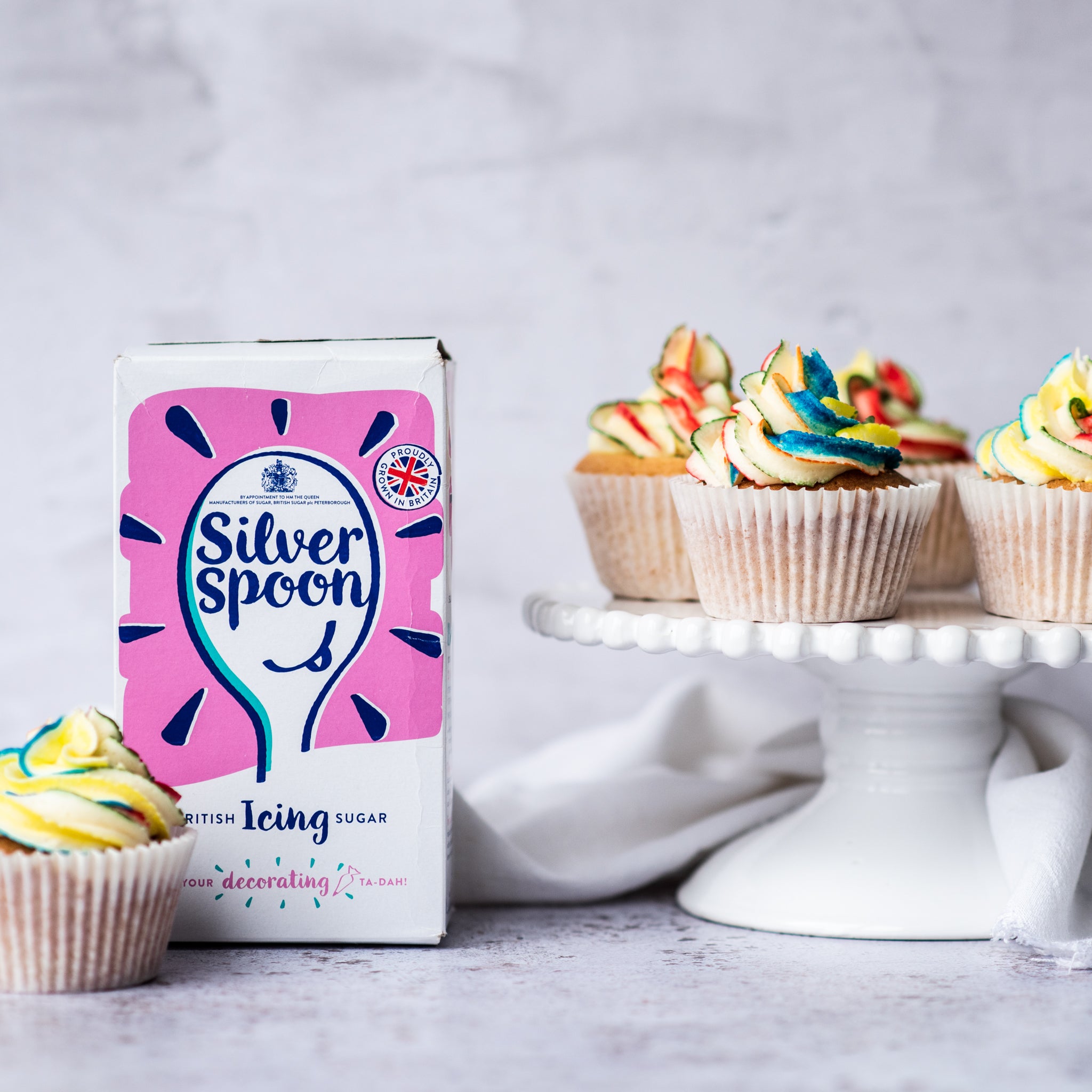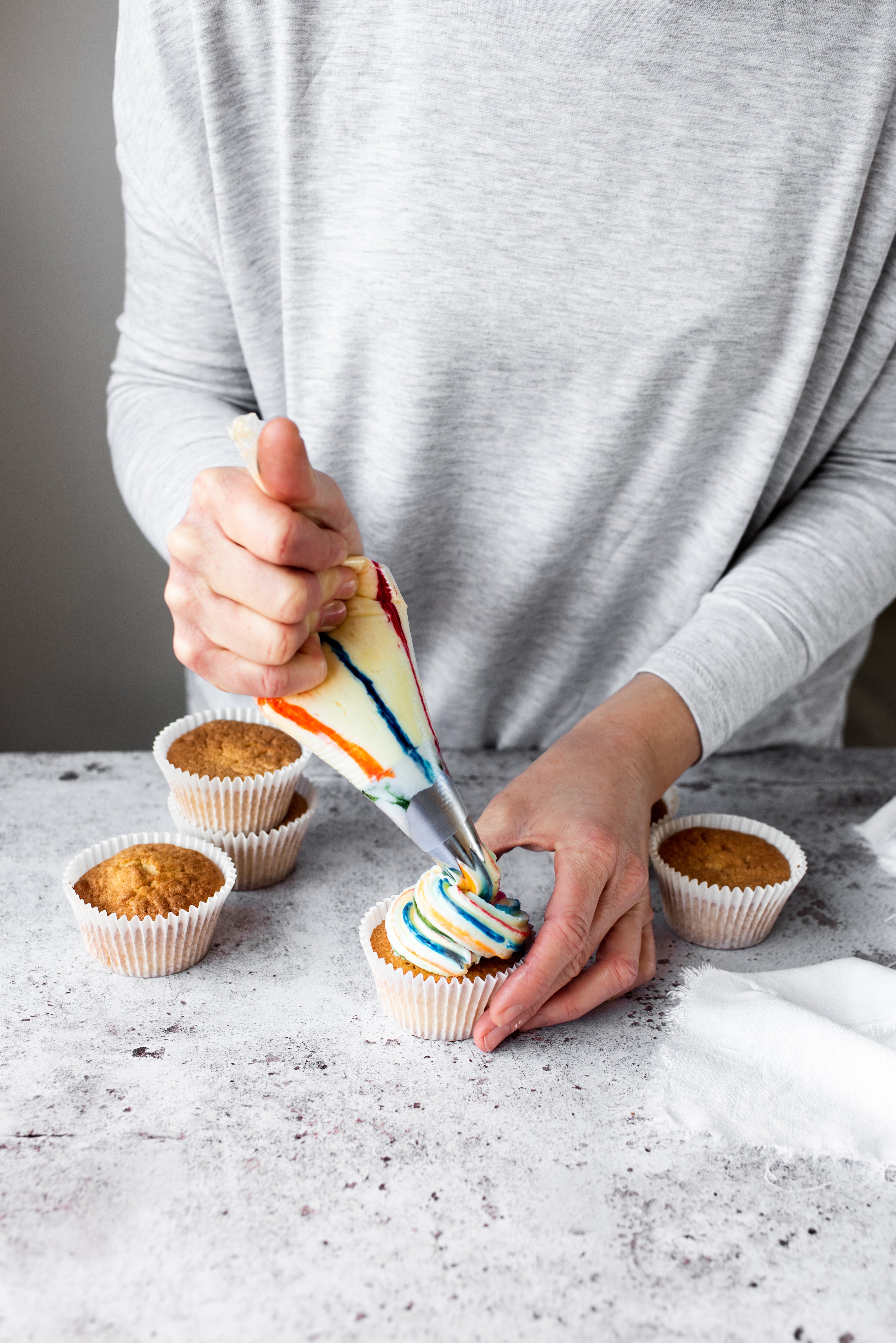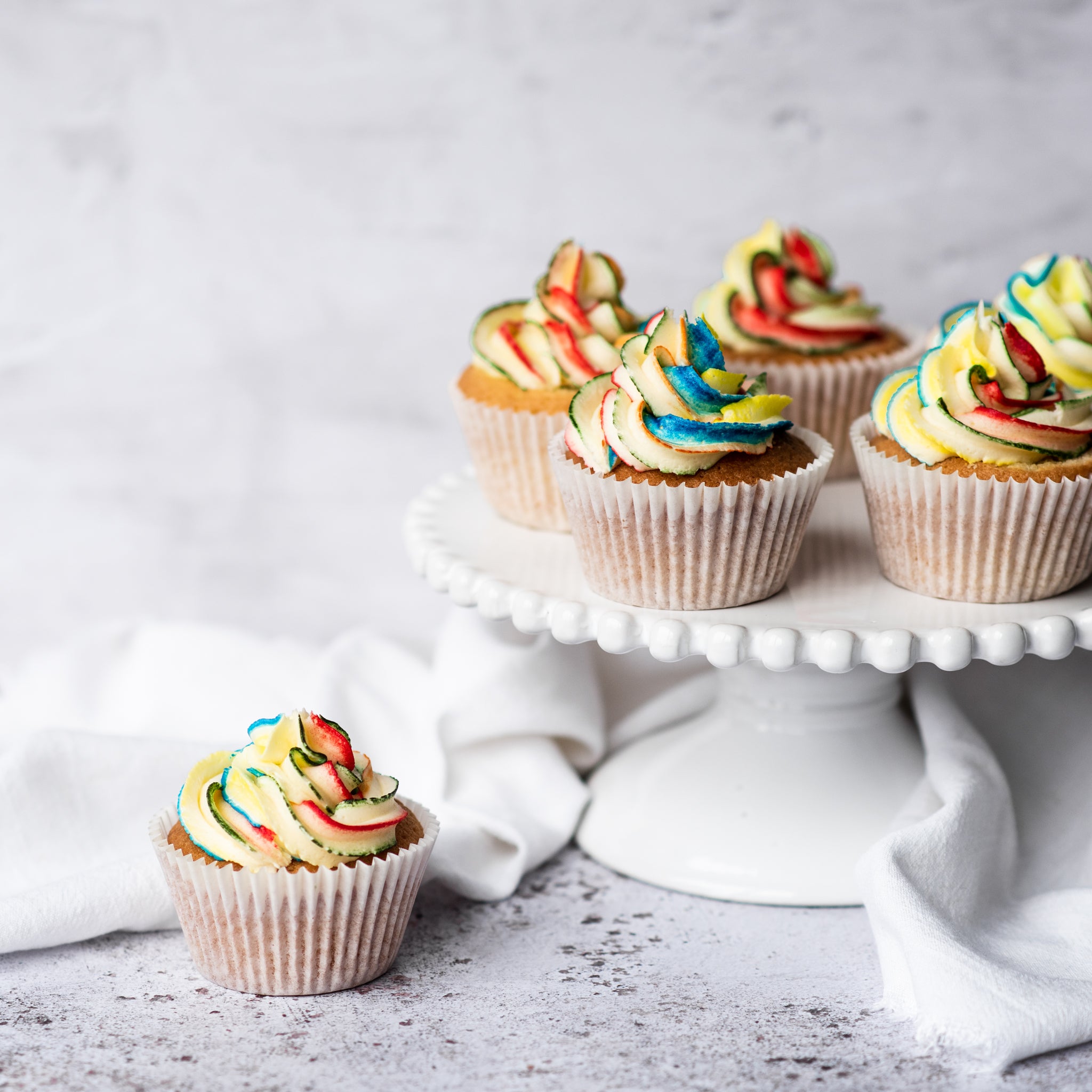 About our Rainbow Swirl Cupcakes
So pretty and colourful, these Juliet Sear Rainbow cupcakes will delight your friends and family. They're as delicious to the eye as they are to the taste buds! For added fun you can split your cake recipe into four batches and colour each quarter of the mixture a different colour, then pipe little layers of cake batter into the cupcake tin for a double rainbow effect.
Method
Step 1:

Preheat the oven to 180ºC (350ºF/Gas 4). Grease 2 x 20 cm (8 in) round cake tins or a 12-hole cupcake tray.


Step 2:

Place the butter, sugar and vanilla or other flavourings into a mixing bowl and combine. If using an electric mixer, turn the speed to high (or if you're using a wooden spoon, use plenty of elbow grease!) and beat until the mixture is very pale, soft and fluffy and the granules of sugar have disappeared.


Step 3:

Add the beaten eggs, about one-quarter at a time, beating them in slowly each time.


Step 4:

Add the flour gradually, one-quarter at a time, mixing gently on a slow speed, until it has mostly been incorporated. Then, add the baking powder. Fold with a metal spoon if doing this by hand. Take care not to mix or beat vigorously or your sponge can turn out a bit tough. Scrape the mixture into cupcake cases or lined tins as required.


Step 5:

For cupcakes, bake for around 12–15 minutes, checking every few minutes. For a larger cake, begin checking after 20 minutes. Remember, all ovens vary so if in doubt use an oven thermometer. The cakes should be a light golden brown, springy to the touch. A sharp knife or metal skewer should come out clean and free of mixture when inserted into the centre.


Step 6:

Leave to cool for a couple of minutes in the tins, then turn out onto a cooling rack.


Storage

Cupcakes: once these are iced they will last well for 2–3 days. If frozen, they'll keep for 1 month. I use a corrugated cupcake box with little inserts to keep them in shape, then wrap cling film (plastic wrap) around the box. Allow to come to room temperature for 3–4 hours before using.

Larger cakes: these can be double-wrapped in cling film and popped into a freezer bag with a bag tie for up to 1 month. Remove from the freezer the night before using.

Step 7:

If you have an electric stand mixer then use this with the beater or paddle attachment. Otherwise, use a hand-held mixer or a wooden spoon. Scrape the seeds from the vanilla pod, if using, or add the paste. In the mixer or bowl, cream the butter with the vanilla seeds and extract until very pale, creamy and smooth.


Step 8:

Add about one-quarter of the icing sugar. To make sure the sugar doesn't puff out in clouds and cover your kitchen, mix slowly at first. You can also place a damp tea towel over the bowl. Once the icing sugar is incorporated, beat at a high speed for about 1 minute until the mix is really creamy and pale. It will take you a few more minutes by hand.


Step 9:

Continue adding the sugar, one quarter at a time, taking care to beat it in well after each addition.


Step 10:

Beat the buttercream at high speed for 1–2 minutes until fluffy and pale.


Step 11:

Turn the piping bag inside out, then drizzle with strips of the gel colours to create stripes. Turn the bag right side out, then fit it with the star nozzle and fill with buttercream. Clip the bag to keep it all in.


Step 12:

Squeeze the buttercream onto the cupcakes. Hold the bag in a vertical position and pipe in a spiral, starting around the outside edge of the case, winding inwards and building height to create a peak.


Step 13:

The colour will be blended onto the buttercream, giving a lovely rainbow swirl effect.

Ingredients
For the cakes

300g

 

Butter (salted)

300g

 Billington's Unrefined Golden Caster Sugar

300g

 Allinson's Self Raising Flour

2 tsp

 Nielsen-Massey Vanilla Bean Paste

6

 

Eggs (medium)

1 tsp

 

Baking powder

For the icing

250g

 

Butter (unsalted)

2 tsp

 Nielsen-Massey Vanilla Bean Paste

500g

 Silver Spoon Icing Sugar

6 different colours

 

Food colouring gels
Utensils
Cupcake case

Cupcake tray

Icing bag

Nozzle tip

Food colouring gels
Ingredients
For the cakes

300g

 

Butter (salted)

300g

 Billington's Unrefined Golden Caster Sugar

300g

 Allinson's Self Raising Flour

2 tsp

 Nielsen-Massey Vanilla Bean Paste

6

 

Eggs (medium)

1 tsp

 

Baking powder

For the icing

250g

 

Butter (unsalted)

2 tsp

 Nielsen-Massey Vanilla Bean Paste

500g

 Silver Spoon Icing Sugar

6 different colours

 

Food colouring gels
Utensils
Cupcake case

Cupcake tray

Icing bag

Nozzle tip

Food colouring gels