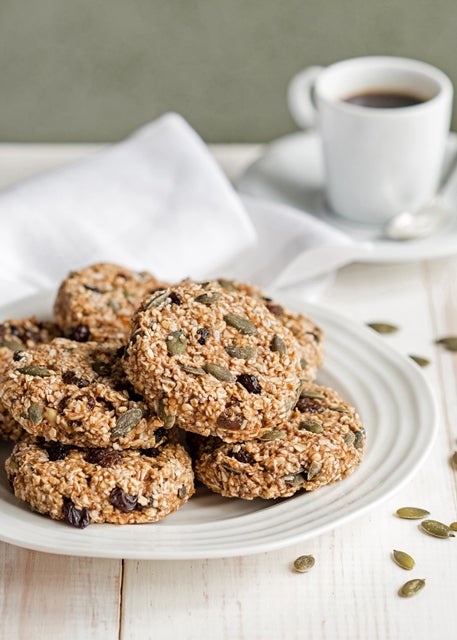 About the bake
These cookies are packed with seeds and oats. They pack a punch with flavour and are great for people on the go. Got someone in the family who says they don't have time for breakfast? Make these in advance and store in an airtight container for up to 2 days, perfect for the whole family.
Method
Step 1:

Pre-heat oven at 160'c and line a baking tray with baking paper.

Step 2:

Peel and mash up both bananas until smooth. In a separate bowl combine the remainder of the ingredients and then add in the mashed banana. Mix well ensuring the banana is evenly distributed.

Step 3:

Take 1/6th of the ingredients and shape into a round cookie shape, approx 7cm wide and 1.5cm high. Repeat for all of the mixture. Bake for 20 minutes until golden brown.

Step 4:

Remove from oven and transfer to a rack to cool. Keep in an airtight container for 48 hours.



If you love these cookies, why not try these Ginger Fruit Nut Cookies?

Ingredients
For the Cookies

2

 

Bananas

90g

 

Oatmeal

30g

 

Pumpkin seeds

20g

 

Dessicated coconut

40g

 

Dried mixed fruits

7g

 Truvia calorie free sweetener

40g

 

Maple syrup

1 tbsp

 

Chia seeds

0.5 tsp

 

Cinnamon
Nutritional Information
per 62g
184cal

 

Energy

6.4g

 

Fat

2.4g

 

of which Saturates

27g

 

Carbohydrates

15g

 

of which Sugars

5.5g

 

Protein

0.02g

 

Salt
Recipe Reviews
Now bake most weeks as a take to work biscuit, not really a biscuit as bit softer but lovely as a reasonably healthy breakfast (I do leave out the coconut as not a fan)
These look delicious but could I leave out the seeds as I'm not a fan! What would I replace them with please?
So glad I found your site...so many fantastic recipes 👌
Hello,
I think these breakfast cookies would be lovely with more dried fruit, maybe a mixture to make up for omitting the seeds.
Hope they turn out well for you, happy baking!
Love making these! Simple, filling and full of flavour from natural sugars!
Ingredients
For the Cookies

2

 

Bananas

90g

 

Oatmeal

30g

 

Pumpkin seeds

20g

 

Dessicated coconut

40g

 

Dried mixed fruits

7g

 Truvia calorie free sweetener

40g

 

Maple syrup

1 tbsp

 

Chia seeds

0.5 tsp

 

Cinnamon
Nutritional Information
per 62g
184cal

 

Energy

6.4g

 

Fat

2.4g

 

of which Saturates

27g

 

Carbohydrates

15g

 

of which Sugars

5.5g

 

Protein

0.02g

 

Salt