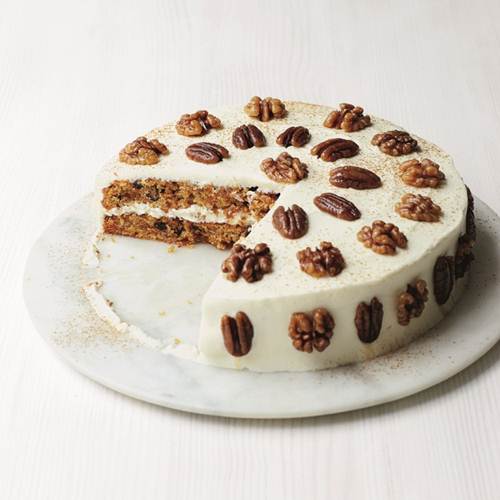 About the bake
Great British Bake Off 2014 Finalist, Luis Troyano shares this recipe with us from his recipe book; 'Bake it Great', published by Pavilion. Luis says that carrot was used as a sweetener in Britain back in medieval times when sugar was hard to come by. Luis' two-layered version includes raisins and a mixture of different spices in the sponge mix. It is completely covered in a cream cheese frosting, and topped with yummy walnuts and pecans.
Method
Step 1:

This recipe requires two 23cm/9 inch non-stick springform cake tins, greased and lined with non-stick baking parchment.

Step 2:

Preheat the oven to 180°C (160°C fan/ 320°F/gas 4).

Step 3:

Squeeze out any excess liquid from the carrots and place them in a bowl. Stir in the raisins and set aside.

Step 4:

Crack open the cardamom pods and crush the seeds to a powder, using a mortar and pestle. Set aside.

Step 5:

Weigh your empty mixing bowl and make a note of it. Put the eggs and both sugars into the bowl and whisk for 4–5 minutes until thick and the whisk leaves a thick ribbon trail when lifted out.

Step 6:

Add the corn oil, vanilla and orange zest, and beat well for a minute.

Step 7:

Sift together the flour, baking powder, salt, cinnamon, ginger and cardamom. Gradually add this to the cake mixture, beating well between each addition until well mixed. Don't overwork the mixture. Fold in the grated carrots and raisins, using a large metal spoon, until evenly mixed.

Step 8:

Weigh your bowl again and subtract the weight of the empty bowl. Divide the mixture evenly between the two prepared tins by placing them on your scales when pouring it in. Place both tins in the oven on the same shelf. Bake for 30–35 minutes. Check the cakes after 30 minutes: a skewer inserted into the centre should come out completely clean and the cakes should have shrunk away from the sides slightly.

Step 9:

Leave the cakes to cool in the tins for 10 minutes, then remove and place on a wire rack to cool completely.

Step 10:

To make the candied nuts, place the sugar and water in a saucepan and bring to the boil. Tip in the nuts and simmer for 15 minutes. Line a baking sheet with non-stick baking parchment. Using a slotted spoon, lift the nuts out and place them on the baking sheet to dry.

Step 11:

To make the cream cheese frosting, place the cream cheese in a large mixer bowl and whisk until fluffy. Add the icing sugar and whisk until well mixed and smooth. Pour in the cream and whisk until it becomes thick yet spreadable. Take care not to over-whisk, or it could split.

Step 12:

To assemble the cake, place one of the sponges on your serving plate or cake stand. If it has a slight dome, place it upside down and it should flatten. I don't trim the tops of cakes like this as we can easily hide the dome with the filling and decoration. However, feel free to do so if you want to.

Step 13:

Spread an even layer of the cream cheese frosting, about 1cm/½ inch thick, over the sponge. Place the second sponge gently on top. Using a palette knife, spread the remaining frosting around the sides and top of the cake to cover it completely. (If you put it on a cake turntable, you can make a really cool swirl pattern using the tip of your palette knife and spinning the cake while you move the knife slowly towards the centre.)

Step 14:

Using a fine sieve, give the cake a really light dusting of cinnamon, then place the candied nuts on the top in a concentric design. Keep this cake refrigerated. It will keep for 2 days.
Ingredients
For the cake

340g

 

Carrot(s) (peeled and finely grated)

200g

 

Raisins (seedless)

8

 

Cardamom pods (green)

3

 

Egg(s) (free range) (large)

150g

 Billington's Unrefined Golden Caster Sugar

50g

 Billington's Unrefined Light Muscovado Sugar

180ml

 

Corn oil

1 tsp

 Nielsen-Massey Vanilla Extract

2

 

Orange (zest of)

180g

 Allinson's Plain White Flour

1 tsp

 

Baking powder

0.5 tsp

 

Salt

1.5 tsp

 

Cinnamon (ground, plus extra for dusting)

0.5 tsp

 

Ginger (ground)

For the icing

600g

 

Cream cheese

300g

 Silver Spoon Icing sugar

250ml

 

Double cream

For the candied nuts

150g

 

Unrefined golden granulated sugar

150ml

 

Water

30

 

Walnuts (halves)

30

 

Pecan nuts (halves)
Recipe Reviews
I always make this cake for my Children's birthdays. Its an absolute winner. So flavoursome.
I made. Wife and kid loves it. Only used 100g raisins and added 100g chopped pecans to the mix. Also added 1tsp ground fennel and halve of the orange zest was replaced with tangerine zest.
Ingredients
For the cake

340g

 

Carrot(s) (peeled and finely grated)

200g

 

Raisins (seedless)

8

 

Cardamom pods (green)

3

 

Egg(s) (free range) (large)

150g

 Billington's Unrefined Golden Caster Sugar

50g

 Billington's Unrefined Light Muscovado Sugar

180ml

 

Corn oil

1 tsp

 Nielsen-Massey Vanilla Extract

2

 

Orange (zest of)

180g

 Allinson's Plain White Flour

1 tsp

 

Baking powder

0.5 tsp

 

Salt

1.5 tsp

 

Cinnamon (ground, plus extra for dusting)

0.5 tsp

 

Ginger (ground)

For the icing

600g

 

Cream cheese

300g

 Silver Spoon Icing sugar

250ml

 

Double cream

For the candied nuts

150g

 

Unrefined golden granulated sugar

150ml

 

Water

30

 

Walnuts (halves)

30

 

Pecan nuts (halves)