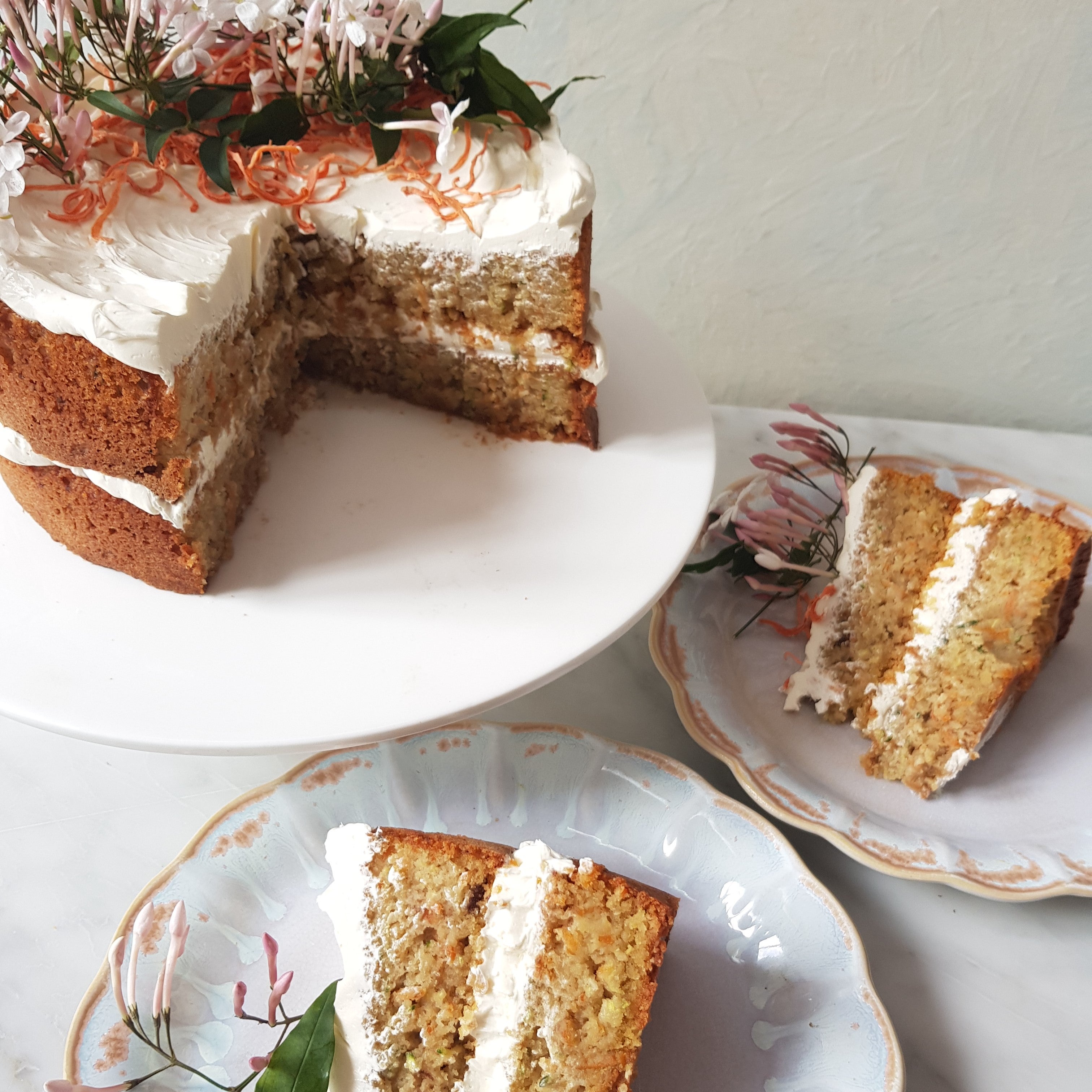 About the bake
Our friend Lily Vanilli has shared with us this fabulously tasty Gluten Free Carrot Courgette Cake recipe. Brimming with flavour, this vegetable gluten free cake packs a punch when it comes to flavour and texture!
This cake is perfect for a weekend treat or ideal if you have an abundance of courgettes in the garden. Make the most of this summertime vegetable by making a delicious cake, both sweet and savoury.
Need to use up some more courgettes? Give our courgette loaf cake a try, and switch out the flour for a gluten free equivilent.
Method
Step 1:

Preheat the oven to 200°C/180ºc fan/ gas mark 4.


Step 2:

Grease two 23 cm (9 inch) round cake tins well, with olive oil or butter.


Step 3:

Gently squeeze any excess moisture from the grated vegetables and set aside.


Step 4:

Whisk together the eggs and sugar on high speed until really light and airy – approximately 5 minutes. Slowly add the olive oil in a steady stream, beating just enough to mix in evenly.


Step 5:

Mix together the ground almonds and the baking powder, and fold into the wet mixture along with the spices and coconut. Finally, fold in the carrots, courgettes, sultanas, (and seeds if using).


Step 6:

Divide the mixture evenly between the two prepared cake tins and level out to the edges. Bake for 30-40 minutes, or until the top has risen and a cocktail stick inserted into the centre comes out crumby but clean (I.e. no raw batter on it, there may be a few soft crumbs).


Step 7:

Remove from the oven and allow to cool in the tins for 10 minutes before turning out onto a wire rack to cool completely.


Step 8:

While the cake is baking, prepare the icing. Beat the butter alone for 4-5 minutes, then add the cream cheese and beat for another 2 minutes. Add the icing sugar and vanilla and beat for another 2 minutes, until smooth and evenly incorporated.


Step 9:

Once the cake has cooled, spread the base layer with the cream cheese frosting and then sandwich together and spread more frosting on the top. I decorated mine with foraged fresh jasmine.

Ingredients
For the Cake

400g

 

Peeled & grated carrots & courgettes

90g

 

Sultanas

280g

 Billington's Unrefined Light Muscovado Sugar

250ml

 

Olive oil

500g

 

Ground Almonds

1 tsp

 

Baking powder

1 tsp

 

Grated fresh nutmeg

1 tsp

 

Ground cinnamon

2 tbsp

 

Dessicated coconut

60g

 

Sunflower & pumpkin seeds

6

 

Eggs

For the Icing

125g

 

Unsalted butter (softened)

200g

 

Full fat cream cheese (drained of any liquid)

250g

 Silver Spoon Icing Sugar

1 tsp

 Nielsen-Massey Vanilla Extract
Utensils
2x 9in (23cm) round cake tins

Mixing bowl
Recipe Reviews
I halved the recipe and used coconut sugar instead… perfect for Gluten and lactose free people like me and diabetics like my parents!
The best gluten free cake and everyone can enjoy it. Make sure you really squeeze the moisture out of the carrots and courgettes
This was the best gluten free cake I have ever made. It actually made 2 decent 20cm cakes
Love this recipe! I shall definitely make it again.
Apsalutly Yummy!
Very amateur baker to say the least, had a laugh and made a mess! The cake was lovely, took some to my sons, my mother, brother and work friends. All enjoyed . Will definitely be making this again
So moist and good enough to fool people into not realising it is GF! Everyone loved it!
Ingredients
For the Cake

400g

 

Peeled & grated carrots & courgettes

90g

 

Sultanas

280g

 Billington's Unrefined Light Muscovado Sugar

250ml

 

Olive oil

500g

 

Ground Almonds

1 tsp

 

Baking powder

1 tsp

 

Grated fresh nutmeg

1 tsp

 

Ground cinnamon

2 tbsp

 

Dessicated coconut

60g

 

Sunflower & pumpkin seeds

6

 

Eggs

For the Icing

125g

 

Unsalted butter (softened)

200g

 

Full fat cream cheese (drained of any liquid)

250g

 Silver Spoon Icing Sugar

1 tsp

 Nielsen-Massey Vanilla Extract
Utensils
2x 9in (23cm) round cake tins

Mixing bowl