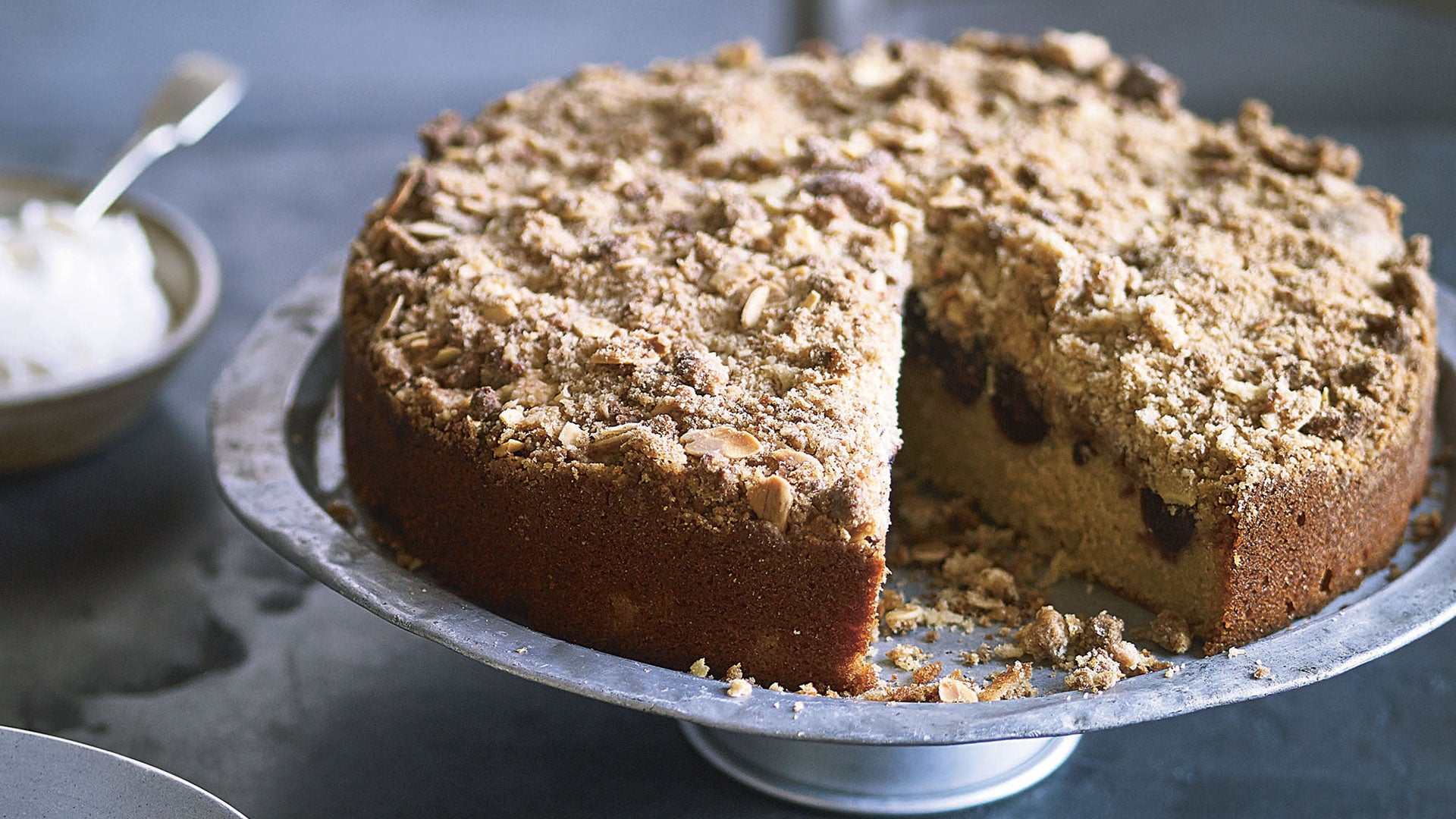 About the bake
This is John Whaite's version of a classic cherry and almond cake. John says he always uses dark cherries soaked in kirsch because their flavour is intense and boozy. When he drains the cherries he keeps back the syrup to add a sweet kick to his coffees. The crumble topping adds another almond dimension in the form of crunchy amaretti and flaked nuts. Serve this with a dollop of tangy crème fraîche.
Taken from Comfort by John Whaite, published by Kyle Books. Photography by Nassima Rothacker.
Method
Step 1:

Preheat the oven to 180°C/160°C fan/gas mark 4. Grease a 23cm round, loose-bottomed cake tin and line the base with baking paper.


Step 2:

For the cake, cream the butter, sugar, almond extract and lemon zest until lighter in texture and paler in colour. Add the eggs and soured cream and beat until smooth – don't worry if it curdles – then add the flour and salt and fold together until you have a smooth batter. Scrape the batter into the cake tin and level off.


Step 3:

For the crumble, rub together the flour and butter until you have a breadcrumb consistency, then toss through the sugar, biscuits and almonds.


Step 4:

Scatter the cherries over the cake batter, as evenly as possible, and top with the crumble topping mixture.


Step 5:

Bake the cake in the oven for 35–40 minutes, or until a skewer inserted comes out clean (Apart from the red juice of the cherries). Leave to cool completely, then transfer from the tin to a cake stand or plate to serve.

Ingredients
For the Cake

175g

 

Unsalted butter (softened)

175g

 Billington's Unrefined Light Muscovado Sugar

1 tsp

 

Almond extract

1

 

Lemon zest (unwaxed)

2

 

Eggs (large)

100g

 

Soured cream

175g

 Self-raising white flour

1/2 tsp

 

Fine sea salt

For the Crumble

150g

 Self-raising white flour

100g

 

Unsalted butter (cold, cubed)

75g

 Billington's Unrefined Light Muscovado Sugar

75g

 

Amaretti biscuits (crushed)

40g

 

Flaked almonds

For The Cherry Layer

250g

 

Cherries soaked in kirsch
Recipe Reviews
I Love his Cake recipes and I love to make and Eat them so are my Partner.
Ingredients
For the Cake

175g

 

Unsalted butter (softened)

175g

 Billington's Unrefined Light Muscovado Sugar

1 tsp

 

Almond extract

1

 

Lemon zest (unwaxed)

2

 

Eggs (large)

100g

 

Soured cream

175g

 Self-raising white flour

1/2 tsp

 

Fine sea salt

For the Crumble

150g

 Self-raising white flour

100g

 

Unsalted butter (cold, cubed)

75g

 Billington's Unrefined Light Muscovado Sugar

75g

 

Amaretti biscuits (crushed)

40g

 

Flaked almonds

For The Cherry Layer

250g

 

Cherries soaked in kirsch