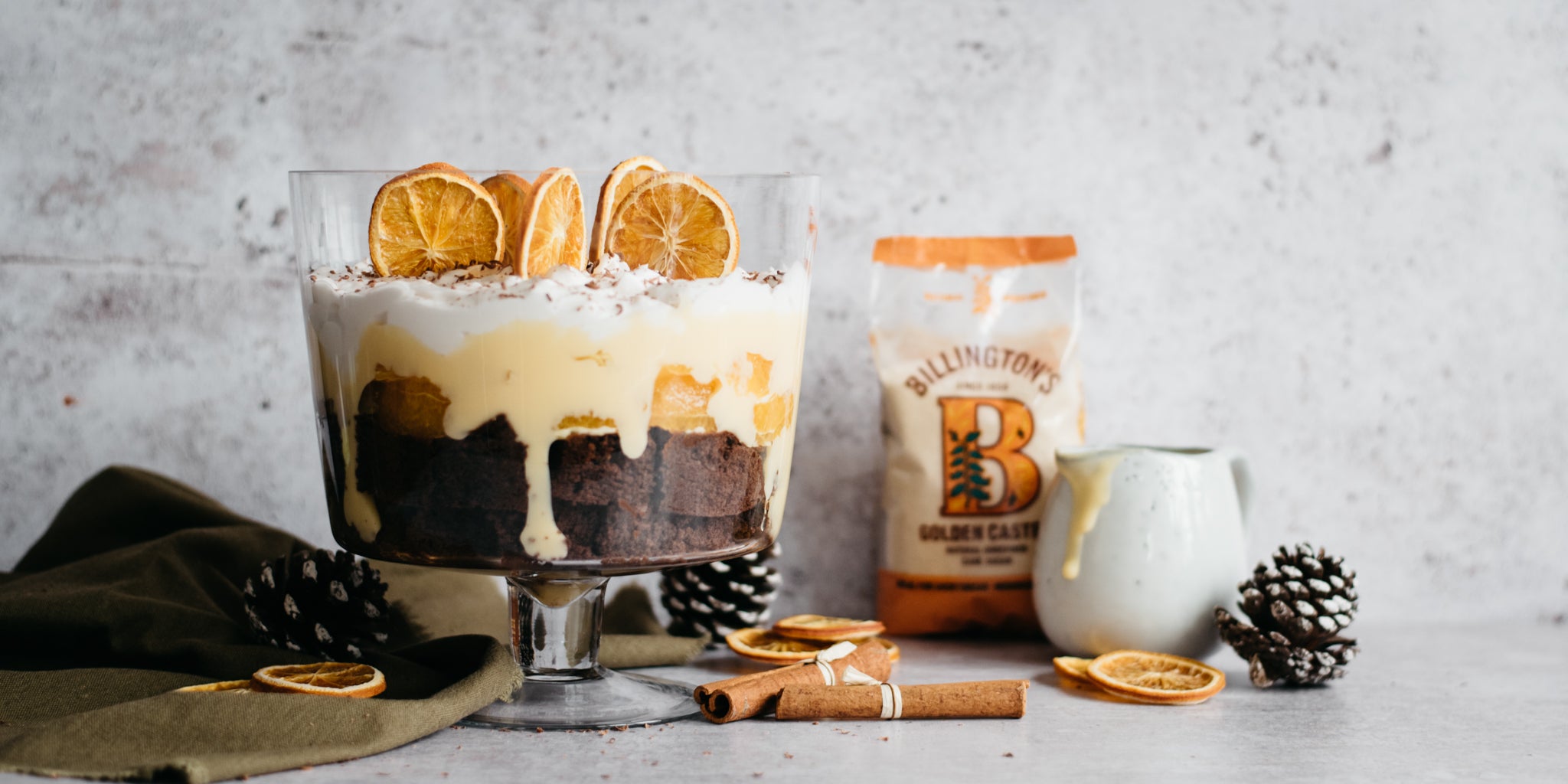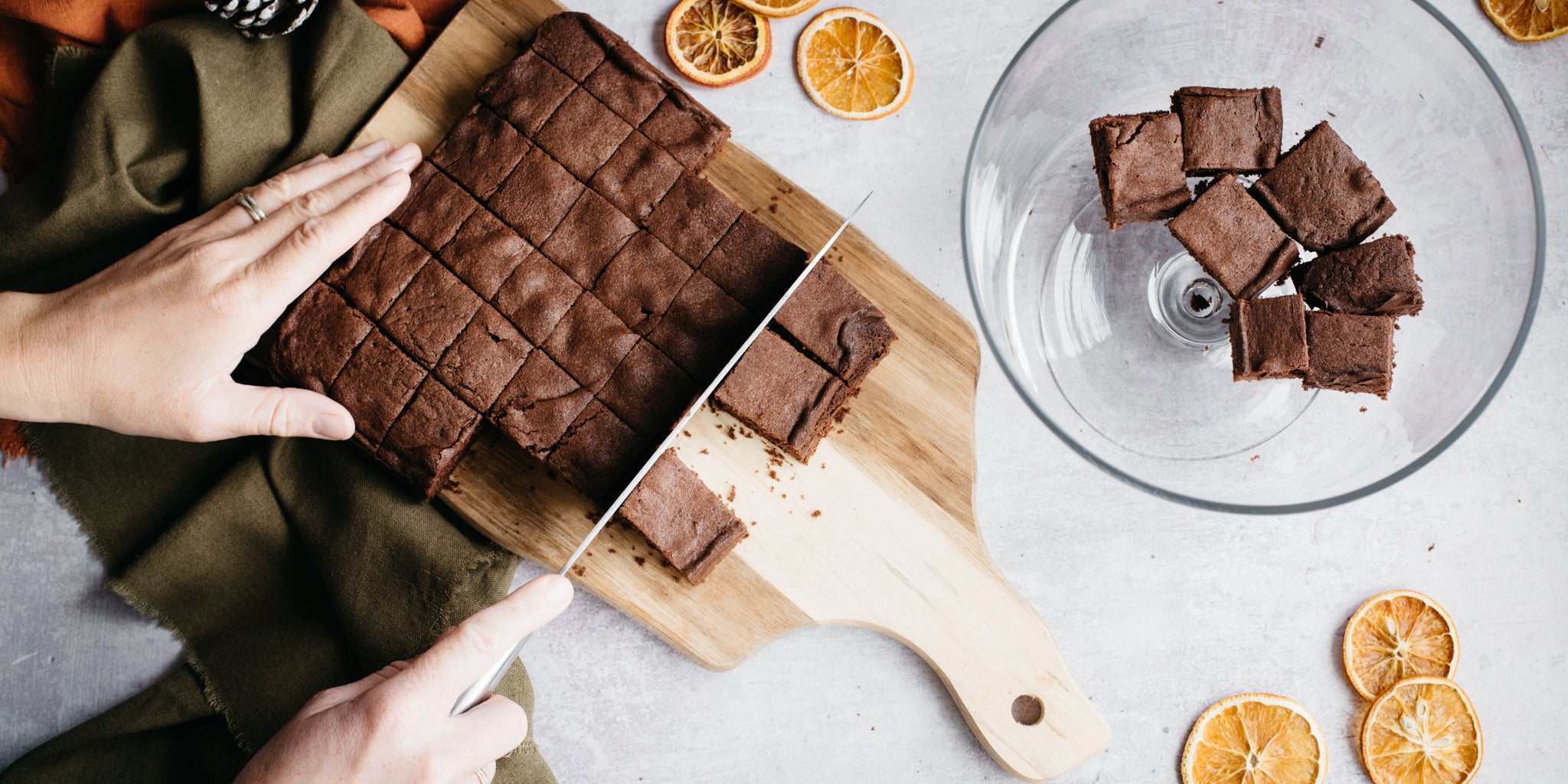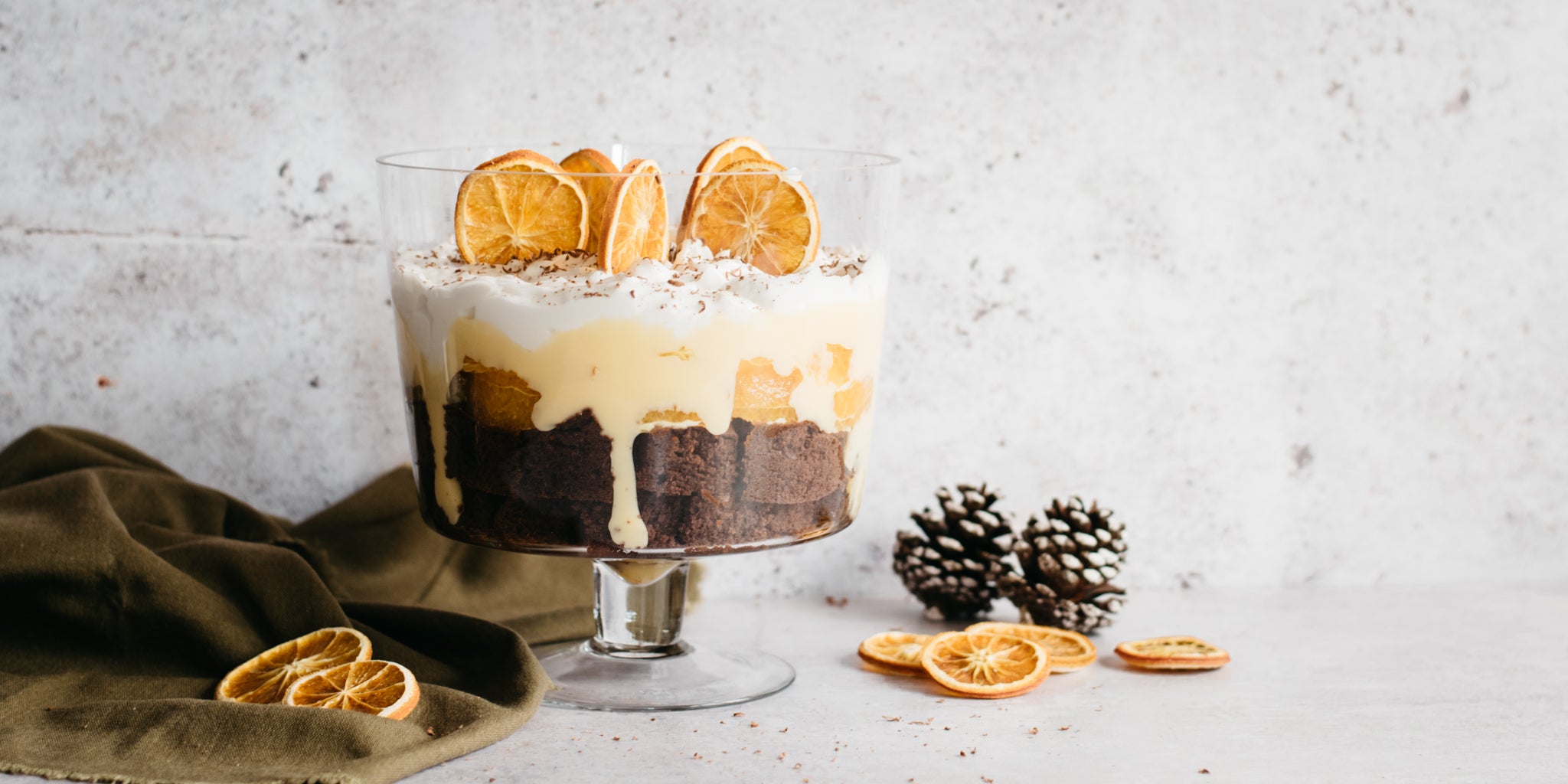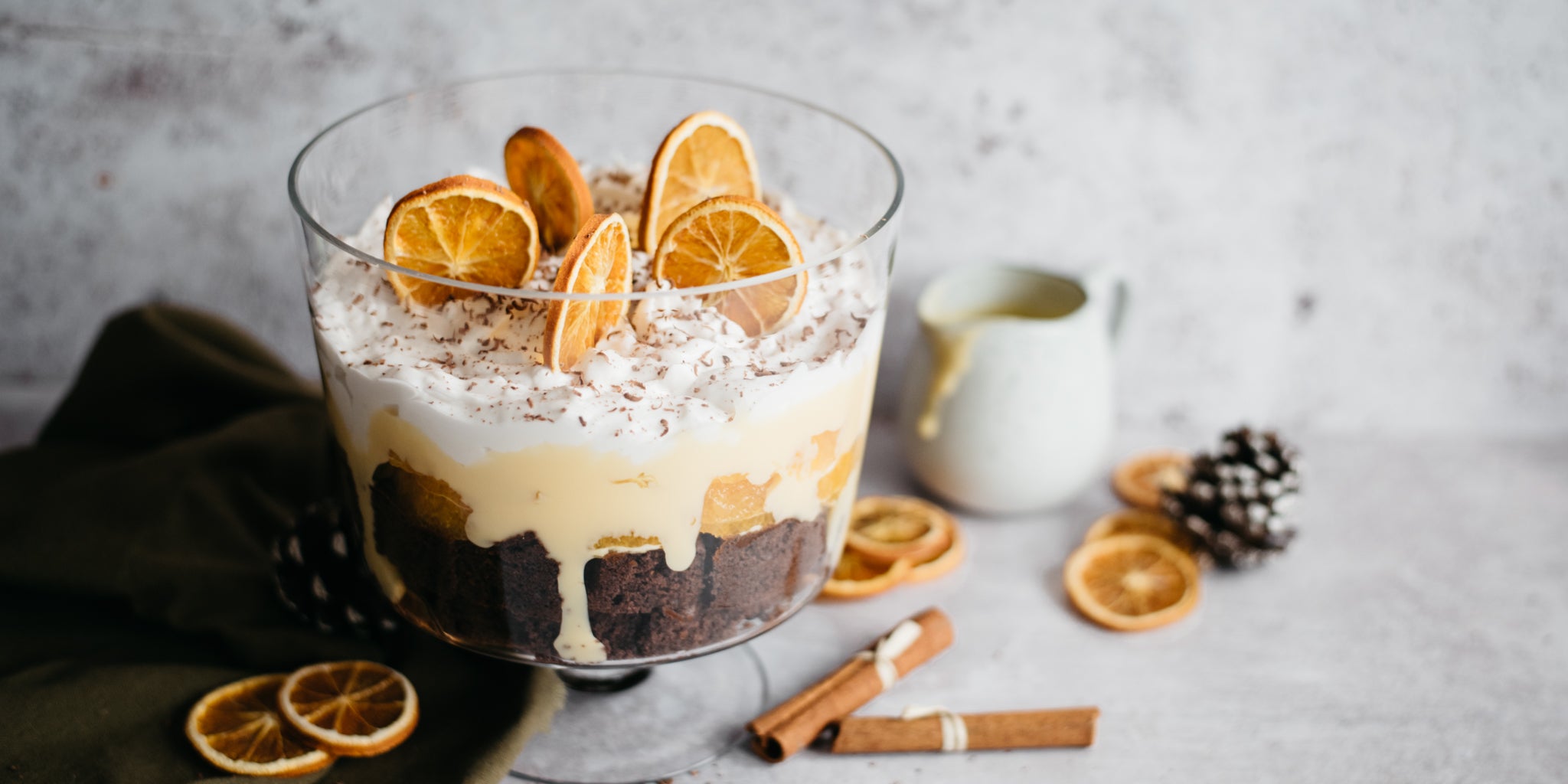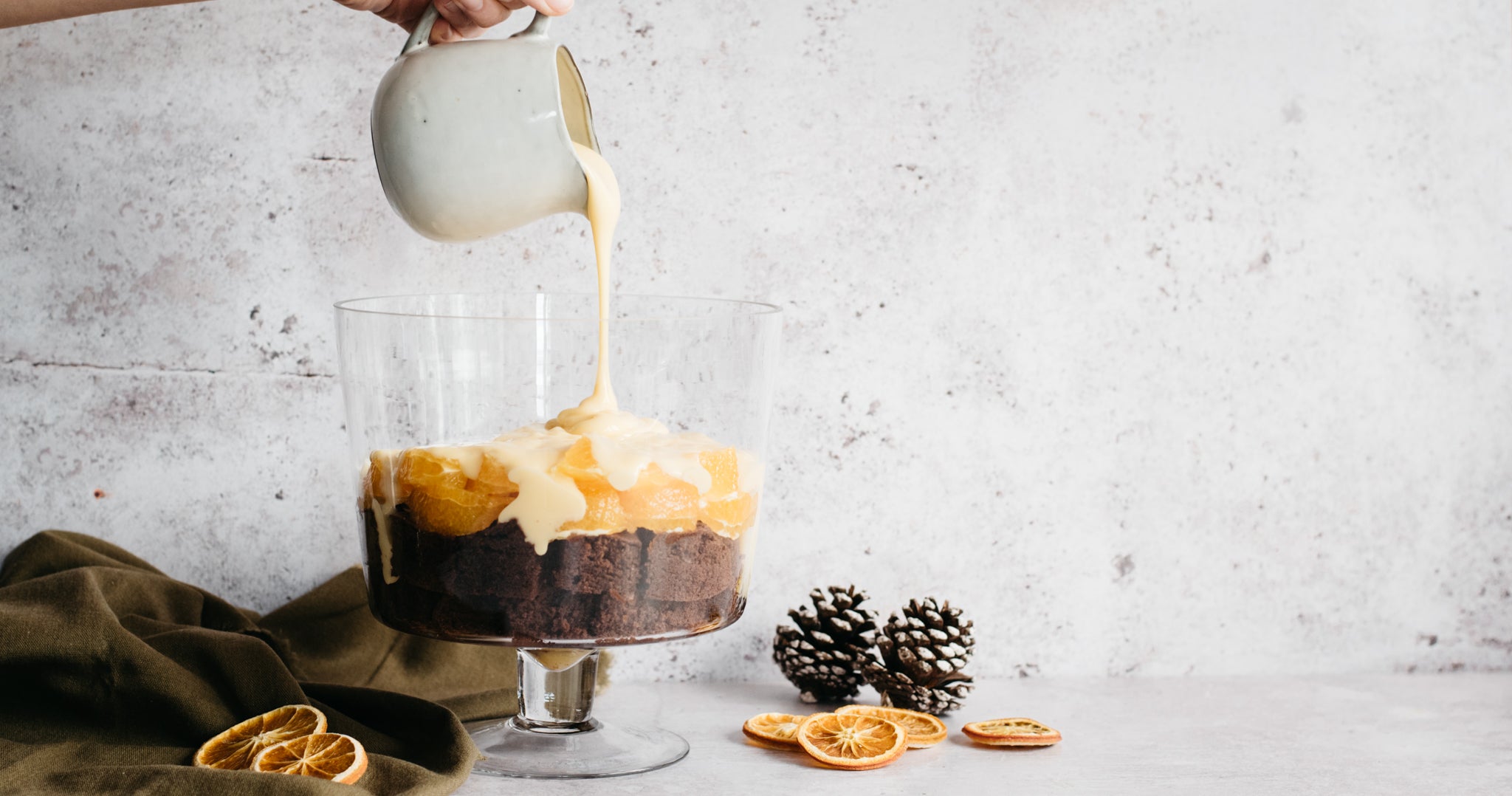 About the Chocolate Orange Trifle
Isn't sharing a trifle with friends and family one of the best highlights of the festive period? Dipping in your spoon to serve the delights of what hides inside the many delicious layers of a trifle is even more exciting when it tastes this good.
Dive into layers of Baileys custard, fresh orange segments and rich chocolatey sponge using Billington's unrefined caster sugar, for a rich and full flavour. If trifle is your thing, you're in the right place. Why not spoil your guests with too much choice, with our gingerbread trifle or Christmas trifle
Method
Step 1:

For the dried orange slices, preheat the oven to 110°C,fan 90°C, gas ¼. Slice each orange into ½ cm-thick rounds. Pat the orange slices on kitchen paper to absorb some of the juice, then arrange the slices directly on the oven shelves. Cook for 3 hours, turning them over after the first hour. Remove from the oven and leave to cool.

Step 2:

For the sponge layer, preheat the oven to 180°C, fan 160°C, gas 4, and grease and line a 20cm square cake tin with baking paper.

Step 3:

Cream the butter and sugar together in a bowl until pale and fluffy. Beat in the eggs, a little at a time with a tablespoon of flour, then fold in the remaining flour and cocoa powder using a large metal spoon. Spoon the cake mixture into the prepared tin andlevel the top with the back of a spoon.

Step 4:

Bake in the preheated oven for 20 minutes, until the sponge is well risen and firm to the touch. Insert askewer into the centre of the cake; it should come out clean if cooked. Allow the cake to cool for 10 minutes in the tin, then turn out onto a cooling rack.

Step 5:

To assemble the trifle, put the fresh orange segments in a bowl and soak in 2 tablespoons of Cointreau or fresh orange juice. Cut the sponge into small squares, place in the base of a deep glass trifle dish and pour the remaining Cointreau or fresh orange juice evenly over the sponge to soak fully.

Step 6:

Next, arrange the oranges over the sponge, followed by the Baileys custard. Spoon the cream over the top of the custard and decorate with chocolate shaving sand the dried orange slices. Chill before serving.
Ingredients
For the trifle sponge

125g

 

Butter (unsalted) (plus extra for greasing)

125g

 Billington's Unrefined Golden Caster Sugar

2

 

Large eggs

100g

 Allinson's Self Raising Flour

25g

 

Cocoa Powder

For the filling

4

 

Orange(s) (peeled and segmented)

100ml

 

Cointreau (or orange juice)

600ml

 Indulgent Baileys custard

400ml

 

Double cream

25g

 

Dark chocolate shavings (for decoration)
Utensils
Kitchen paper

Baking paper

Mixing bowl

20cm square tin
We'd love a slice of advice.
Was it yum? Did the recipe work well? Did you customise the recipe?
Ingredients
For the trifle sponge

125g

 

Butter (unsalted) (plus extra for greasing)

125g

 Billington's Unrefined Golden Caster Sugar

2

 

Large eggs

100g

 Allinson's Self Raising Flour

25g

 

Cocoa Powder

For the filling

4

 

Orange(s) (peeled and segmented)

100ml

 

Cointreau (or orange juice)

600ml

 Indulgent Baileys custard

400ml

 

Double cream

25g

 

Dark chocolate shavings (for decoration)
Utensils
Kitchen paper

Baking paper

Mixing bowl

20cm square tin