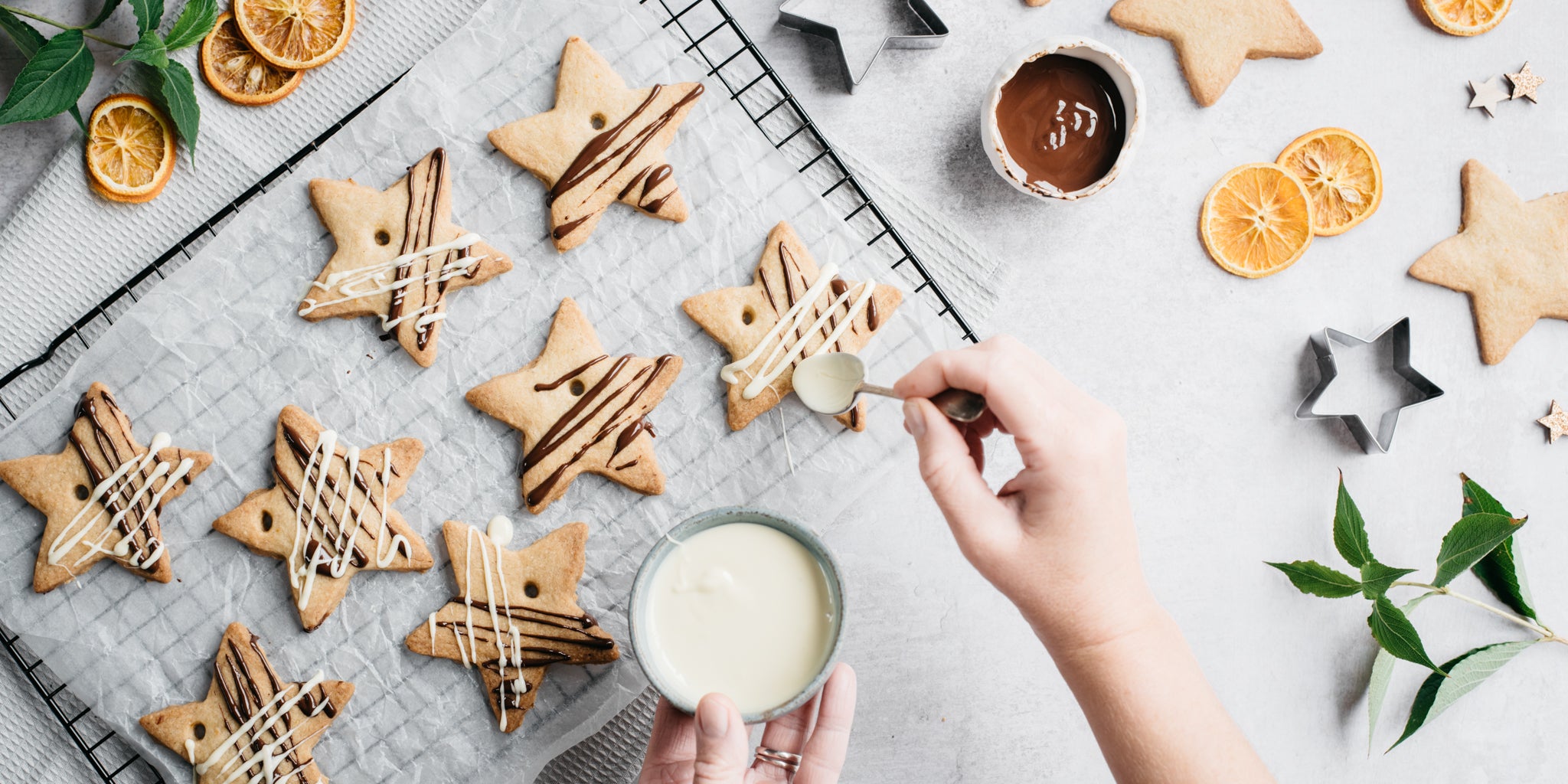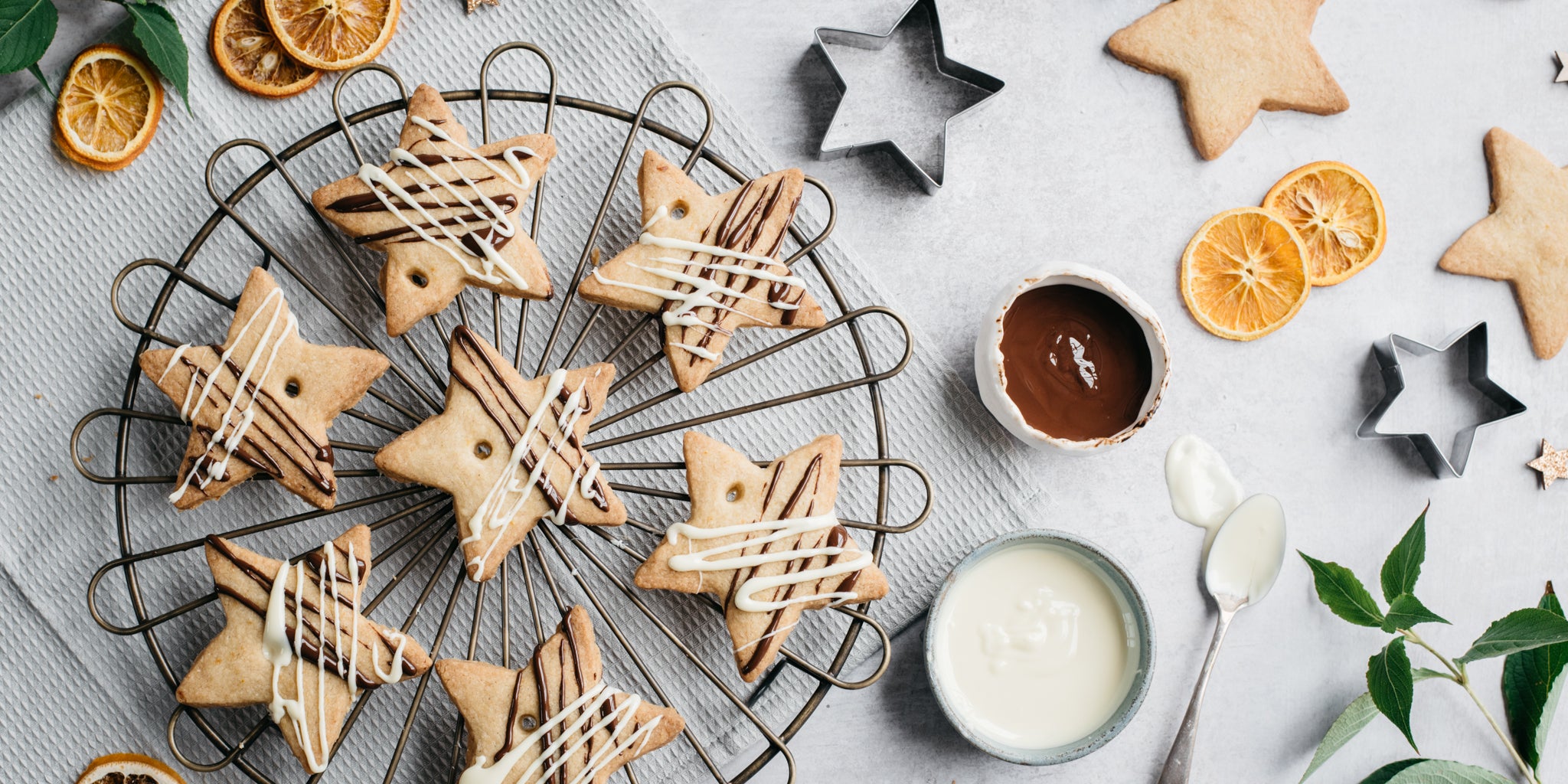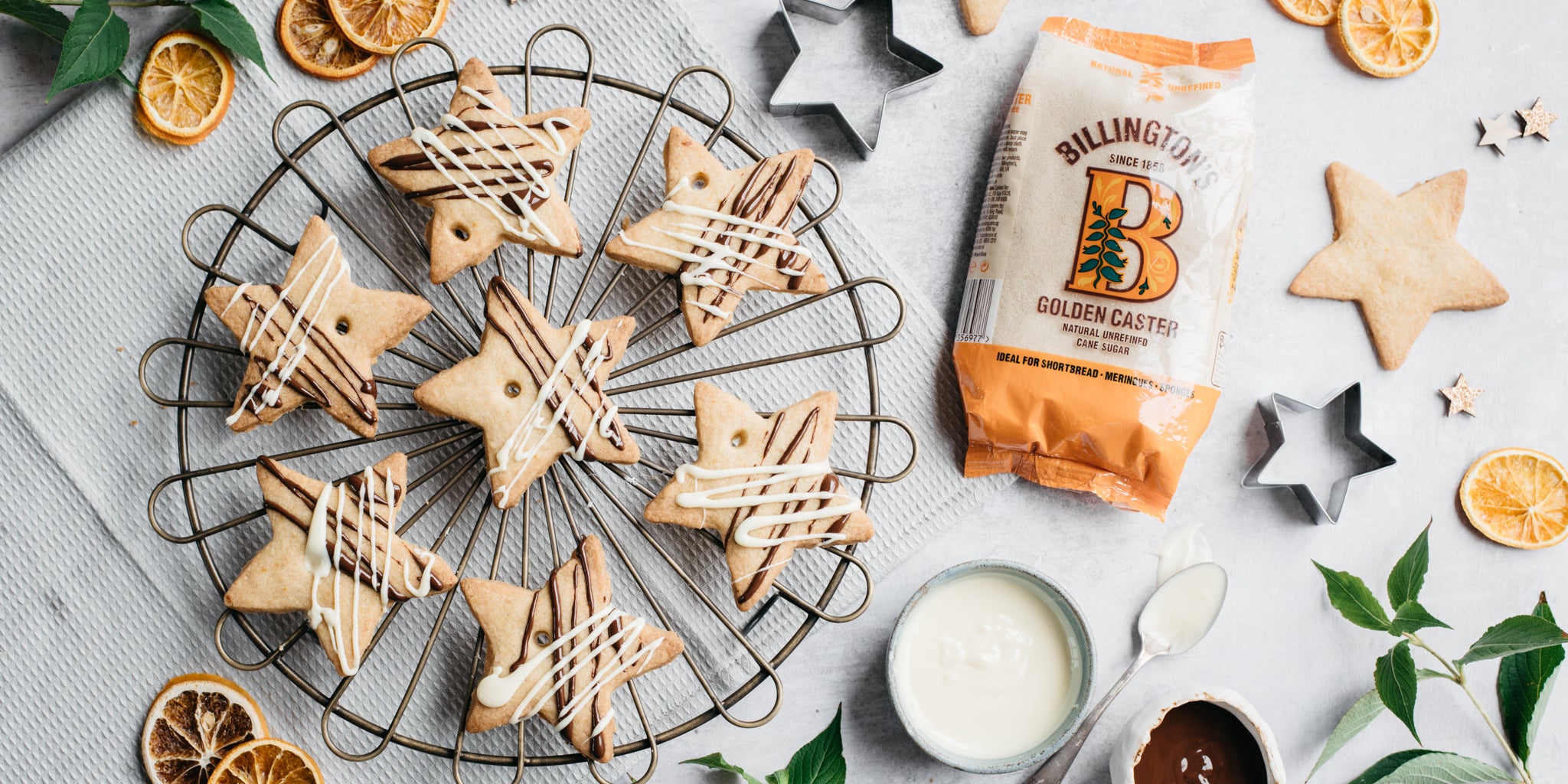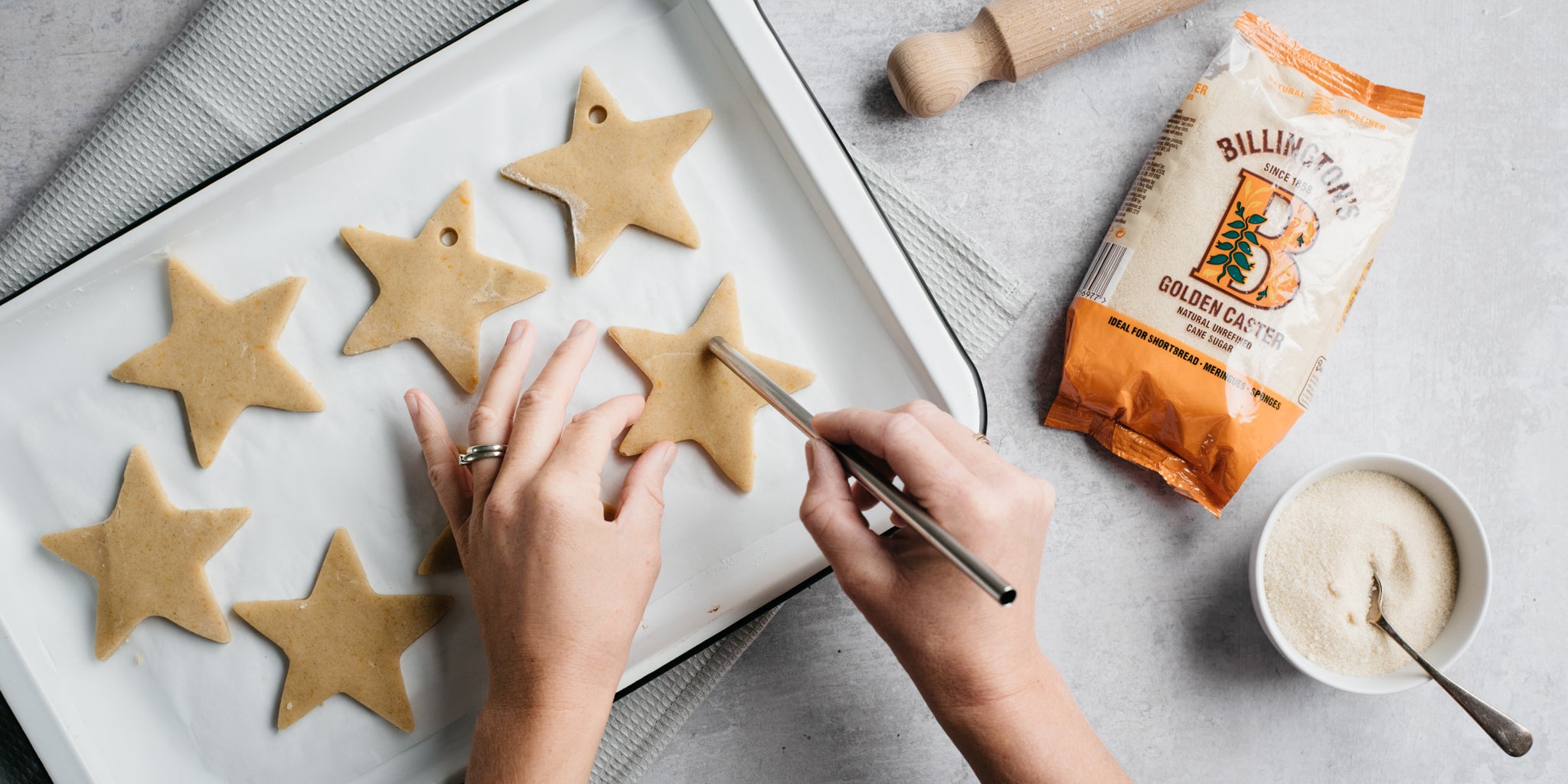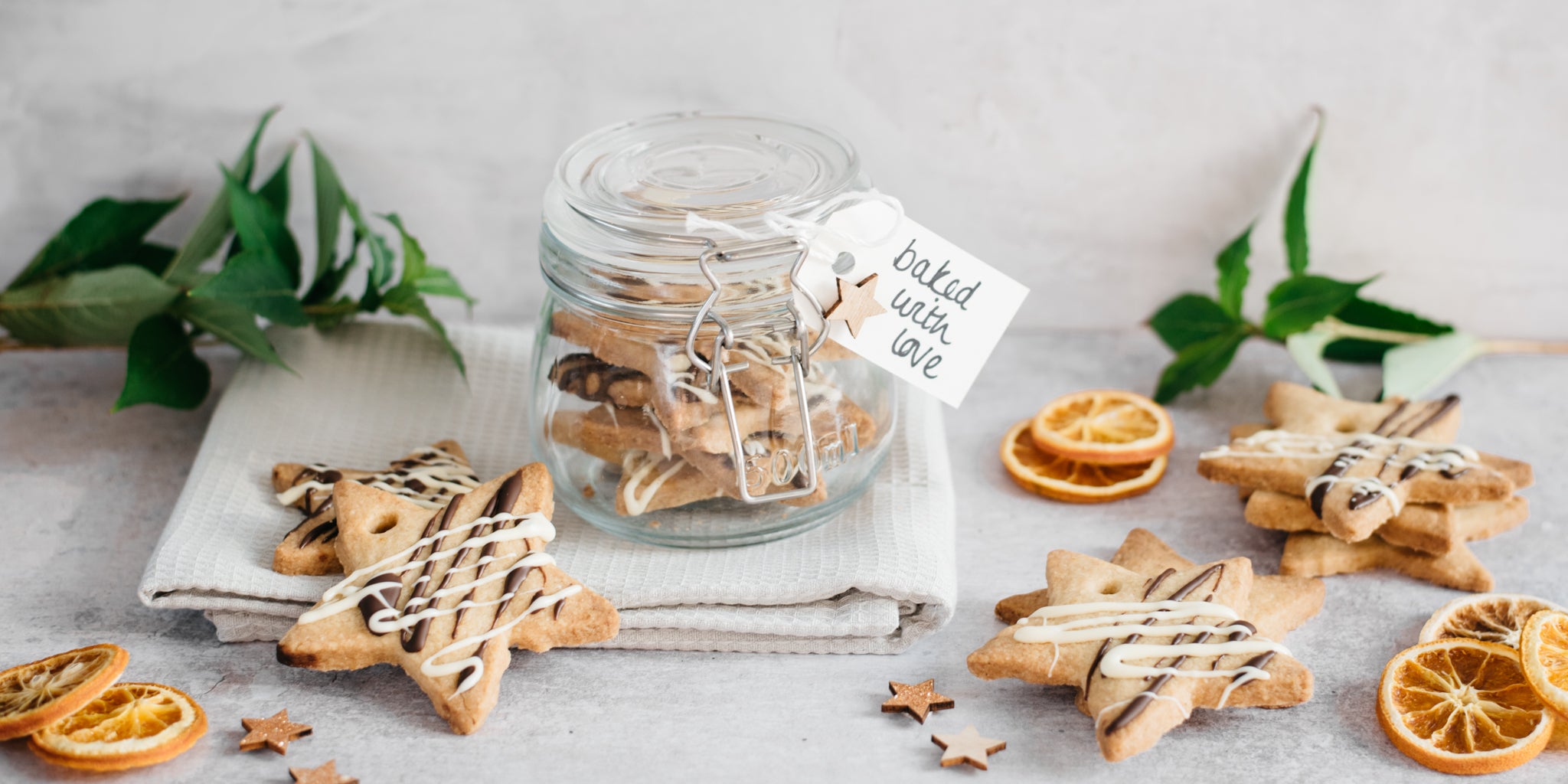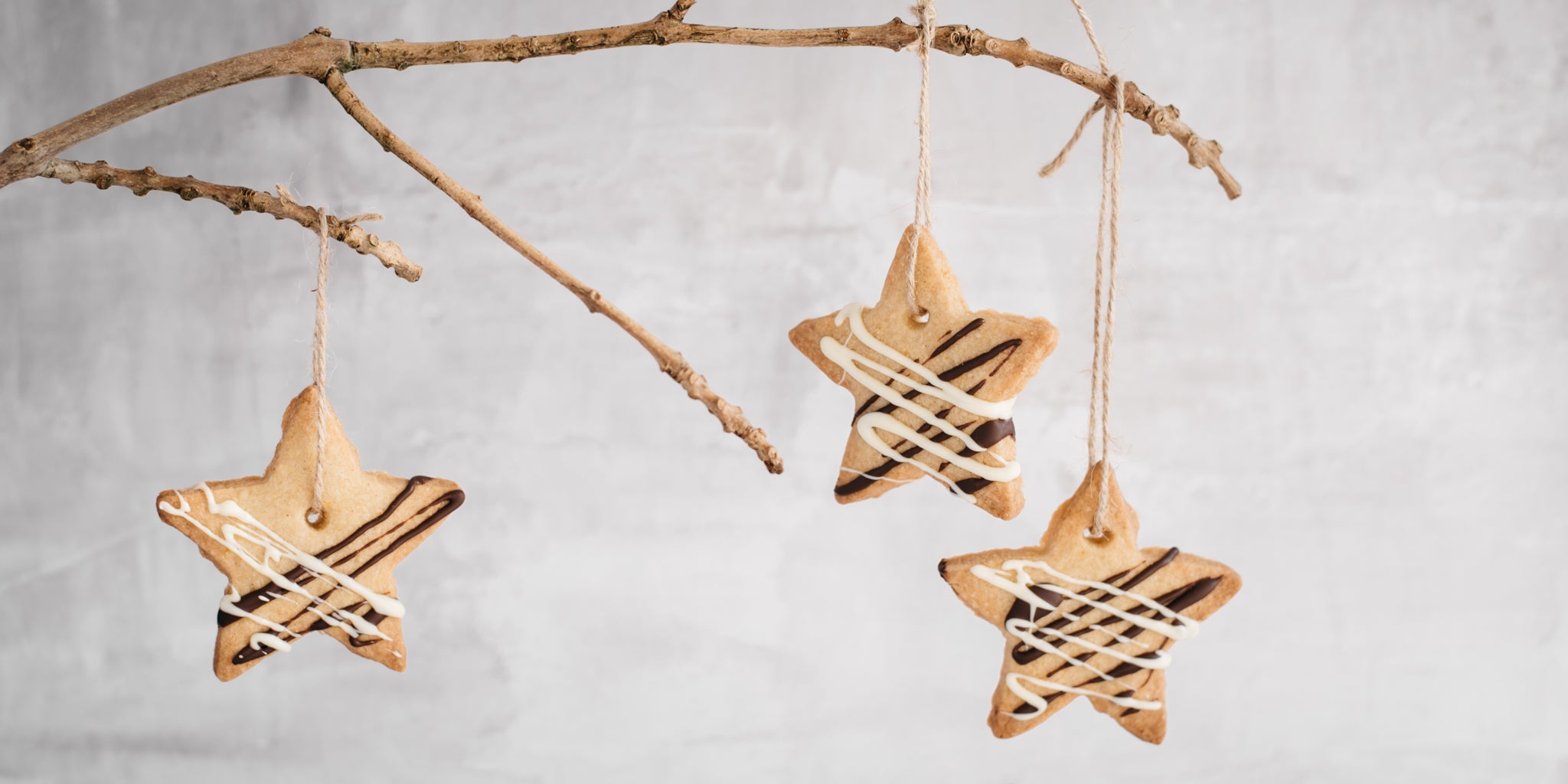 About the Shortbread Stars
These Orange & Ginger Shortbread Stars are a perfectly simple recipe for all to get stuck into this Christmas period. With fresh orange zest, ground ginger and Billington's golden caster sugar, these shortbread biscuits are beautifully spiced and full of flavour.
Drizzle with dark and white chocolate and once set, will make dazzling star decorations when threaded with Christmas ribbon or twine. A great family baking recipes for everyone to enjoy making (and eating) this festive season.
Method
Step 1:

Put the flour, sugar, orange zest and ground ginger into a mixing bowl. Chop the butter into cubes, then add it to the bowl and rub into the mixture with your fingertips until it resembles breadcrumbs. Gently squeeze the dough together with your hands so that it comes into a ball.

Step 2:

Roll out the dough on a lightly floured surface until5mm thick and use an 8cmstar cutter to stamp out 24 shortbread stars, re-rolling the dough as necessary.

Step 3:

Put the stars on 2 baking sheets lined with baking paper and chill for 30minutes. Preheat the oven to 170°C, fan 150°C, gas 3½.

Step 4:

If you want to hang up these biscuits, make a hole in each one with a skewer. Bake for 15-18 minutes until golden, then remove from the oven, leave to cools lightly on the tray then transfer to a cooling rack.

Step 5:

Once cool, put the melted chocolate into2 small separate piping bags. Snip off the end of each bag with scissors, then drizzle the white chocolate over the shortbread stars, followed by the dark chocolate. Leave to set before serving or hanging.
Ingredients
For the shortbread

300g

 

Allinson's plain flour

100g

 Billington's Unrefined Golden Caster Sugar

1 orange

 

Orange (zest only)

1/2 tsp

 

Ground ginger

200g

 

Unsalted butter (chilled)

For the decoration

50g

 

Dark chocolate (melted)

25g

 

Dark chocolate (melted)
Utensils
Skewer

Rolling pin

Star cutter

Baking paper
Nutritional Information
per 24g
138cal

 

Energy

7.8g

 

Fat

4.9g

 

of which Saturates

15g

 

Carbohydrates

6.1g

 

of which Sugars

1.4g

 

Protein

0g

 

Salt
We'd love a slice of advice.
Was it yum? Did the recipe work well? Did you customise the recipe?
Ingredients
For the shortbread

300g

 

Allinson's plain flour

100g

 Billington's Unrefined Golden Caster Sugar

1 orange

 

Orange (zest only)

1/2 tsp

 

Ground ginger

200g

 

Unsalted butter (chilled)

For the decoration

50g

 

Dark chocolate (melted)

25g

 

Dark chocolate (melted)
Utensils
Skewer

Rolling pin

Star cutter

Baking paper
Nutritional Information
per 24g
138cal

 

Energy

7.8g

 

Fat

4.9g

 

of which Saturates

15g

 

Carbohydrates

6.1g

 

of which Sugars

1.4g

 

Protein

0g

 

Salt