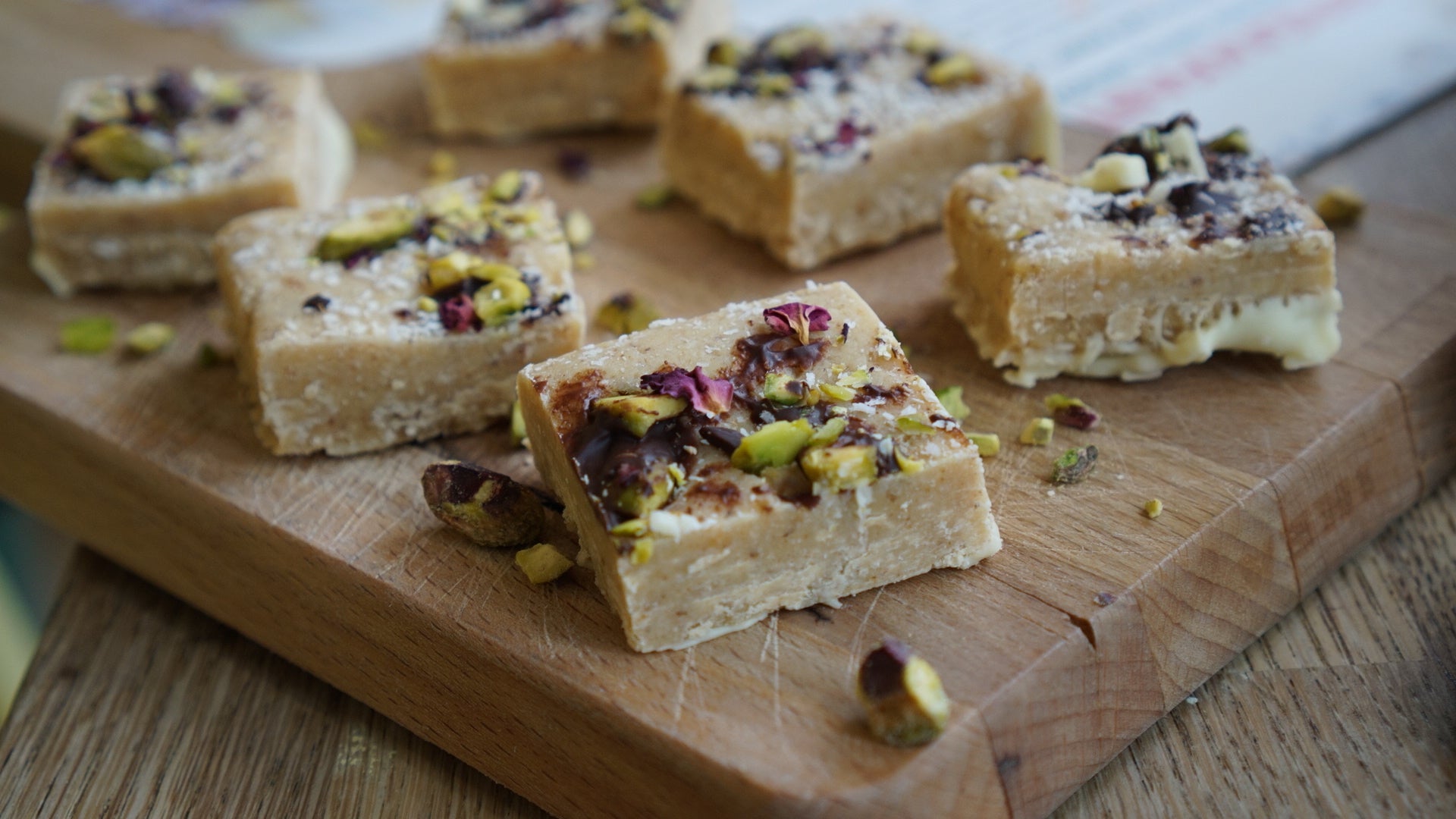 About the bake
What better gift at Christmas than a homemade box of Mauritian Christmas Fudge with Coconut, Vanilla and Rose? This delicious recipe has been created by 2012 Masterchef winner, Shelina Permalloo and is packed with flavour, from the unrefined golden caster sugar through to the indulgent vanilla extract. This is definitely a recipe that you are going to want to make for your family and friends.
Method
Step 1:

In a medium sized non stick pan over a low heat add the sugar, coconut, milk powder and milk and cook for 8 - 10 minutes stirring constantly. As soon as the mixture starts to stick to the bottom of the pan and forms one homogenous lump remove from heat. Add in the vanilla and rose water and stir through.


Step 2:

Quickly turn out the mixture into a pre-lined dish and spread out until you get to approx 2cm in height. Flatten out the top of the mixture using the back of a spoon then quickly drop over the pistachios and rose and pat them into the top of the fudge then sprinkle over the chocolate this will melt so you don't need to touch the top after you have added the chocolate.


Step 3:

Place in the fridge and allow to set for up to 2 hours.


Step 4:

Cut the fudge into 2cm pieces so they are the same height and width.


Step 5:

Place into sweet boxes or clear bags and choose some festive decorations to design your gifts

Ingredients
For the Fudge

700g

 

Indian milk powder (full fat)

400ml

 

Milk (whole)

250g

 Billington's Unrefined Golden Caster Sugar

1 tsp

 Nielsen-Massey Vanilla Extract

1 tsp

 

Rose water

20g

 

Dessicated coconut

For the Topping

2 tbsp

 

Dark chocolate (70%, finely chopped)

1 tbsp

 

Rose petals

1 tbsp

 

Pistachios (chopped)
We'd love a slice of advice.
Was it yum? Did the recipe work well? Did you customise the recipe?
Ingredients
For the Fudge

700g

 

Indian milk powder (full fat)

400ml

 

Milk (whole)

250g

 Billington's Unrefined Golden Caster Sugar

1 tsp

 Nielsen-Massey Vanilla Extract

1 tsp

 

Rose water

20g

 

Dessicated coconut

For the Topping

2 tbsp

 

Dark chocolate (70%, finely chopped)

1 tbsp

 

Rose petals

1 tbsp

 

Pistachios (chopped)