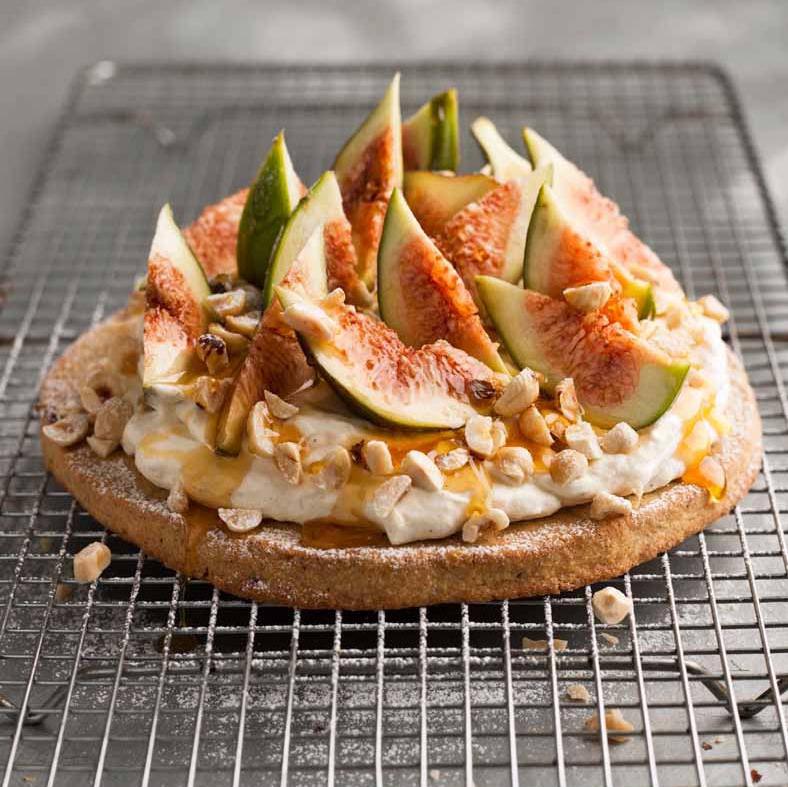 About the bake
Fresh figs can be hard to find out of season so check their availability before you attempt to make this stunning tart. They are worth the effort of waiting for and buying. The addition of Chinese five spice brings an aniseed flavour to the shortbread base, but can easily be replaced with mixed spice if you don't like it. Drizzled with runny honey this tart is simply beautiful. This recipe comes from Dean Brettschneider's Pie book.
Method
Step 1:

Preheat the oven to 190°C (fan 170°C, gas mark 5). Scatter hazelnuts on a baking tray and toast in the oven for six to seven minutes until golden, then leave to cool. You can now turn the oven off.

Step 2:

Grind up half the hazelnuts in a food processor, then roughly chop the rest. Move the chopped hazelnuts to one side.

Step 3:

To make the dough, mix flour, butter, sugar, Chinese five spice,
egg yolk and ground hazelnuts in the food processor until
combined. Tip the dough out onto a floured surface and bring it
together with your hands. Press the dough flat, cover with clingfilm
and chill for thirty minutes or overnight.

Step 4:

Preheat the oven to 190°C (fan 170°C, gas mark 5). On a lightly floured surface, roll out dough to a 16cm-diameter circle and transfer it onto a baking paper-lined oven tray.

Step 5:

Bake in the oven for twenty minutes or until lightly golden. Allow to cool for five minutes, then transfer to a cooling rack and leave until completely cold.

Step 6:

Whip cream, vanilla and icing sugar into stiff peaks and then pipe
it on the shortcake base almost to the edge. Pile on figs and then
sprinkle over chopped hazelnuts. Dust with extra icing sugar and
drizzle with honey.
Ingredients
For the shortbread dough

50g

 

Hazelnuts (whole blanched)

100g

 Allinson's Plain White Flour

75g

 

Butter (unsalted) (softened, in pieces.)

40g

 Silver Spoon Caster Sugar

1 tsp

 

Chinese five spice

1

 

Egg yolk(s) (free range) (medium)

For the topping

150ml

 

Double cream

1 tsp

 Nielsen-Massey Vanilla Extract

2 tbsp

 Silver Spoon Icing Sugar

6

 

Fig(s) (quartered)

100ml

 

Honey
We'd love a slice of advice.
Was it yum? Did the recipe work well? Did you customise the recipe?
Ingredients
For the shortbread dough

50g

 

Hazelnuts (whole blanched)

100g

 Allinson's Plain White Flour

75g

 

Butter (unsalted) (softened, in pieces.)

40g

 Silver Spoon Caster Sugar

1 tsp

 

Chinese five spice

1

 

Egg yolk(s) (free range) (medium)

For the topping

150ml

 

Double cream

1 tsp

 Nielsen-Massey Vanilla Extract

2 tbsp

 Silver Spoon Icing Sugar

6

 

Fig(s) (quartered)

100ml

 

Honey