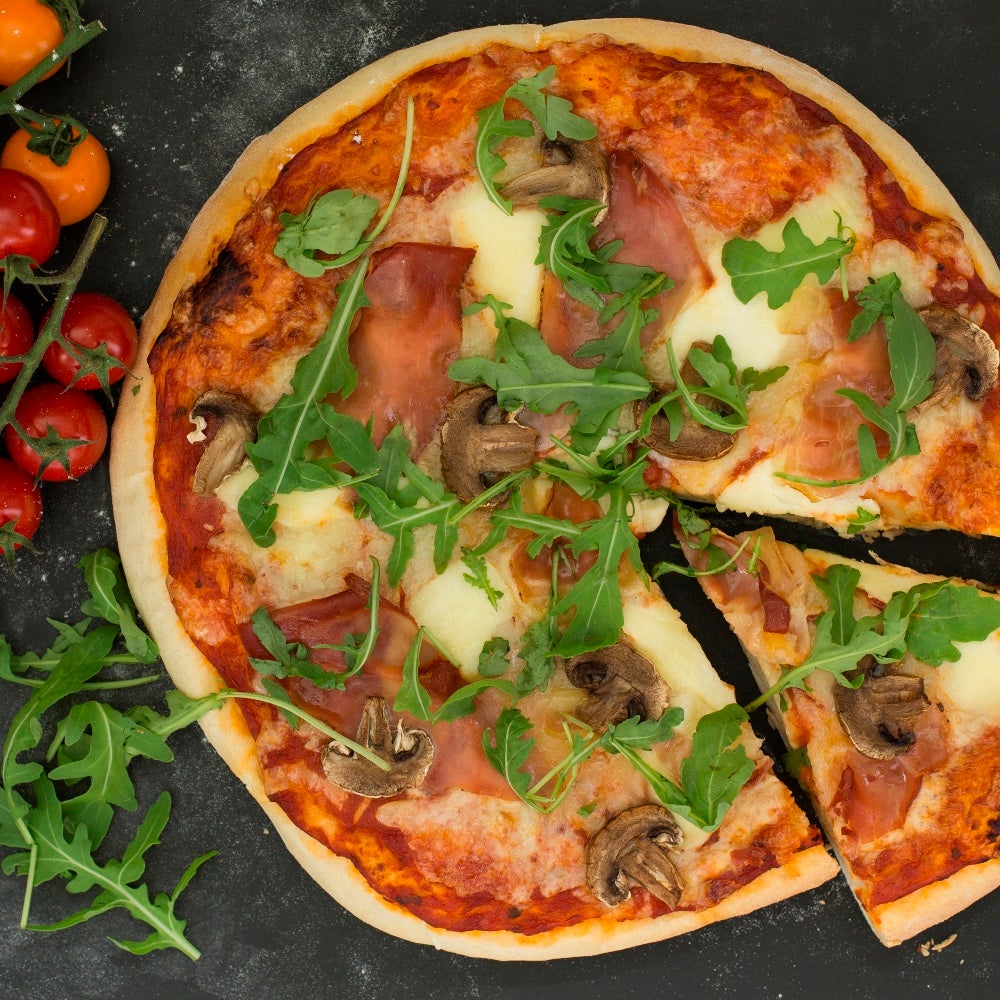 About the bake
A simple but delicious ham and mushroom pizza recipe, perfect for girls nights in or making with the kids at the weekend. You can adapt the toppings to your own taste.
Method
Step 1:

Put the flour, yeast and salt in a large bowl (keeping the yeast and salt apart) and mix together. Make a well in the centre of the mix.



Step 2:

Stir the sugar into the warm water then add to the well in the centre of the dry mix.



Step 3:

Work from the outer edge and mix all of the dry ingredients into the water. When the mix has come together, turn out onto a lightly floured surface and knead for about 10 minutes. At this stage the dough should be soft and spring back when lightly touched.


Step 4:

Flour the dough and cover with oiled cling film. Leave to rest for about 15 minutes. If not baking immediately, leave the dough wrapped in lightly oiled cling film and place in the fridge until ready to shape and bake.

Step 5:

Preheat the oven to 200°C (fan 180°C, gas mark 6).

Step 6:

Roll out the dough until it is about 1 cm thick. Place on a baking sheet, prick roughly with a fork.

Step 7:

Spread over the tomato puree and grate the cheese on top.

Step 8:

Top with the ham and mushrooms.

Step 9:

Bake for about 15 minutes until the dough is cooked and golden brown. Sprinkle with a few basil leaves before serving.
Ingredients
For the Dough

350g

 Allinson's Strong White Bread Flour

7g

 Allinson's Easy Bake Yeast

1 tsp

 

Salt

1 tsp

 Billington's Unrefined Golden Caster Sugar

200ml

 

Warm water

1 tbsp

 

Olive oil

For the Toppings

100g

 

Tomato purée

150g

 

Cheddar cheese

6

 

Mushrooms (sliced)

100g

 

Ham (sliced)
Utensils
Large bowl

Large rolling pin

Baking sheet/pizza tray
Recipe Reviews
Used this for the first time last week. Came out perfectly! I added some mixed herbs in with the flour and it came out tasting amazing! Great tip about its fine to put in the fridge if using later, other recipes don't tell you this and it works a treat
Piggy,

I made Pizza this evening.
Yum Yum with some (?) French wine.
I've used this recipe a few times now mainly for the pizza base and it comes out perfectly every time. I use a stand mixer for the dough which takes about 5 min, 20 min proving in the airing cupboard and then turn out of its oiled bowl and roll out into the size I want. It makes 2 large pizzas or 4 small. I'll never go back to buying a pizza again!!
Ingredients
For the Dough

350g

 Allinson's Strong White Bread Flour

7g

 Allinson's Easy Bake Yeast

1 tsp

 

Salt

1 tsp

 Billington's Unrefined Golden Caster Sugar

200ml

 

Warm water

1 tbsp

 

Olive oil

For the Toppings

100g

 

Tomato purée

150g

 

Cheddar cheese

6

 

Mushrooms (sliced)

100g

 

Ham (sliced)
Utensils
Large bowl

Large rolling pin

Baking sheet/pizza tray