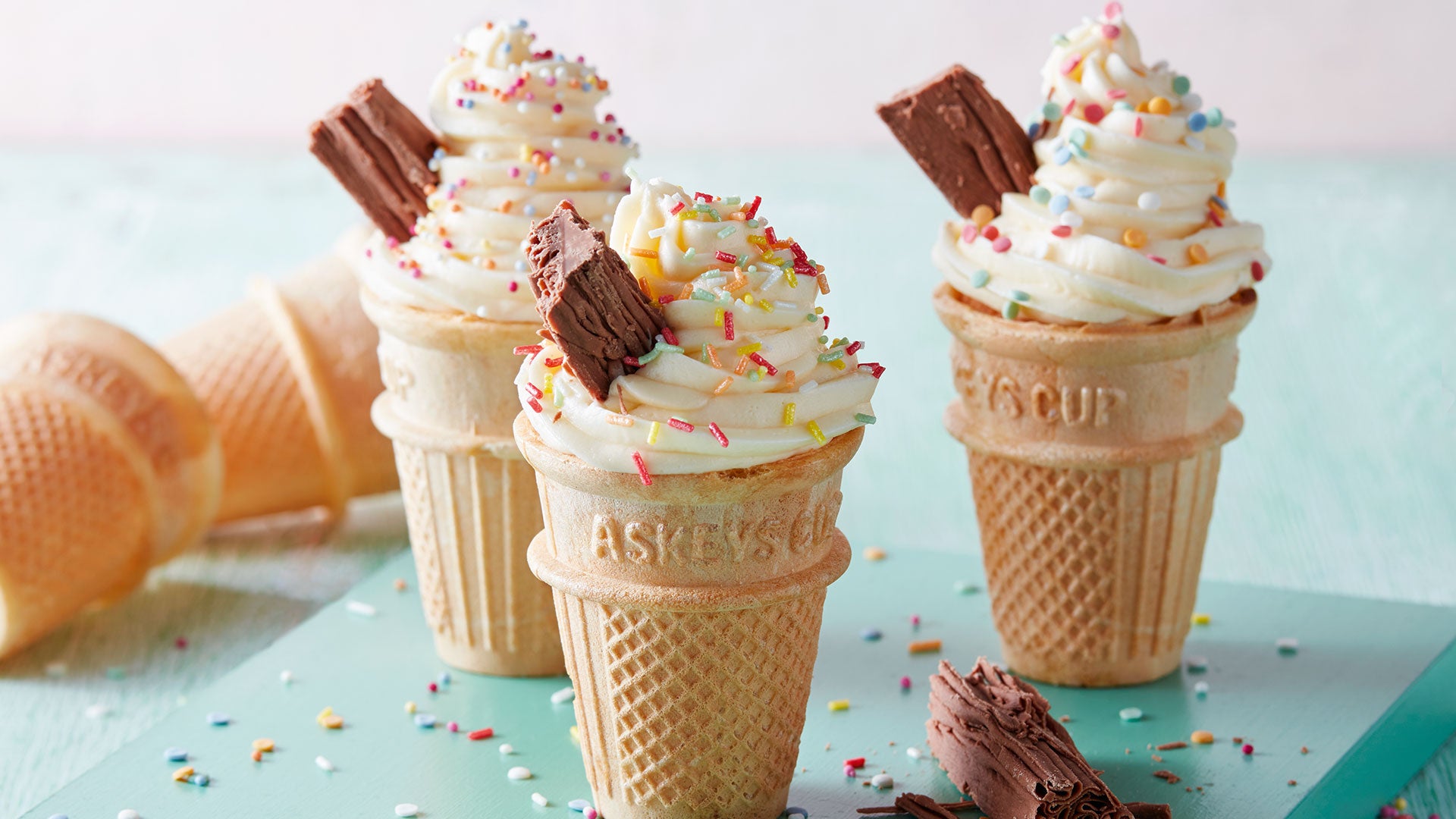 About the bake
An ice cream cone, rather than the usual paper one, makes a suprisingly good case for a light vanilla muffin. Each cone is topped with whipped buttercream icing and rainbow sprinkles - you could even add a flake! This child friendly recipe is really fun to make with little ones and features in Holly Willoughby's recipe book "Truly Scrumptious Baby"
Method
Step 1:

Preheat the oven to 180°C/350°F/Gas 4 and place the ice-cream cones in the holes of the muffin tin. Add scrunched-up pieces of baking paper around the base of each cone to help to keep them steady.


Step 2:

Using an electric whisk, beat the butter and sugar until pale and creamy. Beat in the vanilla extract and the eggs, one at a time, scraping the bowl down after each addition and adding a spoonful of the flour if the mixture starts to split.


Step 3:

Using a metal spoon, fold in the flour and the ground almonds in two batches to make a smooth cake batter. Spoon or pipe the mixture into the ice- cream cones (it may help to ask someone to hold the cones for you) until three-quarters full and make sure the batter reaches the bottom of the cone. Bake in the oven for 30–35 minutes or until risen and golden and a skewer inserted into the middle comes out clean.


Step 4:

Using an electric whisk or a food processor, whisk all the buttercream ingredients together for 3–4 minutes until smooth and fluffy. Spoon the buttercream into a piping bag fitted with a large star nozzle. Using a spiral motion, pipe the buttercream on the top of each ice-cream cake in a large swirl. Decorate with your choice of sprinkles and edible glitter and add a chocolate flake.

Ingredients
For the Cupcakes

12

 

Askeys cup cones

175g

 

Unsalted butter (softened)

175g

 Silver Spoon Caster Sugar

1 tsp

 Nielsen-Massey Vanilla Extract

3

 

Eggs (free range, large)

175g

 Allinson's Self Raising Flour

50g

 

Ground Almonds

 

Sprinkles, edible glitter & chocolate flakes (to decorate)

For the Buttercream

300g

 

Unsalted butter (softened)

300g

 Silver Spoon Icing Sugar

2 tsp

 Nielsen-Massey Vanilla Extract
Utensils
Deep 12 hole muffin tin

Piping bag

Large plain piping nozzle

Large star nozzle
Recipe Reviews
Umm I'm a child copying recipes for the internet
Umm ima child who has to write instructions 😂. I didn't actually bake it but it's easy?
Ingredients
For the Cupcakes

12

 

Askeys cup cones

175g

 

Unsalted butter (softened)

175g

 Silver Spoon Caster Sugar

1 tsp

 Nielsen-Massey Vanilla Extract

3

 

Eggs (free range, large)

175g

 Allinson's Self Raising Flour

50g

 

Ground Almonds

 

Sprinkles, edible glitter & chocolate flakes (to decorate)

For the Buttercream

300g

 

Unsalted butter (softened)

300g

 Silver Spoon Icing Sugar

2 tsp

 Nielsen-Massey Vanilla Extract
Utensils
Deep 12 hole muffin tin

Piping bag

Large plain piping nozzle

Large star nozzle