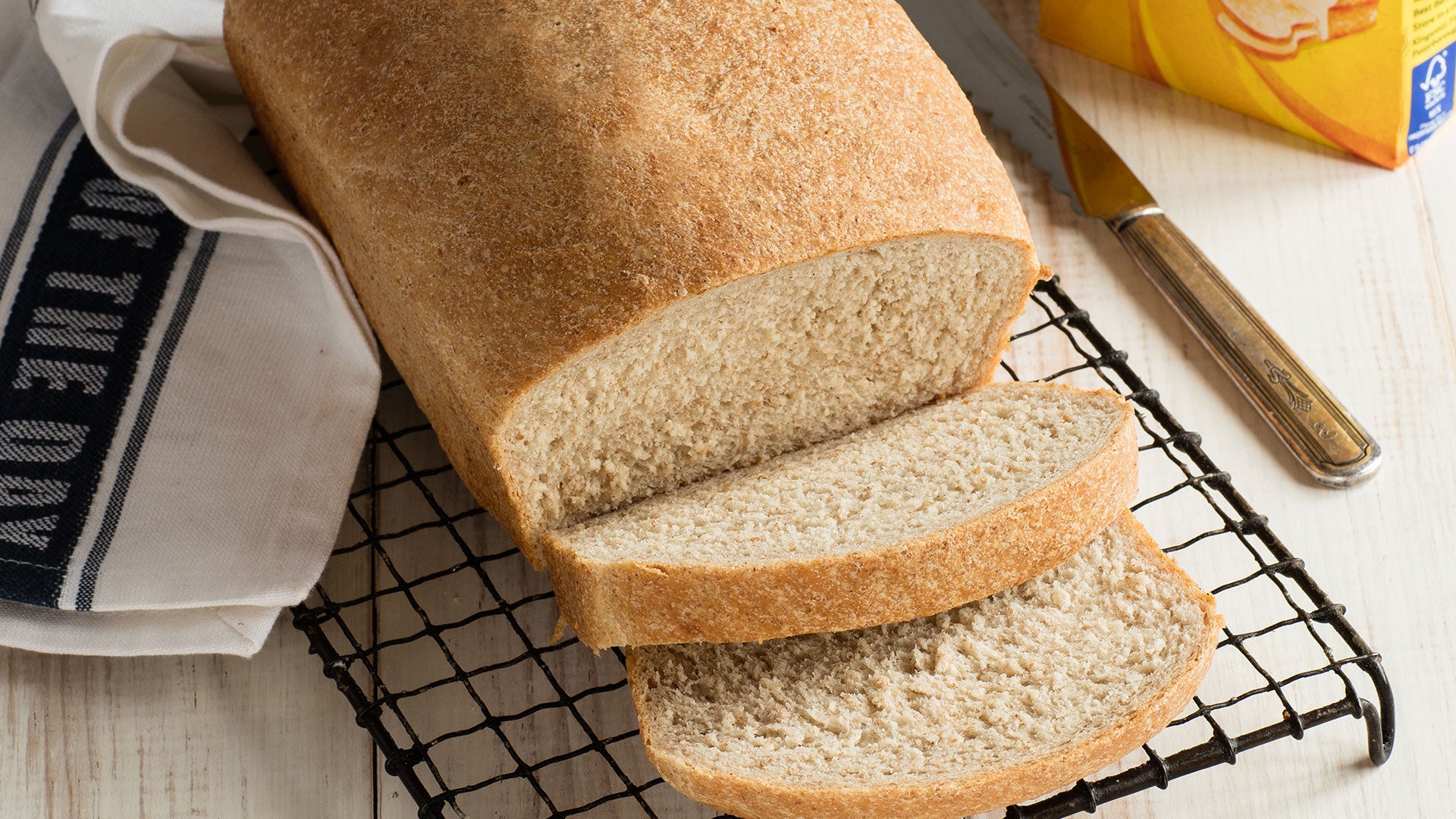 About the bake
If you're on the hunt for new bread maker recipes, you must give our bread machine 50/50 bread recipe a go!
We've used bread flour in a breadmaker to bake a delicious loaf perfect for toast or sandwiches.

If you're unsure about how to use a breadmaker it couldn't be easier, watch our video on how to use a breadmachine.
Method
Step 1:

Ensure the pan is clean and free of residues before inserting securely into the baking unit.


Step 2:

Accurately measure the ingredients into the baking pan in the order as listed. When adding the yeast to the pan, take care the yeast does not come into contact with the water or any other liquid as it will start to activate immediately.


Step 3:

Close the lid and select the Basic White program 01, 4 hours- 4 hours 5 minutes size XL 'Medium' crust colour.

Press the start/stop button once to start the program. Do not open the lid whilst the bread maker is operating.


Step 4:

To stop the bread maker during the run cycle, press the start/stop button for three seconds, however this will reset the program to the beginning, hence the bake must be re-started using fresh ingredients.


Step 5:

When the program is completed, the machine beeps 8 times and the bar at the 'End' flashes. Remove the baked loaf from the pan straight away otherwise the bread will become wet from condensation. Use oven gloves during this operation. Using the handle, simply twist the pan anti-clockwise to the 'REMOVE' position and lift out.


Step 6:

Turn the pan upside down and gently tap the bread from the pan onto a cooling rack. Ensure the kneading blade is removed. Allow the bread to cool completely before slicing.

Ingredients
For the Dough

4g

 Allinson's Easy Bake Yeast

300g

 Allinson's Strong White Bread Flour

300g

 Allinson's very strong wholemeal bread flour

7.4g

 

Sugar

7.4g

 

Salt

420ml

 

Water

25g

 

Unsalted butter (softened)
Utensils
Bread-maker

Scales

Cooling rack
Recipe Reviews
If i use the dough button. THEN TAKE OUT THE DOUGH when ready! Do i still need to prove and how many times.? Then what tempersture do I cook a 300g loaf on for how long? Having managed to shaoe like a bllomer loaf?) Please help?
Hello,
If using the dough button the machine will prove the dough for you. You can make a freeform bread on a baking sheet. I would bake Gas Mark 6 for 20 minutes before checking if it is baked. it might need a further 5-10 minutes.
Happy Baking!
I mixed this in my machine and then cooked it in the oven as it has more flour than my recipes for a 2lb loaf. It rose beautifully and tasted fantastic.
Hello,
This is a smaller loaf as it only has 300g flour and not 500g which would be a 2lb loaf,
Happy Baking!
Really sorry I don't understand step 4, please help
Hello,
Step 4 is just if you need to stop the programme for any reason. If you don't you can skip this step.
Thanks
Happy Baking!
I don't understand step 4!

when do I stop the run cycle and do I restart to kneed twice?
Hello,
Step 4 is just if you need to stop the programme for any reason. If you don't you can skip this step.
Thanks
Happy Baking!
Yeast not available at my local supermarkets and shops. What can I use as a replacement.
Hello
To replace yeast in a recipe, replace the yeast with the same amount of double-acting baking powder.
You can substitute yeast with equal parts lemon juice and baking soda. So if a recipe calls for 1 teaspoon of yeast, you can use half a teaspoon of lemon juice and half a teaspoon of baking soda.
There is no true substitute for yeast. While baking powder and soda can give you somewhat similar results, the texture will not be the same. This is why we suggest sticking to recipes that are specifically developed to be made with these ingredients instead.
Hope you are able to get yeast from your supermarket soon.
Happy baking!
Ingredients
For the Dough

4g

 Allinson's Easy Bake Yeast

300g

 Allinson's Strong White Bread Flour

300g

 Allinson's very strong wholemeal bread flour

7.4g

 

Sugar

7.4g

 

Salt

420ml

 

Water

25g

 

Unsalted butter (softened)
Utensils
Bread-maker

Scales

Cooling rack