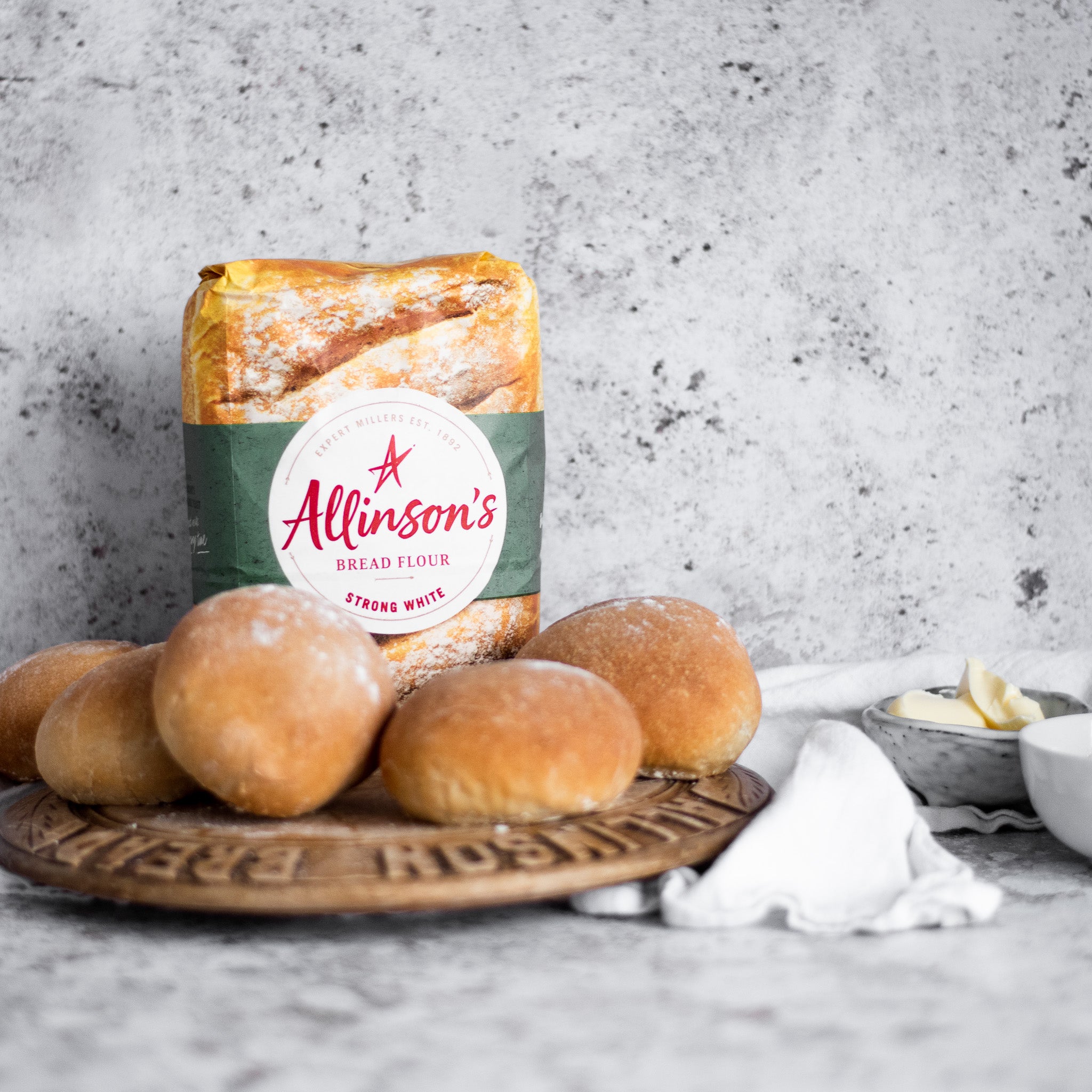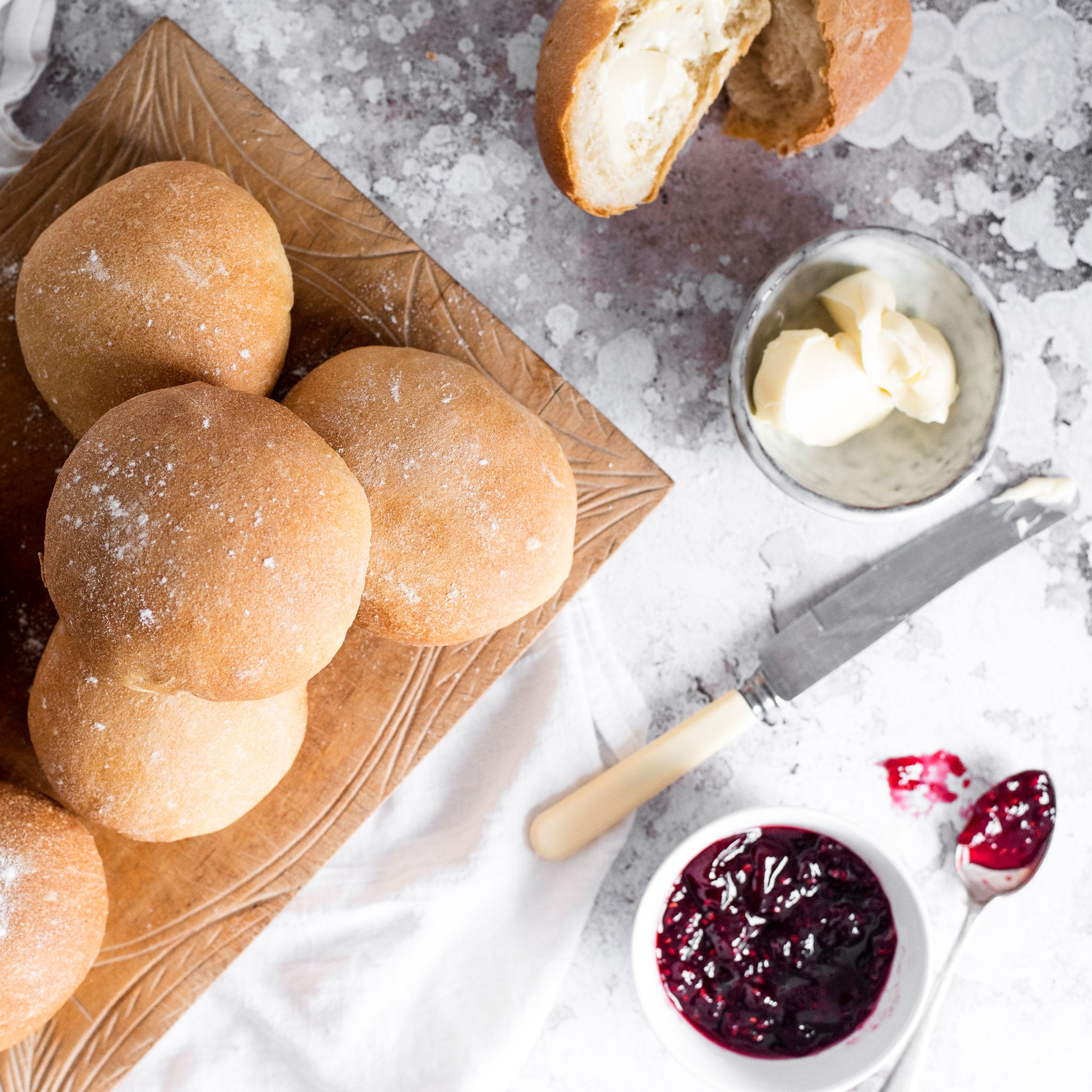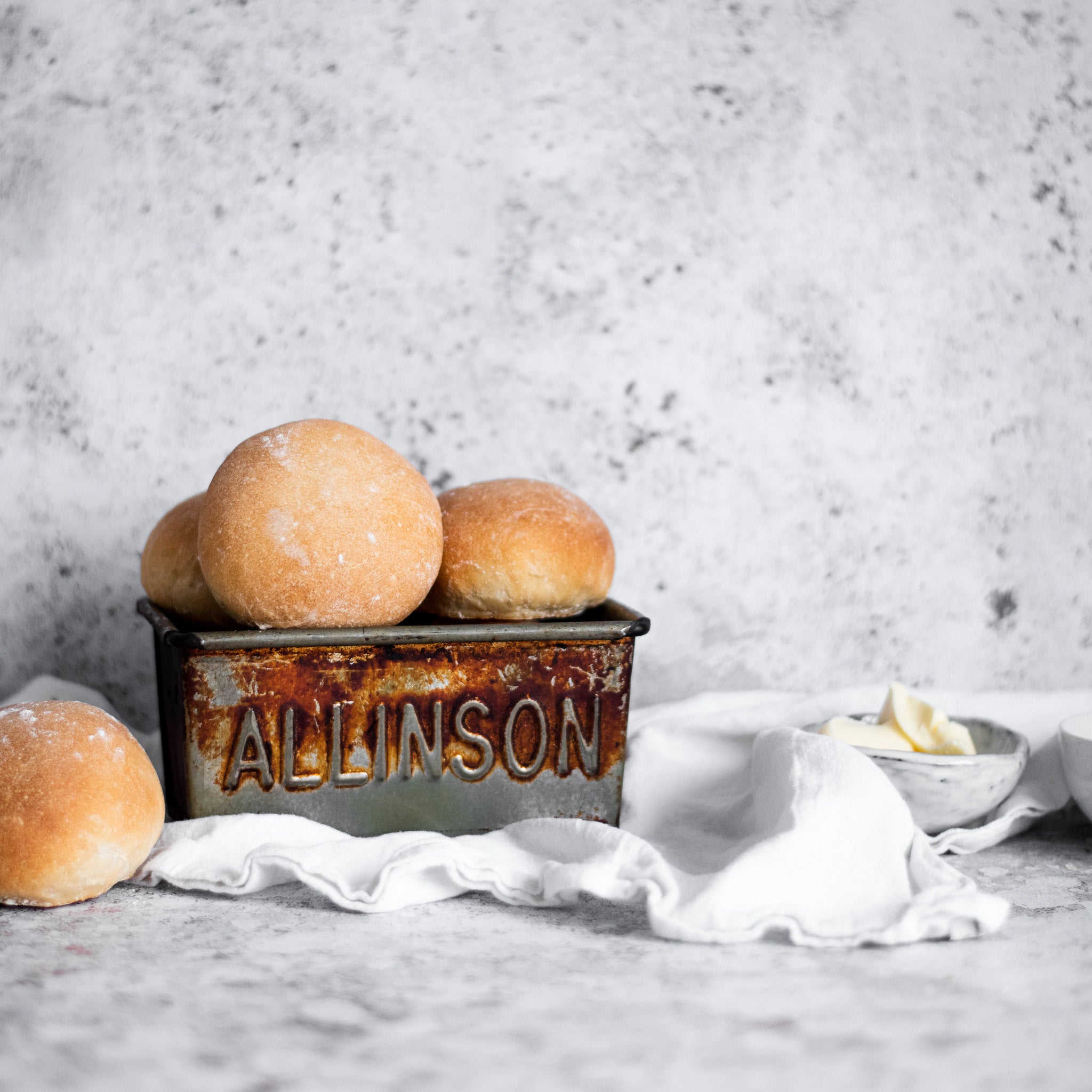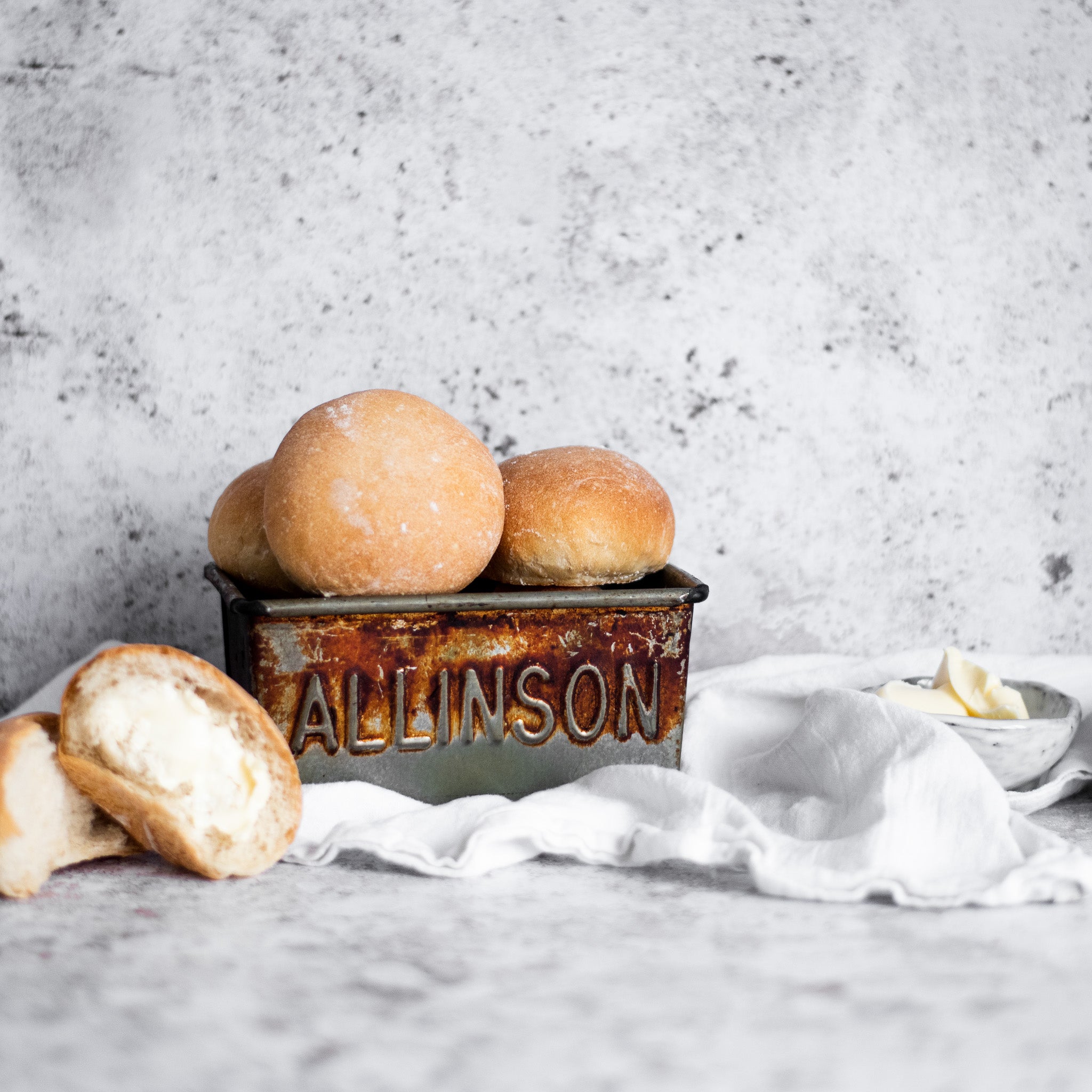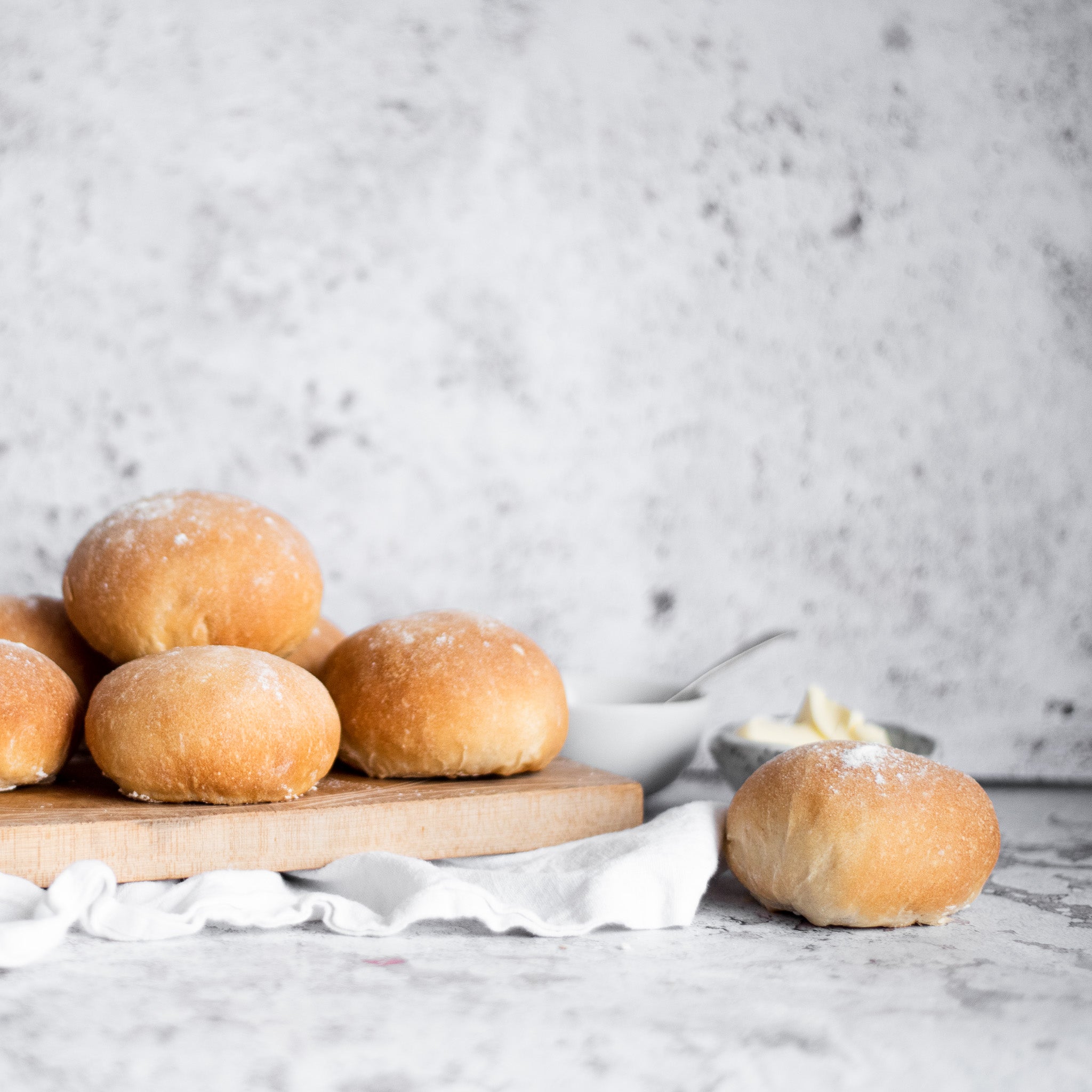 About the bake
Our white bread rolls are perfect for packed lunches and picnics, a fresh batch will always satisfy your hungry hoards. Made with Allinson white dough in six simple steps, these white rolls are a great starter recipe for new bakers.
As your confidence grows, try baking our beautiful Seeded Knot Rolls, also made with Allinson white dough.
Why do bread rolls get hard?
Hard crusts mean that you are either baking on too low heat and for too long, or that the dough you started off with was not kneaded well enough. Make sure the water you use for kneading the dough is warm. Hot water kills the yeast so make sure it is finger-tolerable warm.
If you enjoyed making this recipe, we think you'll love making your own pizza!
Method
Step 1:

MIX Mix the flour, yeast, sugar and salt in a big bowl. Using your fingertips rub in the butter until only fine 'crumbs' are left. Mix in the water with a cutlery knife.


Step 2:

KNEAD Tip onto a lightly flour dusted surface and knead for 10 minutes (or use the dough hook attachment on your mixer).


Step 3:

RISE

Lightly grease the mixing bowl with some oil. Put the dough back in, cover the bowl with a clean tea towel and leave to rise until doubled in size.

Step 4:

SHAPE Knock back the dough by gently kneading just 5 times to get the air out. Cut the dough into 12 even pieces (use a weighing scales if you like). Roll each piece into a ball and sit on two flour-dusted baking sheets – they'll need room between them for growing.


Step 5:

PROVE

Cover the rolls with a clean tea towel and leave to prove until doubled in size. Preheat your oven to 220°C (fan 200°C, gas mark 7).

Step 6:

BAKE

Bake the rolls for 20 minutes or until golden. If you tap the base of a roll it should sound hollow. Cool on a wire rack.
Ingredients
For the Dough

500g

 Allinson's Strong White Bread Flour

1 sachet

 Allinson's Easy Bake yeast or Allinson's Time Saver Yeast

1.5 tsp

 Billington's Unrefined Golden Caster Sugar

1.5 tsp

 

Salt

1 tbsp

 

Softened butter

300ml

 

Warm water
Utensils
Mixing bowl

Tea towel

Weighing scales

2x Baking sheet

Cooling rack
Recipe Reviews
Super easy recipe, used three times now and it has never failed me.
Only my 2nd attempt at making rolls but these came out lovely, didn't use quite 300ml of water though.
I decided to use this mix for a loaf and it turned out better than, I was expecting
Made these today, I used dried active yeast so I activated it in the water & sugar mixture but they came out incredible 🥰
Easy to make. Used my food mixer and dough hook to make the dough. Tasty rolls.
Really easy recipe and very tasty rolls. I did a few things differently: I placed the dough balls in a smaller pan so they were touching after they finished proving. This made them lovely and fluffy on the sides. I cooked them for 17 minutes (this was perfect for my oven). I slathered a bit of melted butter over the top of the rolls straight after they came out of the oven for a lovely shine.
Ingredients
For the Dough

500g

 Allinson's Strong White Bread Flour

1 sachet

 Allinson's Easy Bake yeast or Allinson's Time Saver Yeast

1.5 tsp

 Billington's Unrefined Golden Caster Sugar

1.5 tsp

 

Salt

1 tbsp

 

Softened butter

300ml

 

Warm water
Utensils
Mixing bowl

Tea towel

Weighing scales

2x Baking sheet

Cooling rack