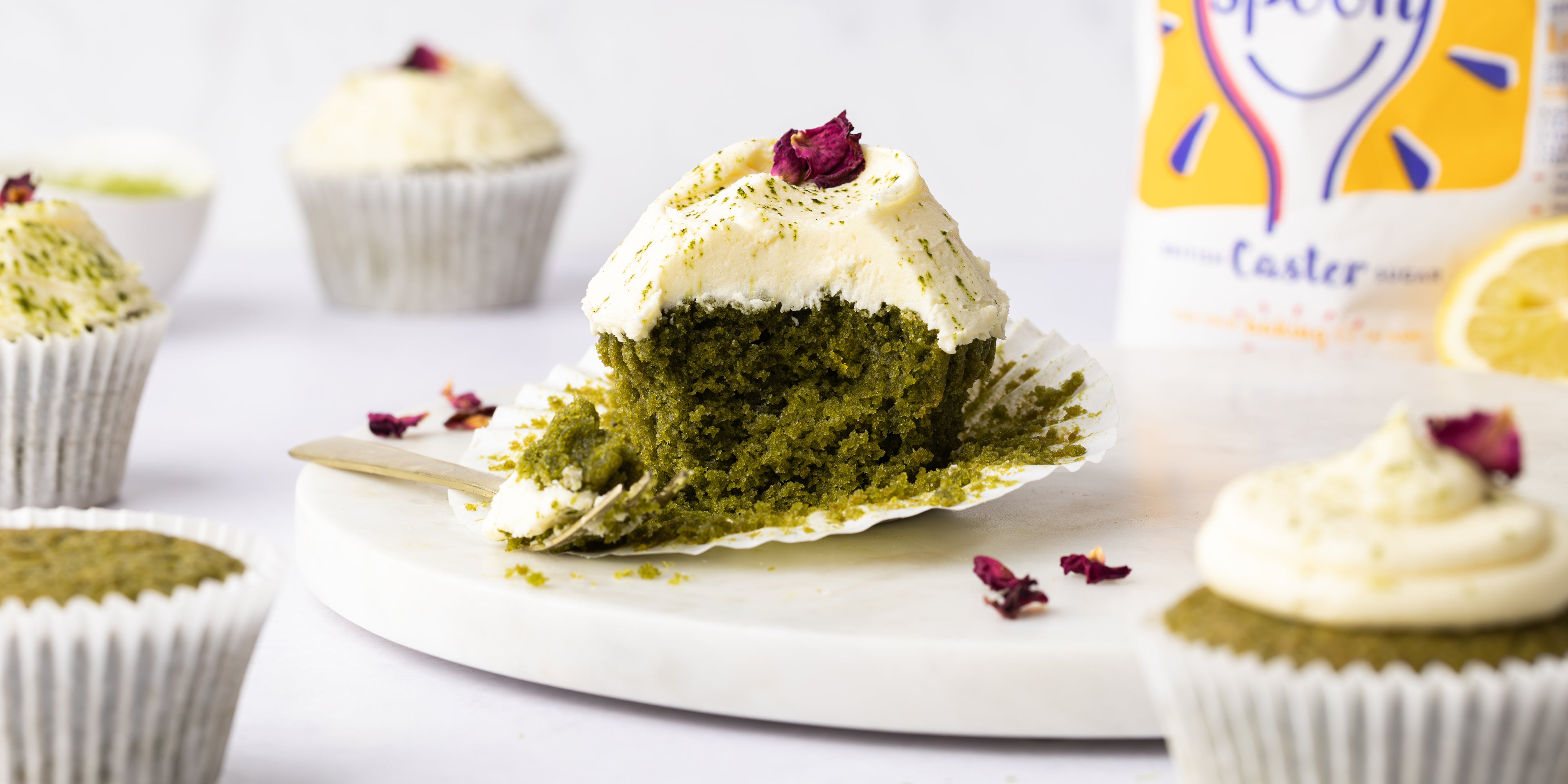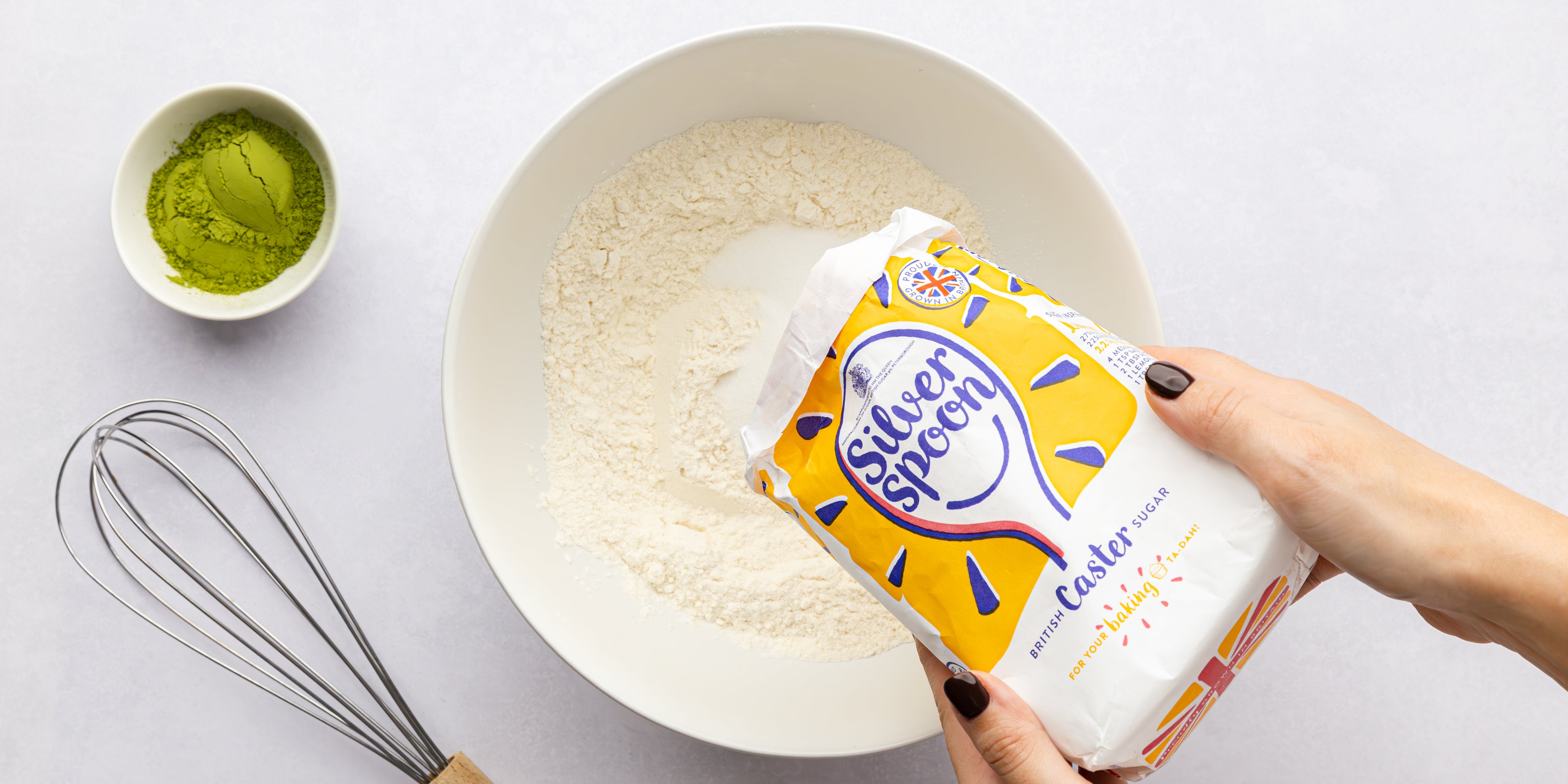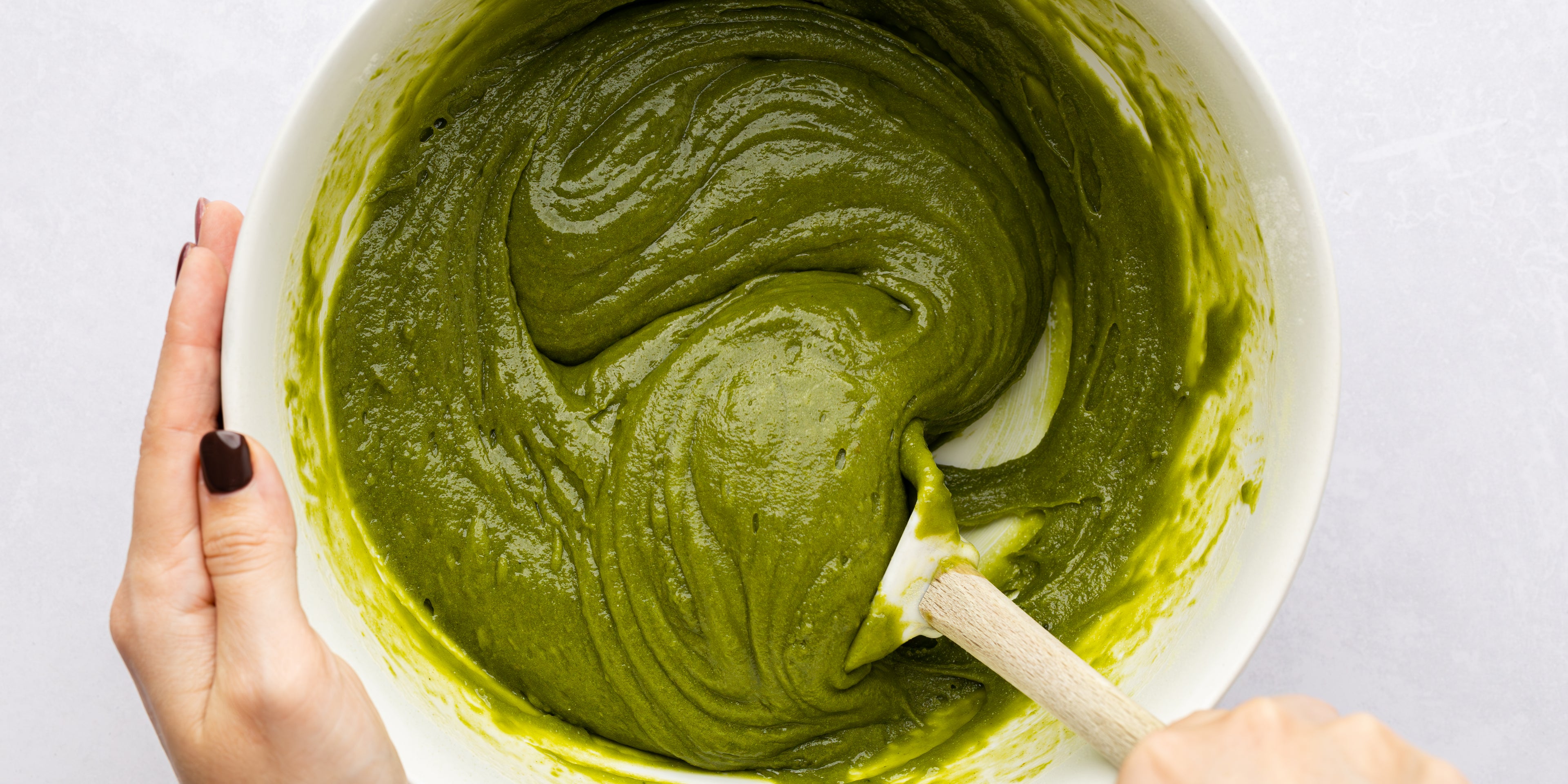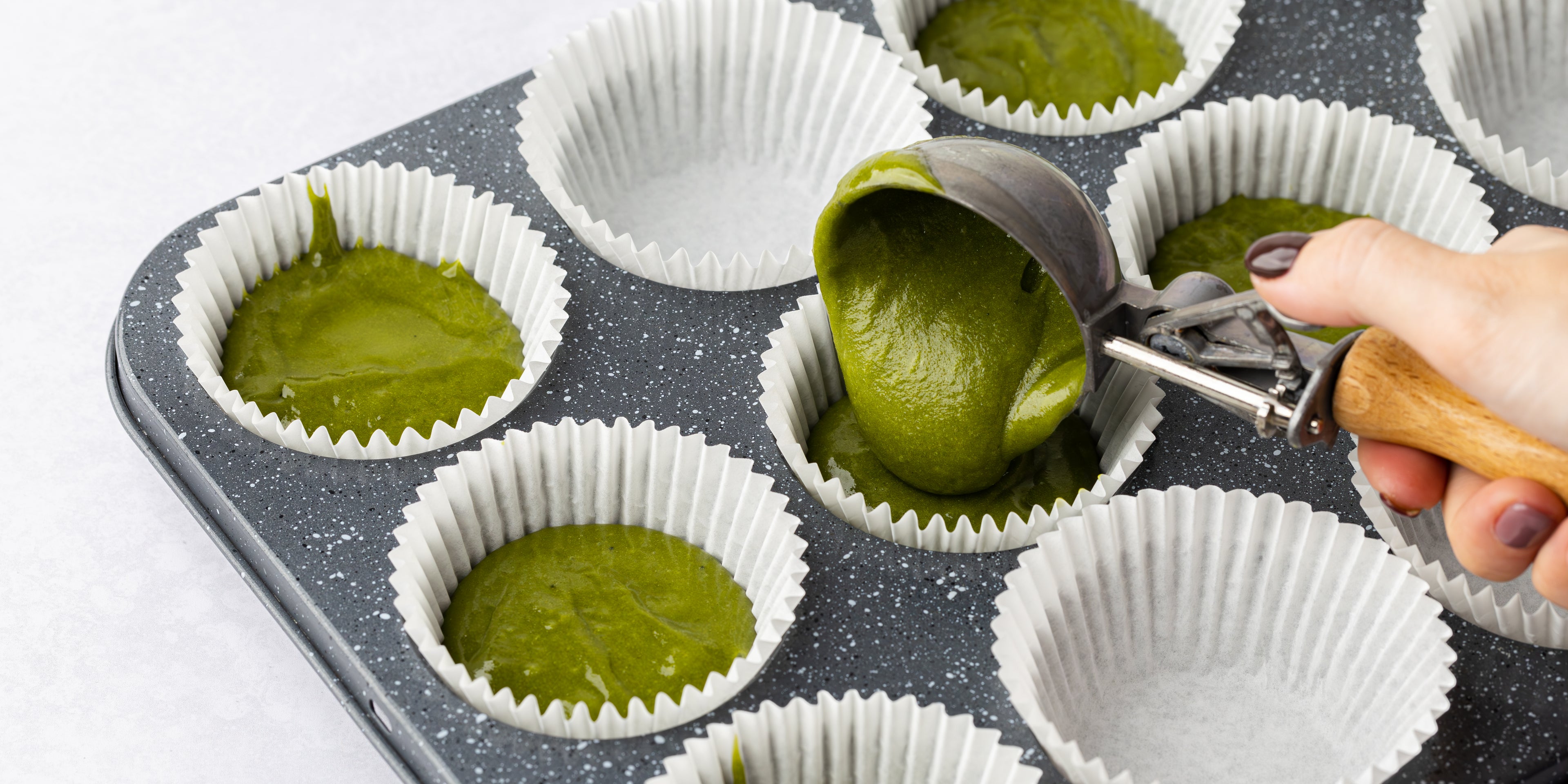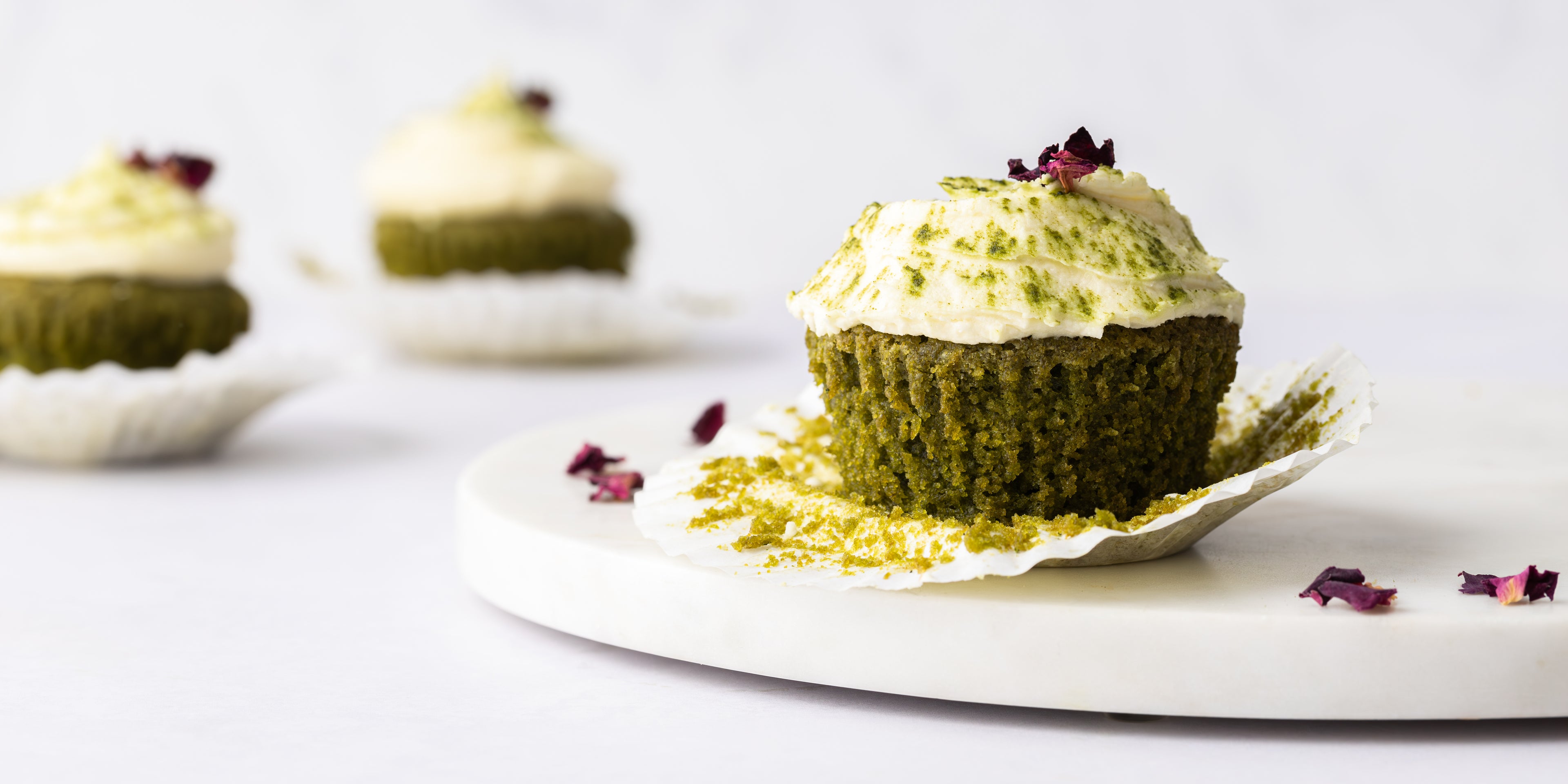 About the bake
These soft and fluffy matcha cupcakes have a delicate, earthy flavour with a hint of fresh lemon. They are topped with velvety smooth white chocolate buttercream, dusted with matcha and decorated with edible rose petals for a simple yet elegant finish.
Method
Step 1:

Preheat the oven to 160°c fan / 180°C conventional and line a cupcake baking tray with 12 cases.

Step 2:

In a large bowl, whisk the oil, milk, eggs, vanilla extract and lemon juice together until well combined.

Step 3:

In a separate bowl, stir the flour, caster sugar and matcha powder together.

Step 4:

Pour the wet ingredients into the bowl of dry ingredients, then fold together until the mixture is smooth and combined.

Step 5:

Divide the mixture between the cupcake cases, filling each one 3/4 full.

Step 6:

Bake for 22-25 minutes until rise, golden and the middle of the sponge springs back when lightly pressed. Transfer to a wire rack and leave to cool completely.

Step 7:

To make the buttercream, first break up the white chocolate into a bowl and microwave in 30-second blasts, stirring between each, until melted and smooth. Set aside to cool.

Step 8:

Beat the butter until soft and fluffy, then gradually beat in the icing sugar and milk until combined.

Step 9:

Pour in the melted white chocolate, and fold together to make a smooth and creamy buttercream.

Step 10:

Either pipe or spread the buttercream on top of the cupcakes, and finish with a light dusting of matcha powder and edible rose petal if you'd like.
Ingredients
For the matcha cupcakes

150ml

 

Vegetable Oil

50ml

 

Whole milk

2

 

Eggs (medium)

1 tsp

 Nielsen-Massey Vanilla Extract

1

 

Lemon (juice only.)

180g

 

Allinson's self-raising flour

180g

 Silver Spoon Caster Sugar

2 tbsp

 

Matcha tea (powder)

For the white chocolate buttercream

75g

 

White chocolate

200g

 

Unsalted Butter (room temperature)

350g

 Silver Spoon Icing Sugar

1 tsp

 

Whole milk
Utensils
12 hole cupcake tray

Large bowl

Whisk

12 cupcake cases

Wire cooling rack

Microwave

Spatula

Piping nozzle

Piping bag
We'd love a slice of advice.
Was it yum? Did the recipe work well? Did you customise the recipe?
Ingredients
For the matcha cupcakes

150ml

 

Vegetable Oil

50ml

 

Whole milk

2

 

Eggs (medium)

1 tsp

 Nielsen-Massey Vanilla Extract

1

 

Lemon (juice only.)

180g

 

Allinson's self-raising flour

180g

 Silver Spoon Caster Sugar

2 tbsp

 

Matcha tea (powder)

For the white chocolate buttercream

75g

 

White chocolate

200g

 

Unsalted Butter (room temperature)

350g

 Silver Spoon Icing Sugar

1 tsp

 

Whole milk
Utensils
12 hole cupcake tray

Large bowl

Whisk

12 cupcake cases

Wire cooling rack

Microwave

Spatula

Piping nozzle

Piping bag