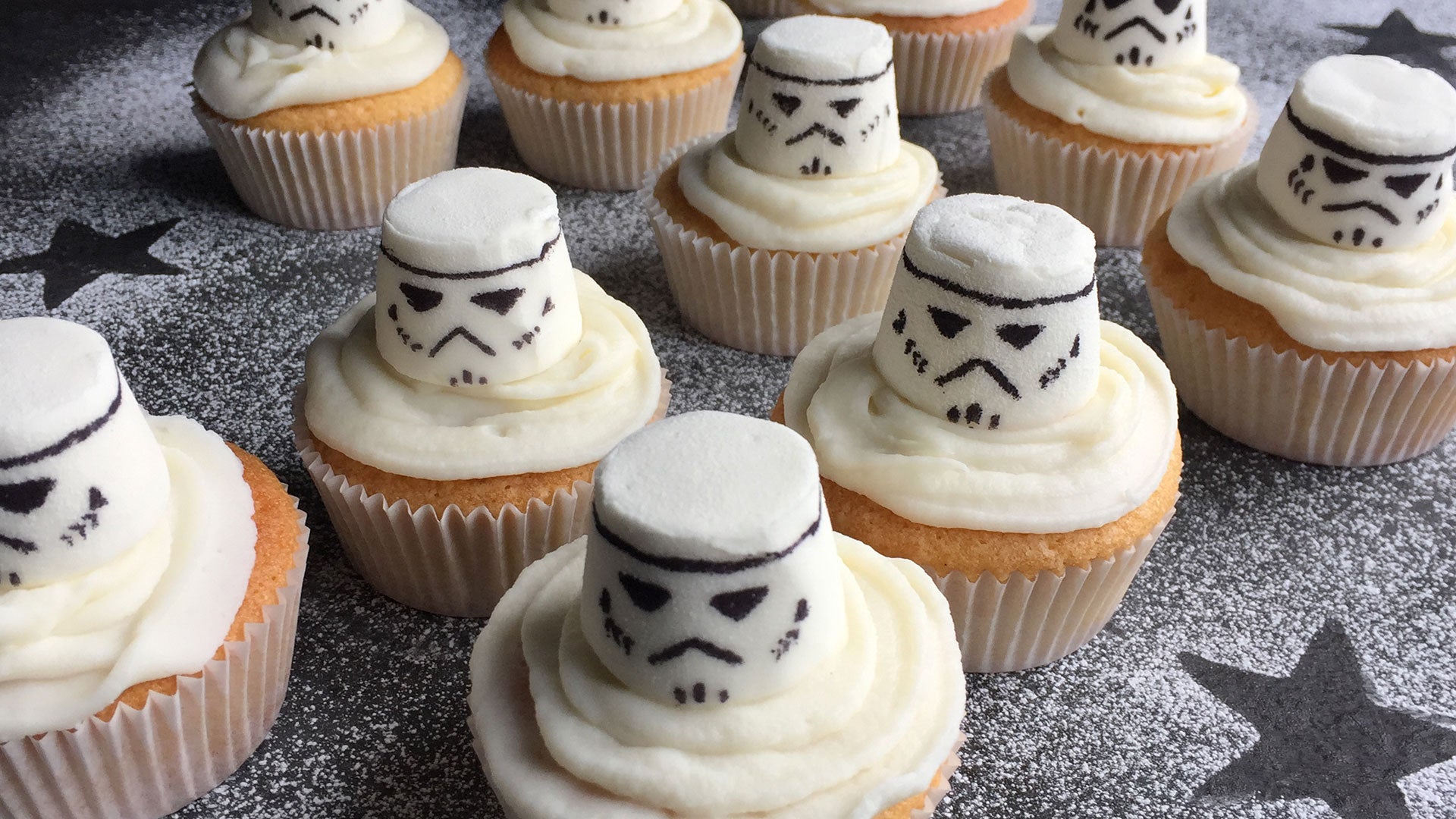 About the bake
May the force be with you! These Stormtrooper cupcakes are a fantastic way of celebrating May 4th (or any event quite frankly!). Treat your friends and family. They are so easy to make!
Method
Step 1:

Preheat the oven to 180ºc/350ºf/Gas 4 and line a 12-hole muffin tin with paper cases.


Step 2:

Cream the butter and sugar together in a bowl until pale. Beat in the eggs a little at a time and stir in the vanilla extract.


Step 3:

Fold in the flour at the same time adding a little milk until the mixture is of a dropping consistency. Spoon the mixture into the paper cases until they are half full.


Step 4:

Bake in the oven for 10-15 minutes, or until golden-brown on top and a skewer inserted into one of the cakes comes out clean. Set aside to cool.


Step 5:

For the buttercream icing, beat the butter in a large bowl until soft. Add half the icing sugar and beat until smooth.


Step 6:

Then add the remaining icing sugar with one tablespoon of the milk, until the mixture is smooth and creamy.


Step 7:

Spoon the icing into a piping bag with a star nozzle and pipe the icing using a spiralling motion onto the cup cakes in a large swirl.


Step 8:

Add a marshmallow to the top and paint on a Stormtrooper face using an edible icing pen.

Ingredients
For the Cupcakes

110g

 

Butter (unsalted)

110g

 

Caster sugar

2

 

Eggs

110g

 

Self Raising Flour

1 tsp

 Nielsen-Massey Vanilla Extract

1 tbsp

 

Milk

For the Buttercream

140g

 

Butter (unsalted)

280g

 Silver Spoon Icing sugar

1 tbsp

 

Milk

1 tsp

 Nielsen-Massey Vanilla Extract

For the Storm Trooper

12

 

White marshmallows

1

 

Black icing pen
Utensils
Cupcake case

Piping bag

Star nozzle

Edible black icing pen
Recipe Reviews
great recipe it was fun to make though perhaps a slight over dose on the buttercream
Great recipe went down amazing recommend this recipe to anyone who likes to bake😁🥰😁
Ingredients
For the Cupcakes

110g

 

Butter (unsalted)

110g

 

Caster sugar

2

 

Eggs

110g

 

Self Raising Flour

1 tsp

 Nielsen-Massey Vanilla Extract

1 tbsp

 

Milk

For the Buttercream

140g

 

Butter (unsalted)

280g

 Silver Spoon Icing sugar

1 tbsp

 

Milk

1 tsp

 Nielsen-Massey Vanilla Extract

For the Storm Trooper

12

 

White marshmallows

1

 

Black icing pen
Utensils
Cupcake case

Piping bag

Star nozzle

Edible black icing pen