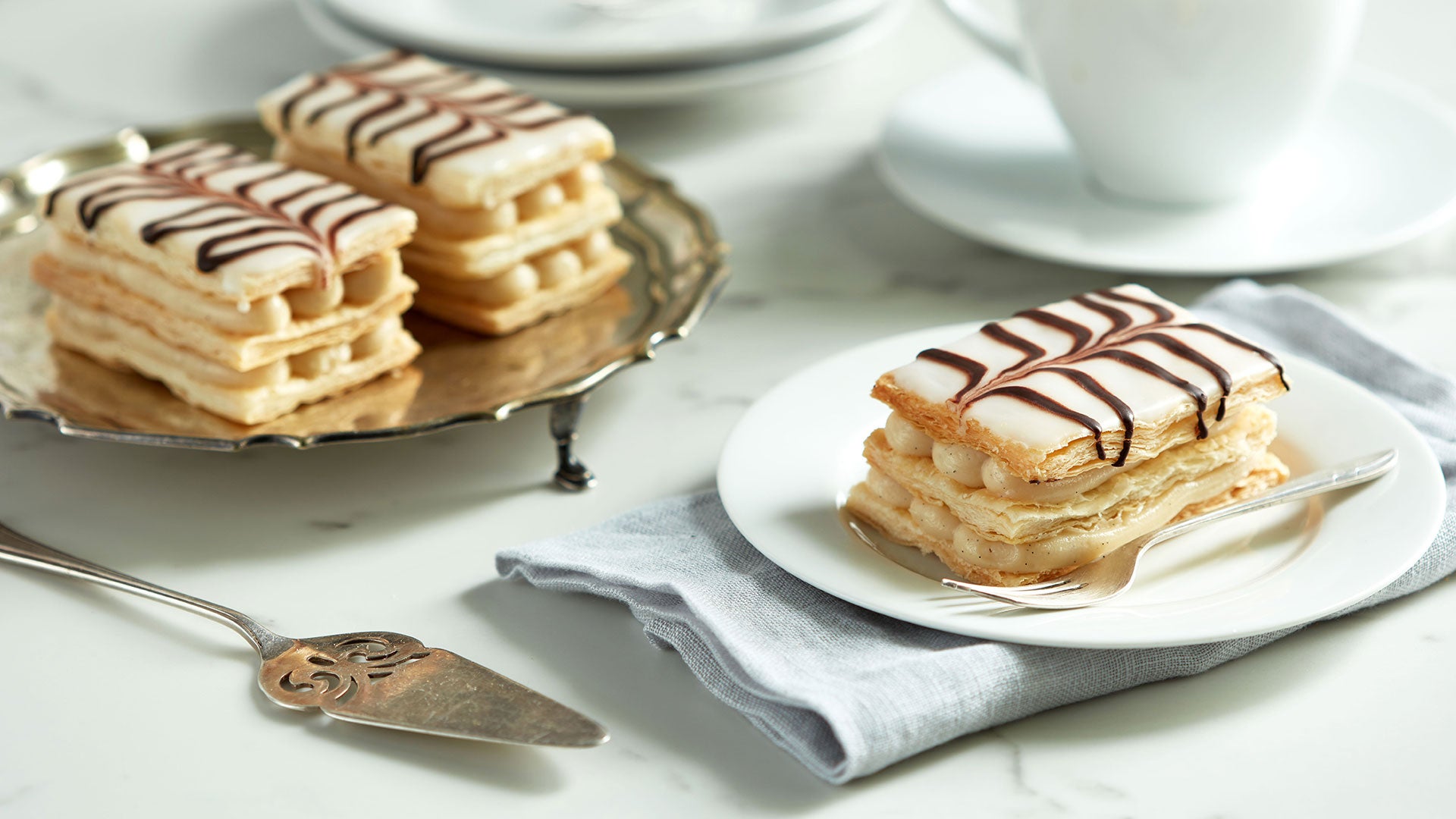 About the bake
There is something so elegant about a delicate Millefeuille. Crisp puff pastry layered with sweet cream infused with Vanilla Bean Paste and topped with feathered glace icing. These would be a real showstopper at any Afternoon Tea party.
Method
Step 1:

Preheat the oven to 200­°c/180°c fan/ Gas Mark 6. Line a baking sheet with baking parchment.


Step 2:

Following the instructions on the packet, unroll the pastry and cut it into 12 equal rectangles about 9cm x 5cm.


Step 3:

Lay the pastry rectangles in the baking sheet (you may need to cook these in two batches) and prick them all over with a fork to prevent them rising too much.


Step 4:

Put the tray with the pastry in the freezer for 10 minutes to firm up.


Step 5:

Top the chilled pastry with another sheet of baking parchment and place a second baking sheet on top. The pressure of this will prevent the pastry from rising too much.


Step 6:

Bake for 18 minutes. While the pastry is still warm you can trim any untidy edges with a sharp knife. Leave to cool completely on a wire rack.


Step 7:

To make the cream filling warm the milk and vanilla in a medium saucepan with a heavy base. Bring to a simmer and remove from the heat and allow to cool for a few minutes.


Step 8:

Whisk the egg yolks and the sugar until they are pale and thick, then whisk in the flours.


Step 9:

Carefully and slowly whisk in the vanilla milk until combined. Wipe out the pan and the pour the cream mixture back into the pan.


Step 10:

Over a medium heat, bring the cream mixture to a simmer, stirring constantly.


Step 11:

Once it simmers, cook for 3 to 4 minutes until it thickens into a custard. Keep stirring all the time.


Step 12:

When it's thick enough, you will see the bottom of the pan as you beat it, remove from the heat.


Step 13:

Decant the vanilla cream into a bowl, cover the surface with clingfilm to prevent a skin forming and allow to cool completely, eventually refrigerating until cold and thick.


Step 14:

Make the icing by whisking the icing sugar with the water and the vanilla extract to make a thick but pourable glace icing. Melt the chocolate and place in a piping bag with a thin nozzle or small hole snipped in the end.


Step 15:

Select 4 cooled pastry rectangles to be your top layers. Place them on a cooling rack so any drips fall away. One at a time, coat with the white icing until covered. Pipe 6 lines of chocolate horizontally and then draw lengthways with a cocktail stick to pull the icing into V shapes. Set these aside to dry. This will take up to 2 hours, but they will still be soft so don't touch the icing.


Step 16:

When you are ready to serve, put the vanilla cream into a piping bag. One at a time, select pairs of pastry rectangles and pipe three lines onto one, top with the second, pipe three lines of vanilla cream and then top with an iced rectangle so you have 3 pastry layers and 2 cream layers.

Ingredients
For the Vanilla Cream

425g

 

Milk (whole)

1 tbsp

 Nielsen-Massey Vanilla Bean Paste

2 tbsp

 Allinson's Plain White Flour

110g

 Billington's Unrefined Golden Caster Sugar

5

 

Egg yolk(s) (free range) (large)

1 tbsp

 

Cornflour

For the Pastry

320g

 

Puff pastry (ready rolled)

For the Icing

2 tbsp

 

Water

30g

 

Dark chocolate

125g

 Silver Spoon Icing sugar

1/4 tsp

 Nielsen-Massey Vanilla Extract
Recipe Reviews
Turned out super delicious and it looked amazing! Everyone was very impressed, the custard was scrumptious! You could eat it by itself and it was a good consistency to pipe, thank you!
Ingredients
For the Vanilla Cream

425g

 

Milk (whole)

1 tbsp

 Nielsen-Massey Vanilla Bean Paste

2 tbsp

 Allinson's Plain White Flour

110g

 Billington's Unrefined Golden Caster Sugar

5

 

Egg yolk(s) (free range) (large)

1 tbsp

 

Cornflour

For the Pastry

320g

 

Puff pastry (ready rolled)

For the Icing

2 tbsp

 

Water

30g

 

Dark chocolate

125g

 Silver Spoon Icing sugar

1/4 tsp

 Nielsen-Massey Vanilla Extract