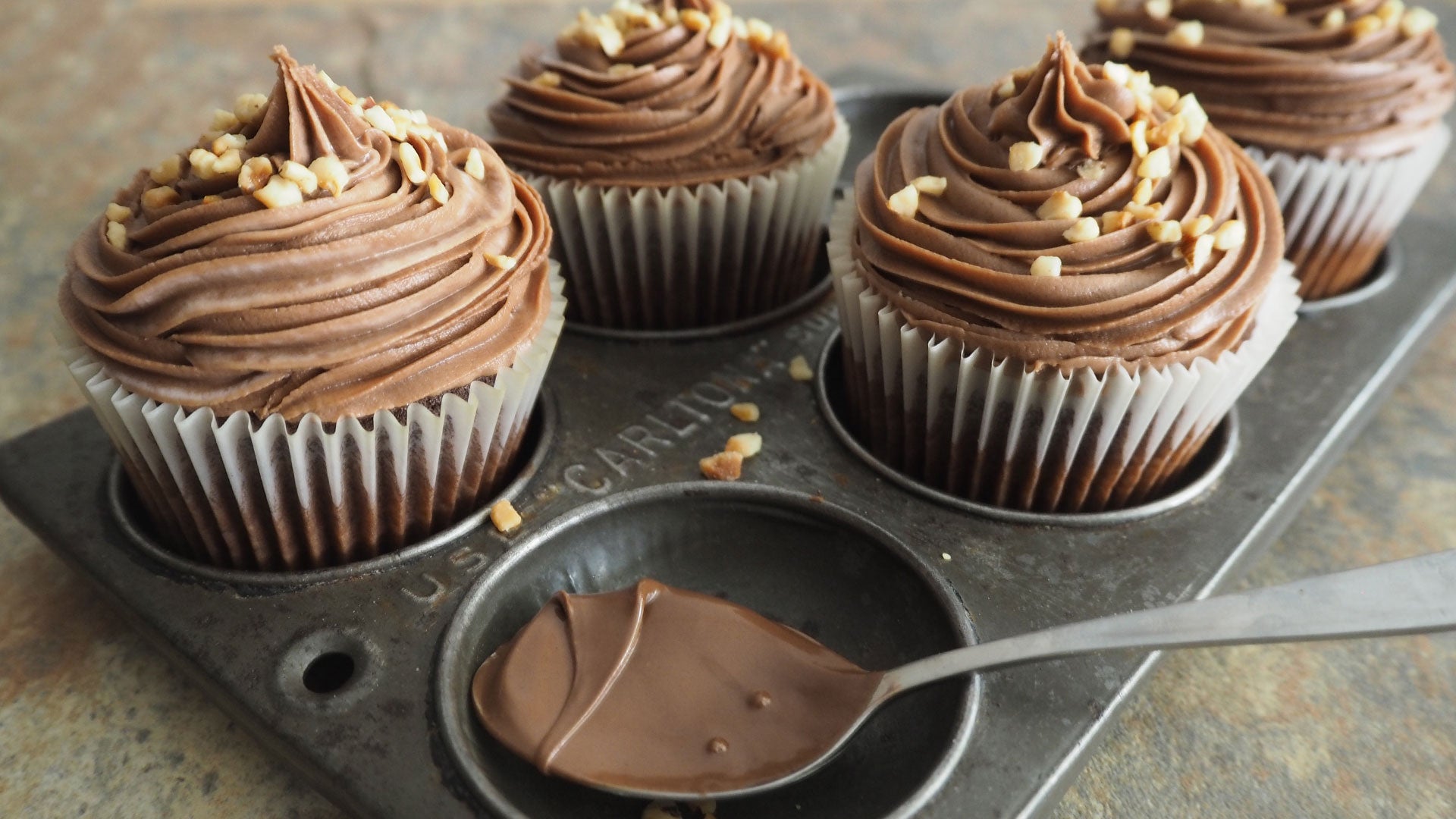 About the bake
These Nutella Cupcakes are sure to be a hit - the hazelnut flavour from the Nutella adds a new dimension. Not only are these delicious cupcakes filled with Nutella but the buttercream is subtly flavoured too. For those Nutella fans out there this is the cupcake recipe for you.
Method
Step 1:

Begin by preparing a 12 hole cupcake tin with cupcake cases and preheating your oven to 200°C (400°F, Gas Mark 6)


Step 2:

In a large bowl beat together the butter and sugar until light and fluffy.


Step 3:

Add the eggs one by one, mixing in a tablespoon of the flour with each egg to avoid the mixture from curdling.


Step 4:

In a separate bowl mix together the cocoa powder and boiling water to make a smooth paste.


Step 5:

Add the flour and baking powder to the egg mixture followed by the cocoa paste and blend all the ingredients together until you reach a smooth batter.


Step 6:

Spoon the mixture into each of the cupcake cases, filling each 2/3 full and bake in the oven for 12-15 minutes until springy to touch.


Step 7:

Remove the cupcakes from the oven and allow to cool on a wire cooling rack. Whilst the cupcakes are cooling make your buttercream by beating together the butter, milk and half of the icing sugar.


Step 8:

Once combined add the remaining icing sugar and Nutella and beat until light and fluffy. The longer that you beat the icing for the lighter it will be.


Step 9:

When the cupcakes have cooled fully use a small sharp knife or an apple corer to carve out the centre of the sponge of each cupcake. Fill a piping bag with Nutella and pipe a small amount into the centre of each cake then top with the remaining sponge that you had removed.


Step 10:

To finish your cupcakes, fill another piping bag with a star nozzle and your Nutella buttercream and pipe swirls on to the top of each cupcake. For an extra touch add a sprinkle of chopped hazelnuts to the top of the buttercream.

Ingredients
For the Cupcakes

4 tbsp

 

Boiling water

40g

 

Cocoa powder

3

 

Large free range eggs

175g

 

Unsalted butter (softened)

165g

 Billington's Unrefined Golden Caster Sugar

115g

 

Allinson's Self Raising White Flour

1 tsp

 

Baking powder

For the Buttercream

175g

 

Unsalted butter (softened)

350g

 Silver spoon icing sugar

2 tbsp

 

Milk

200g

 

Nutella
Utensils
12 hole cupcake tin

Cupcake case

Large bowl

Sieve

Cooling rack

Sharp knife or apple corer

Piping bag
Recipe Reviews
Thank you for this easy to follow receipe which resulted in some great bakes. I omitted the nutella in the muffins and used less sugar, so the cakes were not so sweet. Receipe made 12 muffins a mix of large and small, there was icing left over. Received great compliments. Thank you.
Lovely! Recipe made about 24 cupcakes though but we will get through them 😂
Wow very delicious if you are looking for a nutella 🧁 try this
Idk yet but I think it will be to sugary and I don't think it will look like the image to be onset.🤨🧐🧐
Yum. People are complaining about clumped cocoa, the recipe doesn't specifically tell you to sift dry ingredients but it's an important step that will prevent this. People are saying there is too much icing but if you intend to pipe it up in a big pile like in the picture, the amount is perfect.
Ingredients
For the Cupcakes

4 tbsp

 

Boiling water

40g

 

Cocoa powder

3

 

Large free range eggs

175g

 

Unsalted butter (softened)

165g

 Billington's Unrefined Golden Caster Sugar

115g

 

Allinson's Self Raising White Flour

1 tsp

 

Baking powder

For the Buttercream

175g

 

Unsalted butter (softened)

350g

 Silver spoon icing sugar

2 tbsp

 

Milk

200g

 

Nutella
Utensils
12 hole cupcake tin

Cupcake case

Large bowl

Sieve

Cooling rack

Sharp knife or apple corer

Piping bag