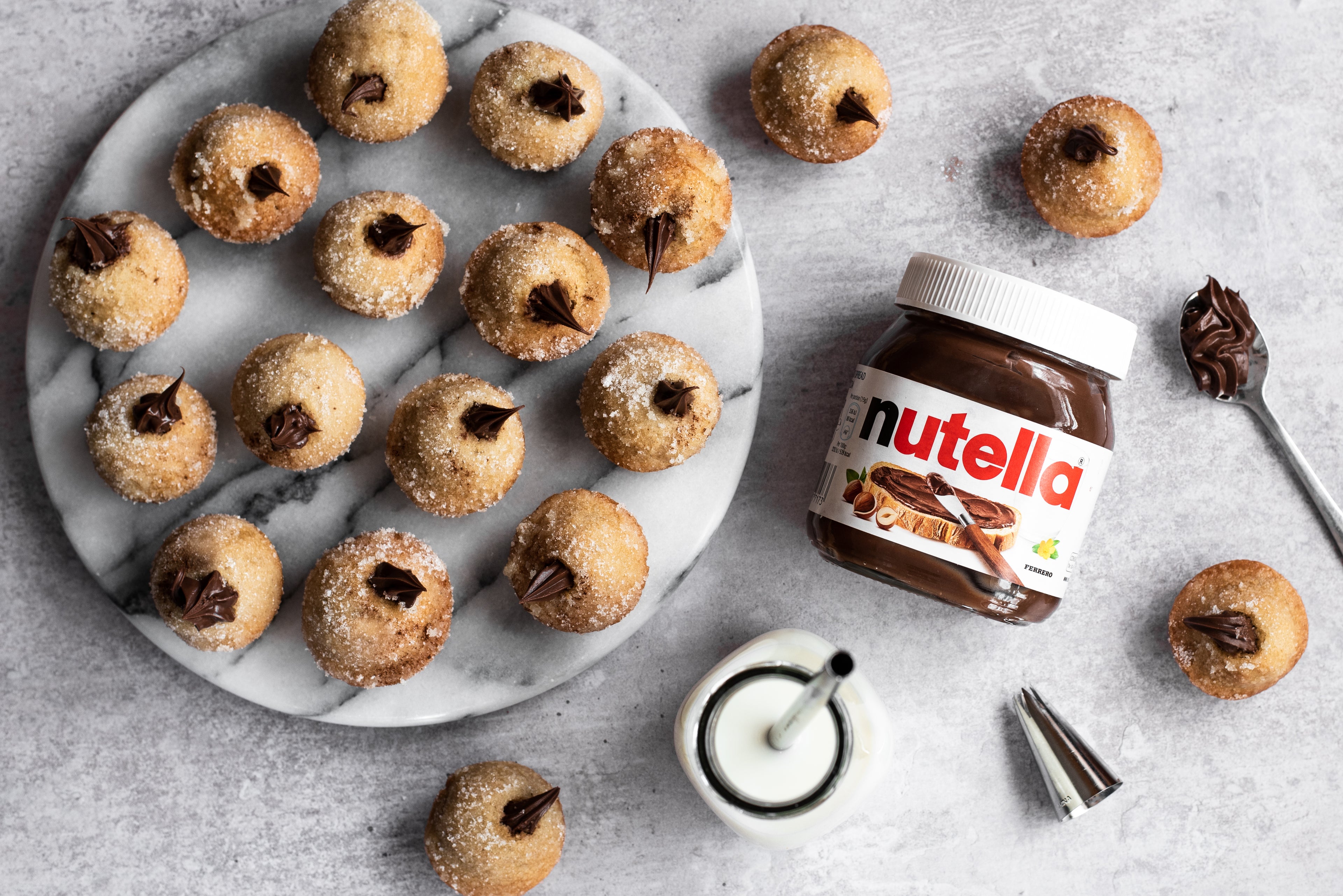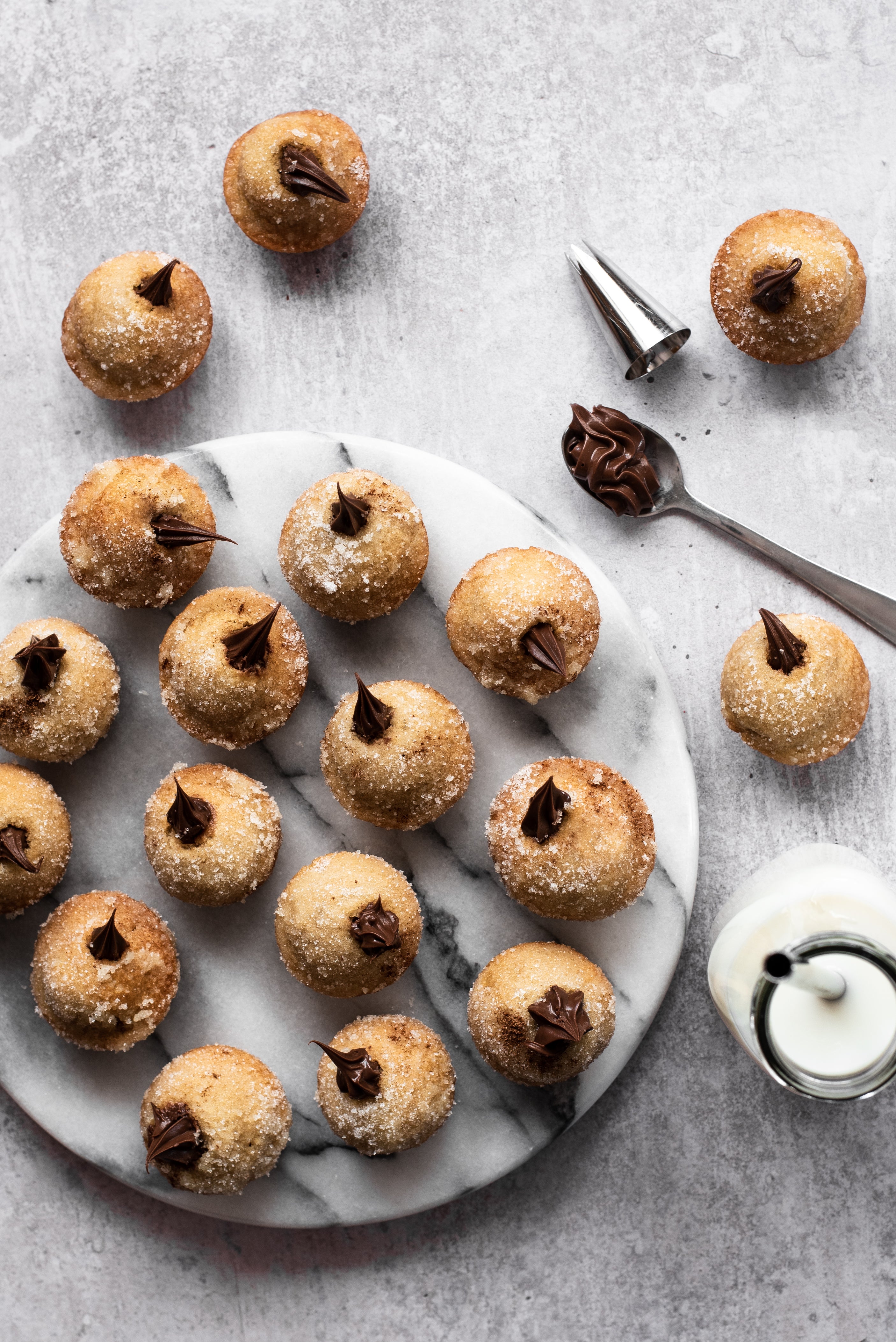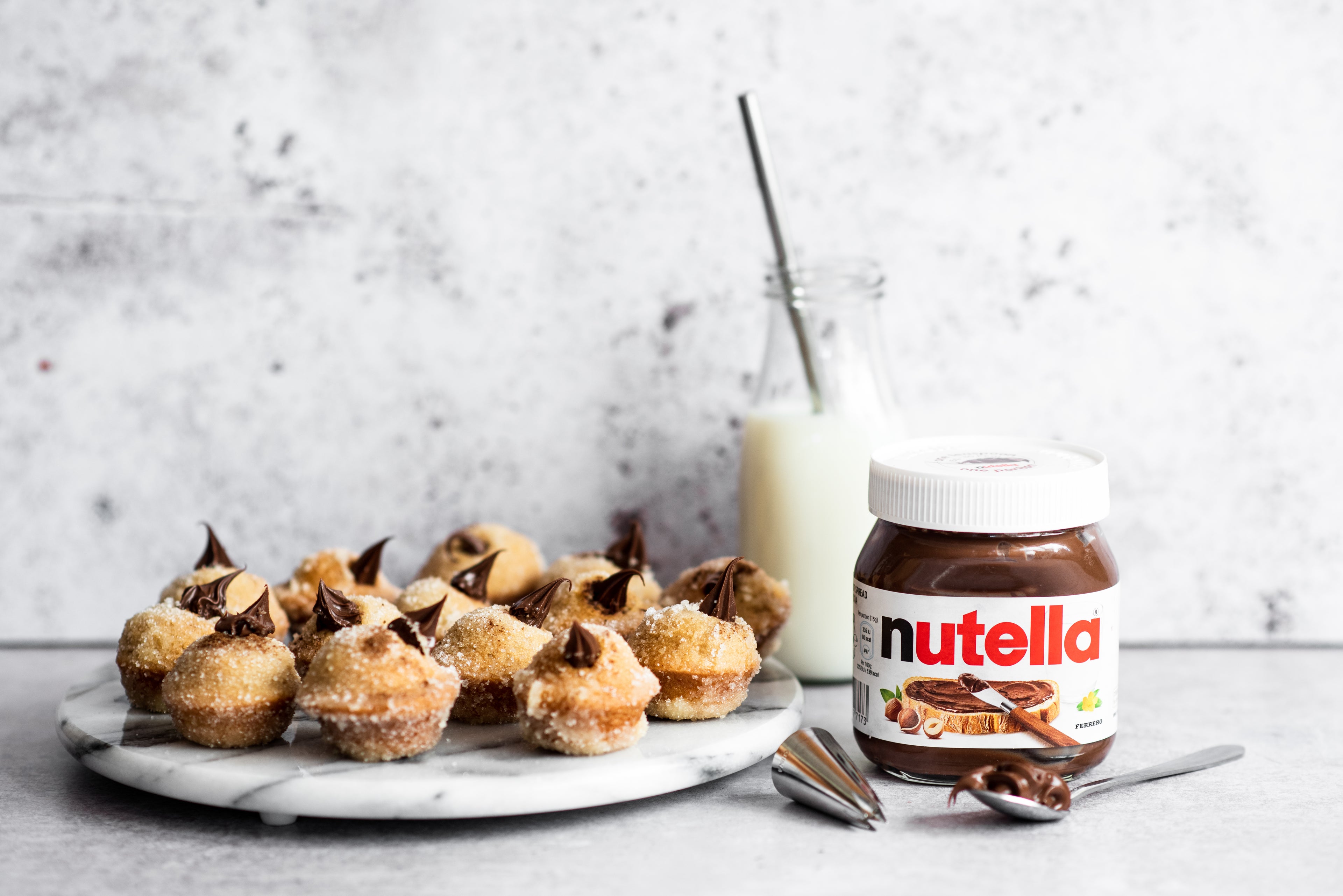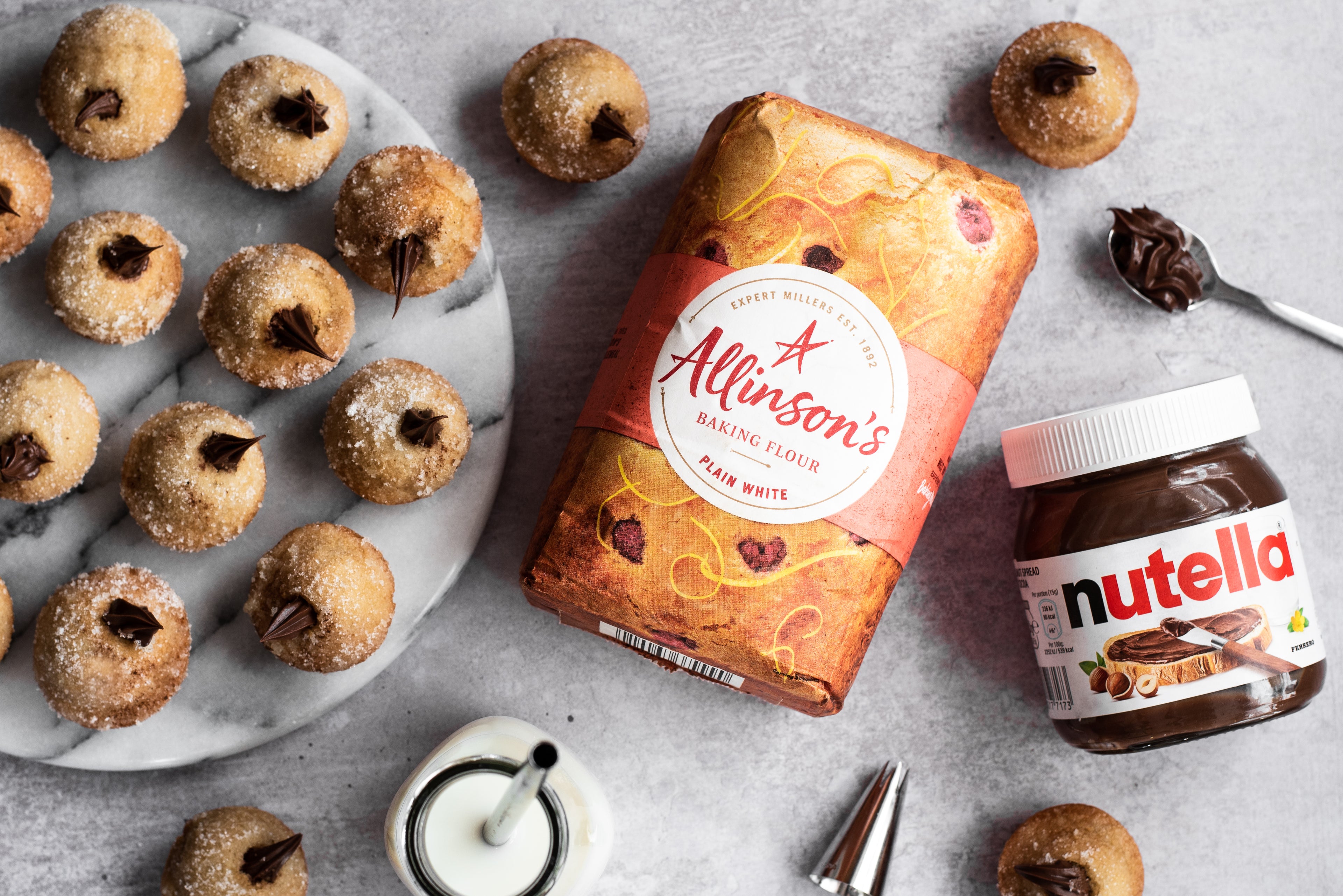 About the bake
Our nutella doughnut recipe is for baked doughnuts, not fried. These bite-sized little treats are baked in a mini muffin tray and injected with Nutella using a star piping nozzle right at the end.
Whether you call them doughnuts or donuts- these little treasures are small enough to enjoy a few in each sitting. Bite into one and Nutella oozes out of the middle. They really are a yummy taste sensation.
If you enjoyed these nutella doughnuts, give our nutella cupcakes a try!
Method
Step 1:

Preheat the oven to 200ºc/180ºfan/Gas Mark 6. Grease a 24 hole mini muffin tin.


Step 2:

Mix together the oil and sugars until smooth, then mix in the egg.


Step 3:

Add the baking powder, bicarbonate of soda, cinnamon, vanilla and salt.


Step 4:

Stir in half the flour, then the milk and then the rest of the flour until you have a smooth thick batter.


Step 5:

Spoon the batter into the holes of the tray, about 1 tbsp in each.


Step 6:

Bake the doughnuts for 10 minutes. While they're cooking, melt the butter and combine the sugar and cinnamon for dusting.


Step 7:

As soon as the doughnuts are cool enough to handle, brush with the melted butter and roll in the dusting sugar.


Step 8:

Once completely cooled pipe a little Nutella into each one using a small star nozzle.


Storage Instructions

Keep in an airtight container. Eat within 2 days.
Ingredients
For the Dough

60ml

 

Vegetable oil

60g

 Billington's Unrefined Golden Caster Sugar

40g

 Billington's light muscovado sugar

1

 

Egg (large)

3 tsp

 

Baking powder

1/4 tsp

 

Bicarbonate of soda

1/4 tsp

 

Ground cinnamon

1/4 tsp

 

Salt

1 tsp

 Nielsen-Massey Vanilla Extract

170g

 Allinson's Plain White Flour

120ml

 

Whole milk

For the Sugar Coating

60g

 

Butter (unsalted)

2 tbsp

 

Granulated sugar

1/2 tsp

 

Cinnamon
Utensils
Mini muffin tin

Mixing bowl

Pastry brush

Cooling rack

Piping bag

Star nozzle
Ingredients
For the Dough

60ml

 

Vegetable oil

60g

 Billington's Unrefined Golden Caster Sugar

40g

 Billington's light muscovado sugar

1

 

Egg (large)

3 tsp

 

Baking powder

1/4 tsp

 

Bicarbonate of soda

1/4 tsp

 

Ground cinnamon

1/4 tsp

 

Salt

1 tsp

 Nielsen-Massey Vanilla Extract

170g

 Allinson's Plain White Flour

120ml

 

Whole milk

For the Sugar Coating

60g

 

Butter (unsalted)

2 tbsp

 

Granulated sugar

1/2 tsp

 

Cinnamon
Utensils
Mini muffin tin

Mixing bowl

Pastry brush

Cooling rack

Piping bag

Star nozzle