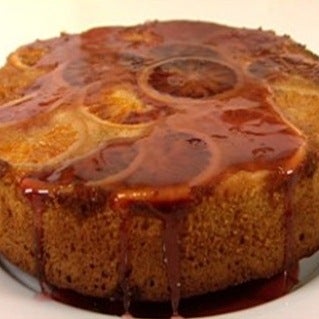 About the bake
This zesty refreshing orange cake looks, smells and tastes wonderful and would go down great at your next coffee morning or afternoon tea served with a naughty drizzle of cream or creme fraiche. As the title suggests this is an Orange Upside Down Cake, meaning the oranges are simmered in syrup and placed at the bottom of the tin to be turned out when serving. This recipe featured on Baking Mad with Eric Lanlard on Channel 4.
Method
Step 1:

In a small saucepan boil 150ml of water and 200g of sugar. Slice the oranges in thin slices keeping the peel. Place in the syrup and let to simmer for 10 minutes.

Step 2:

Preheat the oven to 180°C (160°C fan, gas mark 4). Line a shallow 22cm spring-form cake tin with paper and grease it. Cream the butter and sugar together until light and fluffy. Beat in the eggs and then fold in the flour. Place the drained slices of oranges into the base of the tin. Add the golden syrup, then spoon the cake mixture on top.


Step 3:

Bake for 1 hour or until the cake is cooked through. Cool the cake in the tin, turn out and remove the paper. Use the poaching syrup to serve.

Step 4:

As an alternative your could poach a peeled pear, half in a light syrup flavoured with gin and a few juniper berries. Replace the golden syrup with some light caramel.

Step 5:

For a plum version of this cake, roast three halved fresh plums in the oven with some light brown sugar and mixed spices. When soft, remove from heat. Continue with recipe, replacing the fruits with the plum mixture and omitting the golden syrup.
Ingredients
For the Cake

200g

 

Unsalted butter (softened)

200g

 Billington's Unrefined Golden Caster Sugar

5

 

Large free range egg(s)

200g

 

Self raising white flour

50g

 

Golden syrup

For the Orange Syrup

150ml

 

Water

4

 

Large blood oranges

200g

 Billington's Unrefined Golden Caster Sugar
Utensils
Small saucepan

22cm spring form cake tin

Cooling rack
Recipe Reviews
It was a easy to follow recipe and came out just right i changed it to plum and pear it was delicious
This recipe was brilliant! thank you 😊
Ingredients
For the Cake

200g

 

Unsalted butter (softened)

200g

 Billington's Unrefined Golden Caster Sugar

5

 

Large free range egg(s)

200g

 

Self raising white flour

50g

 

Golden syrup

For the Orange Syrup

150ml

 

Water

4

 

Large blood oranges

200g

 Billington's Unrefined Golden Caster Sugar
Utensils
Small saucepan

22cm spring form cake tin

Cooling rack