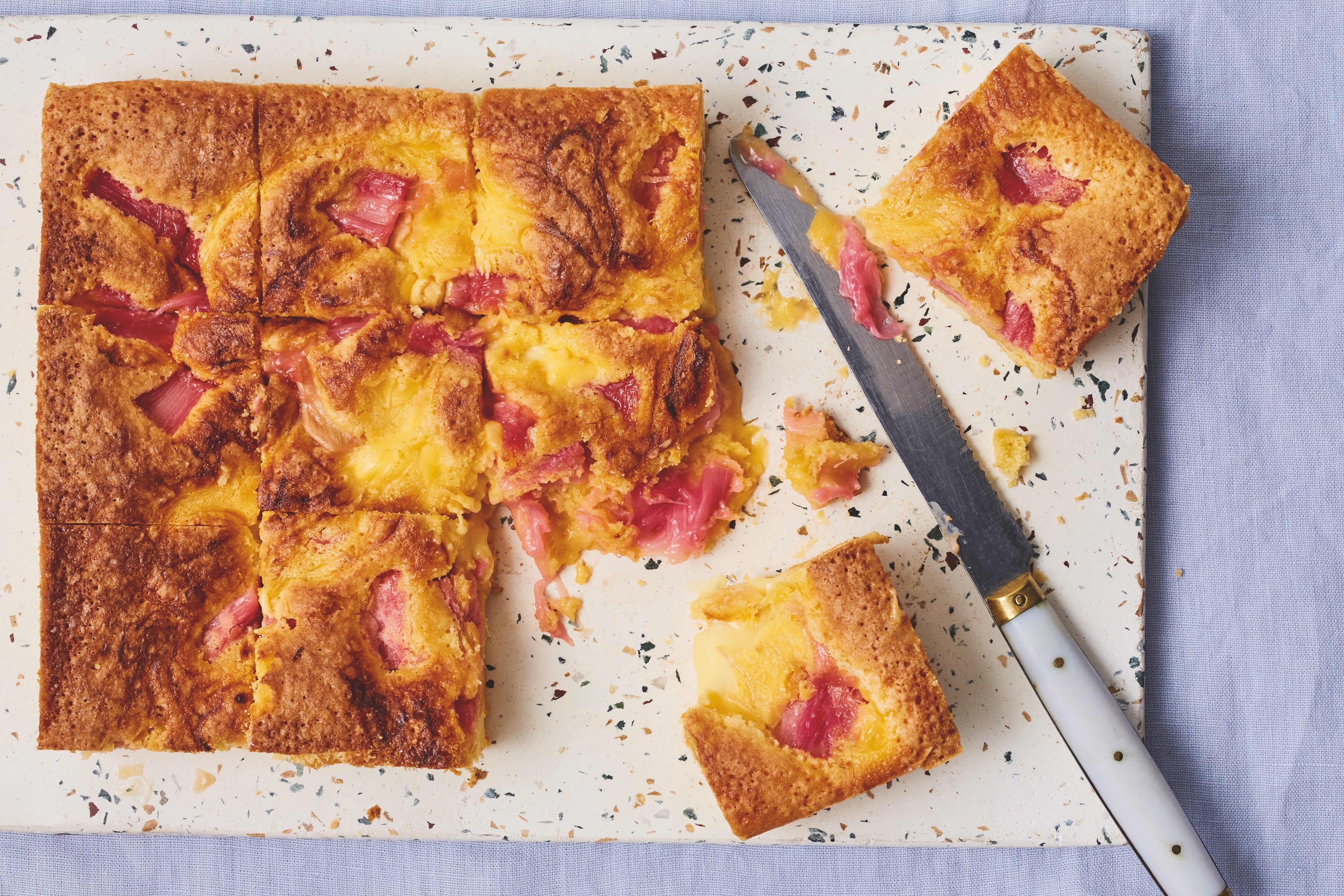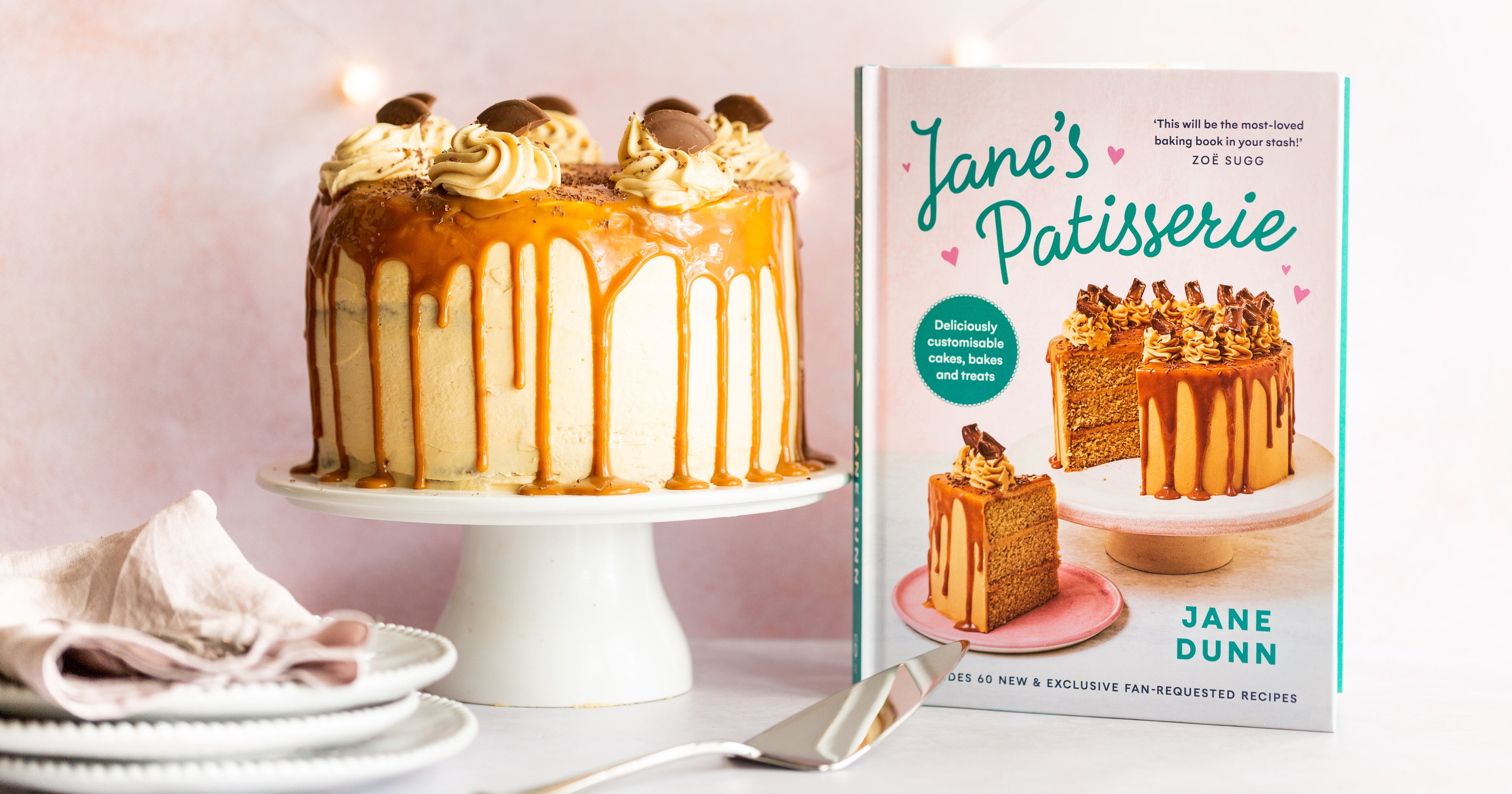 About the bake
When the flavours of rhubarb and custard sweets meets blondie the results are incredible. Add Janes Patisserie into the mix too and you know you are going to be in for a fabulous bake.
This recipe from Janes Patisseries recipe book really is next level Rhubarb and Custard cake. You can either bake with fresh rhubarb or tinned, if it is out of season (use the syrup from the tin rather than 2 tbsp of water) so these blondies can be enjoyed all year round.
Not a fan of Rhubarb? Experiment with different fruits; cherries, blackberries and apples they all taste super scrummy.
Method
Step 1:

Chop the rhubarb into pieces, and add to a pan with 50g of the sugar and the water. Place over a medium heat, stirring occasionally, for about 5 minutes, or until the rhubarb softens. Set aside to cool.

Step 2:

Preheat the oven to 180°C/160°C fan and line a 23cm square tin with parchment paper.

Step 3:

Put the melted unsalted butter and remaining 250g sugar into a large bowl and beat until smooth. Add the eggs and beat until smooth, then add the plain flour and custard powder and beat until combined. Fold through the white chocolate chips or chunks.

Step 4:

Pour the mixture into the tin and spread out evenly. Dollop the rhubarb mixture and custard over the top and swirl through slightly using a cake skewer or knife.

Step 5:

Bake the blondies for 30–35 minutes, or until there is an ever so slight wobble in the middle. Leave the blondies to cool fully in the tin before cutting into 16 squares.
Ingredients
For the Blondies

175g

 

Rhubarb (fresh or tinned)

2 tbsp

 

Water

200g

 

Unsalted butter (melted)

300g

 Silver Spoon White Granulated Sugar

3

 

Large eggs

125g

 Allinson's Plain White Flour

75g

 

Custard powder

200g

 

White chocolate chips

100g

 

Custard
Recipe Reviews
After 35 mins my middle was still so runny but top was getting too brown. I covered with foil but took an hour for middle to cook. Tasted nice but very caramelised too and sided- very crunchy and unlike photo on web which shows light colour.
Best blondie recipe ever.freezes well too.I made for a party and everyone said it was the best they had tasted
This is not a good recipe. Have made this twice now and both times the chocolate chips have sunk to the bottom and the mixture remains sloppy and runny. The second time I tried whisking the eggs and sugar like in Jane's brownie recipe to make it thicker but the same thing has happened. I think there must be a mistake in the recipe somewhere (maybe it needs more flour??) or it's just not a great recipe.
I mean it tastes okay but the brownies came out so runny in the middle. I let them stand until cooled but it made no difference so I bakes them again (covered with tin foil) for an extra half an hour and waited until they were cool again. Still runny middles. And again! Nothing seems to be working, they're just........batter.
Ingredients
For the Blondies

175g

 

Rhubarb (fresh or tinned)

2 tbsp

 

Water

200g

 

Unsalted butter (melted)

300g

 Silver Spoon White Granulated Sugar

3

 

Large eggs

125g

 Allinson's Plain White Flour

75g

 

Custard powder

200g

 

White chocolate chips

100g

 

Custard