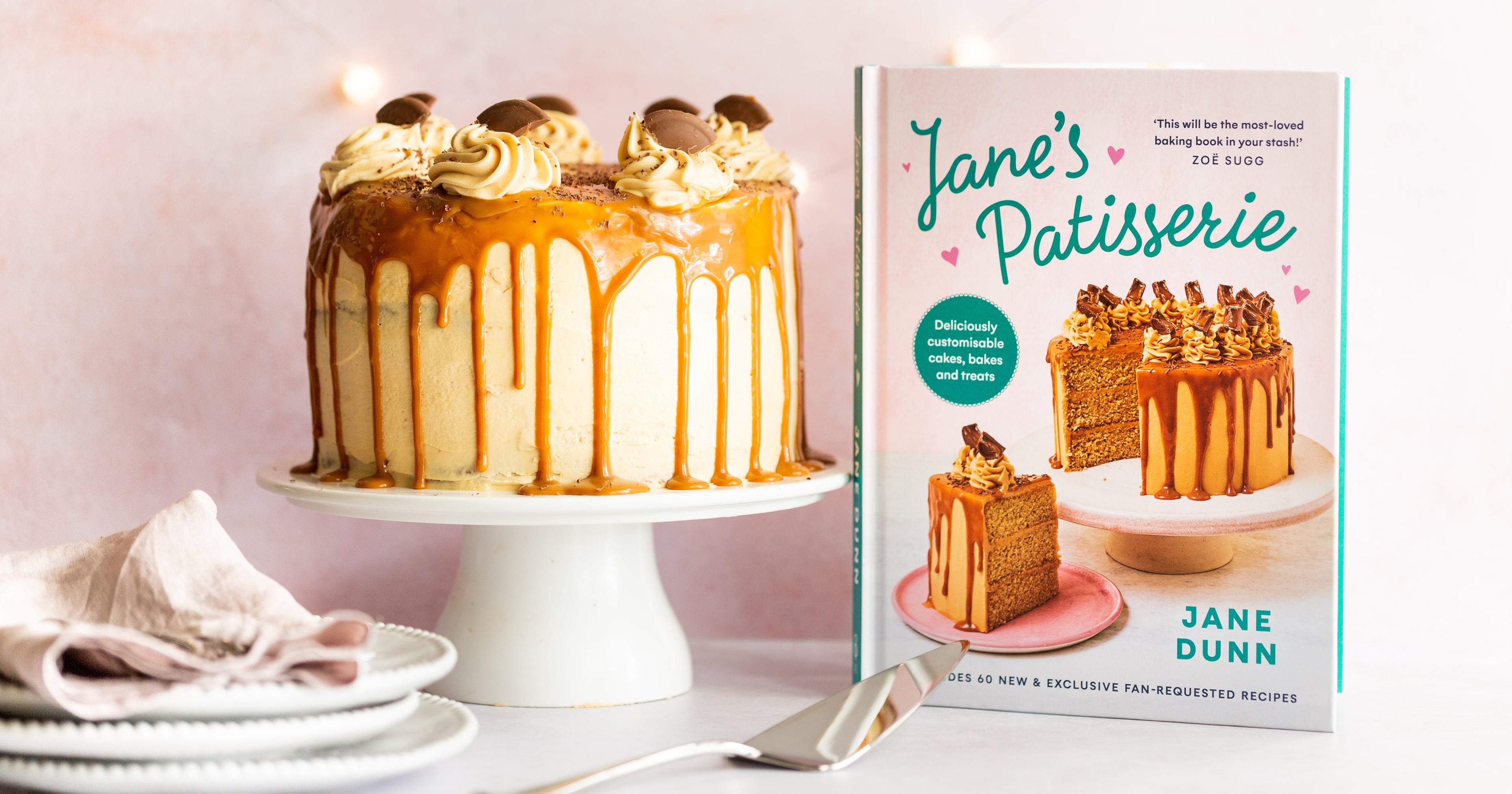 About the bake
Is there anything dreamier than salted caramel? Janes Patisserie's jaw-droppingly incredible Salted Caramel Pretzel Slice recipe is definitely a contender.

A Millionaires Shortbread recipe with a twist, consisting of a buttery shortbread base, indulgent salted caramel topped with melted chocolate and salted pretzels. This recipe shows how to make salted caramel from scratch for the ultimate crowd pleaser recipe, satisfying both sweet and salty fans.

This is just one of the mouth-watering recipes from Jane's Patisserie's recipe book.
Method
Step 1:

Preheat the oven to 180°C/160°C fan and line a deep 23cm square tin with parchment paper.

Step 2:

First make the base. Cream together the sugar and butter in a stand mixer with the paddle attachment until smooth. Mix in the flour and salt until a dough is formed. It will be crumbly but the ingredients will be evenly dispersed. Firmly pressing the mixture into the base of the tin and press the pretzels on top. Bake for 20-25 minutes until pale golden on top. Remove from the oven and set aside while you make the caramel.

Step 3:

Put the sugar and water into a large pan and place over a low heat until the sugar has dissolved, turn up the heat and stop stirring. Wait for the mixture to boil to an amber colour (this can take 5-10 minutes)

Step 4:

Take the mixture off the heat, add the butter and stir until it has melted. Slowly pour the cream, stirring all the time, then bring the mixture back to the boil and bubble for at least a minute. Remove from the heat, add the vanilla and sea salt and whisk until smooth, then pour the caramel onto the base and leave to set for 1 hour in the fridge.

Step 5:

Once the caramel has set, drizzle the melted chocolate over the top, and add the pretzels.

(If you want to cover the caramel completely with melted chocolate instead of drizzling, use 250g melted chocolate and pour over evenly)

Return to the fridge to set again until the chocolate is firm. Divide into 16 portions and enjoy!
Ingredients
For the Base

100g

 Silver Spoon Caster Sugar

200g

 

Unsalted butter (softened)

275g

 Allinson's Plain White Flour

A Pinch of

 

Salt

50g

 

Salted pretzels

For the Caramel

250g

 Silver Spoon White Granulated Sugar

75ml

 

Water

60g

 

Unsalted butter (softened)

200ml

 

Double cream

1 tsp

 Nielsen-Massey Vanilla Extract

1/2 tsp

 

Sea Salt

For the Decoration

50g

 

Milk or Dark Chocolate, melted

50g

 

Salted pretzels
We'd love a slice of advice.
Was it yum? Did the recipe work well? Did you customise the recipe?
Ingredients
For the Base

100g

 Silver Spoon Caster Sugar

200g

 

Unsalted butter (softened)

275g

 Allinson's Plain White Flour

A Pinch of

 

Salt

50g

 

Salted pretzels

For the Caramel

250g

 Silver Spoon White Granulated Sugar

75ml

 

Water

60g

 

Unsalted butter (softened)

200ml

 

Double cream

1 tsp

 Nielsen-Massey Vanilla Extract

1/2 tsp

 

Sea Salt

For the Decoration

50g

 

Milk or Dark Chocolate, melted

50g

 

Salted pretzels