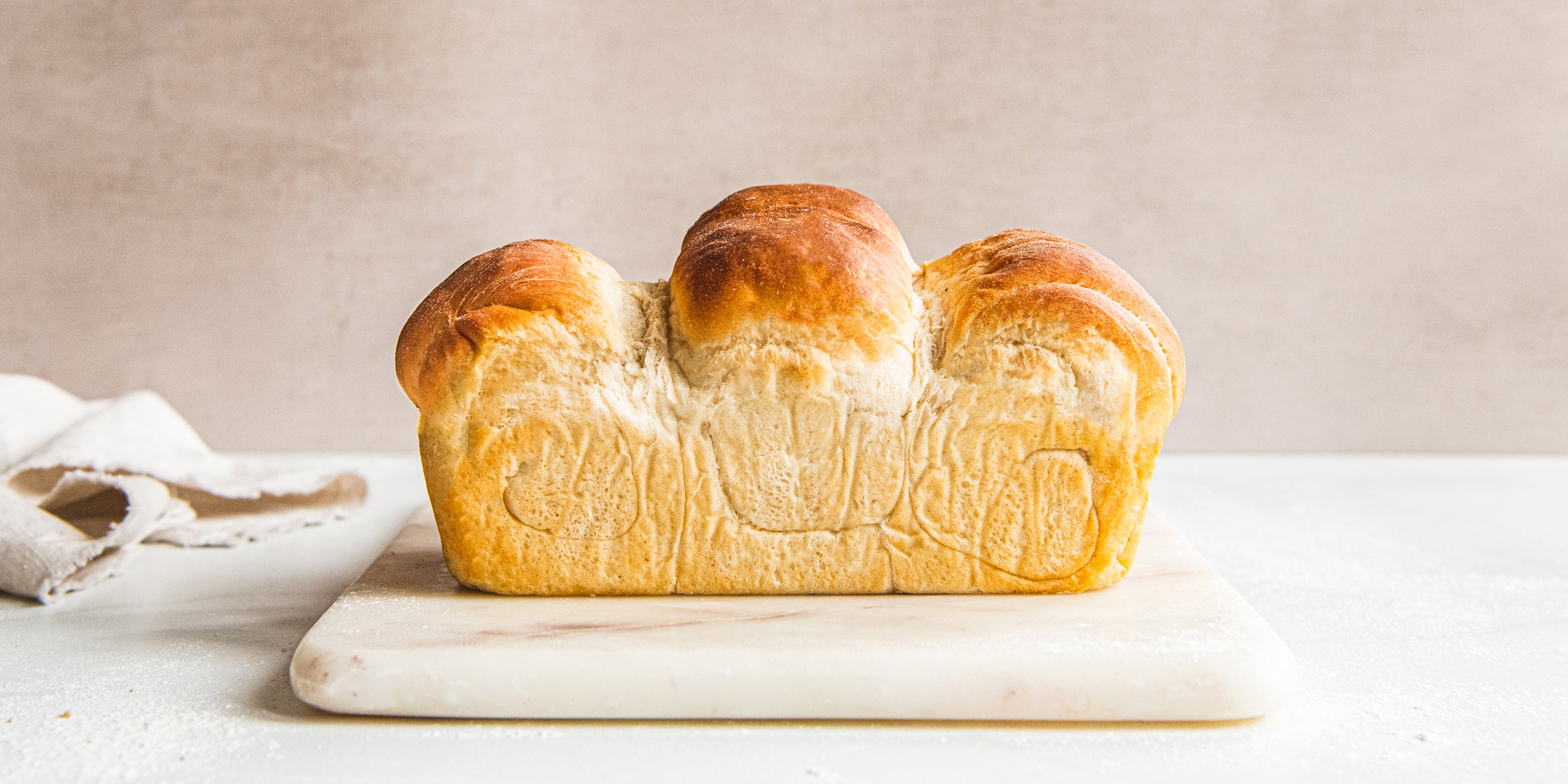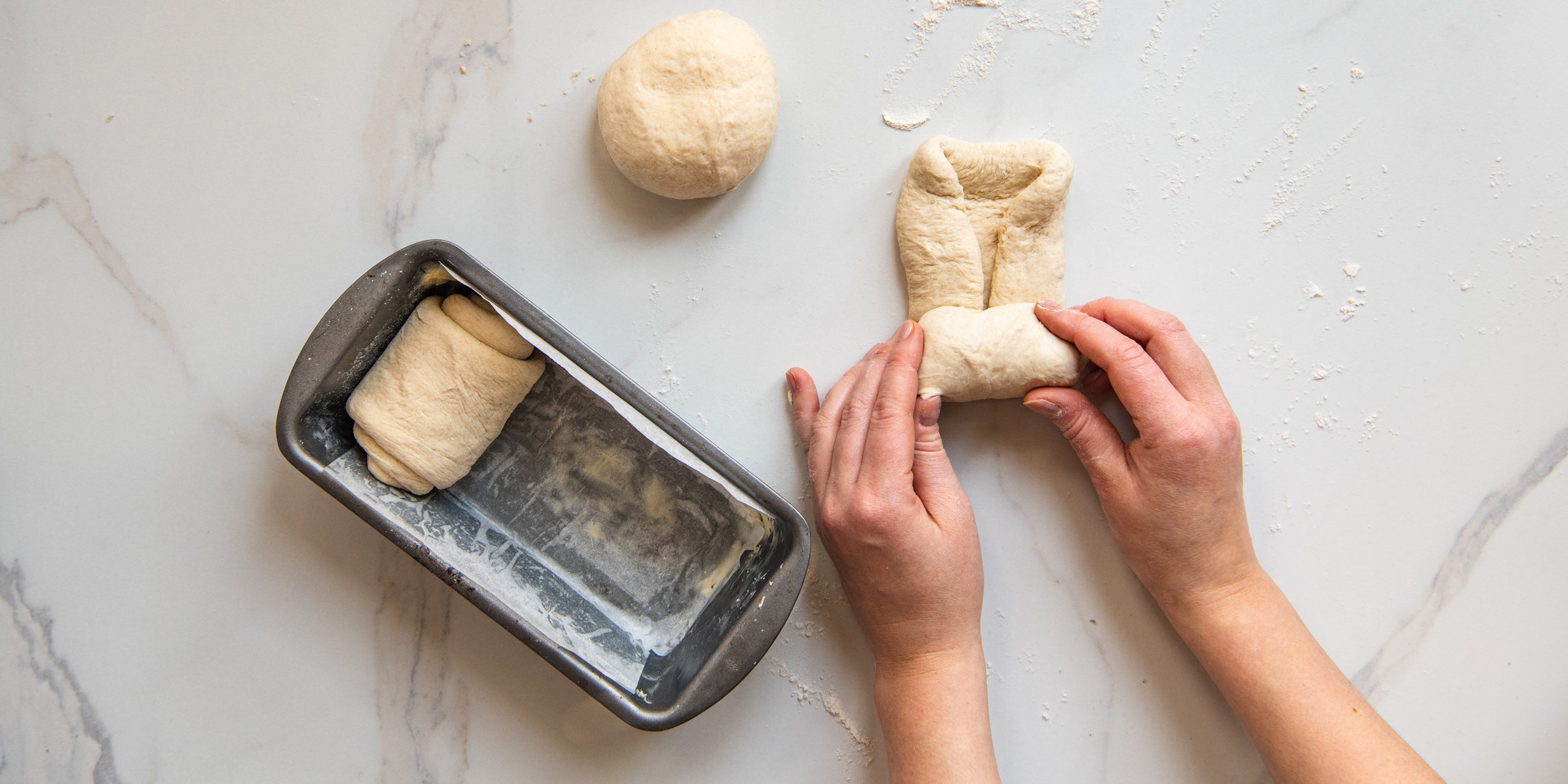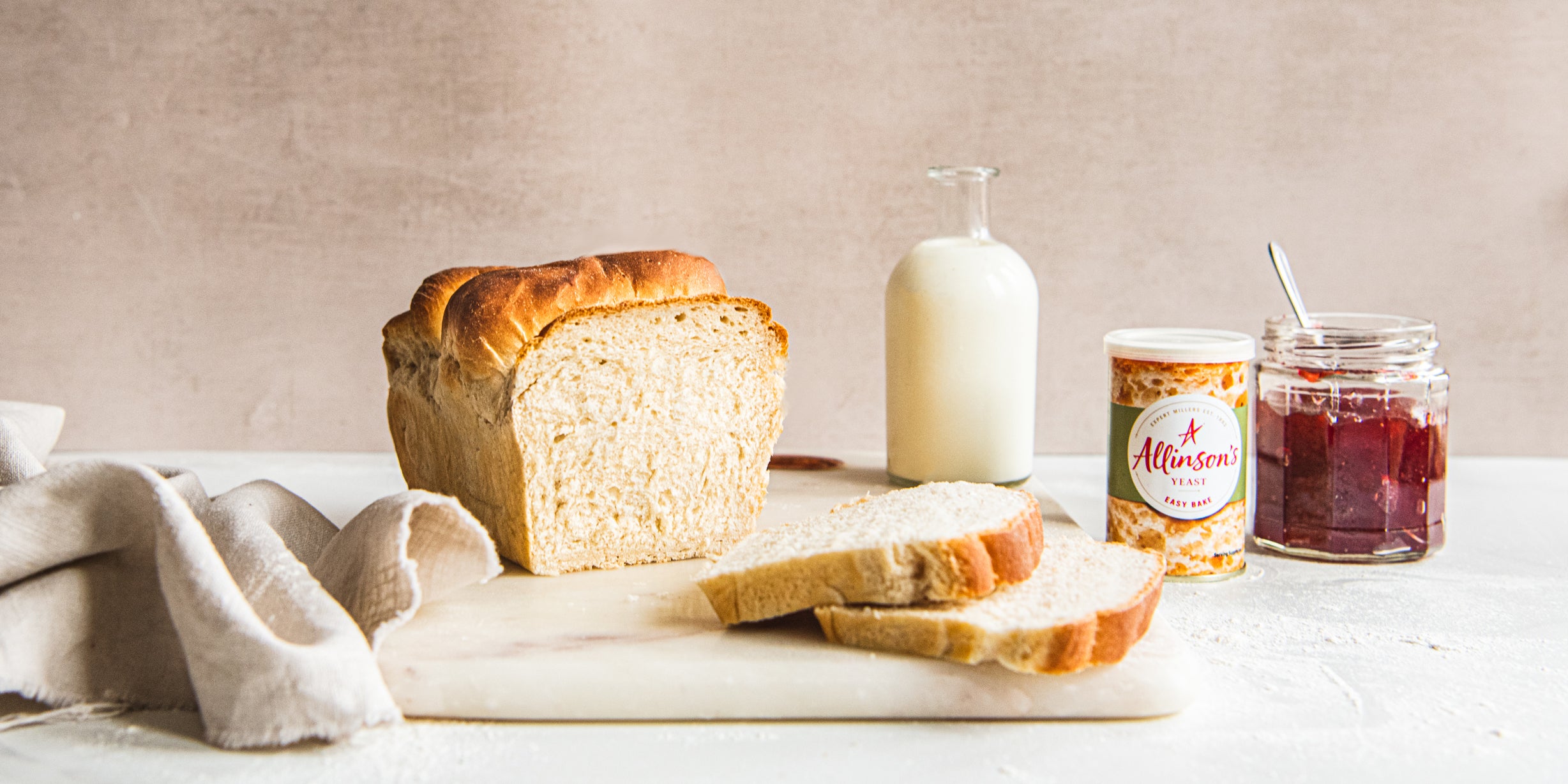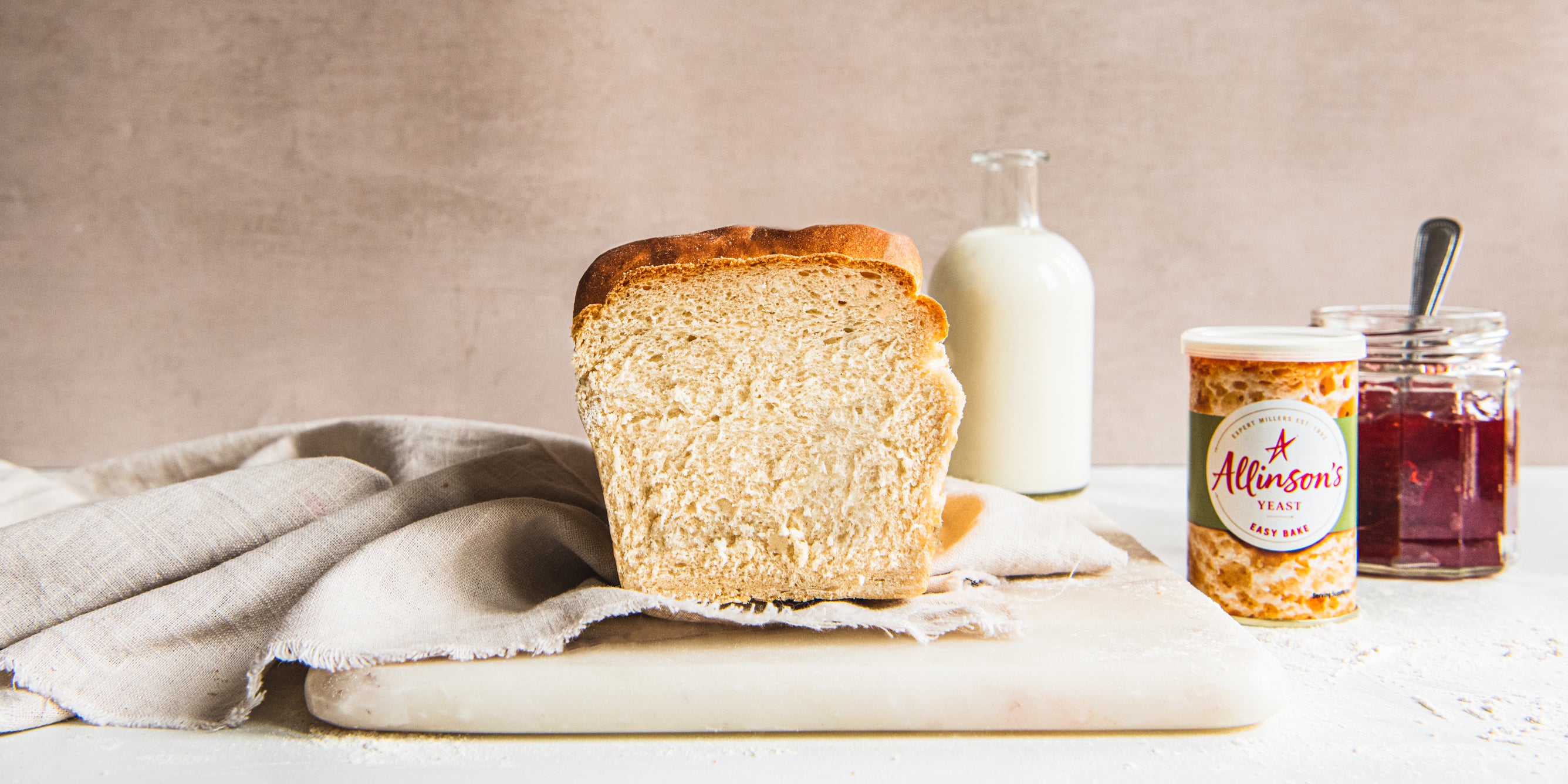 About the bake
This Shokupan Bread recipe is the perfect white bread to bake if you're looking for really soft fluffy loaf, thanks to using the Yudane method moisture is trapped inside the loaf, ensuring you get a perfectly formed, super soft bread to enjoy with a slither of butter or enjoyed as a sandwich.
This loaf is deliciously inspired by Japanese bread baking, which explains why we've used their traditional Yudane method, which simply put is a way of making milk bread. It's a patented, crucial step to making this yummy shokupan bread, involving mixing boiling water and flour and letting them rest overnight to create a highly hydrated dough - cool right?
Method
Step 1:

Prepare Yudane the night before. Place the bread flour in a medium size bowl and add the boiling water and mix well. Cover with cling film and place in a fridge overnight.

Step 2:

Place the milk, yeast, sugar and butter into a stand mixer bowl.

Step 3:

Add the Yudane, by tearing into small pieces, followed by the flour and salt.

Step 4:

Use the bread hook to knead the dough for around 20 minutes, then remove the dough from the mixer bowl and transfer to a clean bowl, greased with some oil.

Step 5:

Cover the bowl with a clean tea towel and prove until doubled in size - about 1 hour.

Step 6:

When ready, transfer the dough onto a clean surface.

Step 7:

Weigh your dough and cut into 3 equal pieces and roll each piece into a ball. We cut our dough into 210 g pieces each

Step 8:

Cover the rolled dough balls and cover with a tea towel to prove, for another 20 minutes

Step 9:

Prepare a bread loaf tin by lightly greasing it with butter.

Step 10:

Use a rolling pin to roll each piece of the dough into a 15 cm x 20 cm rectangle.

Step 11:

With each of the 3 doughs, fold the longer edges of the rectangle to meet in the middle. Then, take the bottom corner and roll the dough upwards into a roll. Repeat this process for the other 2 pieces.

Step 12:

Place the three rolled pieces of the dough into the previously prepared bread tin, cover with a wet tea towel and let it prove for another 20 minutes.

Step 13:

Meanwhile, preheat the oven to 185°C.

Step 14:

When the dough has risen to the top of the tin, place it in the oven and bake for 25 minutes until golden brown.

Step 15:

Remove from the oven and also from the tin and let it cool completely.

Step 16:

Slice and enjoy with butter, jam or your favourite sandwich toppings.
Ingredients
For the Yudane

70g

 Allinson's Strong White Bread Flour

55ml

 

Water

For the dough

210ml

 

Milk (full fat)

1 tsp

 Allinson's Easy Bake Yeast

20g

 Silver Spoon White Granulated Sugar

35g

 

Unsalted Butter (room temperature)

280g

 Allinson's Strong White Bread Flour

1 tsp

 

Vegetable oil (for greasing)

1 tsp

 

Salt

1 tsp

 

Unsalted butter (for greasing)
Utensils
Medium bowl

Wooden spoon

Stand mixer with dough hook

Tea towel

Weighing scales

Loaf tin

Rolling pin
Recipe Reviews
Absolutely delicious! I had mine with some chocolate spread and a glass of cold milk. Dreamy !
Ingredients
For the Yudane

70g

 Allinson's Strong White Bread Flour

55ml

 

Water

For the dough

210ml

 

Milk (full fat)

1 tsp

 Allinson's Easy Bake Yeast

20g

 Silver Spoon White Granulated Sugar

35g

 

Unsalted Butter (room temperature)

280g

 Allinson's Strong White Bread Flour

1 tsp

 

Vegetable oil (for greasing)

1 tsp

 

Salt

1 tsp

 

Unsalted butter (for greasing)
Utensils
Medium bowl

Wooden spoon

Stand mixer with dough hook

Tea towel

Weighing scales

Loaf tin

Rolling pin