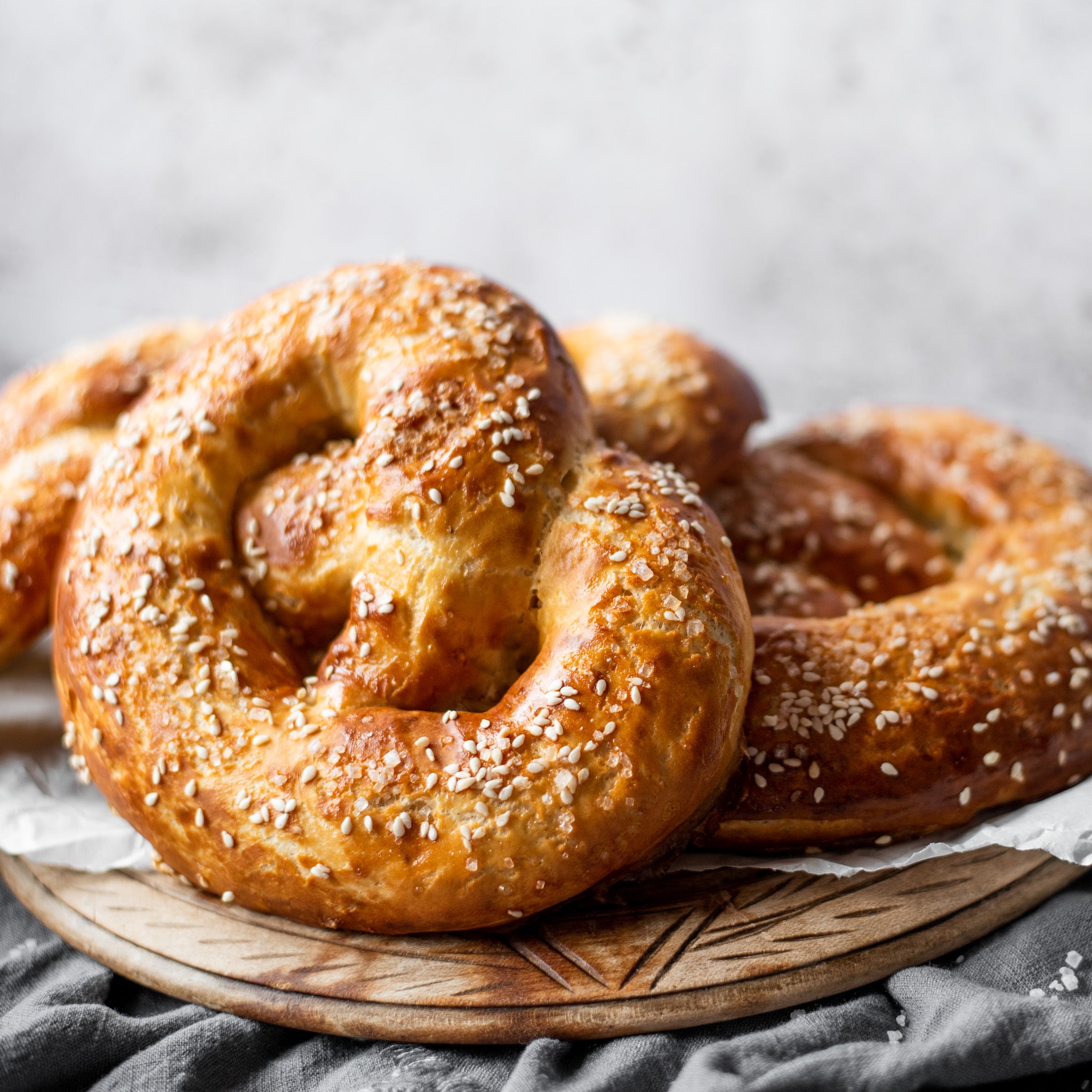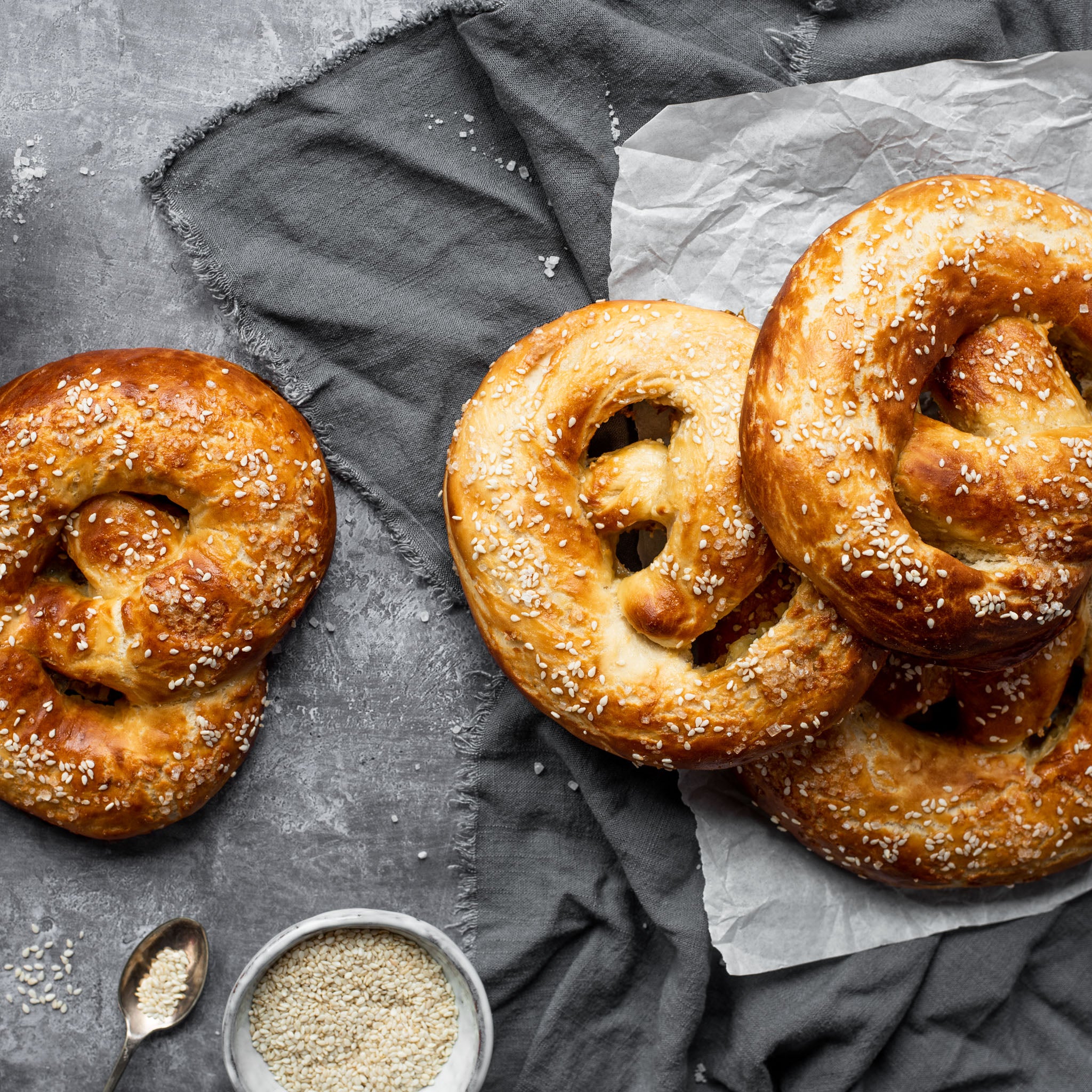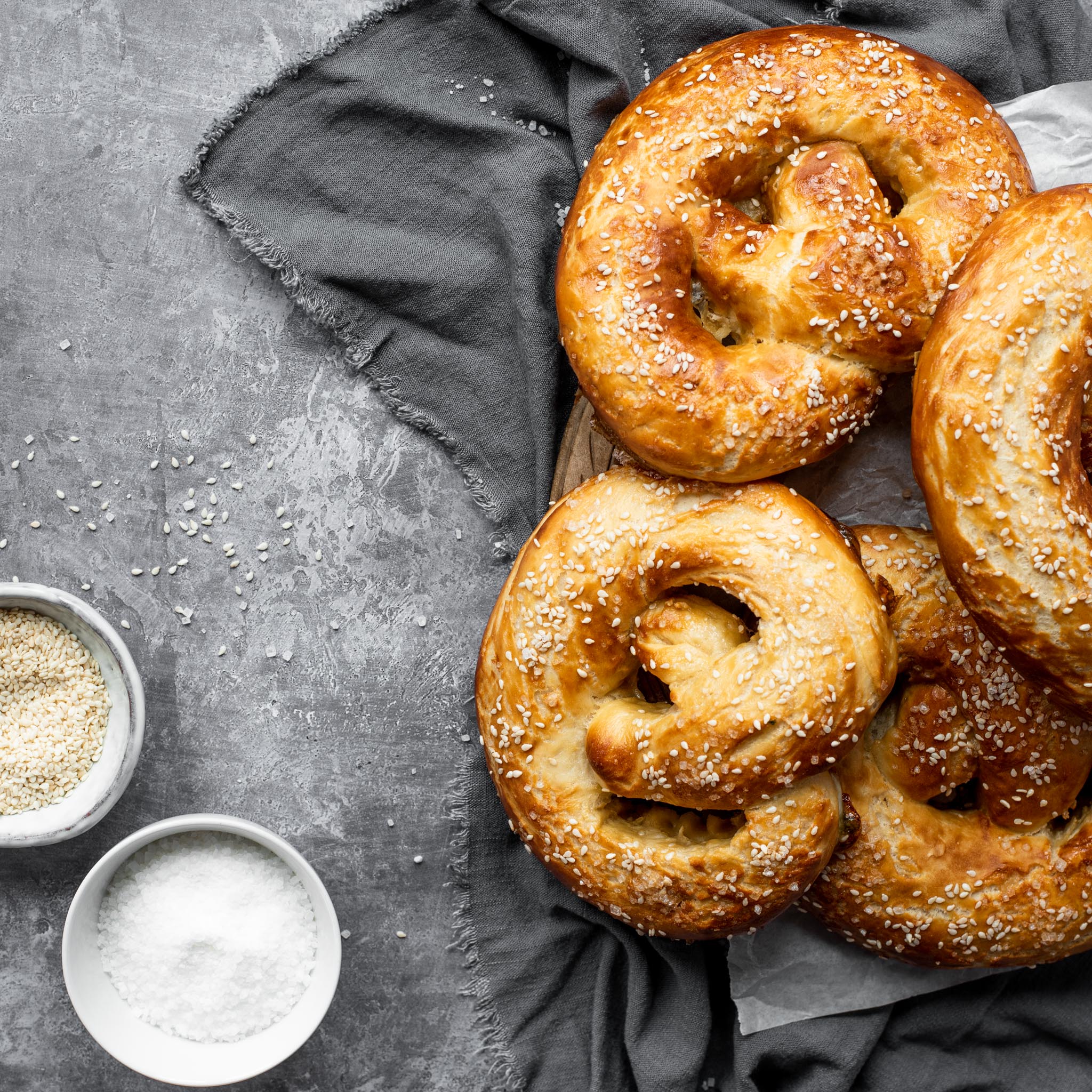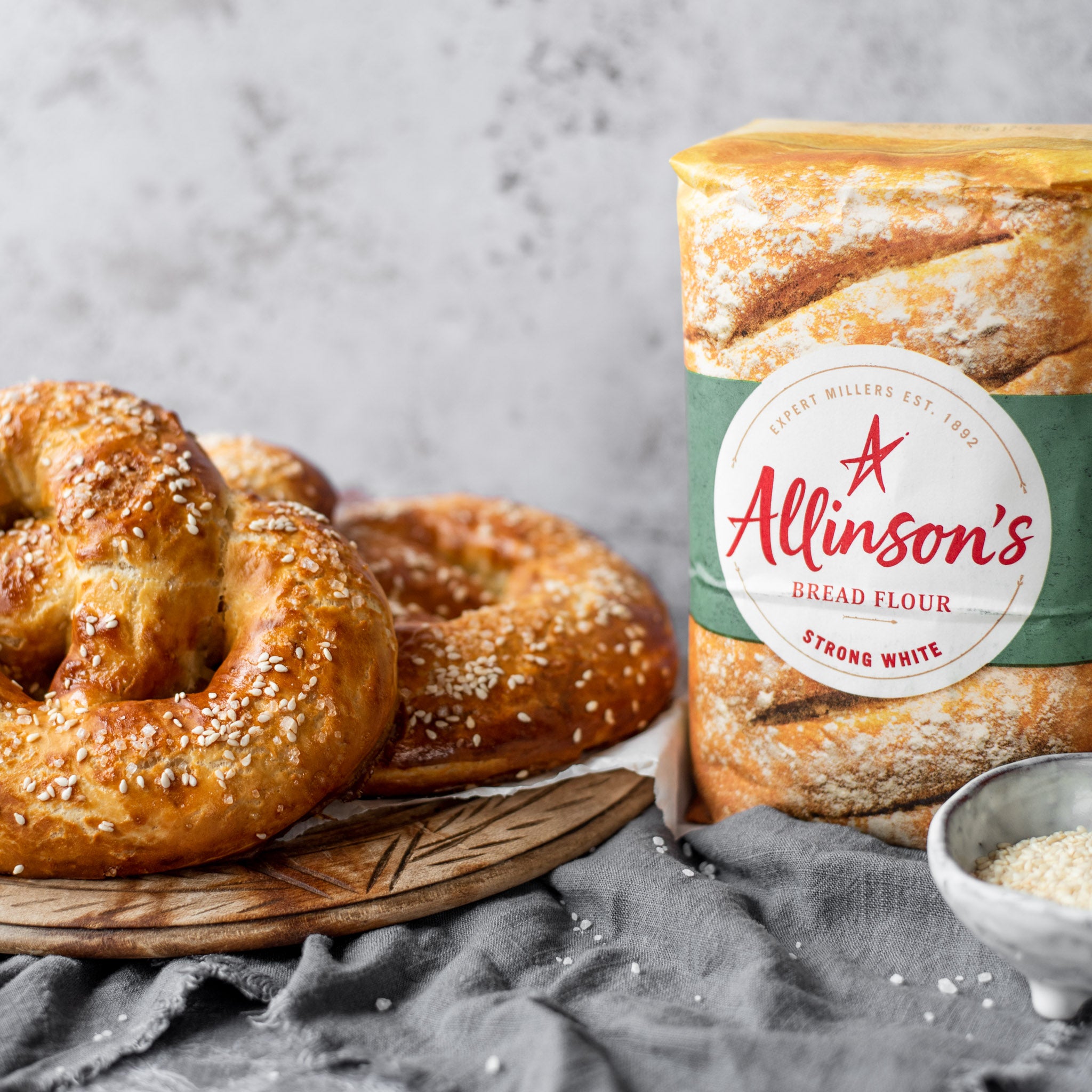 About the bake
Now you can bake New York-style Pretzels at home with Allinson sweet dough in our six-step guide. Traditionally served at Baseball games, these soft, chewy treats make a great snack when friends come over for movie night or to watch the game.
Method
Step 1:

MIX

Bring the milk to the boil, then remove from the heat and add the diced butter. Leave to cool until it reaches hand temperature. Mix the flour, yeast, 75g sugar and salt in a big bowl. Mix the milk and the beaten egg into the dry ingredients with a wooden spoon.

Step 2:

KNEAD

Tip onto a lightly flour dusted surface and knead for 10 minutes (or use the dough hook attachment on your mixer).


Step 3:

RISE

Lightly grease the mixing bowl with some oil. Put the dough back in, cover the bowl with a clean tea towel and leave to rise until doubled in size – up to 2 hours depending on how warm your kitchen is.

Step 4:

SHAPE

Knock back the dough by gently kneading just 5 times to get the air out. Cut the dough into 4 even pieces (use a weighing scales if you like). Roll each piece into a sausage about 60cm long where the ends are slightly thinner than the middle. Shape each rope into a 'U', then bring each end back towards the curve of the 'U' – sticking to their opposite sides so it creates a twist in the middle.


Step 5:

POACH

Mix the bicarbonate of soda into a large saucepan of water and bring to the boil. One at a time sit a pretzel on two slotted spatulas and lower into the water for 20-30 seconds. Let the excess water drip off as you lift it out and place on baking parchment-lined baking sheets. Preheat your oven to 200°C (180°C fan, gas mark 6).

Step 6:

BAKE

Beat the remaining egg with a fork and use to brush the top of the pretzels. Sprinkle the tops with sesame seeds, preserving or pearl sugar and some sea salt flakes, and bake for 20 minutes until brown and shiny.
Ingredients
For the Dough

500g

 Allinson's Strong white bread flour

7g

 Allinson's Easy Bake Yeast

275ml

 

Milk

50g

 

Butter (unsalted, cold, diced)

1

 

Egg(s) (free range) (medium, beaten)

75g

 Billington's Unrefined Golden Caster Sugar

1 1/2 tsp

 

Salt

Plus

1

 

Egg(s) (free range) (medium)

2 tbsp

 

Bicarbonate of soda

2 tbsp

 

Sesame seeds

2 tbsp

 Silver Spoon Preserving Sugar

2 tsp

 

Sea salt (flakes)
Recipe Reviews
The recipe is great, apart from saying makes just 4 pretzels. Make 8 or 12 and they'll work out fine.
Laying them on parchment in the video when poaching is a great tip, shame doesn't mention it in the text
Ingredients
For the Dough

500g

 Allinson's Strong white bread flour

7g

 Allinson's Easy Bake Yeast

275ml

 

Milk

50g

 

Butter (unsalted, cold, diced)

1

 

Egg(s) (free range) (medium, beaten)

75g

 Billington's Unrefined Golden Caster Sugar

1 1/2 tsp

 

Salt

Plus

1

 

Egg(s) (free range) (medium)

2 tbsp

 

Bicarbonate of soda

2 tbsp

 

Sesame seeds

2 tbsp

 Silver Spoon Preserving Sugar

2 tsp

 

Sea salt (flakes)