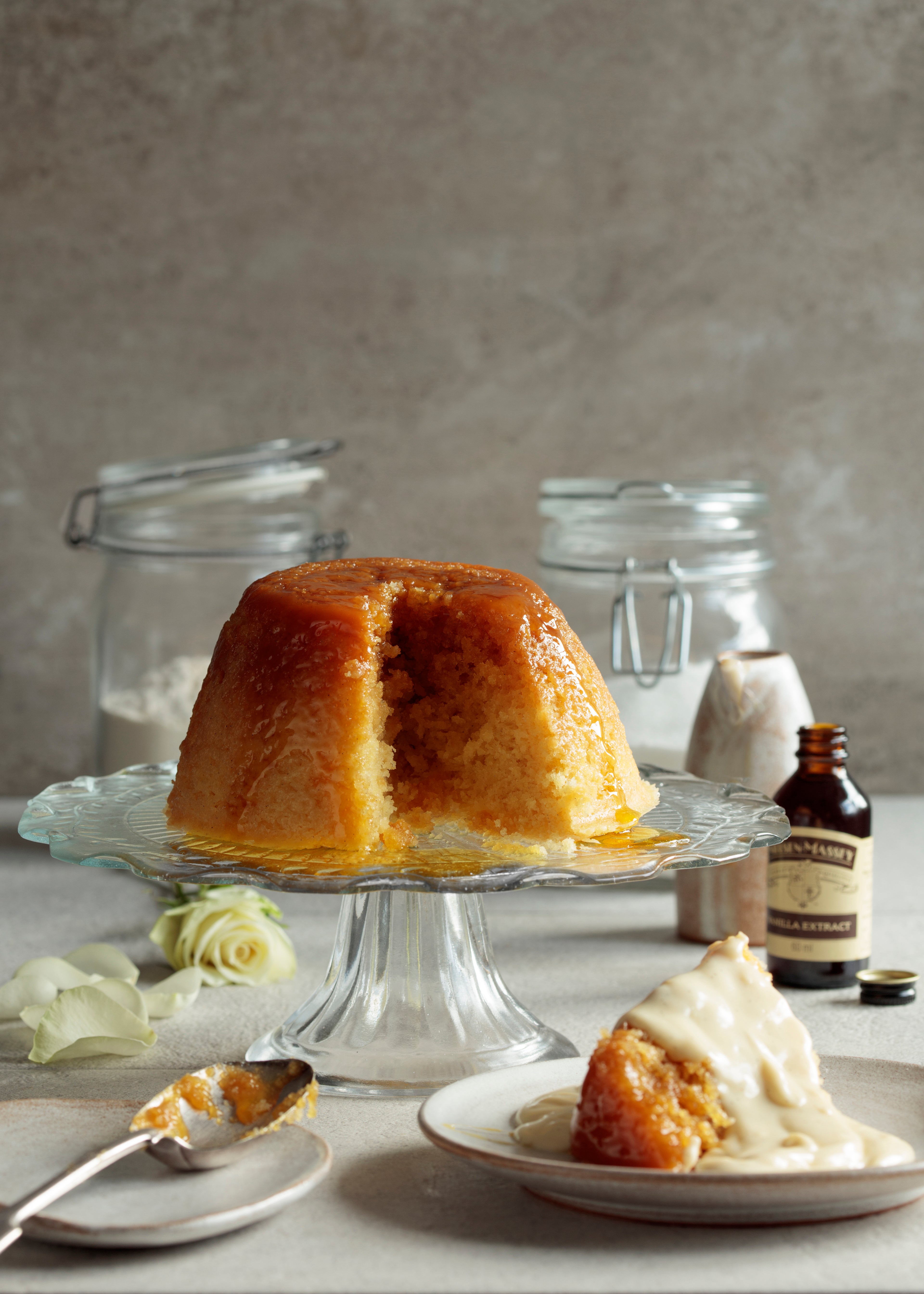 About the bake
This steamed syrup pudding recipe is a timeless classic. It's a simple recipe and a real crowd pleaser. We've used Nielsen-Massey Vanilla which brings an authentic Vanilla flavour to the bake. For the ultimate in luxury, make your own custard. We have the perfect Vanilla Custard recipe.
Method
Step 1:

Butter a 1 litre pudding bowl. Cut a circle about two times larger than the pudding basin diameter, of baking paper and kitchen foil. Butter the baking parchment.


Step 2:

Cream the butter, sugar, vanilla and lemon zest together until smooth and pale and creamy, add the eggs one at a time, beating after each addition. Fold in the flour until combined. Add the milk to loosen the mix.


Step 3:

Mix the lemon juice and golden syrup together and then pour into the bottom of the bowl.


Step 4:

Spoon all the sponge mix over the syrup. Pleat the buttered baking paper circle by folding over an inch of paper in the centre. Repeat with the foil. This allows for expansion of the pudding as it cooks.


Step 5:

Place the paper butter side down and the foil over the bowl and tie tightly with string, the seam will allow for the sponge to rise up a little.


Step 6:

Put an upturned heatproof saucer or small trivet in a large saucepan and place the pudding basin on top. Add enough just-boiled water to the pan to come halfway up the sides of the basin. Cover the pan with a tight-fitting lid and place over a low heat. Steam gently in simmering water for 1¾ - 2 hours, adding more water to the pan if necessary. (Make sure the pan does not boil dry.)


Step 7:

The pudding is done when a skewer inserted into the centre of the pudding (through the kitchen foil and baking paper) comes out clean. When done, turn off the heat and carefully lift the basin from the water. Leave to stand for 5 minutes. Once cool enough to handle remove the paper and foil and invert the pudding onto a serving plate.

Ingredients
For the Sponge

200g

 

Salted butter

200g

 Billington's Unrefined Golden Caster Sugar

1 tsp

 Nielsen-massey vanilla extract or bean paste

Zest of 1

 

Lemon

4

 

Medium eggs

200g

 Allinson's Self Raising Flour

50ml

 

Whole milk

5 tbsp

 

Golden syrup

Juice of 1

 

Lemon
We'd love a slice of advice.
Was it yum? Did the recipe work well? Did you customise the recipe?
Ingredients
For the Sponge

200g

 

Salted butter

200g

 Billington's Unrefined Golden Caster Sugar

1 tsp

 Nielsen-massey vanilla extract or bean paste

Zest of 1

 

Lemon

4

 

Medium eggs

200g

 Allinson's Self Raising Flour

50ml

 

Whole milk

5 tbsp

 

Golden syrup

Juice of 1

 

Lemon