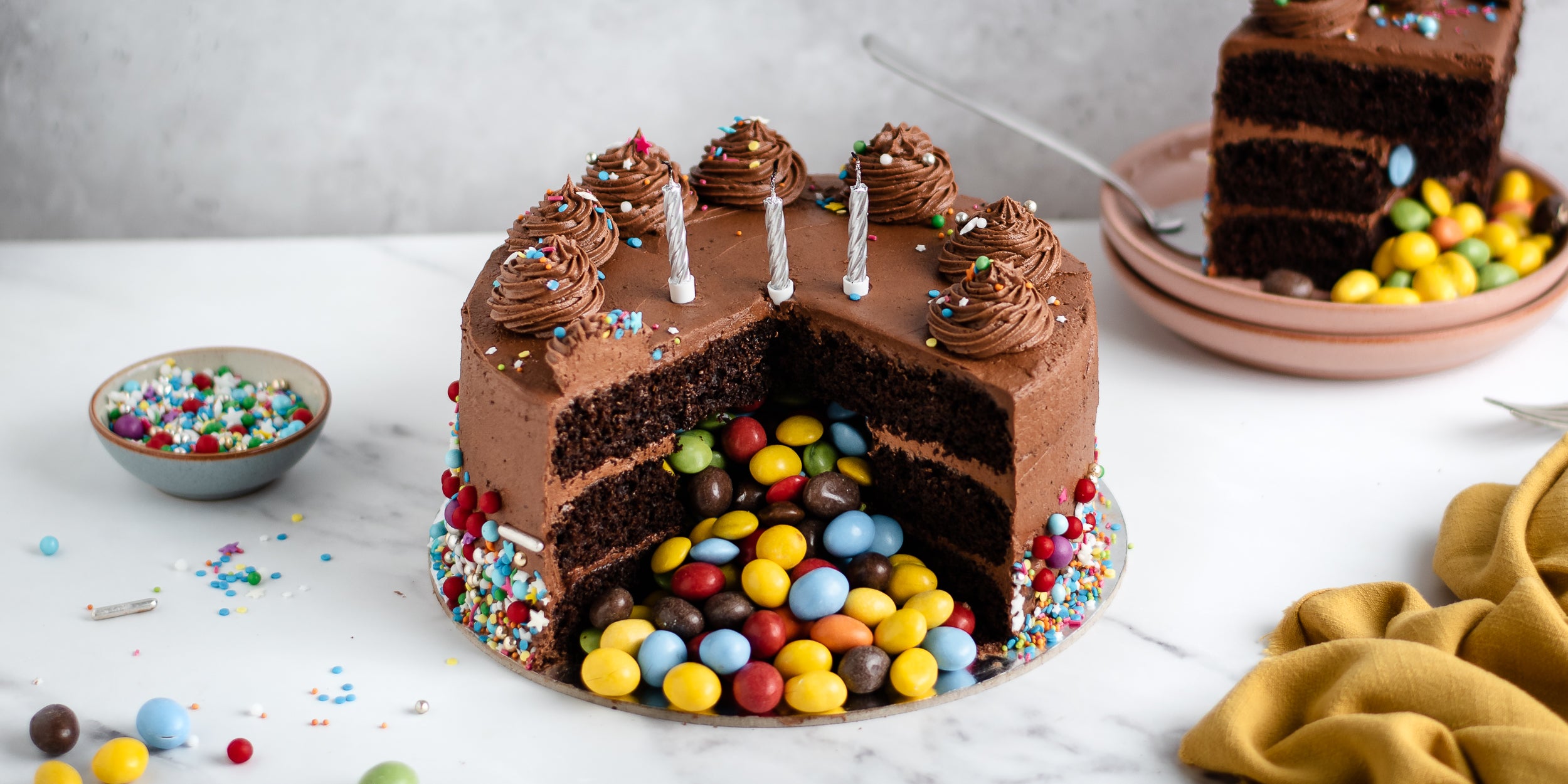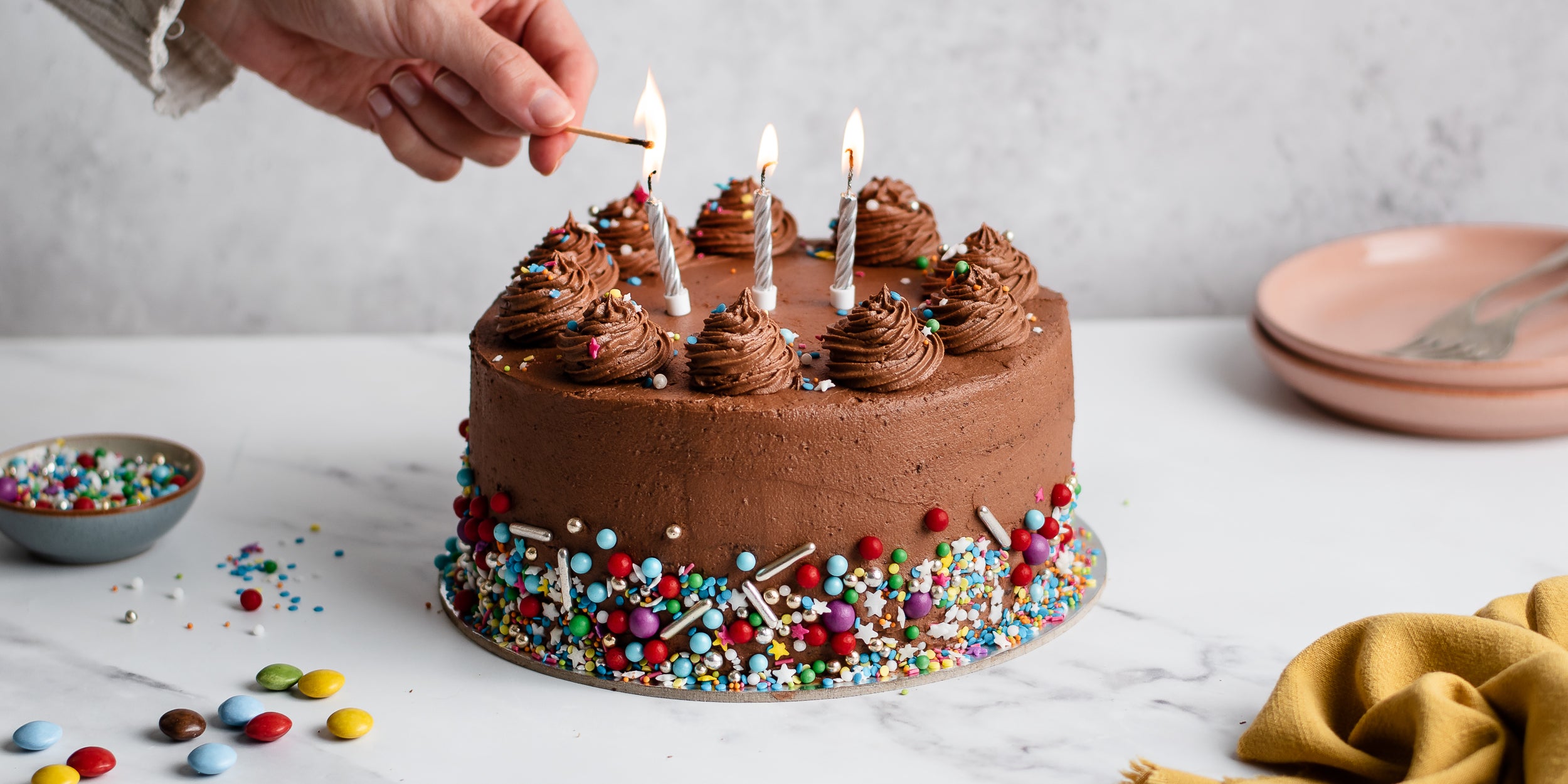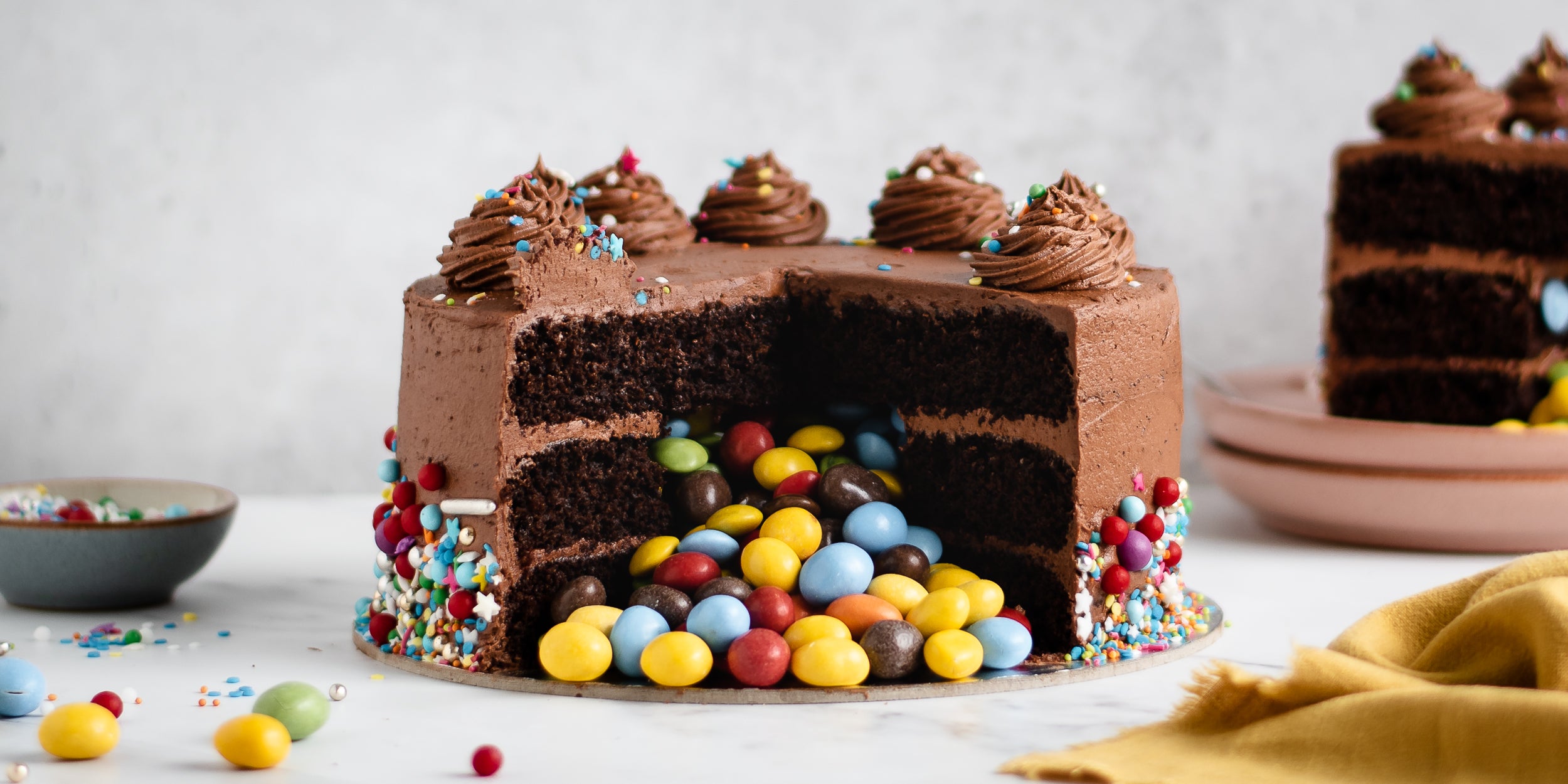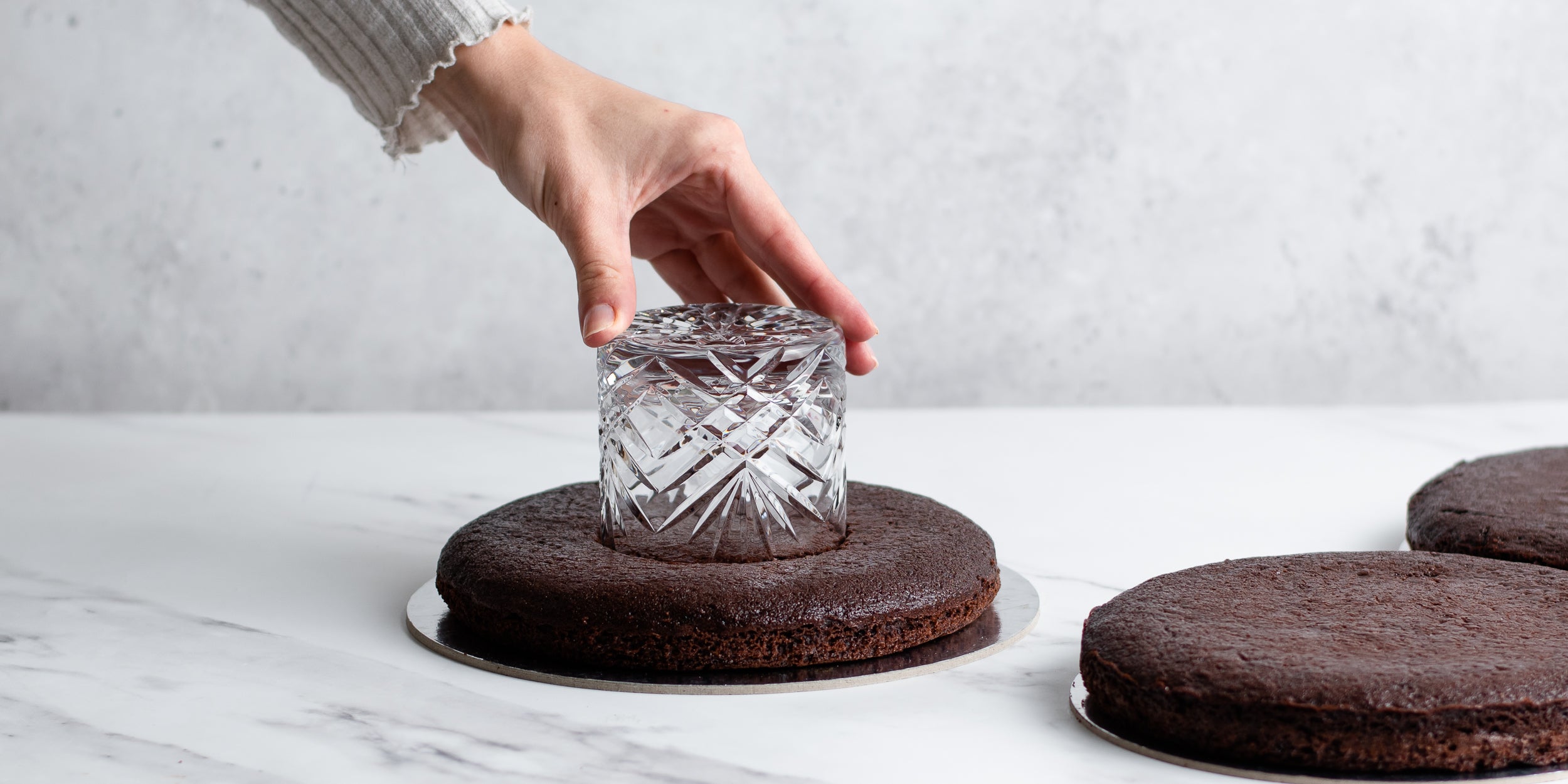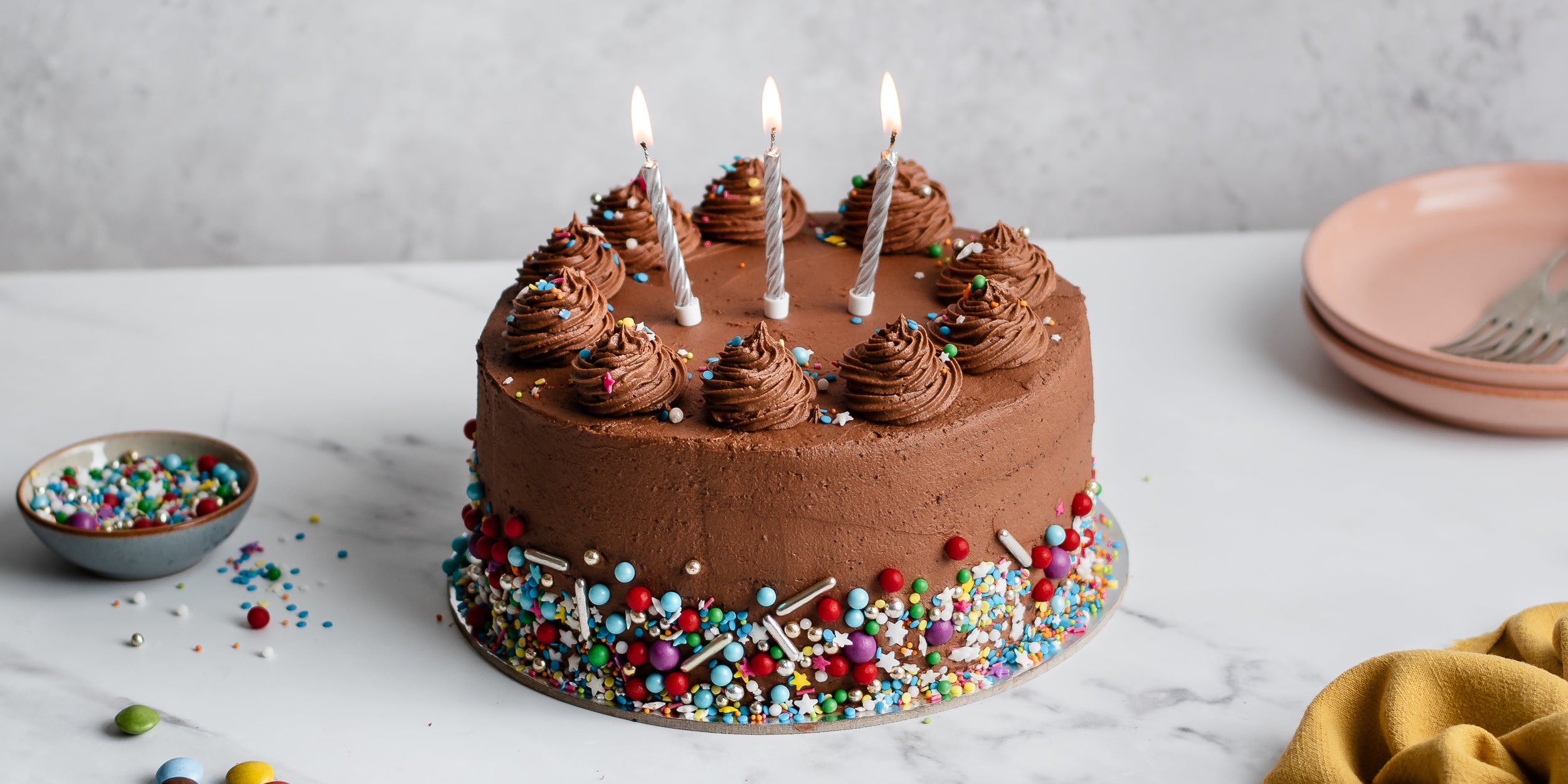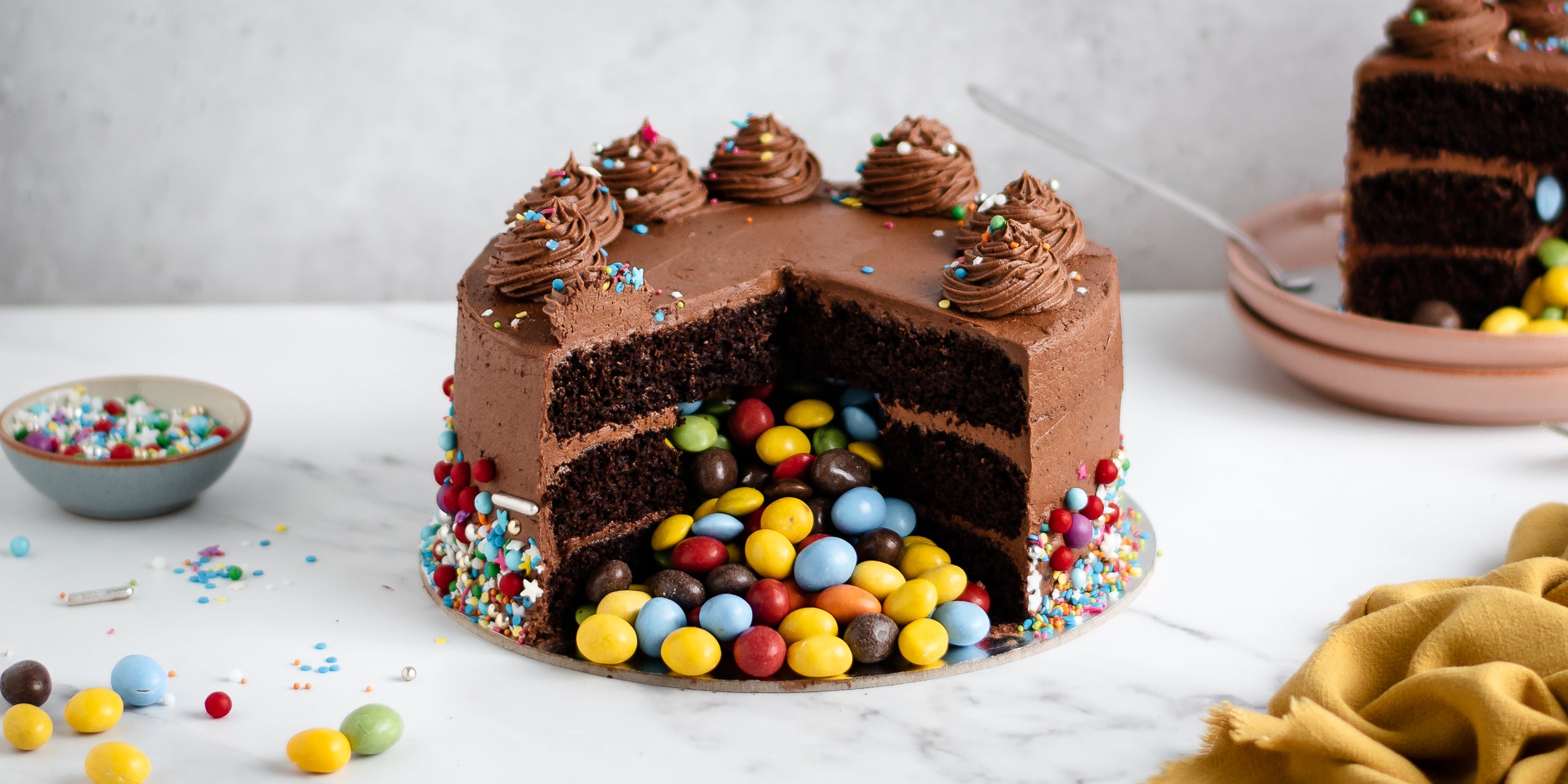 About this Surprise Cake
Just imagine the delight on your guests face when you take your first slice into this delicious chocolate cake, bursting with smarties - or whatever you fancy stuffing inside! Reece's pieces? M&M's? Skittles? You can make this Chocolate Surprise Cake exactly how you like it!
Method
Step 1:

Preheat the oven to 180°C (fan 160°C, gas mark 4). Grease and line three 8" circular cake tins.

Step 2:

Cream together the butter and sugar until light and fluffy.

Step 3:

Gradually add the eggs one by one, mixing in between.

Step 4:

Sift in the flour and baking powder and fold in.

Step 5:

In a separate small bowl mix together the cocoa powder and boiling water to a paste then add to the mixture, stirring to combine.

Step 6:

Once fully combined, carefully pour into the 3 prepared tins in equal measures.

Step 7:

Bake the sponges in the oven for 25-30 minutes or until a skewer comes out clean when inserted in the centre of the cake.

Step 8:

Once baked, leave the sponges to cool on a wire rack.

Step 9:

Once fully cooled, carefully cut out a large circle from the centre of two of the sponges using a pastry cutter, these will become the bottom and middle sponges.

Step 10:

Place the bottom base on a cake board or cake stand that you want to present your cake on (it will be difficult to move once filled).

Step 11:

Beat together the icing sugar, cocoa powder and butter to make your buttercream (you may need to add a splash of milk to loosen up).

Step 12:

Spread a thin layer of buttercream on the bottom layer of your cake (not covering the hole) and place the second layer on top.


Step 13:

Fill the hole in the centre with your chocolate sweets.

Step 14:

Spread a thin layer of buttercream on the top of the sponge and place the remaining sponge layer without the hole on top to seal in the sweets.

Step 15:

With the remaining buttercream spread generously on the outside of the cake (or pipe if preferred).

Step 16:

Decorate with chocolate sprinkles and serve.
Ingredients
For the Cake

260g

 

Unsalted butter (softened)

260g

 Billington's Unrefined Dark Muscovado Sugar

5

 

Free range medium eggs

260g

 Allinson's Self Raising White Flour

2.5 tsp

 

Baking powder

8 tbsp

 

Boiling water

60g

 

Cocoa powder

For the Buttercream

500g

 Silver Spoon Icing Sugar

75g

 

Cocoa powder

300g

 

Unsalted butter (softened)

2 tbsp

 

Milk

For the Filling

200g

 

Chocolate sweets (smarties or m&ms)
Ingredients
For the Cake

260g

 

Unsalted butter (softened)

260g

 Billington's Unrefined Dark Muscovado Sugar

5

 

Free range medium eggs

260g

 Allinson's Self Raising White Flour

2.5 tsp

 

Baking powder

8 tbsp

 

Boiling water

60g

 

Cocoa powder

For the Buttercream

500g

 Silver Spoon Icing Sugar

75g

 

Cocoa powder

300g

 

Unsalted butter (softened)

2 tbsp

 

Milk

For the Filling

200g

 

Chocolate sweets (smarties or m&ms)