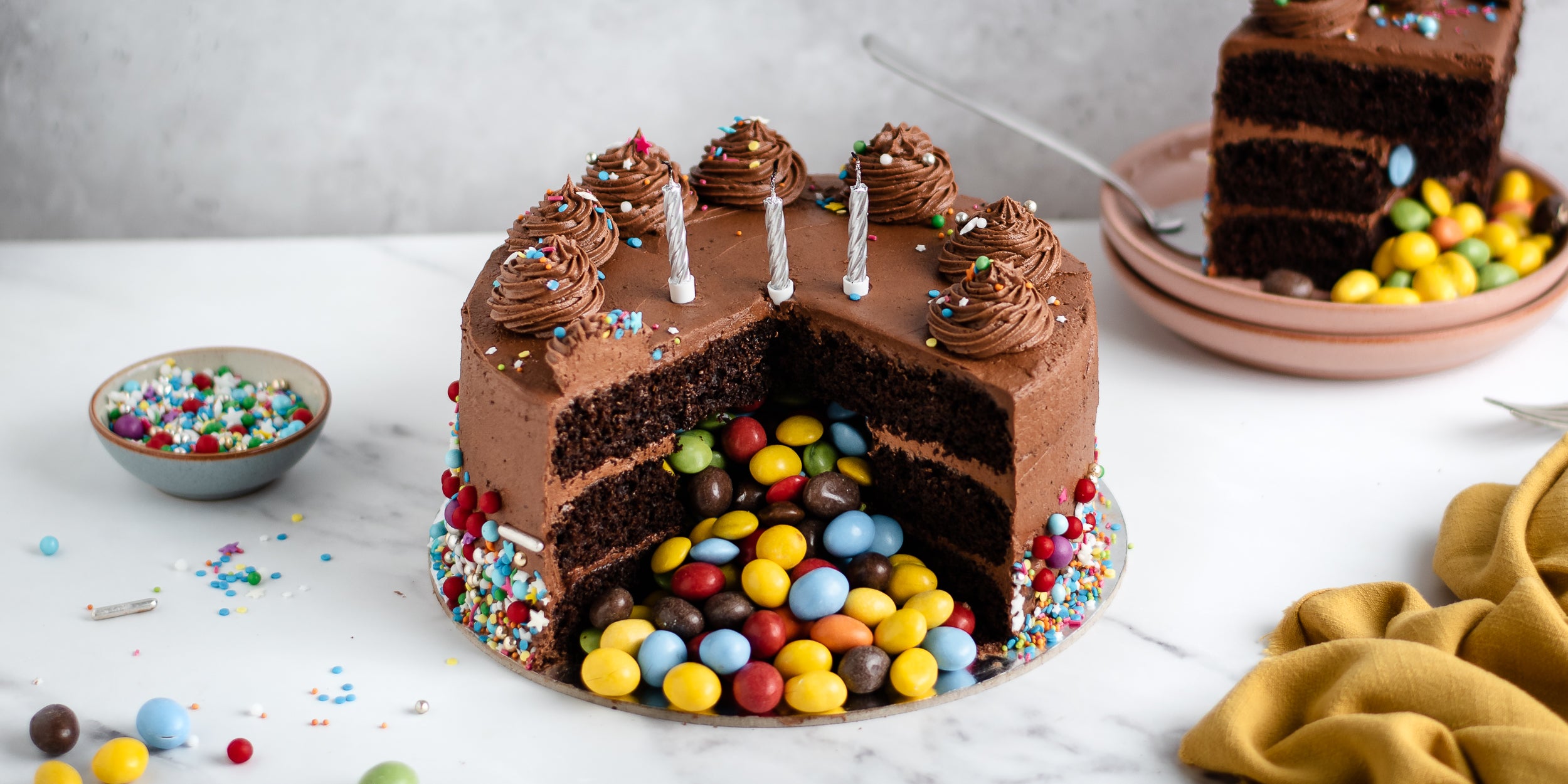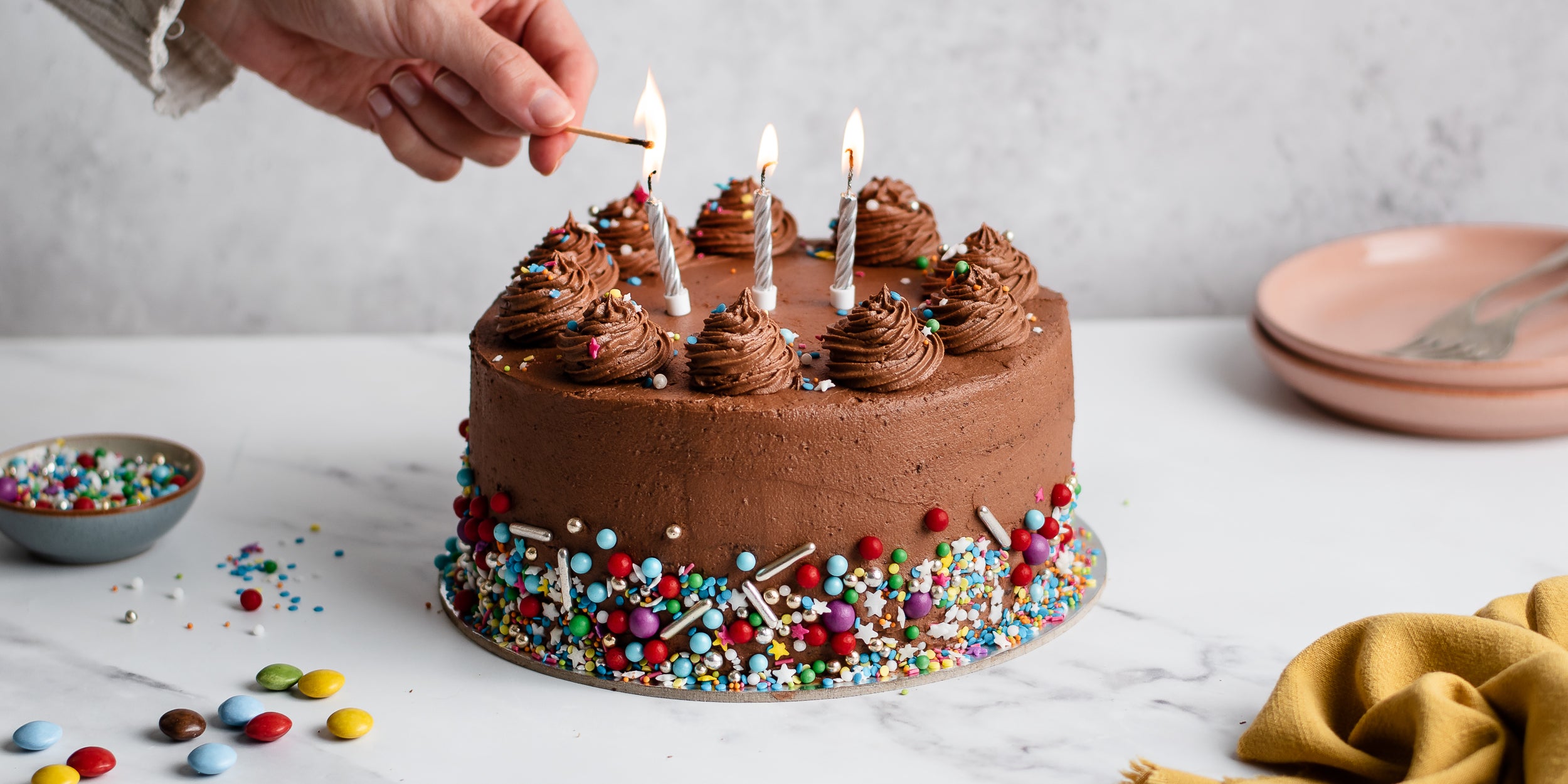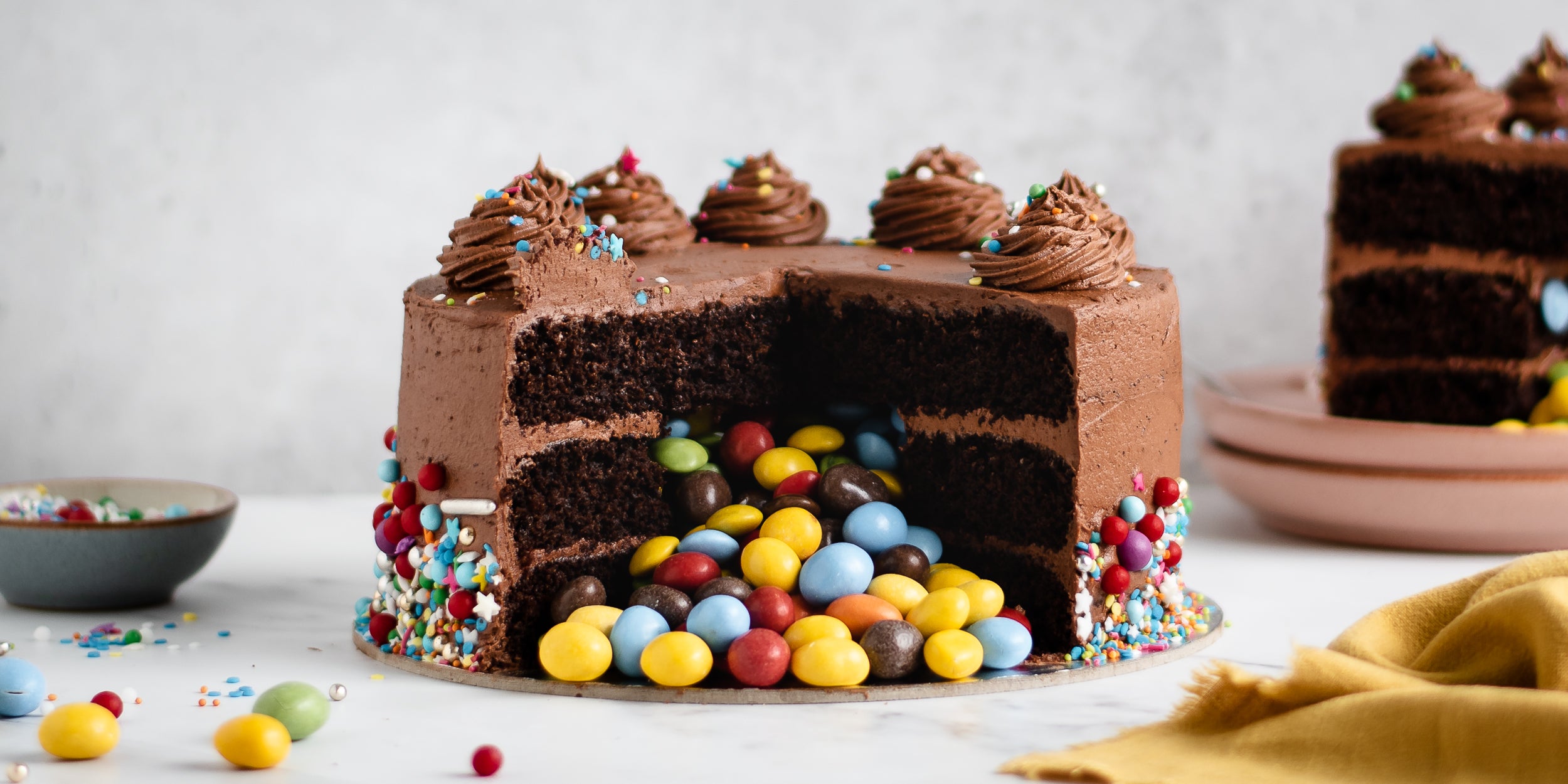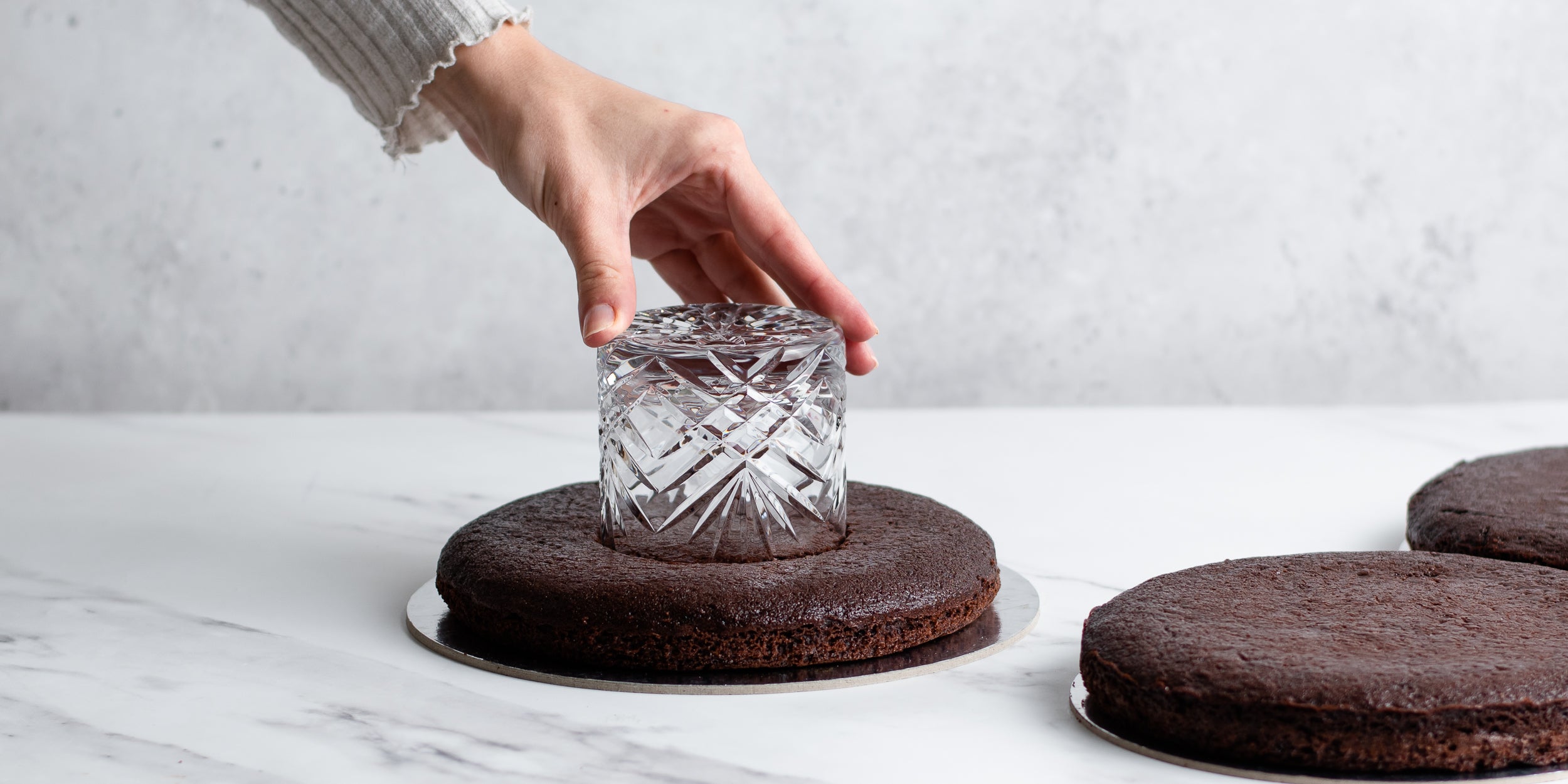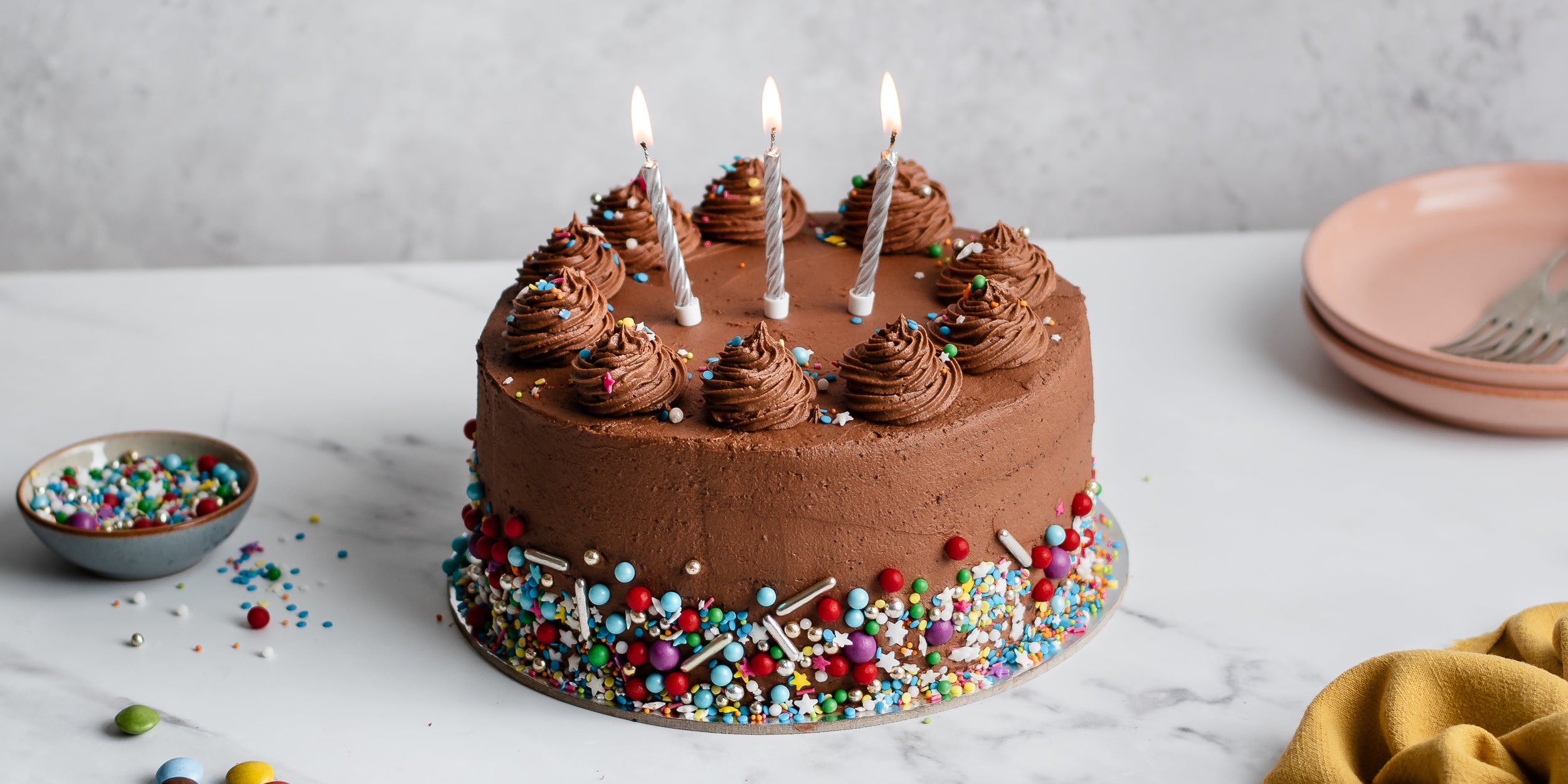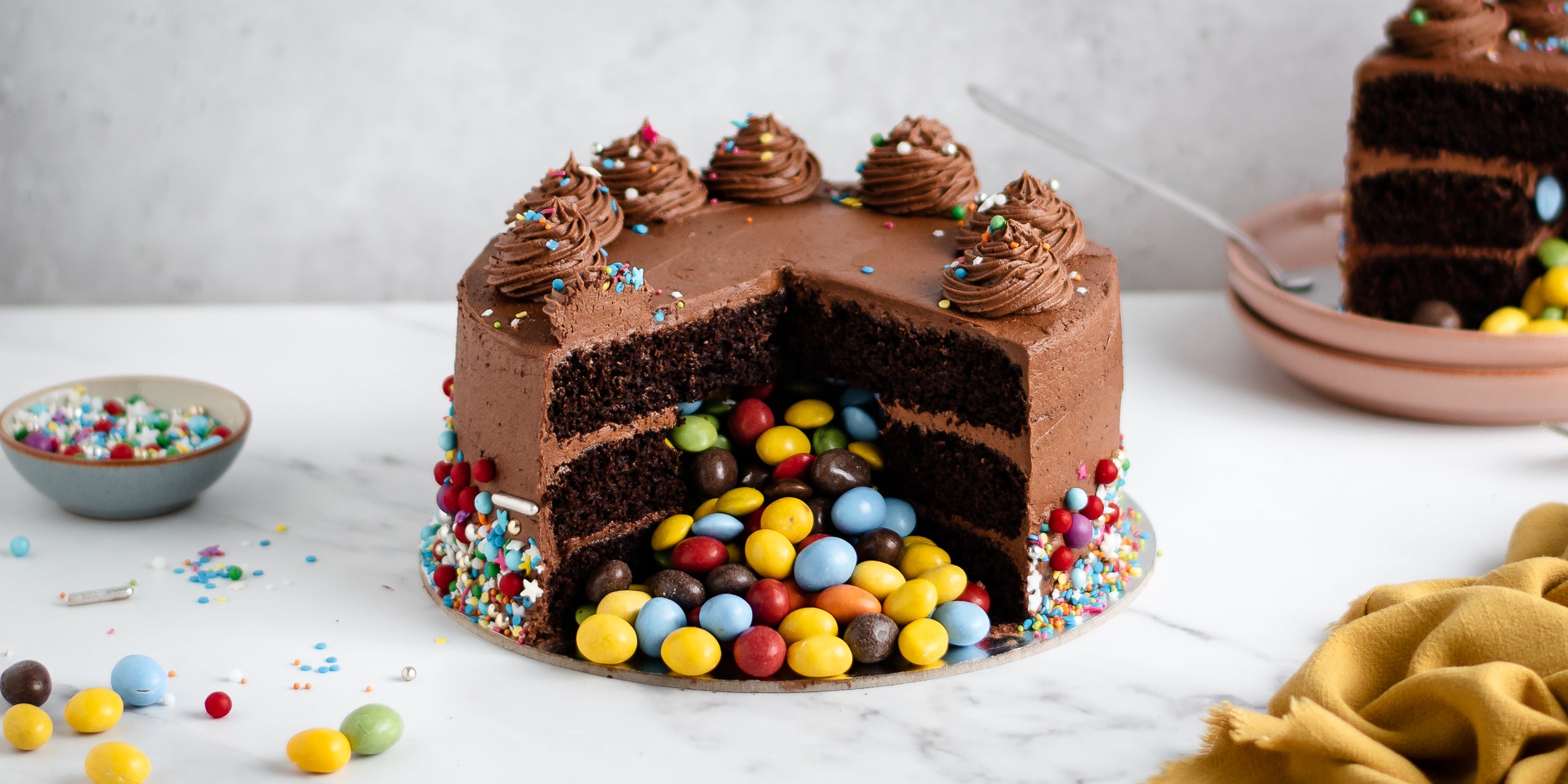 About this Surprise Cake
Just imagine the delight on your guests face when you take your first slice into this delicious chocolate cake, bursting with smarties - or whatever you fancy stuffing inside! Reece's pieces? M&M's? Skittles? You can make this Chocolate Surprise Cake exactly how you like it!
Method
Step 1:

Preheat the oven to 180°C (fan 160°C, gas mark 4). Grease and line three 8" circular cake tins.

Step 2:

Cream together the butter and sugar until light and fluffy.

Step 3:

Gradually add the eggs one by one, mixing in between.

Step 4:

Sift in the flour and baking powder and fold in.

Step 5:

In a separate small bowl mix together the cocoa powder and boiling water to a paste then add to the mixture, stirring to combine.

Step 6:

Once fully combined, carefully pour into the 3 prepared tins in equal measures.

Step 7:

Bake the sponges in the oven for 25-30 minutes or until a skewer comes out clean when inserted in the centre of the cake.

Step 8:

Once baked, leave the sponges to cool on a wire rack.

Step 9:

Once fully cooled, carefully cut out a large circle from the centre of two of the sponges using a pastry cutter, these will become the bottom and middle sponges.

Step 10:

Place the bottom base on a cake board or cake stand that you want to present your cake on (it will be difficult to move once filled).

Step 11:

Beat together the icing sugar, cocoa powder and butter to make your buttercream (you may need to add a splash of milk to loosen up).

Step 12:

Spread a thin layer of buttercream on the bottom layer of your cake (not covering the hole) and place the second layer on top.


Step 13:

Fill the hole in the centre with your chocolate sweets.

Step 14:

Spread a thin layer of buttercream on the top of the sponge and place the remaining sponge layer without the hole on top to seal in the sweets.

Step 15:

With the remaining buttercream spread generously on the outside of the cake (or pipe if preferred).

Step 16:

Decorate with chocolate sprinkles and serve.
Ingredients
For the Cake

260g

 

Unsalted butter (softened)

260g

 Billington's Unrefined Dark Muscovado Sugar

5

 

Free range medium eggs

260g

 Allinson's Self Raising White Flour

2.5 tsp

 

Baking powder

8 tbsp

 

Boiling water

60g

 

Cocoa powder

For the Buttercream

500g

 Silver Spoon Icing Sugar

75g

 

Cocoa powder

300g

 

Unsalted butter (softened)

2 tbsp

 

Milk

For the Filling

200g

 

Chocolate sweets (smarties or m&ms)
Recipe Reviews
It was so good it was gone in like three seconds🤩🤩
I cant say anything it is abasluteley delicious 😋
Love this recipe, made it for my grandchildren birthdays and they absolutely loved it and it tastes great.
I always trust in reviews and this time feel that I have to leave mine. I bake a lot, not the professional baker, but still bake plenty of cakes. This time I was looking for something for kids birthday. As kids are not my area of expertise I was so happy finding this recipe. Good i did the test bake…. I was so excited during the process. It was truly simple to bake and easy to decorate. Unfortunately the entire cake went to garbage after first bite. The sponge turned to be very hard and dry. Frosting was like a sand. I guess the right method for buttercream frosting would be to beat butter at first. So in the end I copied the piñata idea and made it with different sponge and different frosting. It was a hit! So if you are looking for something nice and you don't care about the taste, this is recipe for you. Otherwise try something different!
Ingredients
For the Cake

260g

 

Unsalted butter (softened)

260g

 Billington's Unrefined Dark Muscovado Sugar

5

 

Free range medium eggs

260g

 Allinson's Self Raising White Flour

2.5 tsp

 

Baking powder

8 tbsp

 

Boiling water

60g

 

Cocoa powder

For the Buttercream

500g

 Silver Spoon Icing Sugar

75g

 

Cocoa powder

300g

 

Unsalted butter (softened)

2 tbsp

 

Milk

For the Filling

200g

 

Chocolate sweets (smarties or m&ms)