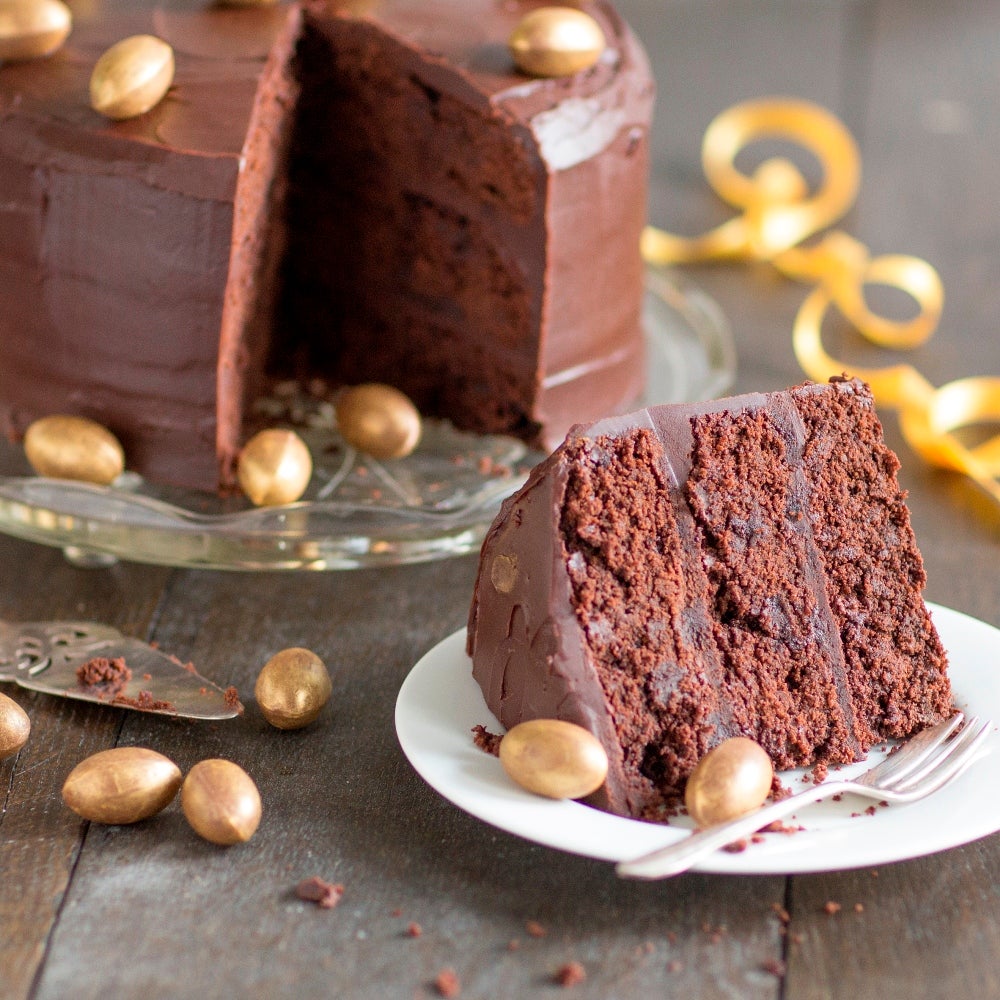 About the bake
Our indulgent dark chocolate cake is the perfect cake of choice for any occasion. This triple-layered cake has beautifully soft chocolate sponges sandwiched together and topped with a rich velvety ganache.
To turn this into an Easter show stopper why not top with gold-coated chocolate eggs to wow your guests.
Find out below how to make our delicious dark chocolate cake and if you love all things chocolate we think you'll love our chocolate cupcakes.
Method
Step 1:

Preheat the oven to 180°C (160°C fan / gas mark 4). Grease 3 x 18cm sandwich tins and base line with baking parchment.

Step 2:

Sift together the flours, bicarbonate of soda and the cocoa powder into a large bowl. Stir in the dark muscovado sugar, breaking down any sugar clumps until evenly combined.

Step 3:

In a small pan set over a very low heat gently combine together the chocolate and butter with 145ml of water. Stir continuously and heat just until the mixture is smooth and glossy. Remove from the heat and leave to cool slightly.

Step 4:

Add the melted chocolate mixture, eggs, buttermilk and vanilla to the dry ingredients and mix well to a combined and smooth batter. Divide the batter evenly between the 3 prepared tins and place into the oven.

Step 5:

Bake for approximately 35 minutes or until a skewer comes out clean when inserted into the centre. Remove from the oven and leave to cool in the tins before turning out onto a wire rack.

Step 6:

To prepare the ganache; gently heat the double cream and dark muscovado sugar in a pan, until the cream looks like it is starting to come to the boil. Remove from the heat and pour over the chocolate. Mix well together until the chocolate has all melted and stir in the golden syrup. Leave to cool at room temperature so it thickens slightly.

Step 7:

Once the cakes have cooled sandwich together with a thin layer of ganache and smooth the rest over the top and sides of the cake until completely covered.

Step 8:

For the decoration, lightly dust the chocolate eggs with gold lustre using a small decorating brush then position on your cake for decoration.
Ingredients
For the Sponge

125g

 Self-raising white flour

125g

 Allinson's Plain White Flour

1/2 tsp

 

Bicarbonate of soda

40g

 

Cocoa powder

425g

 Billington's Unrefined Dark Muscovado Sugar

240g

 

Dark chocolate (broken into small pieces)

240g

 

Unsalted butter (softened)

4

 

Medium free range eggs (beaten)

95ml

 

Buttermilk

2 tsp

 Nielsen-Massey Vanilla Extract

For the Ganache

200g

 

Dark chocolate (broken into small pieces)

250ml

 

Double cream

1 tbsp

 Billington's Unrefined Dark Muscovado Sugar

1 tbsp

 

Golden syrup

For the Decoration

20

 

Mini chocolate eggs

1 pot

 

Gold lustre
Utensils
3 x 18cm sandwich tins

Small saucepan

Sieve

Medium saucepan

Spatula
Nutritional Information
per 115g
545cal

 

Energy

32g

 

Fat

19g

 

of which Saturates

56g

 

Carbohydrates

44g

 

of which Sugars

6.3g

 

Protein

0.32g

 

Salt
Recipe Reviews
it was disgusting the chocolate wouldn't melt and the sponge was horrible
Love this chocolate and makes a great base for decorating as a birthday cake.
We absolutely love this chocolate cake, I have made it with both 70% dark chocolate and milk chocolate and both cakes looked and tasted amazing and were devoured within hours 😋
The best chocolate cake ever perfect and easy
Haven't tasted it yet, but have to say that the sponges were VERY delicate and difficult to handle and to ice. Consequently mine looks a disgrace! But hopefully it will taste good.
Ingredients
For the Sponge

125g

 Self-raising white flour

125g

 Allinson's Plain White Flour

1/2 tsp

 

Bicarbonate of soda

40g

 

Cocoa powder

425g

 Billington's Unrefined Dark Muscovado Sugar

240g

 

Dark chocolate (broken into small pieces)

240g

 

Unsalted butter (softened)

4

 

Medium free range eggs (beaten)

95ml

 

Buttermilk

2 tsp

 Nielsen-Massey Vanilla Extract

For the Ganache

200g

 

Dark chocolate (broken into small pieces)

250ml

 

Double cream

1 tbsp

 Billington's Unrefined Dark Muscovado Sugar

1 tbsp

 

Golden syrup

For the Decoration

20

 

Mini chocolate eggs

1 pot

 

Gold lustre
Utensils
3 x 18cm sandwich tins

Small saucepan

Sieve

Medium saucepan

Spatula
Nutritional Information
per 115g
545cal

 

Energy

32g

 

Fat

19g

 

of which Saturates

56g

 

Carbohydrates

44g

 

of which Sugars

6.3g

 

Protein

0.32g

 

Salt