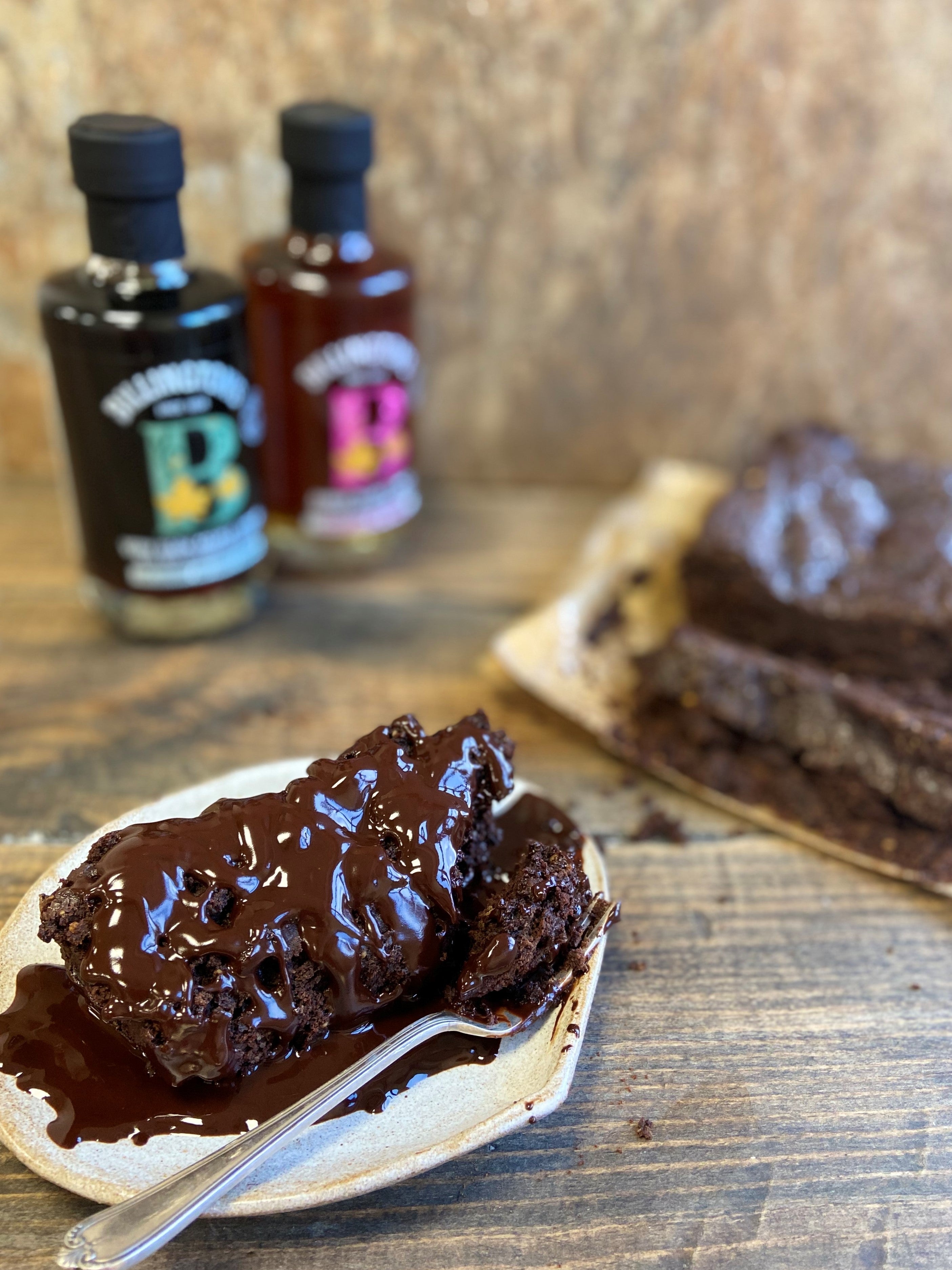 About the bake
Who doesn't love a brownie? Rich chocolate, indulgent and a classic must have for anyone. This recipe brings both together with the intensity of dark chocolate and the sweet caramel flavour of very dark single origin maple syrup. Its also vegan with all the rich gooeyness of a regular brownie. This recipe has a simple maple chocolate drizzle to either pour over the whole brownie loaf or to drizzle over each slice.
Method
Step 1:

Preheat the oven to 170'c fan/ 190'c/ gas mark 3


Step 2:

Warm together in a saucepan the peanut butter, maple syrup, muscovado sugar, melted chocolate, water, and vanilla extract and mix well until smooth.


Step 3:

Take off the heat and add the flour, Baking powder and cocoa powder. Mix well. Line the loaf tin with baking parchment.


Step 4:

Bake for 20 minutes. Once 20 minutes is up, remove from the oven and drizzle a further 50ml of Very Dark maple syrup over the brownie.


Step 5:

Bake for a further 15 minutes so the maple syrup caramelizes and soaks into the brownie.


Step 6:

Allow to cool fully in the tin before removing. The loaf will dip in the middle as it cools as the central is squidgy and very soft.

When you are ready for cutting use a sharp serrated knife and serve at room temperature or gently warmed.


Step 7:

To make the drizzle, Warm the maple syrup gently and add the melted dark chocolate mixing well.

Drizzle over the whole loaf and allow to run down the sides or pour over cut slices allowing it to soak in.

Ingredients
For the Brownie

150g

 Proper Nutty peanut butter

85g

 Billington's very dark maple syrup

150g

 Billington's light muscovado sugar

275g

 

Dark chocolate (70% or above) melted

100g

 

Light rye flour

100ml

 

Water

25g

 

Cocoa powder

1 tsp

 Nielsen-Massey Vanilla Bean Paste

1 tsp

 

Baking powder

0.5 tsp

 

Sea salt

For the Maple Chocolate Drizzle

150ml

 

Billington's amber maple syrup

25g

 

Melted dark chocolate
We'd love a slice of advice.
Was it yum? Did the recipe work well? Did you customise the recipe?
Ingredients
For the Brownie

150g

 Proper Nutty peanut butter

85g

 Billington's very dark maple syrup

150g

 Billington's light muscovado sugar

275g

 

Dark chocolate (70% or above) melted

100g

 

Light rye flour

100ml

 

Water

25g

 

Cocoa powder

1 tsp

 Nielsen-Massey Vanilla Bean Paste

1 tsp

 

Baking powder

0.5 tsp

 

Sea salt

For the Maple Chocolate Drizzle

150ml

 

Billington's amber maple syrup

25g

 

Melted dark chocolate