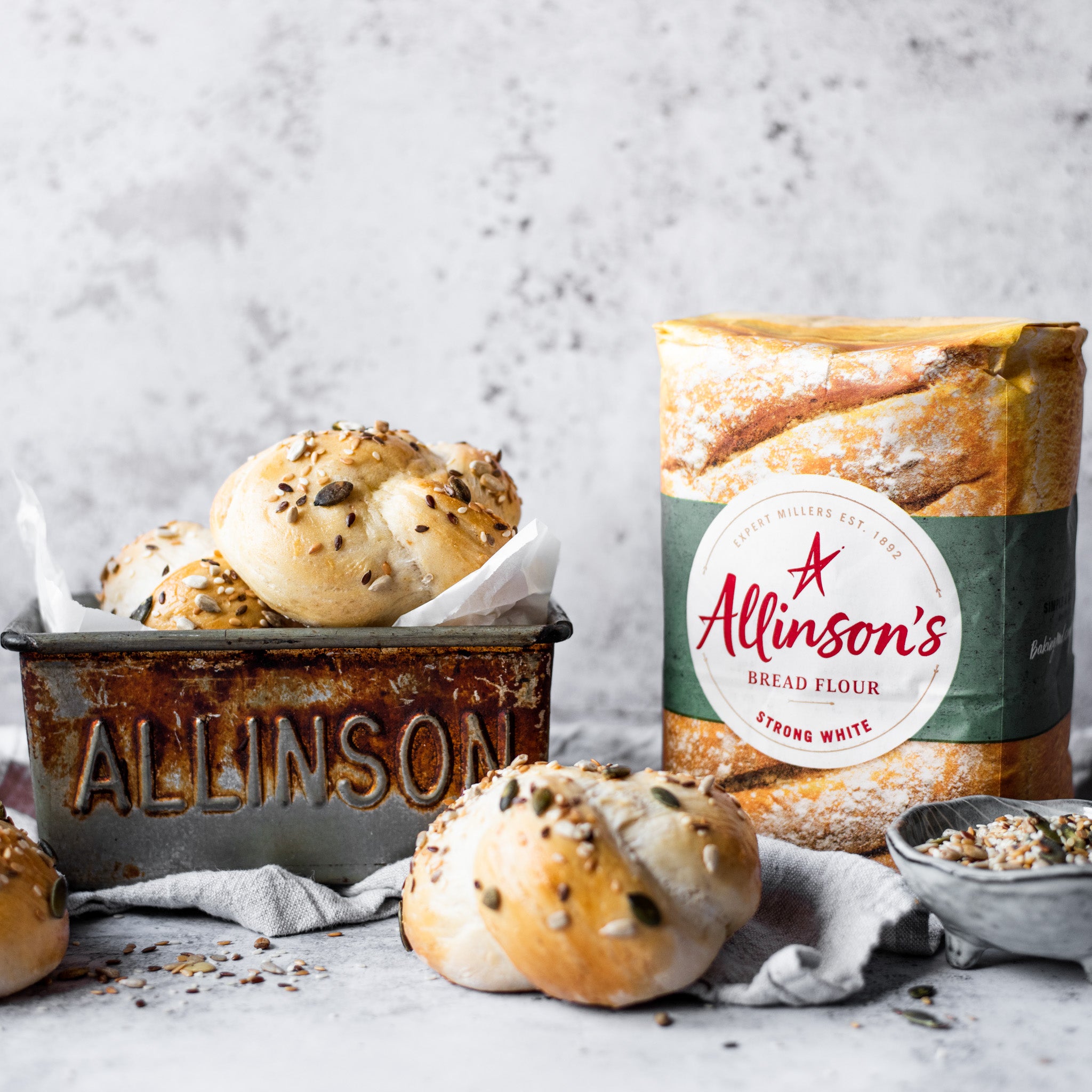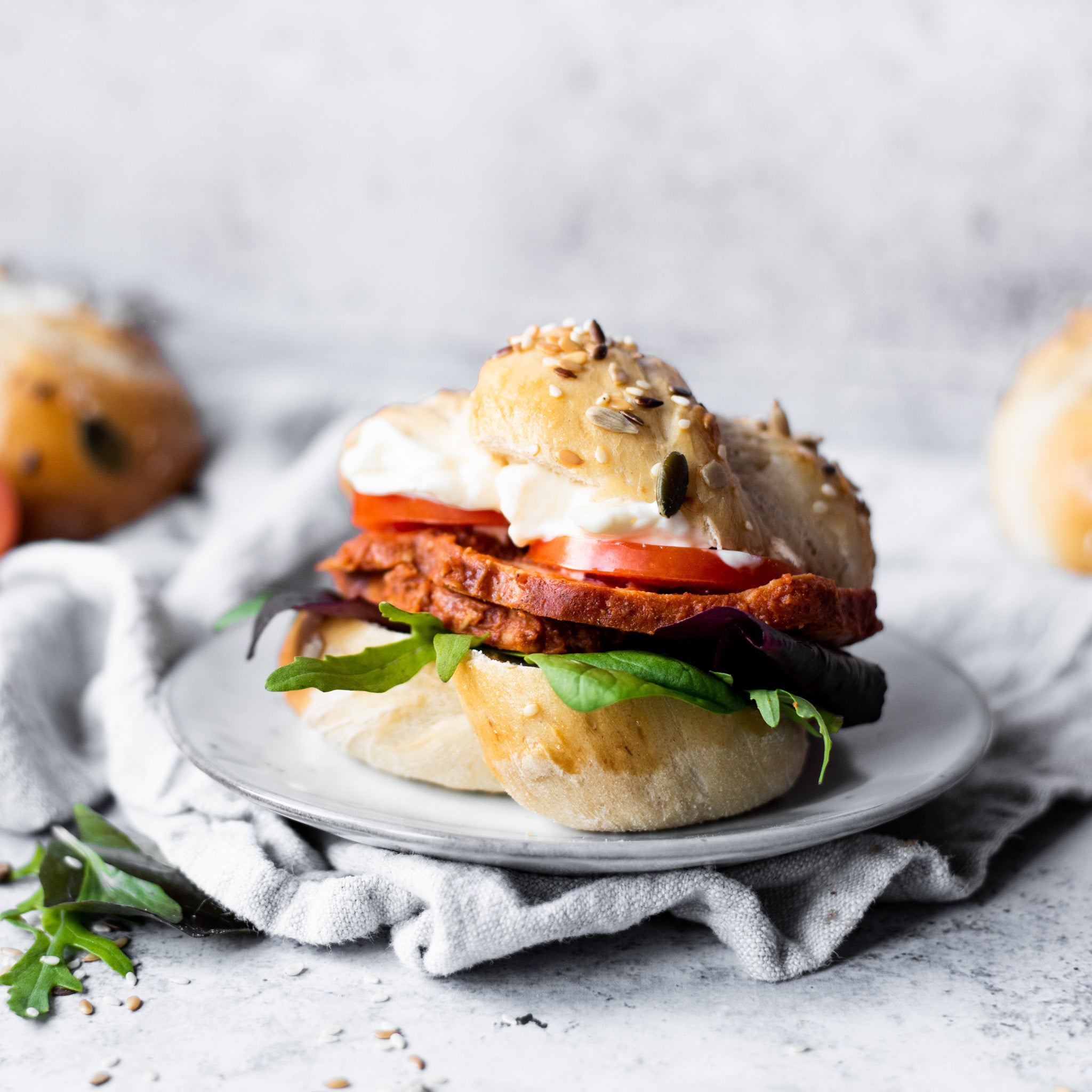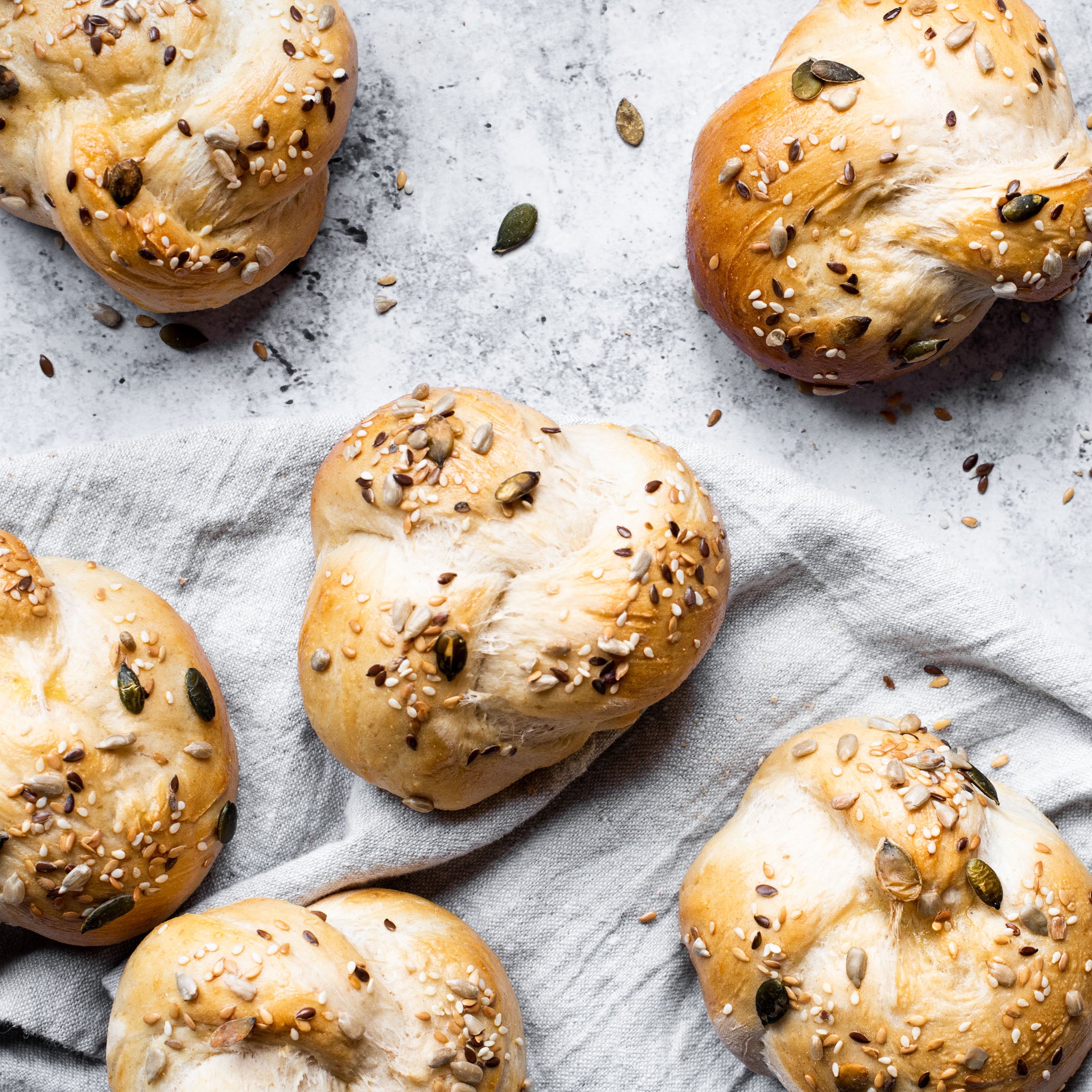 How to make bread knot rolls
Made with Allinson white dough, our fresh Seeded Knot Rolls have a delicious taste and texture, making them an ideal accompaniment for soups and salads.
We usually make ours using sunflower, pumpkin, and sesame seeds, but love to mix it up.
This recipe is great for more experienced bakers, beginners might like to start with our White Bread Rolls, also made with Allinson's white dough, before moving on to these seeded marvels.
Method
Step 1:

MIX

Mix the flour, yeast, sugar and salt in a big bowl. Using your fingertips rub in the butter until only fine 'crumbs' are left. Mix in the water with a cutlery knife.

Step 2:

KNEAD Tip onto a lightly flour dusted surface and knead for 10 minutes (or use the dough hook attachment on your mixer).


Step 3:

RISE

Lightly grease the mixing bowl with some oil. Put the dough back in, cover the bowl with a clean tea towel and leave to rise until doubled in size.

Step 4:

SHAPE

Knock back the dough by gently kneading just 5 times to get the air out. Cut the dough into 9 even pieces (use a weighing scales if you like). Roll each piece into a 25cm long 'snake'. Tie each one into a loose knot, tucking one end underneath, and the other over the top and down through the middle of the roll. Arrange on flour-dusted baking sheets – they'll need room between them for growing.

Step 5:

PROVE

Cover the rolls with a clean tea towel and leave to prove until doubled in size. Preheat your oven to 200°C (fan 180°C, gas mark 6).

Step 6:

BAKE

Gently brush the roll tops with some egg. Scatter over the seeds to stick, and bake the rolls for 20 minutes or until golden. If you tap the base of a roll it should sound hollow. Cool on a wire rack.
Ingredients
For the White Dough

500g

 Allinson's Strong White Bread Flour

7g

 Allinson's Easy Bake Yeast

1.5 tsp

 Billington's Unrefined Golden Caster Sugar

1.5 tsp

 

Salt

1 tbsp

 

Softened butter

300ml

 

Warm water

For the topping

1

 

Egg(s) (free range) (beaten with a fork)

50g

 

Mixed seeds ((i.e. sunflower, pumpkin, sesame))
Recipe Reviews
Easy instructions to follow for making the knot effect. Watching the video was helpful. The finished result with the mixed seeds on the top looked good and they were very tasty too !!!
Nice light rolls. Only complaint is that there wasn't a rough estimate of the time it should take to prove and rise, I bake a lot of bread so I could guess pretty well but if you're inexperienced it can be pretty tricky. Other than that - great recipe 😁
Lovely recipe easy to make and delicious outcome. 😁
Ingredients
For the White Dough

500g

 Allinson's Strong White Bread Flour

7g

 Allinson's Easy Bake Yeast

1.5 tsp

 Billington's Unrefined Golden Caster Sugar

1.5 tsp

 

Salt

1 tbsp

 

Softened butter

300ml

 

Warm water

For the topping

1

 

Egg(s) (free range) (beaten with a fork)

50g

 

Mixed seeds ((i.e. sunflower, pumpkin, sesame))