5 Beautiful Wedding Cake Toppers & Where To Buy Them
Cake
The glorious wedding cake - the piece de resistance of any wedding party. Not only is it a delicious way to celebrate, these days it is also a personal representation of the happy couple. Gone are the days of the smiley bride and groom on top of the cake, these days there are a whole host of wonderful cake toppers to choose from to add your special touch.

Our opinion is if you have put all that time and effort into selecting or even baking your own special wedding cake, why would you not find a beautiful cake topper to complete the look? I wanted to share with you some of my personal favourite cake toppers that are available to purchase for your big day.

Mr and Mrs Penguin – Suzy Q Designs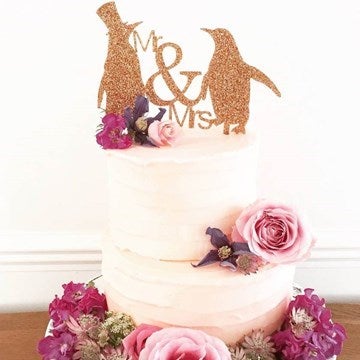 We just love this penguin design! When it comes to love, Penguins just know how to do it right.

Did you know that Penguins only have one mate for life? When a male penguin is wooing his mate, he will search high and low for the smoothest pebble to present as a gift of his love. If the female penguin is pleased with the pebble she will then place it in her nest as a symbol of her affection and acceptance of his proposal.

So, what better way to decorate your wedding cake than with the most romantic animal of all? This topper comes in 3 sizes standard, medium or large and is available in 9 different colours to perfectly match your colour theme.

Made of acrylic, this topper is sure to stand the test of time and will make a beautiful keepsake of your special day.

And So The Adventure Begins – Ginger Ray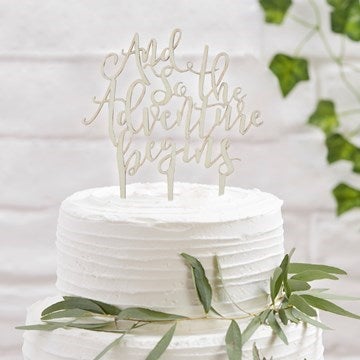 What a perfect way to describe the new chapter ahead of you as a married couple? It is sure going to be an adventure!

This wooden crafted cake topper is just gorgeous and gives a bit of difference from the classic Mr & Mrs toppers that you can buy. The wooden texture adds a lovely natural theme to your cake complimenting the current boho wedding themes around at the moment. I think that this would look great on top of a delicious naked cake. For recipe inspiration check out our recipe.

This topper is available for £4.99 from Ginger Ray

Love – Ginger Ray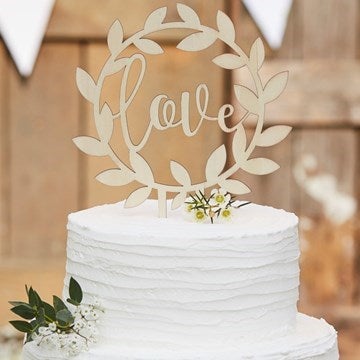 All you need is love?… All you need is this love cake topper, we say! If you are looking for a rustic theme for your big day, this cake topper is the one for you.

Beautifully carved, the word love is surrounded by vines and would be ideal to grace the top of any wedding cake. We think this topper would look particularly glorious on top of our three tier fruit wedding cake - what do you think?

What's great about this topper is you could not only use on a wedding day, but also to celebrate an engagement or perhaps a romantic Valentine's Day cake?

Priced at £6.99 from Ginger Ray

Mr & Mrs – Ginger Ray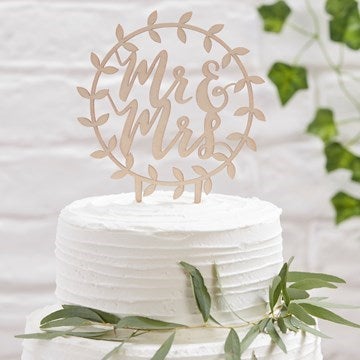 The big day should be all about the happy couple so why not the cake as well?

This Mr & Mrs wooden cake topper gives a natural, botanical feel to any cake and is sure to look fantastic in your wedding photographs.

This topper is a great size too, not too big that it overshadows but ideal to complete the showstopper effect that you hope for on your wedding day.

Priced at £6.99 from Ginger Ray

Liberty Print Mr & Mrs – Meri Meri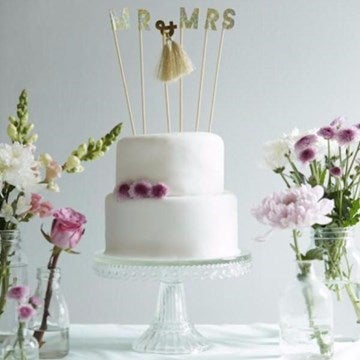 Last but by no means least I have selected Meri Meri's Liberty Print cake topper.

This quintessentially British floral print gives a totally different look to your wedding cake than those above, if that is the style that you are hoping for.

What we love about this topper is that each letter is on an individual wooden skewer, giving you the freedom to position it however you like. This works particularly well if you have chosen again a wedding cake and instead opted for a more modern twist of wedding brownies, cupcakes or maybe even doughnuts.

This topper is priced at £7.00 and is available from various suppliers.

Check out our "5 things to know before baking your wedding cake" article for more tips.