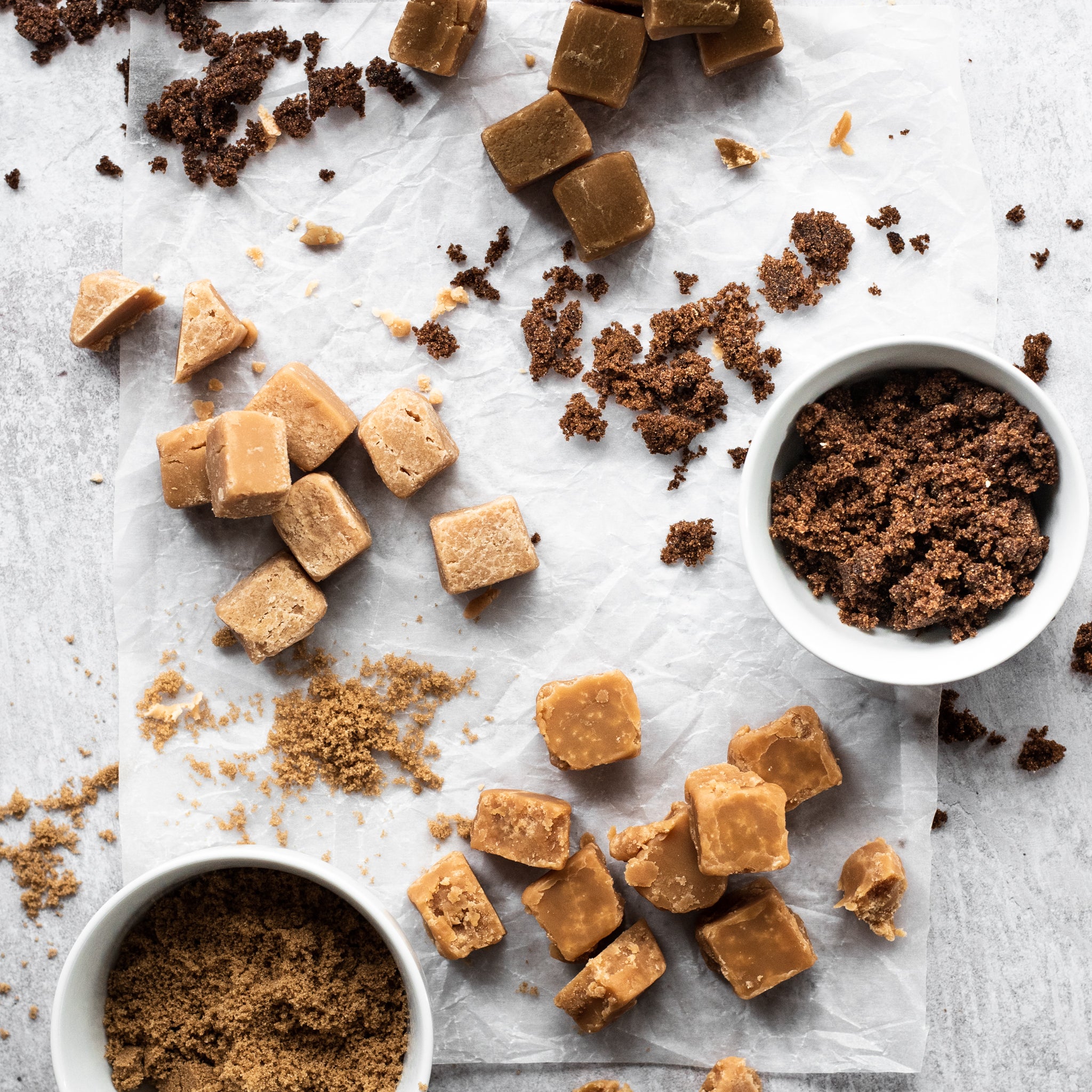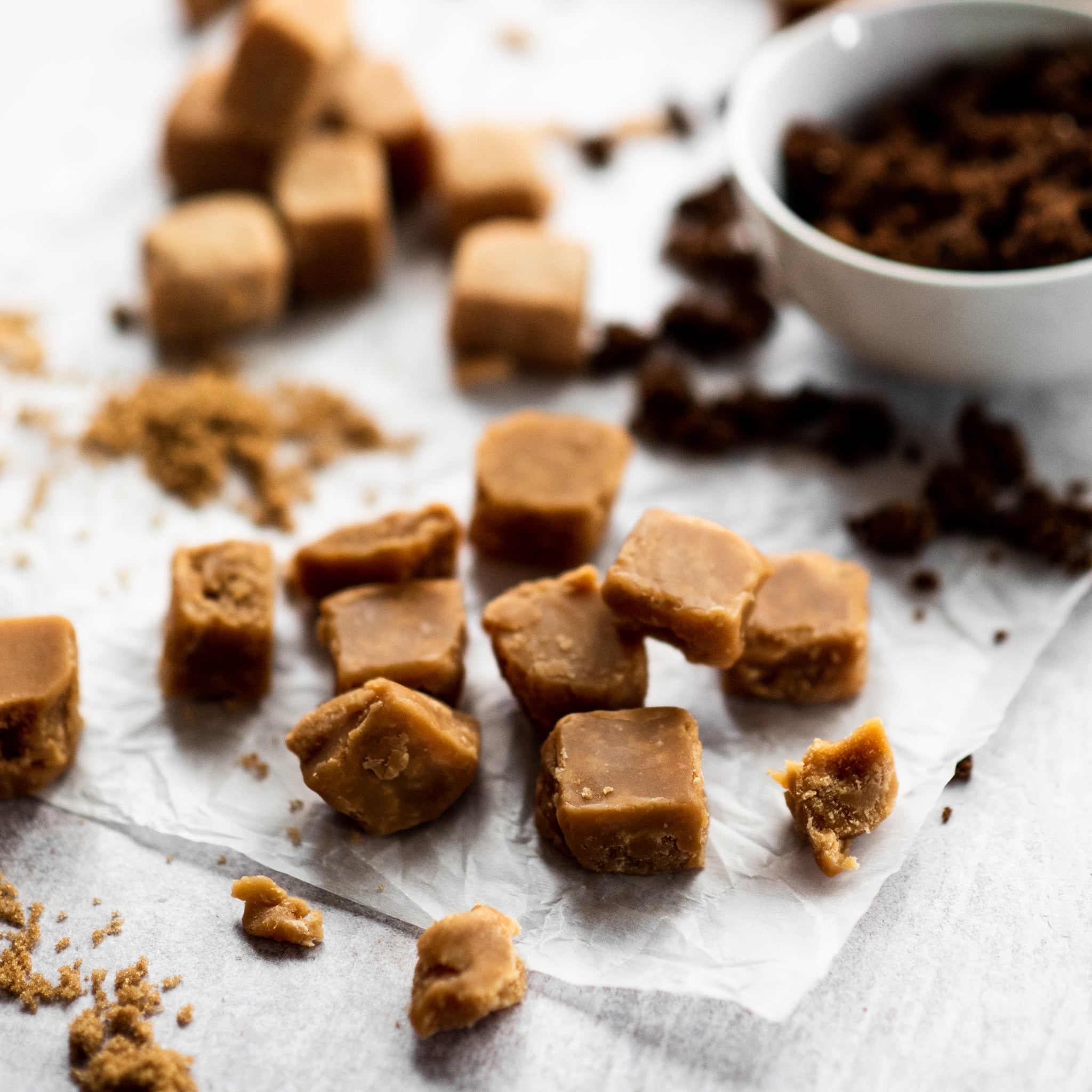 How to make homemade fudge
What the fudge? You can switch and swap the sugars used in this fudge recipe achieving a different flavour each time to suit each and everyone's taste buds. Are you a treacle lover? Molasses sugar will give your fudge a deep, bonfire toffee-esque flavour.
Dial it down with Dark Muscovado sugar for rich, lighter in colour but impactful in flavour. Or for a more subtle deliciousness, Light Muscovado is the sugar choice for you. Creamy, light and incredibly moreish. This fudge is great for gifting, but hey we won't judge if you eat the whole tray to yourself. Your secret is safe with us.

How long can fudge be stored for?

This fudge can be stored for up to 2 months if kept in a sealed container.
Method
Step 1:

Lightly grease a 20x20 swiss roll tin (at least 1.5cm deep) with melted butter. Alternatively you can line it with baking parchment.


Step 2:

Melt the butter, sugar, cream and glucose syrup in a large heavy-based saucepan over a low heat. Make sure that you continue stir until the sugar dissolves and to prevent the mixture from burning.


Step 3:

You will need a sugar thermometer to measure the temperature of the syrup. It is important for an accurate reading to ensure that the end of the thermometer is completely coated in the syrup. Increase the heat until your syrup begins to boil steadily. Make sure to continually stir until the mixture reaches the soft ball stage (116°C).


Step 4:

Once soft ball stage has been reached, remove the pan from the heat and leave to reduce in temperature to 110°C. It is at the point that you can stir in the vanilla extract and a pinch of salt if you would like.


Step 5:

Once you have stirred in these additional ingredients, beat the mixture with a wooden spoon until the temperature has reduced down to 60°C. By beating vigorously the fudge will begin to thicken up and sugar crystals will begin to form giving the fudge the smooth texture that you will expect. You can remove the thermometer and continue to beat further for a few minutes.


Step 6:

You will need to transfer the fudge mixture into the prepared tin before it sets. Smooth it evenly across the tin and leave to set. Do not chill in the fridge as it will change the consistency of the fudge making it sticky.


Step 7:

Wait 24 hours for the fudge to fully set before slicing into cubes. This fudge will last up to 2 months so can be made way in advance.

Ingredients
400ml

 

Double cream

450g

 Billington's light/dark muscovado or molasses

60g

 

Unsalted butter (softened)

1 tbsp

 

Glucose syrup

2 tsp

 Vanilla bean paste
Utensils
20 x 20 baking tin

Heavy-based saucepan

Wooden spoon

Sugar thermometer
We'd love a slice of advice.
Was it yum? Did the recipe work well? Did you customise the recipe?
Ingredients
400ml

 

Double cream

450g

 Billington's light/dark muscovado or molasses

60g

 

Unsalted butter (softened)

1 tbsp

 

Glucose syrup

2 tsp

 Vanilla bean paste
Utensils
20 x 20 baking tin

Heavy-based saucepan

Wooden spoon

Sugar thermometer