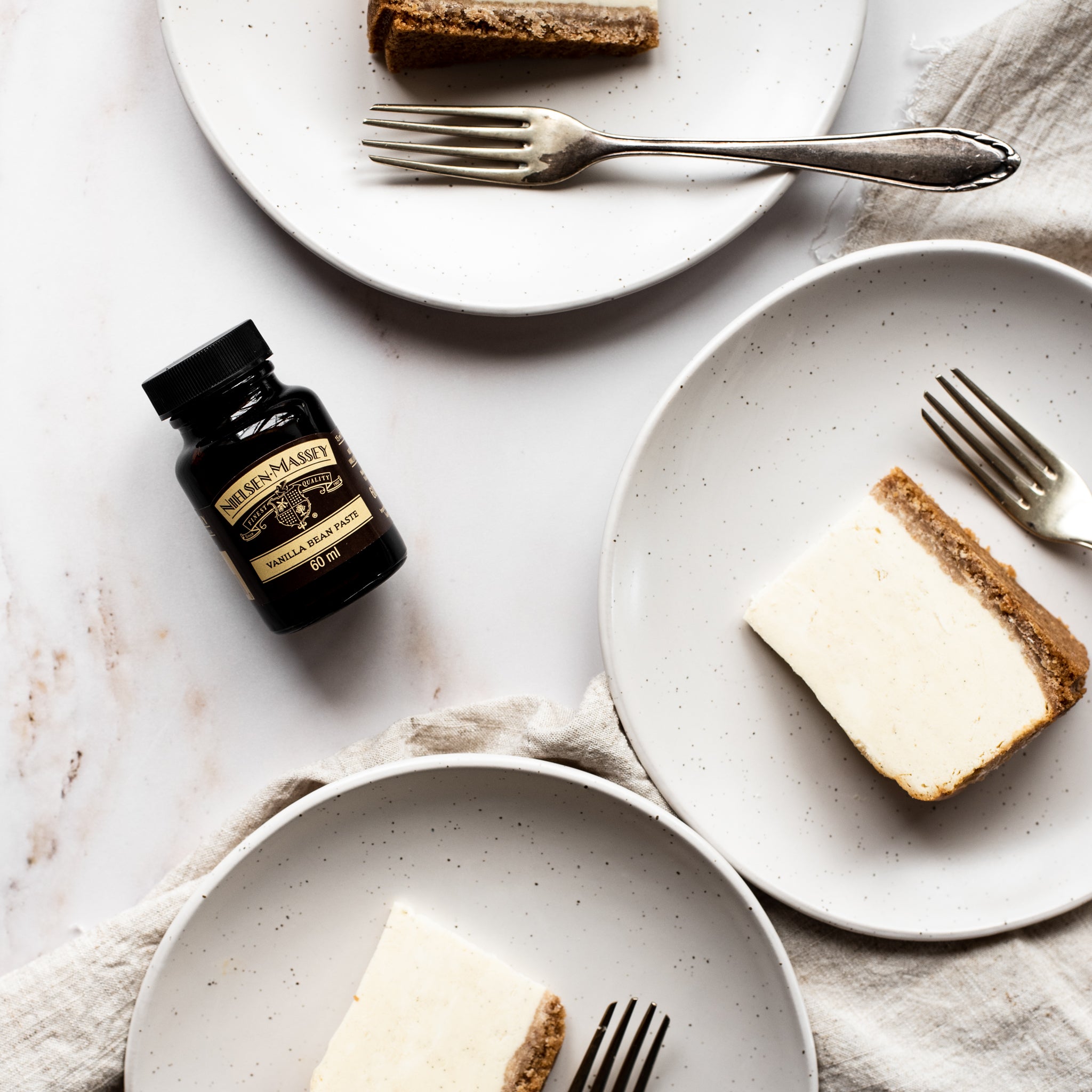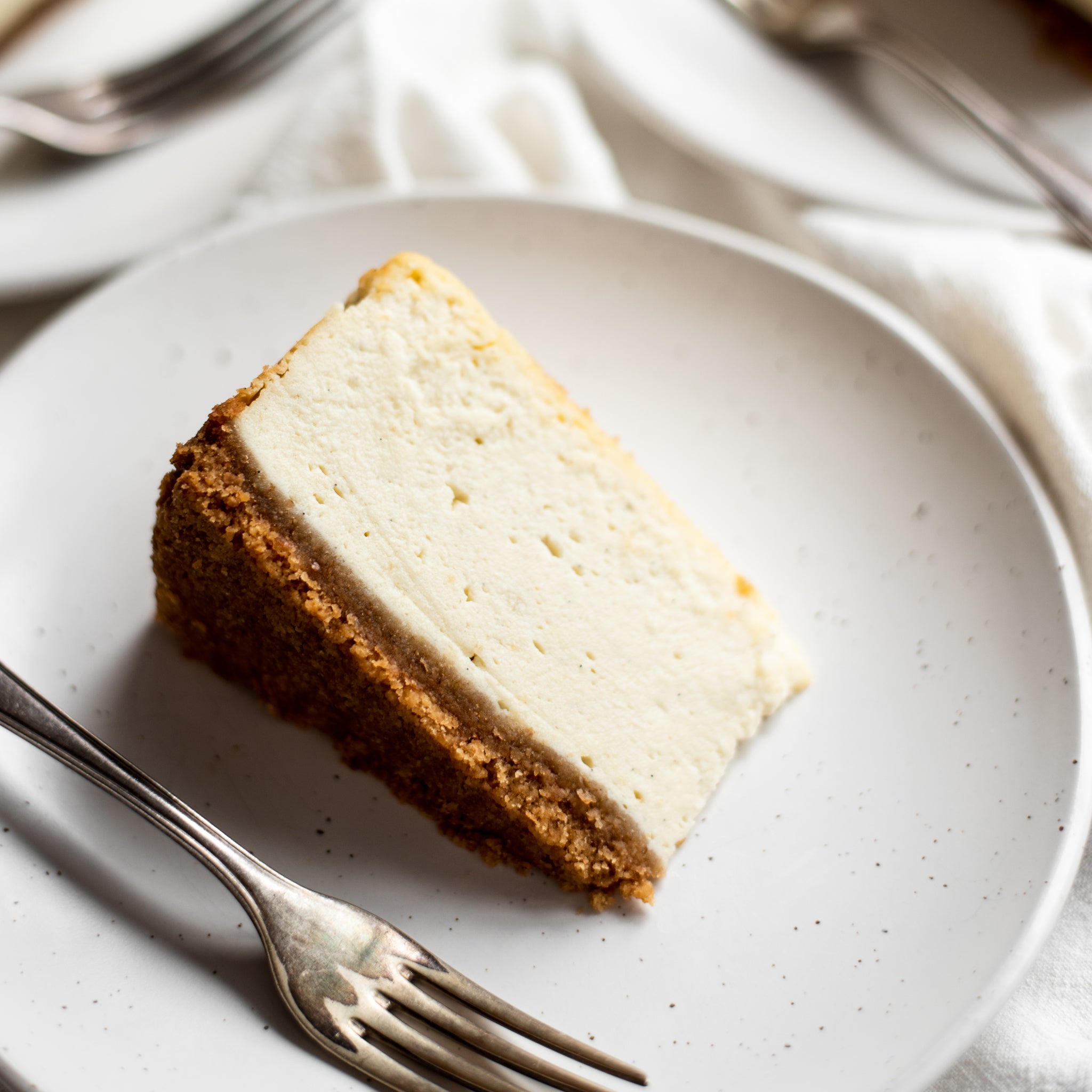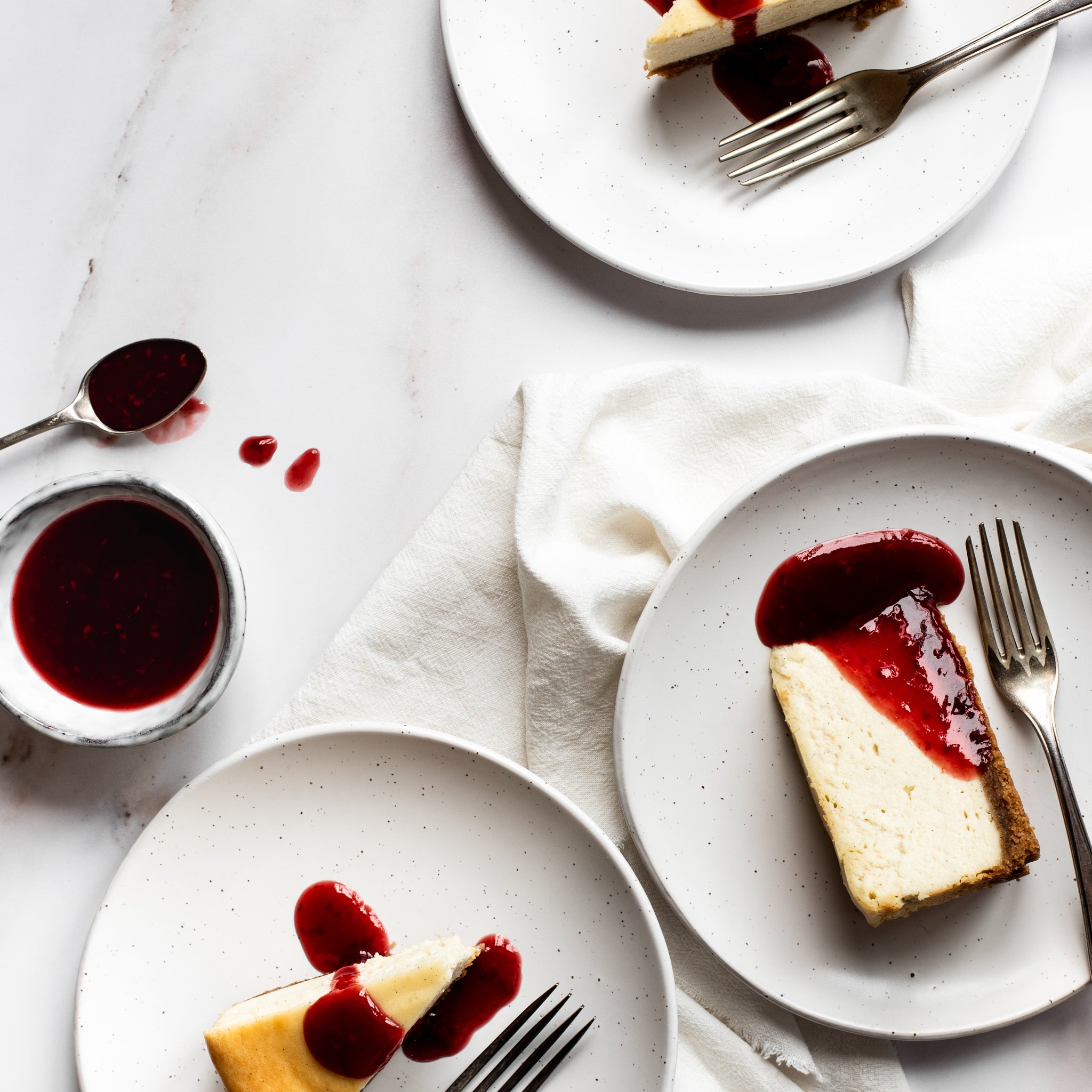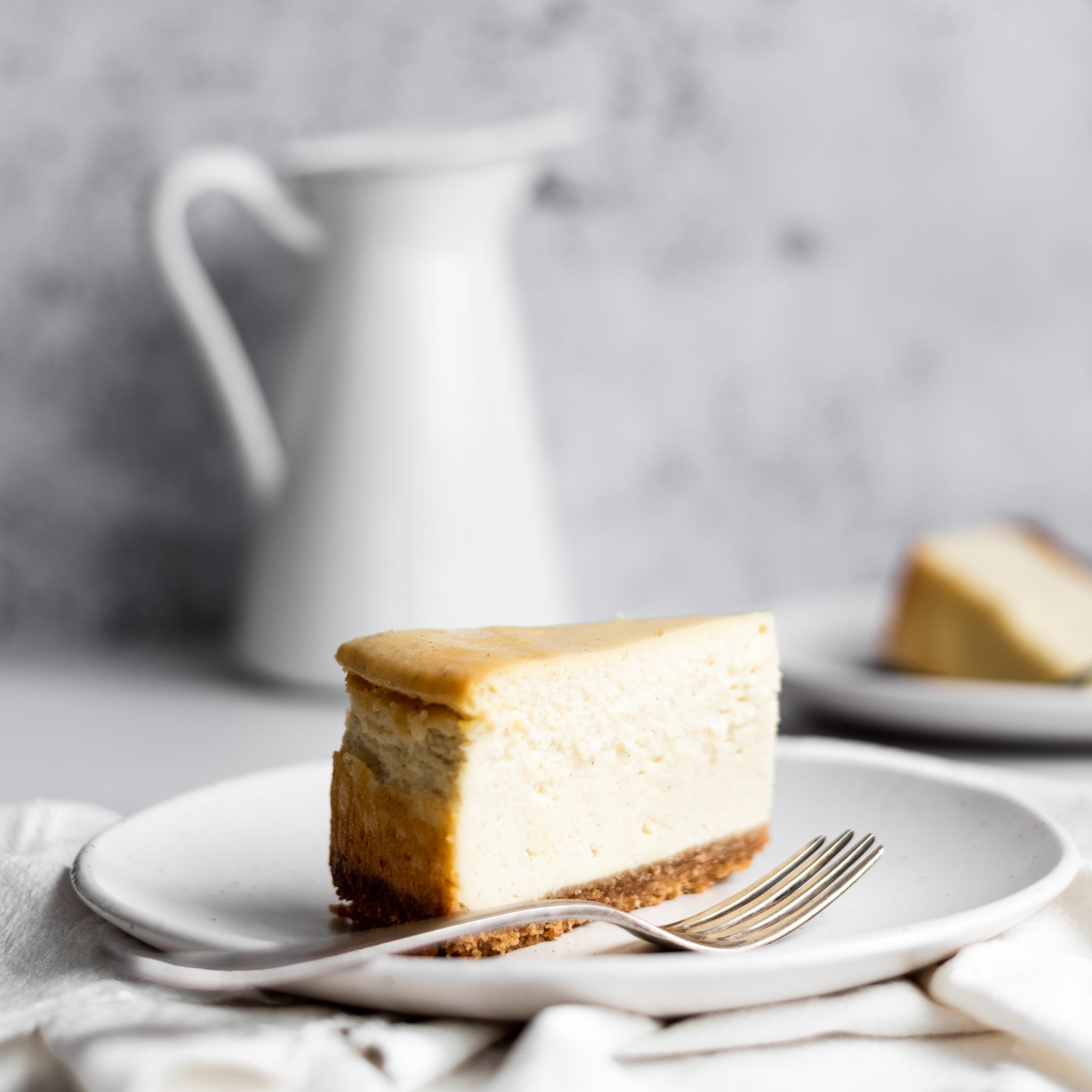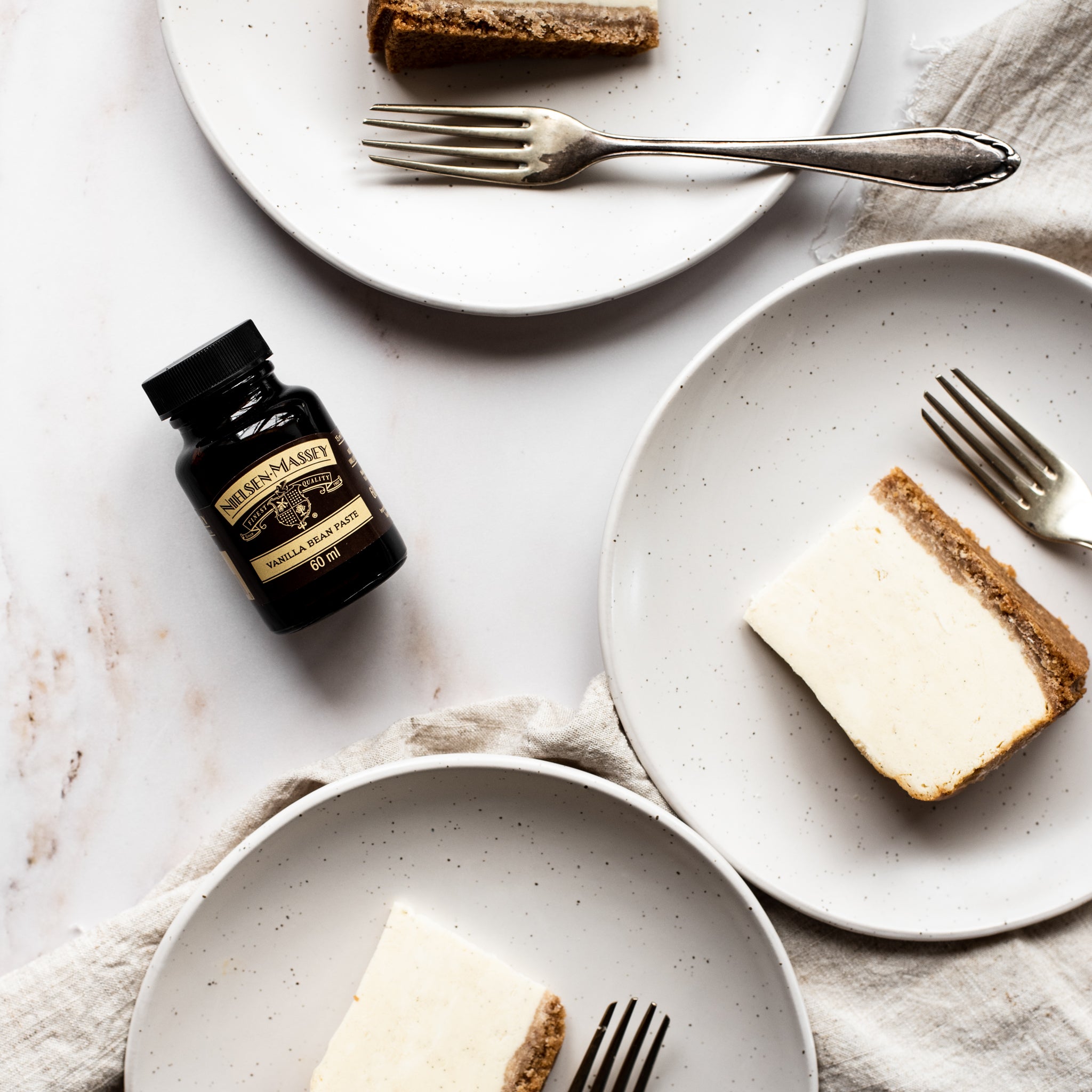 About the bake
It's no secret that we all love a cheesecake, but a vanilla cheesecake baked? Wow, that's a whole different ball game.
This vanilla cheesecake recipe is a complete game changer that is sure to send ripples through your next dinner party or gathering. Lovingly created by Eric Lanlard, this baked vanilla cheesecake uses Nielsen-Massey Vanilla Bean Paste to create the dreamiest vanilla flavour and beautiful flecks of vanilla seeds throughout, meaning there is no need to fiddle about with a vanilla pod.
If you want to make it even more special, Eric's top tips to 'jazz it up' are: Serve with a chunky fresh blueberry compote with crème de cassis, or sprinkle chopped chunks of toffee fudge and drizzle on a salted caramel sauce.
Method
Step 1:

Preheat the oven to 180°C (fan 160°C, gas mark 4). Grease and line the base of a 20cm spring form cake tin.

Step 2:

Melt the butter and add the biscuit crumbs, stir to combine. Place in the base of the cake tin and spread in an even layer, then flatten (using a spoon).

Step 3:

Bake in the oven for 10 minutes until golden. Remove and leave to cool while you prepare the filling.

Step 4:

Reduce the oven to 160°C (fan 140°C, gas mark 2).



Step 5:

In a large bowl, beat together the cream cheese and golden caster sugar until smooth, then add the sour cream and flour and beat again. Gradually add the eggs and Nielsen-Massey Vanilla Bean Paste, beating well between each addition.

Step 6:

Pour the cream cheese mix on to the biscuit base then bake in the oven for 45 minutes. The cheesecake should be just set with a slight wobble and should still have cream on top with just a slight golden hint around the edges.

Step 7:

Once the cheesecake is cooked, turn off the oven and prop open the door so that it is slightly ajar and leave the cheesecake to cool in the oven – this prevents the top from cracking.

Step 8:

Once the oven is cool you can remove the cheesecake to cool completely before removing from the tin.

Step 9:
Ingredients
For the Base

150g

 

Digestive biscuits (crushed)

75g

 

Unsalted butter (plus extra for greasing)

For the Topping

900g

 

Full fat cream cheese

200g

 Billington's Unrefined Golden Caster Sugar

200ml

 

Sour cream

3 tbsp

 Allinson's Plain White Flour

3

 

Large free range egg(s)

1

 

Large free range egg yolk(s) (beaten)

3 tsp

 Nielsen-Massey Vanilla Bean Paste
Utensils
20cm spring form cake tin

Mixing bowl
Recipe Reviews
This has become a firm favorite in our household and is made most weeks! It is easy enough that the children can get involved and I have started sneaking different nuts and seeds in the base to so they're trying new things too.
I really like a nice creamy firm cheesecake with a good base. This one is the best I've made in a long time. I've got to admit, I ate quite a bit of mixture before it went in the oven and it was delicious then too! Thank you Baking Mad. This is my new go-to recipe.
This is a really good recipe! The cheesecake firms up very well and the flavours are balanced. Not too much of anything in it, however I did swap vanilla paste with a string vanilla essence just to loosen up the mixture for mixing before baking. It does taste better the next day though, or at least 6 hours later after being in the fridge. The fridge time does the trick and firms the biscuit base back to crunchy!
Ingredients
For the Base

150g

 

Digestive biscuits (crushed)

75g

 

Unsalted butter (plus extra for greasing)

For the Topping

900g

 

Full fat cream cheese

200g

 Billington's Unrefined Golden Caster Sugar

200ml

 

Sour cream

3 tbsp

 Allinson's Plain White Flour

3

 

Large free range egg(s)

1

 

Large free range egg yolk(s) (beaten)

3 tsp

 Nielsen-Massey Vanilla Bean Paste
Utensils
20cm spring form cake tin

Mixing bowl