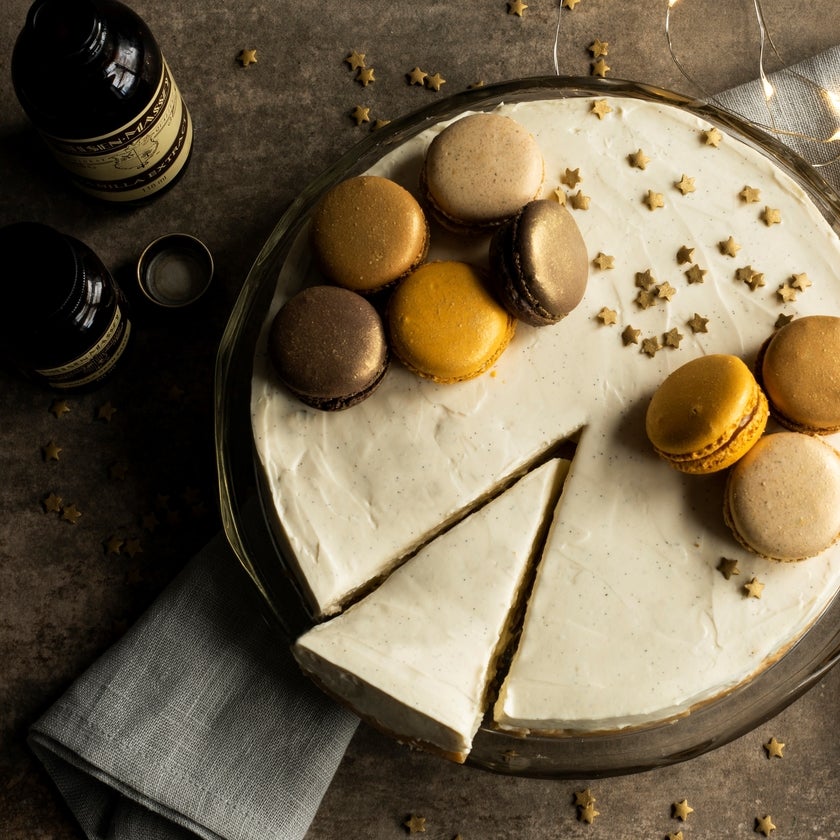 About the bake
We can't shout about this easy vanilla cheesecake recipe enough. Not only is it a no-bake cheesecake, giving you (and the cheesecake) chilling time whilst it is in the fridge, it is also blooming scrumptious.
A crisp and buttery shortbread base, topped with creamy, vanillery goodness, what more could you want? We have used Nielsen-Massey Vanilla Bean Paste, the perfect vanilla choice for cheesecakes; giving it the rich flavour from a vanilla extract and the beautiful vanilla seed flecks through out that you would normally have to fiddle about with a vanilla pod to achieve. It really is one of bakings best kept secrets!
To really give your cheesecake the xfactor, why not bake your own homemade vanilla shortbread and decorate with a touch of sparkle and glamour with gold dusted macaroons and sprinkles.
Method
Step 1:

Prepare your cake tin by lining it with non-stick baking parchment.


Step 2:

Blitz the shortbread biscuits into fine crumbs either using a food processor or by hand. You can bash them with the end of a rolling pin to speed up the process if doing this by hand.


Step 3:

In a bowl mix together the biscuit crumb and butter until all the crumbs have been coated and the mixture begins to stick together. Pour these into the base of your cake tin and using your hand or the back of spoon, spread the mixture evenly across the base ensuring that there are no visible gaps.


Step 4:

Place the tin in the fridge to chill for at least an hour to firm up.


Step 5:

In a separate bowl, beat together the icing sugar, cream cheese (straight from the fridge) and vanilla extract until smooth. Add the cream afterwards and gently fold this in to the mixture, until it reaches a thick consistency.


Step 6:

Remove the tin from the fridge and spoon the mixture on top of the biscuit base, spreading out evenly and smoothing with a spatula or the back of a spoon.


Step 7:

Place the cheesecake into the fridge to firm up. For best results leave in the fridge overnight.


Step 8:

Whilst the cheesecake is chilling you could create your own vanilla macaroon decorations.


Step 9:

Whether you bake your own or purchase macaroons for your decoration, use a small paintbrush to dust gold lustre all over your macaroons to add a touch of glamour and sparkle.


Step 10:

Remove the cheesecake from the fridge and carefully release from the tin. Top with your golden macaroons and sprinkle with extra gold star decorations for the finishing touch, then serve.

Ingredients
For the Cheesecake

200g

 

Shortbread biscuits

50g

 

Unsalted butter (melted)

400g

 

Cream cheese

80g

 Silver Spoon Icing Sugar

1 tbsp

 Nielsen-Massey Vanilla Bean Paste

300ml

 

Double cream

For the Decoration

A handful

 

Gold star decorations

1 pot

 

Gold lustre or food spray
Utensils
20cm loose bottomed cake tin

Food processor (optional)

Rolling pin (optional)

Small paintbrush

Gold lustre
Recipe Reviews
This recipe does not make it clear that you should whipped the double cream first before adding to cream cheese, no good for someone who has never make a cheesecake before or don't have a lot of experience with baking.
This recipe is great. My family loved it! I grated some dark chocolate for the top too. Yum!
Ingredients
For the Cheesecake

200g

 

Shortbread biscuits

50g

 

Unsalted butter (melted)

400g

 

Cream cheese

80g

 Silver Spoon Icing Sugar

1 tbsp

 Nielsen-Massey Vanilla Bean Paste

300ml

 

Double cream

For the Decoration

A handful

 

Gold star decorations

1 pot

 

Gold lustre or food spray
Utensils
20cm loose bottomed cake tin

Food processor (optional)

Rolling pin (optional)

Small paintbrush

Gold lustre