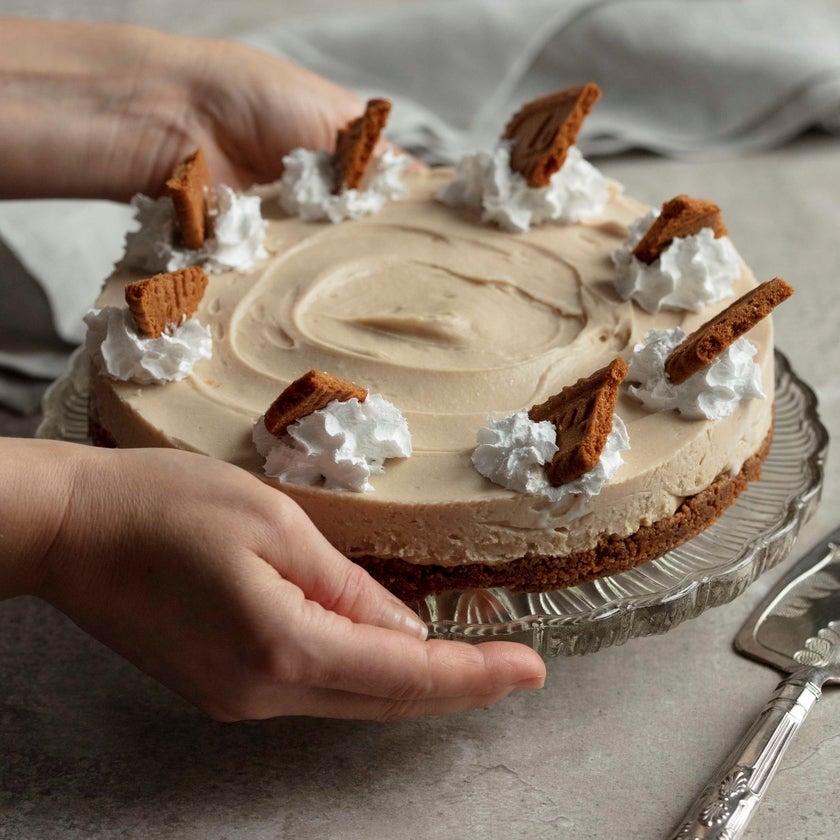 About the bake
This vegan biscoff cheesecake recipe is simple to make. Making a vegan version of a biscoff cheesecake is easy if you use the coconut based cream cheeses. I use Violife, it's perfect and sets well with the biscoff so NO other ingredients except a little sugar are needed to give you a perfect cheesecake!
Method
Step 1:

Start with the base ingredients. Crush the biscoff biscuits using a sandwich bag and a rolling pin. Once you've crumbed the biscuits, mix them with the melted vegan butter and tip them into the spring form tin flattening them to form a base for your cheesecake. Chill in the fridge for 20 minutes.


Step 2:

For the topping, beat all the ingredients together@and spread over the base.


Step 3:

Set in the freezer for a min of an hour to an hour and a half. You can decorate the cheesecake with biscoff biscuits as pictured. To cut use a cleaned knife each time to keep neat.



For vegan baking hacks, watch this video.

Ingredients
For the Base

200g

 

Biscoff biscuits

80g

 

Melted vegan butter or spread

For the Filling

700g

 

Vegan cream cheese (violife is best)

100g

 

Biscoff spread

50g

 Billington's Unrefined Golden Caster Sugar
Utensils
8in round spring form tin
Recipe Reviews
Great so easy - added a layer of pure biscoff spread to the top for extra indulgence!
Can I freeze it for longer than 1.5 hours then how long will it take to thaw?
Make sure that you full thaw a cheesecake before consuming. It is best to thaw in your fridge overnight.
Super easy to make and such a hit with my non vegan friends and family
My daughter has a coffee tea rooms Ds in Epsom and as soon as she has this biscoff cheese cake its gone, her customers just says it's the best they've ever eaten, so she's always making it, nobody thinks it's vegan, FANTASTIC
This recipe provided great inspiration for me! I substituted 400g of cream cheese for 400g of biscoff spread (one jar) and left out the sugar as the spread has it already. It was so tasty and a great balance of biscoff:cream cheese. Thank you!
This is honestly so delicious!! My family who are vegan sceptics have loved this every time I have made it.
Ingredients
For the Base

200g

 

Biscoff biscuits

80g

 

Melted vegan butter or spread

For the Filling

700g

 

Vegan cream cheese (violife is best)

100g

 

Biscoff spread

50g

 Billington's Unrefined Golden Caster Sugar
Utensils
8in round spring form tin