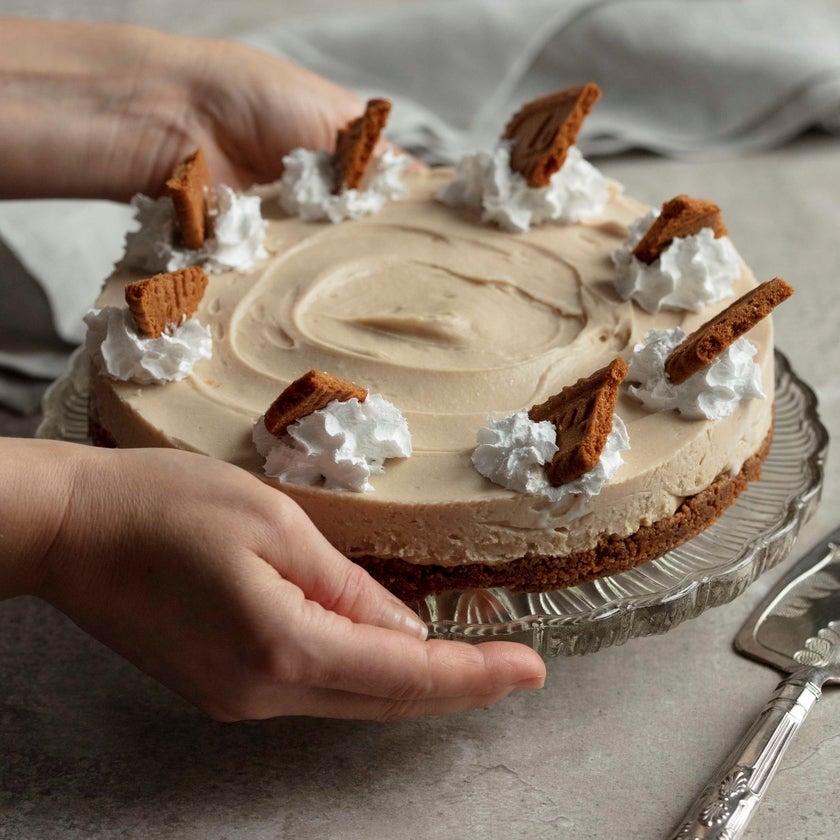 About our Vegan Biscoff Cheesecake
This vegan biscoff cheesecake recipe is simple to make. Making a vegan version of a biscoff cheesecake is easy if you use the coconut based cream cheeses. I use Violife, it's perfect and sets well with the biscoff so NO other ingredients except a little sugar are needed to give you a perfect cheesecake!
Method
Step 1:

Start with the base ingredients. Crush the biscoff biscuits using a sandwich bag and a rolling pin. Once you've crumbed the biscuits, mix them with the melted vegan butter and tip them into the spring form tin flattening them to form a base for your cheesecake. Chill in the fridge for 20 minutes.


Step 2:

For the topping, beat all the 'filling' ingredients together and spread evenly over the base once it's been left to set in the fridge.


Step 3:

Set in the freezer for a minimum of an hour and a half. The longer you leave it, the firmer the cheesecake will be become (try to resist for as long as possible, we know it's hard!). Once set, you can decorate the cheesecake with biscoff biscuits as pictured.

Ingredients
For the Base

200g

 

Biscoff biscuits

80g

 

Melted vegan butter or spread

For the Filling

700g

 

Vegan cream cheese (violife is best)

100g

 

Biscoff spread

50g

 Billington's Unrefined Golden Caster Sugar
Utensils
8in round spring form tin
Recipe Reviews
what type of vegan butter did you use?
You can use any type of vegan butter or spread for this cheesecake, whichever your favourite is or that you have in your fridge.
This cheese cake was so easy to make and tasted delicious
How long does the cheesecake last for?
We recommend for the best results to eat within 2 days (if it doesn't get nibbled up before then!) You can also freeze the cheesecake - either whole or in slices, if you don't think you will manage to get through it all in that timeframe.
This cheesecake was absolutely delicious. Me and my family loved it!
Easy to make and loved by everyone. Can't believe how delicious it is with so few ingredients. This is now a family favourite!
Absolutely amazing recipe ! I added some peanut butter in with the cream cheese filling just for something a little bit different. All prepared for a vegan Christmas feed !!
Ingredients
For the Base

200g

 

Biscoff biscuits

80g

 

Melted vegan butter or spread

For the Filling

700g

 

Vegan cream cheese (violife is best)

100g

 

Biscoff spread

50g

 Billington's Unrefined Golden Caster Sugar
Utensils
8in round spring form tin