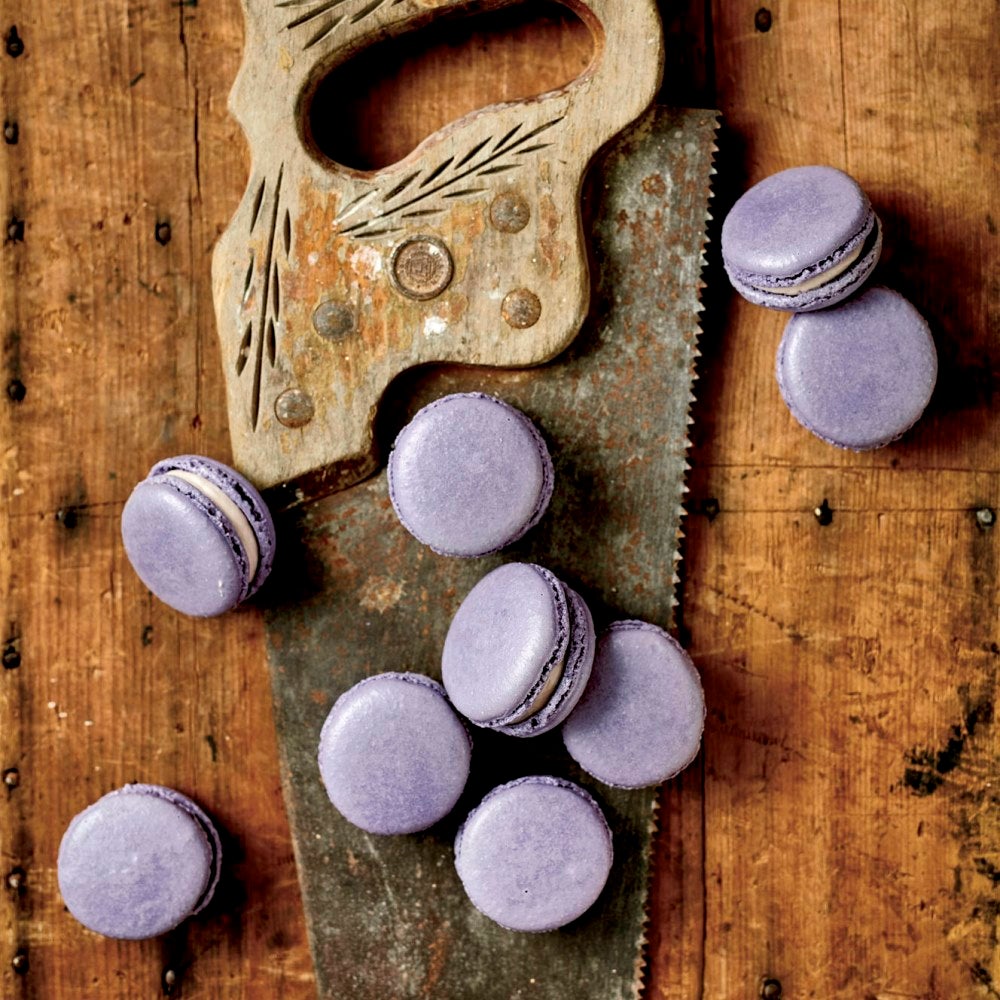 About the bake
Great British Bake Off 2014 finalist, Richard Burr says that he'd never had a macaron as a child, as he doesn't think they were popular in this country back then. But now he makes them, there's no looking back for him. Bravery and patience are key ingredients, but once you've got the knack, they're easy. A little practice makes perfect and let's not forget- any misshapes along the way are still fantabulously tasty.
Method
Step 1:

To make the shells, whisk the egg whites with the caster sugar and vanilla, using an electric whisk, until very soft peaks form. Add the food colour and whisk until stiff peaks form; these look good with a strong colour, but add as much as you like. (Gel colours won't alter the texture of the mixture too much.)

Step 2:

In a separate bowl, sift the icing sugar and mix in the ground almonds. Fold in the whisked egg a couple of spoonfuls at a time. Once the mixture is smooth, load it into a piping bag and set aside.

Step 3:

Prepare 2 sheets of baking parchment by drawing around a 4cm round cutter, or similar-sized template, to give a guide for piping. Draw 20 circles on each sheet, with the circles at least 2cm apart. Turn the baking parchment over and put each on to a baking sheet or tray, so the pencil is on the bottom side, but still visible.

Step 4:

Pipe the mixture on to the parchment, within the circles. Try to keep the piping bag as still as possible when piping and to leave a single dimple in the centre of each blob as you pull the piping bag off.

Step 5:

Firmly slam each baking tray on to a worktop a few times to flatten the dimples caused by the piping and set aside for 45–60 minutes.

Step 6:

Preheat the oven to 150°C/fan 130°C/gas 2. Bake for 18–20 minutes. Leave to cool completely before peeling away the baking parchment.

Step 7:

Make the filling by beating the mascarpone and cream together until fully combined. Add the icing sugar and beat together until the mixture just begins to thicken. Finally add the cassis and continue beating until thickened, then load into a piping bag.

Step 8:

Pipe the filling on to a shell, then gently pop on another shell. Be careful when pressing the top shell on, as they are fragile. Repeat until all the macarons are sandwiched together.
Ingredients
For the Shells

3

 

Egg white(s) (free range) (large)

30g

 Billington's Unrefined Golden Caster Sugar

1 tsp

 Nielsen-Massey Vanilla Bean Paste

A drop

 

Purple food colouring

210g

 Silver Spoon Icing Sugar

150g

 

Almonds (ground)

For the Filling

100g

 

Mascarpone cheese

75g

 

Double cream

100g

 Silver Spoon Icing Sugar

2 tbsp

 

Cassis liqueur
Utensils
Bowl

Whisk

Piping bag

Baking parchment

4cm round cutter
Recipe Reviews
Lovely I thought it would be extra sugary but I can always count in baking mad
Ingredients
For the Shells

3

 

Egg white(s) (free range) (large)

30g

 Billington's Unrefined Golden Caster Sugar

1 tsp

 Nielsen-Massey Vanilla Bean Paste

A drop

 

Purple food colouring

210g

 Silver Spoon Icing Sugar

150g

 

Almonds (ground)

For the Filling

100g

 

Mascarpone cheese

75g

 

Double cream

100g

 Silver Spoon Icing Sugar

2 tbsp

 

Cassis liqueur
Utensils
Bowl

Whisk

Piping bag

Baking parchment

4cm round cutter