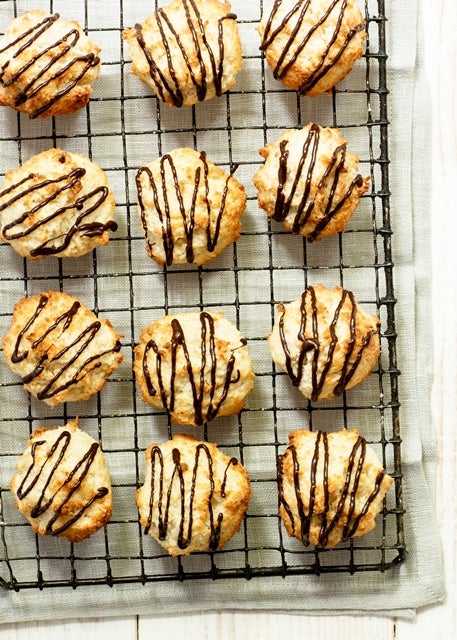 About our coconut & almond macaroons recipe
These marcaroons are traditional in style, yet deliver the sweetness of Truvia. Perfect if you still fancy that little sweet treat but feel you've overindulged.
If you're looking for more low sugar recipes, head to our low sugar baking hub.
Method
Step 1:

Preheat the oven to 180C / 160c fan / gas mark 4. Line a baking tray with Greaseproof paper, set aside.

Step 2:

Whisk egg whites in a bowl until stiff.

Step 3:

Fold in Coconut, Truvia, ground almonds, vanilla extract and almond extract to form a sticky dough.

Step 4:

Pop heaped teaspoons of the dough onto the baking tray and bake in oven for 12-15 minutes or until slightly brown. Remove macaroons from the oven and let them cool down completely.

Step 5:

For the chocolate drizzle, melt down some good quality dark chocolate and drizzle over the tray.
Ingredients
2

 

Egg white(s) (free range)

40g

 

Almonds (ground)

40g

 

Dessicated coconut

25g

 Truvia granulated sweetener

1 tsp

 Nielsen-Massey Vanilla Extract

1/2 tsp

 

Almond extract

30g

 

Dark chocolate (70% cocoa solids)
We'd love a slice of advice.
Was it yum? Did the recipe work well? Did you customise the recipe?
Ingredients
2

 

Egg white(s) (free range)

40g

 

Almonds (ground)

40g

 

Dessicated coconut

25g

 Truvia granulated sweetener

1 tsp

 Nielsen-Massey Vanilla Extract

1/2 tsp

 

Almond extract

30g

 

Dark chocolate (70% cocoa solids)