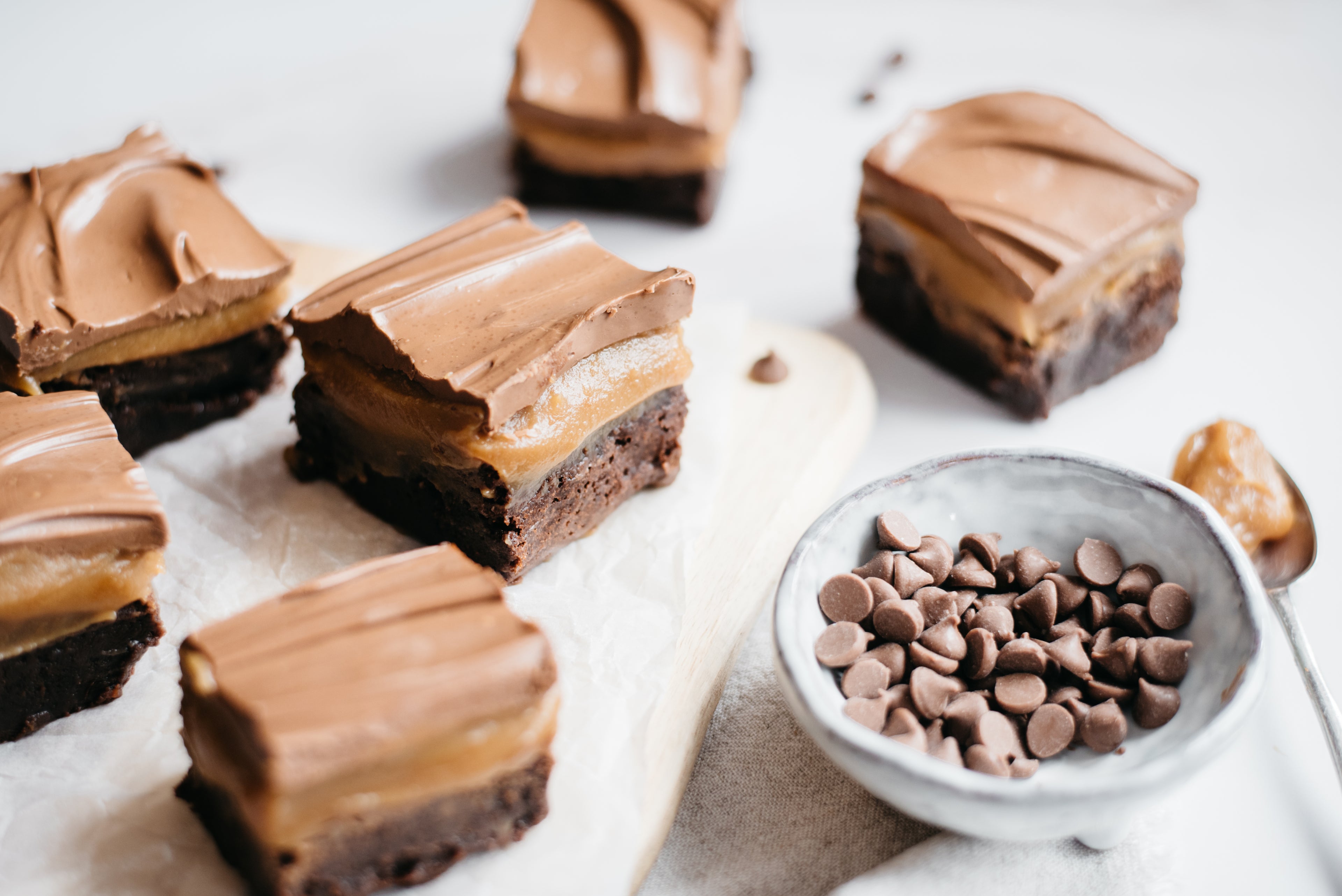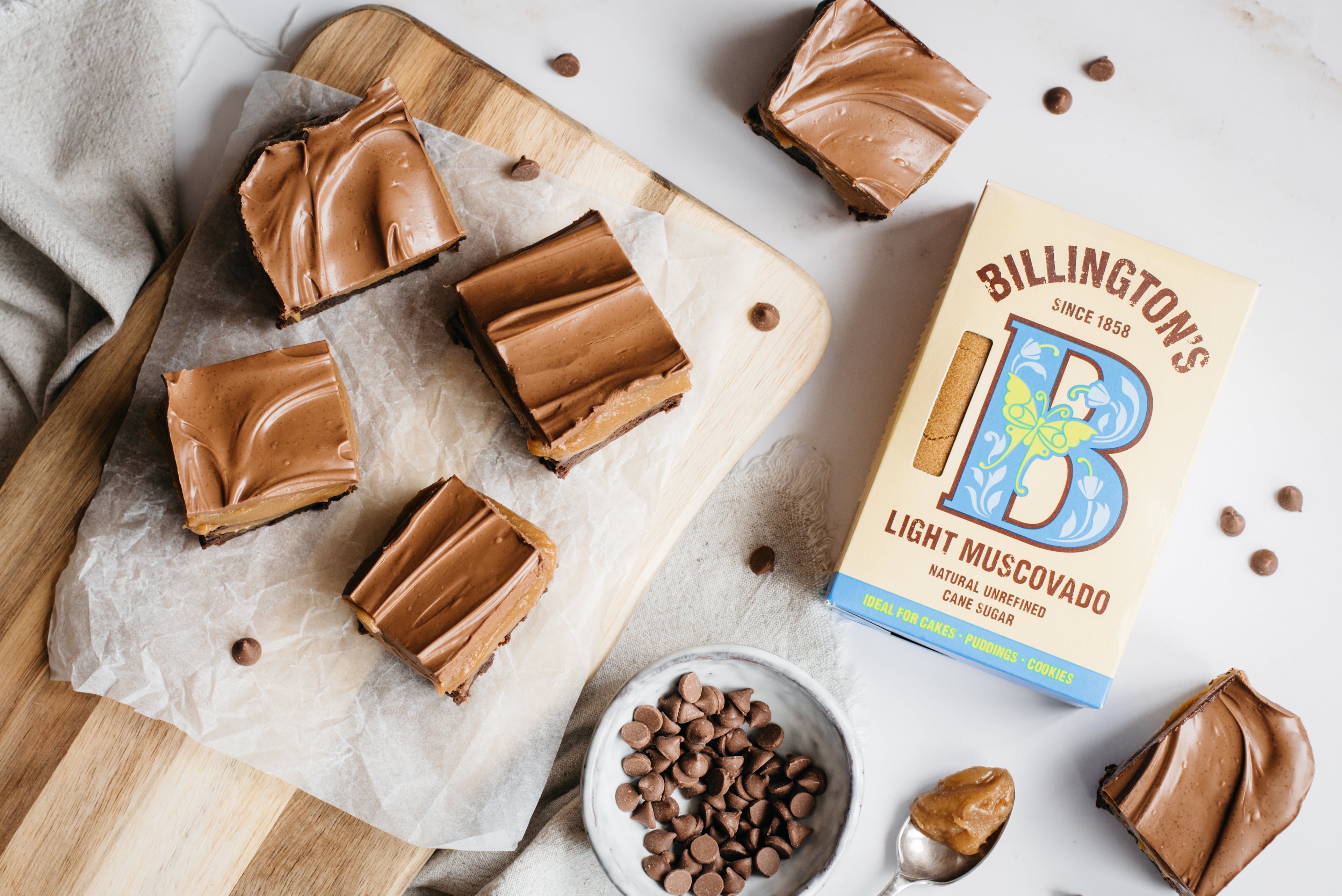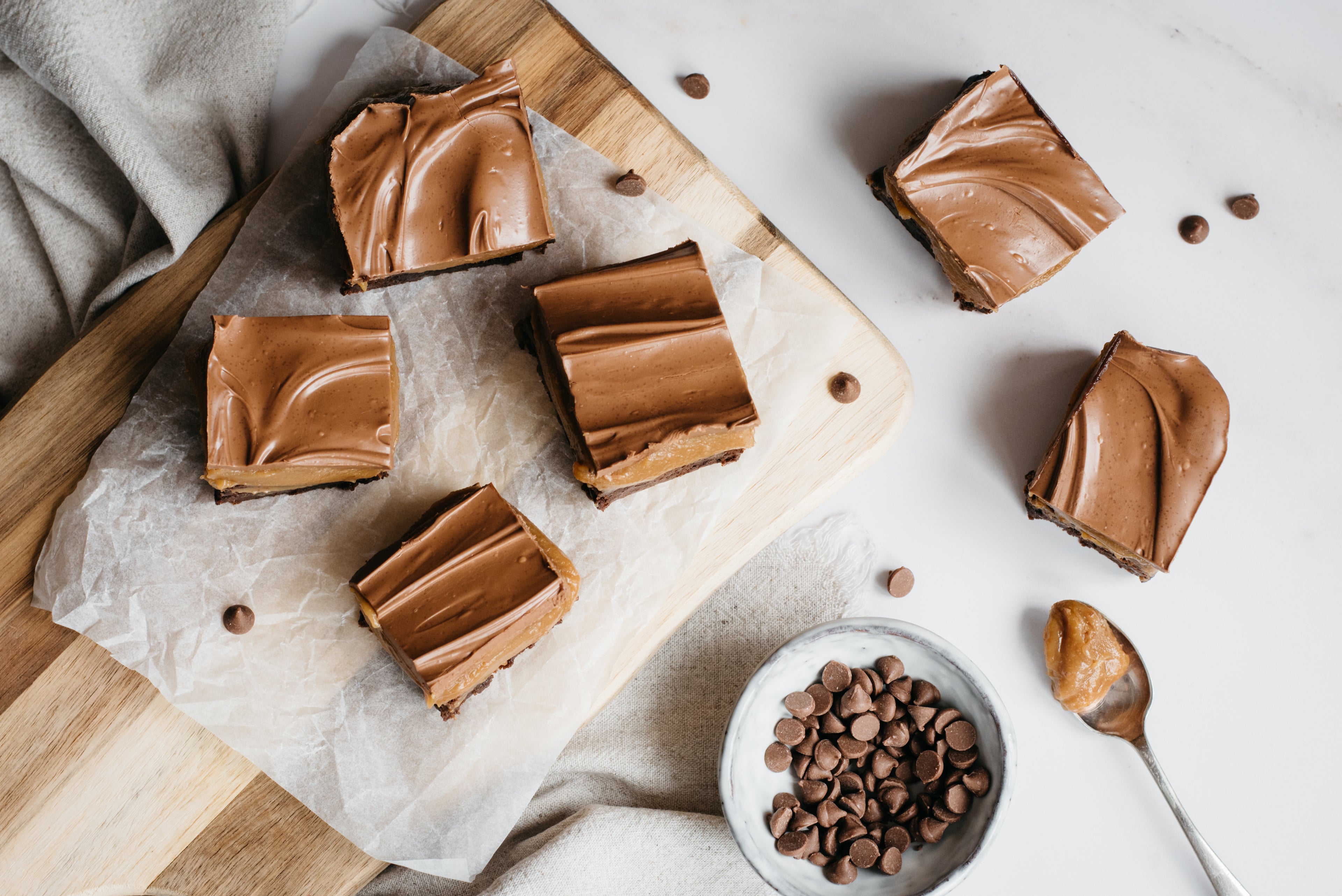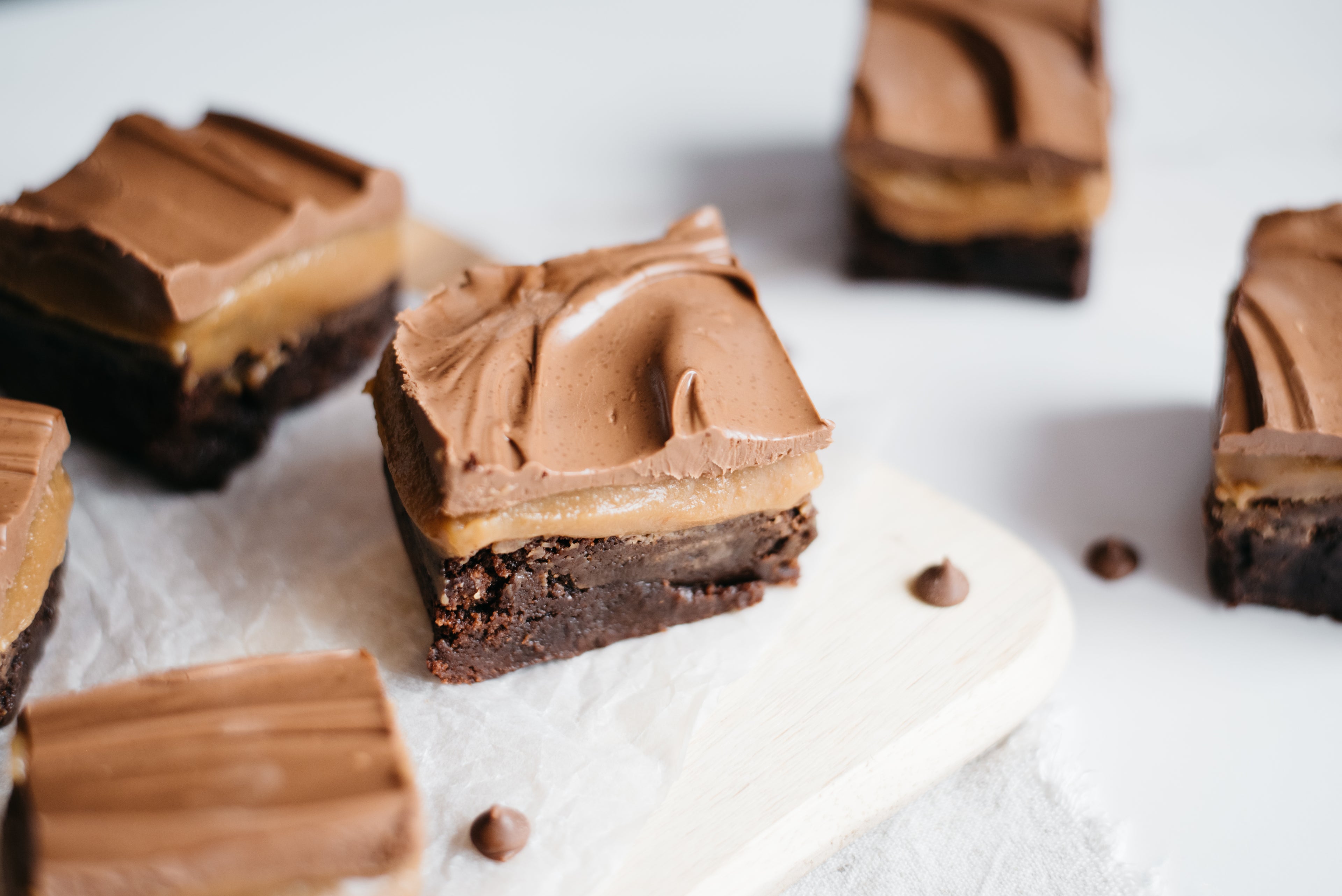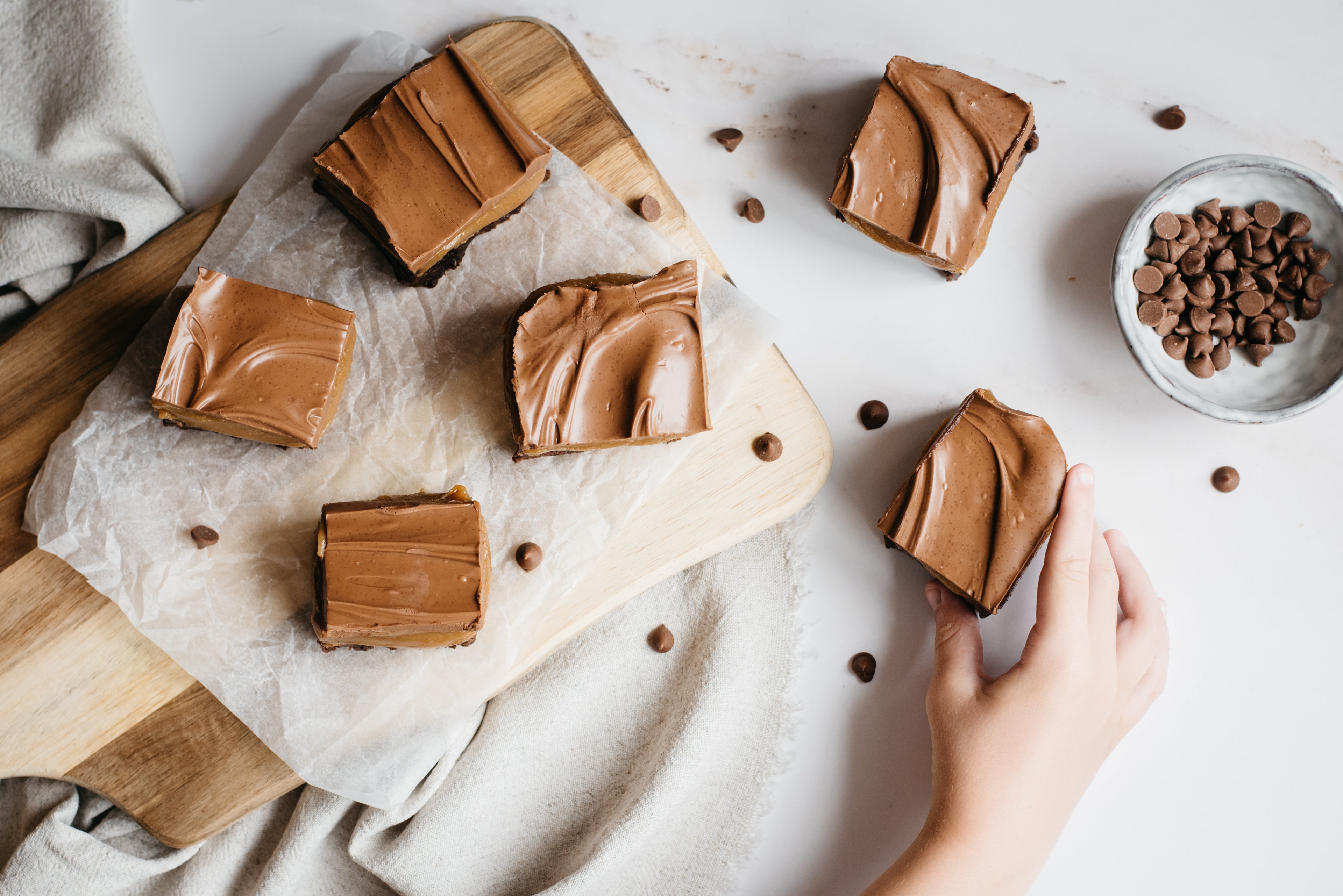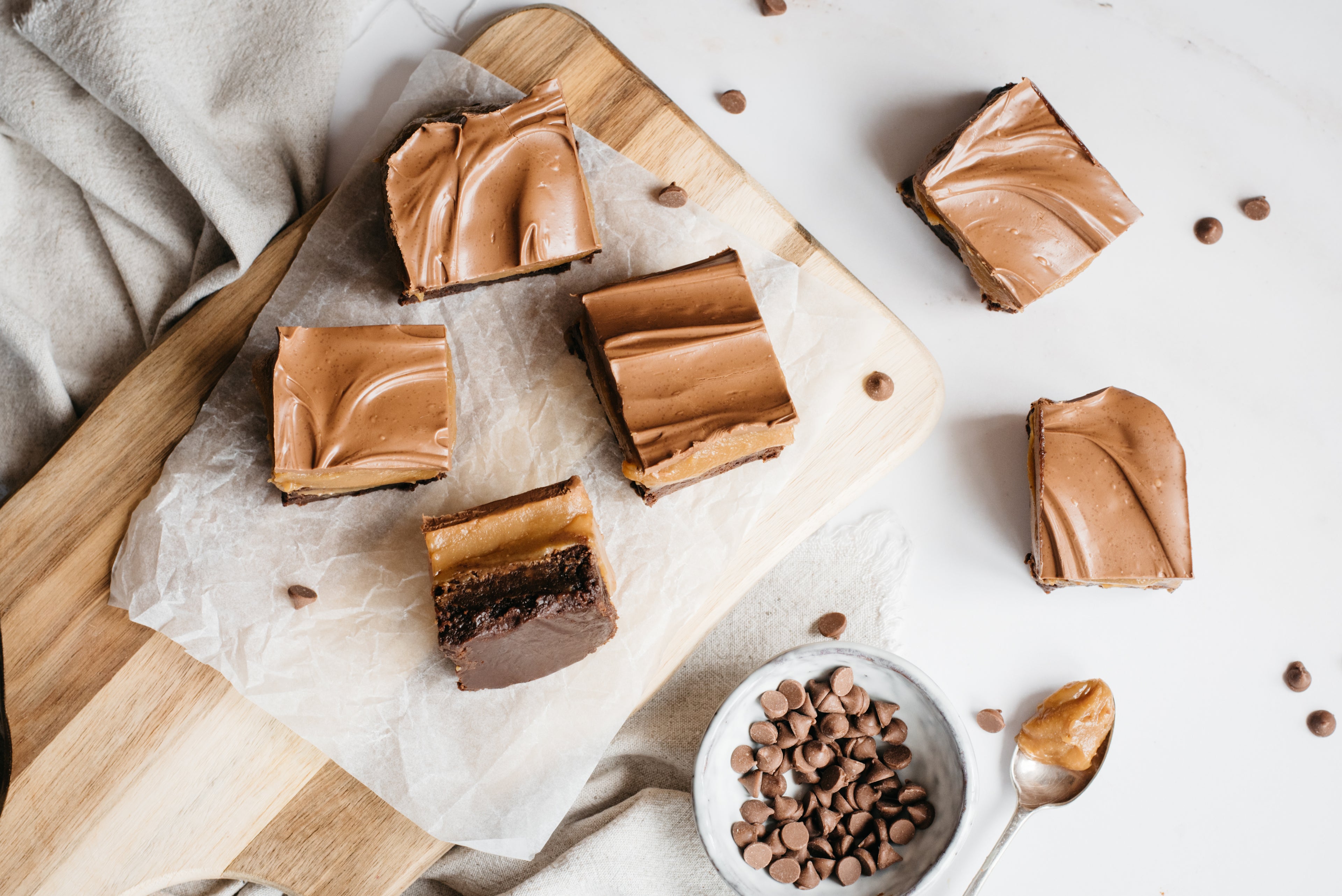 About the bake
Feast your eyes on this twist on a classic millionaire's shortbread. We've replaced the shortbread base with our favourite brownie recipe, then topped with lashings of freshly made caramel set to perfection. We've finished off with a mixture of milk and dark chocolate melted and set to the top. Our top tip is to cut it upside down, this stops the hard chocolate from squashing the softer layers below.
Method
Step 1:

Preheat the oven to 190°C (fan 170°C, gas mark 5) and line a 20cm square tin with baking parchment.


Step 2:

Melt the chocolate and butter in a heatproof bowl over a pan of simmering water.


Step 3:

Whisk the eggs until pale and fluffy, add the muscovado sugar and whisk until thick - then gently fold in the chocolate.


Step 4:

Sieve in the flour and fold in until the mixture is smooth.


Step 5:

Pour into the prepared tin and bake for 30-35 minutes, until you see a paper-like crust on top, there should still be some movement in the centre of the tin. Set aside to cool completely.


Step 6:

To make the caramel, place the butter, sugar, syrup and condensed milk into a saucepan and stir over a low heat until the butter has melted.


Salted Caramel

If you'd like to make salted caramel, just add 1/4 tsp of salt whilst stirring your caramel.

Step 7:

Bubble and stir the mixture gently for five to eight minutes, until you get a thick and fudge-like mix. Pour over your cooled cookie which will still be in the cake tin and leave to cool.


Step 8:

While your caramel is cooling, it's time to melt your chocolate.

Chop the chocolate and place in a bowl suspended over a pan of simmering water. Do not let the water touch the bottom of the pan. Stir the chocolate until melted. Spread evenly over the caramel and allow to set at room temperature.





Ingredients
For the Brownie Base

200g

 

Unsalted butter (softened)

350g

 Billington's Unrefined Dark Muscovado Sugar

3

 

Medium eggs

50g

 Allinson's Self Raising Flour

350g

 

Dark chocolate

For the Caramel

175g

 

Unsalted butter (softened)

175g

 Billington's Unrefined Golden Caster Sugar

4 tbsp

 

Golden syrup

397ml

 

Condensed milk

For the Top

150g

 

Dark chocolate

150g

 

Milk chocolate
Utensils
8x8in square baking tin

Sauce pan
Recipe Reviews
Absolutely amamzing - will be baking again.
I put half the amount of sugar recommended and it was still very sweet. Will put even less next time. Still tastes delicious and goes down a treat with my work colleagues. I also put less butter and chocolate in my baking.
This is absolutely amazing! Don't even usually like brownies.
Too much everything. This was so heavy when finished. Way too sweet takes ages to cool down and wasn't cooked properly in the middle. Top went perfect. New oven. New cake tin lol. Tastes OK but most of it in the bin.
Wouldn't recommend, the recipe is incredibly sweet and sickly. Also the brownie has a weird texture.
Ingredients
For the Brownie Base

200g

 

Unsalted butter (softened)

350g

 Billington's Unrefined Dark Muscovado Sugar

3

 

Medium eggs

50g

 Allinson's Self Raising Flour

350g

 

Dark chocolate

For the Caramel

175g

 

Unsalted butter (softened)

175g

 Billington's Unrefined Golden Caster Sugar

4 tbsp

 

Golden syrup

397ml

 

Condensed milk

For the Top

150g

 

Dark chocolate

150g

 

Milk chocolate
Utensils
8x8in square baking tin

Sauce pan