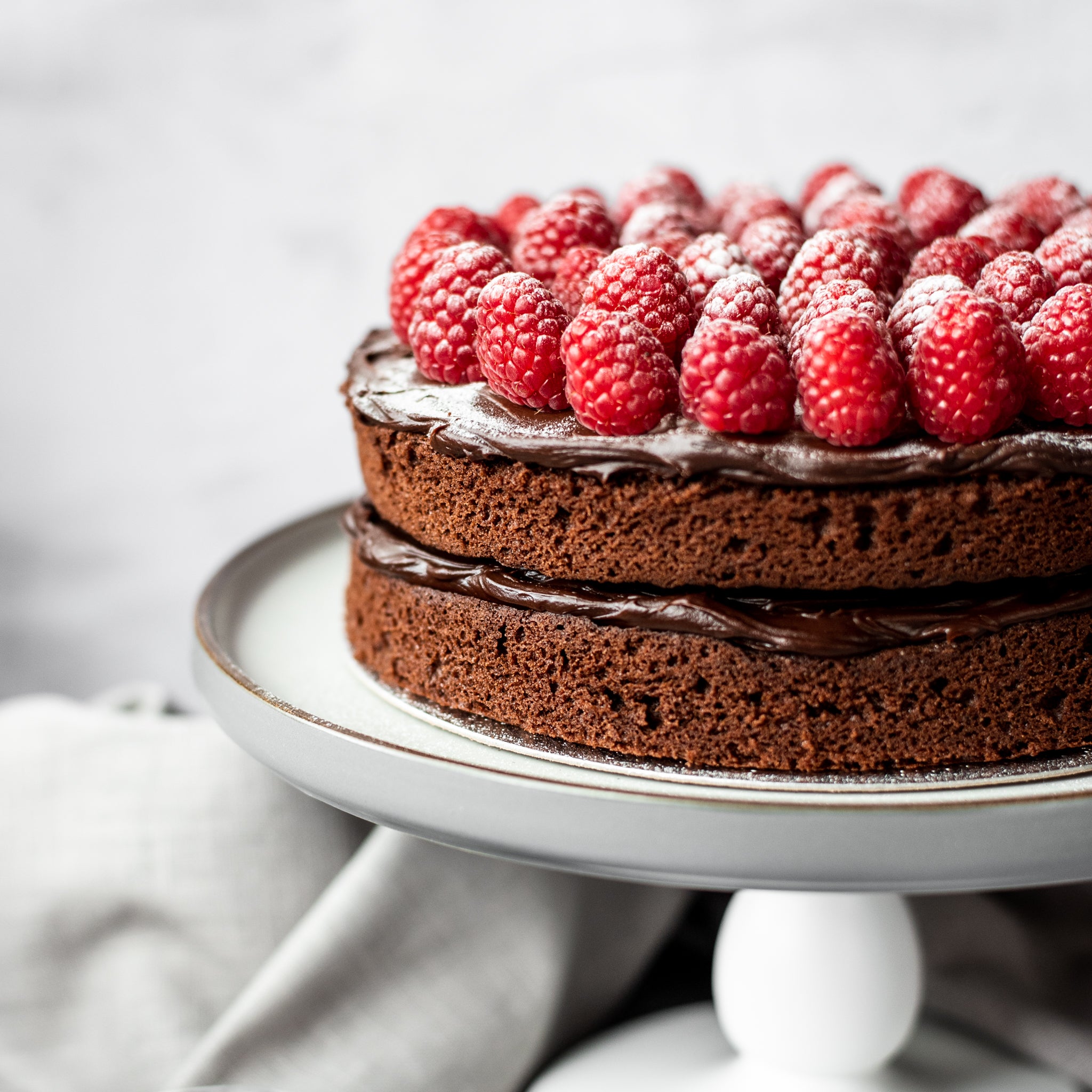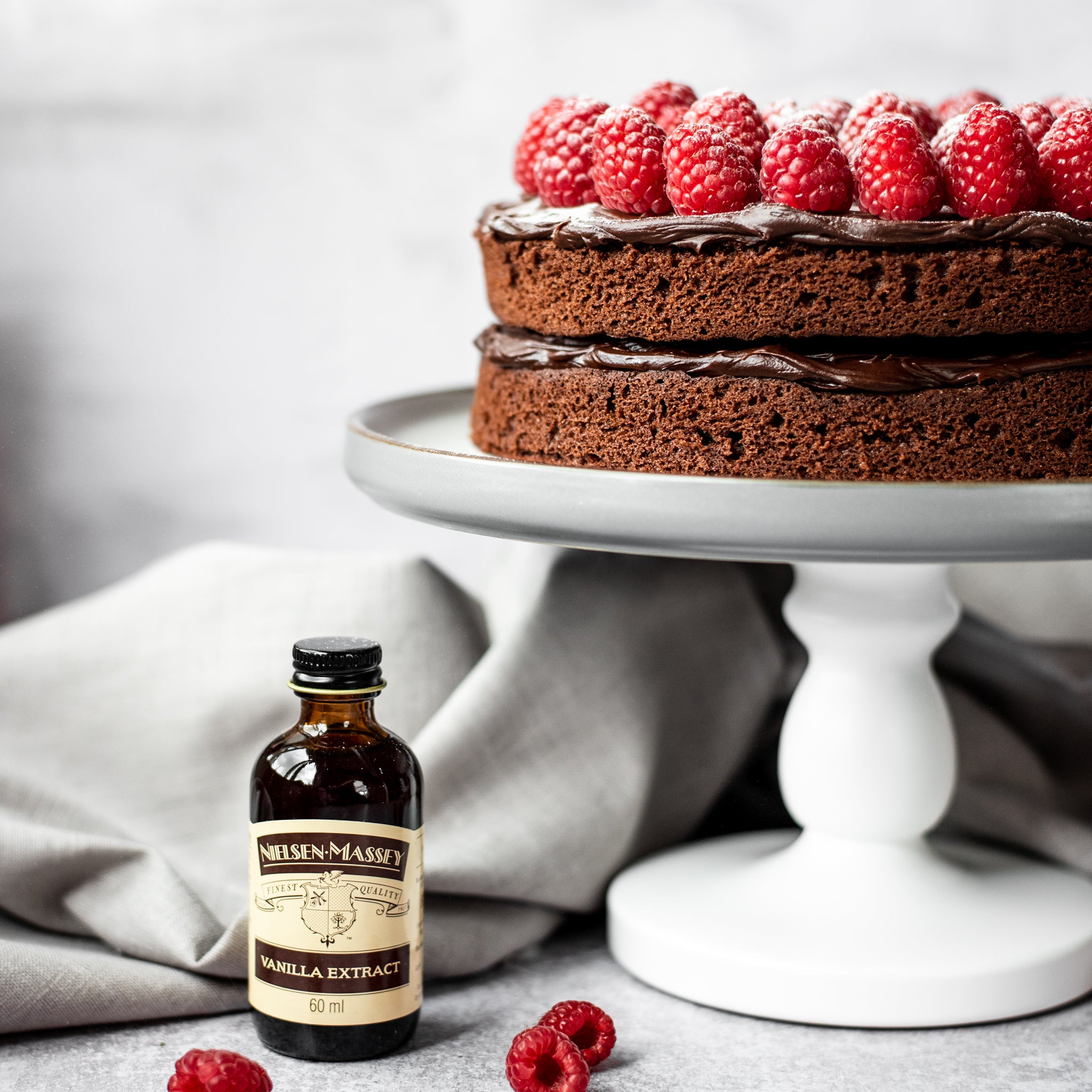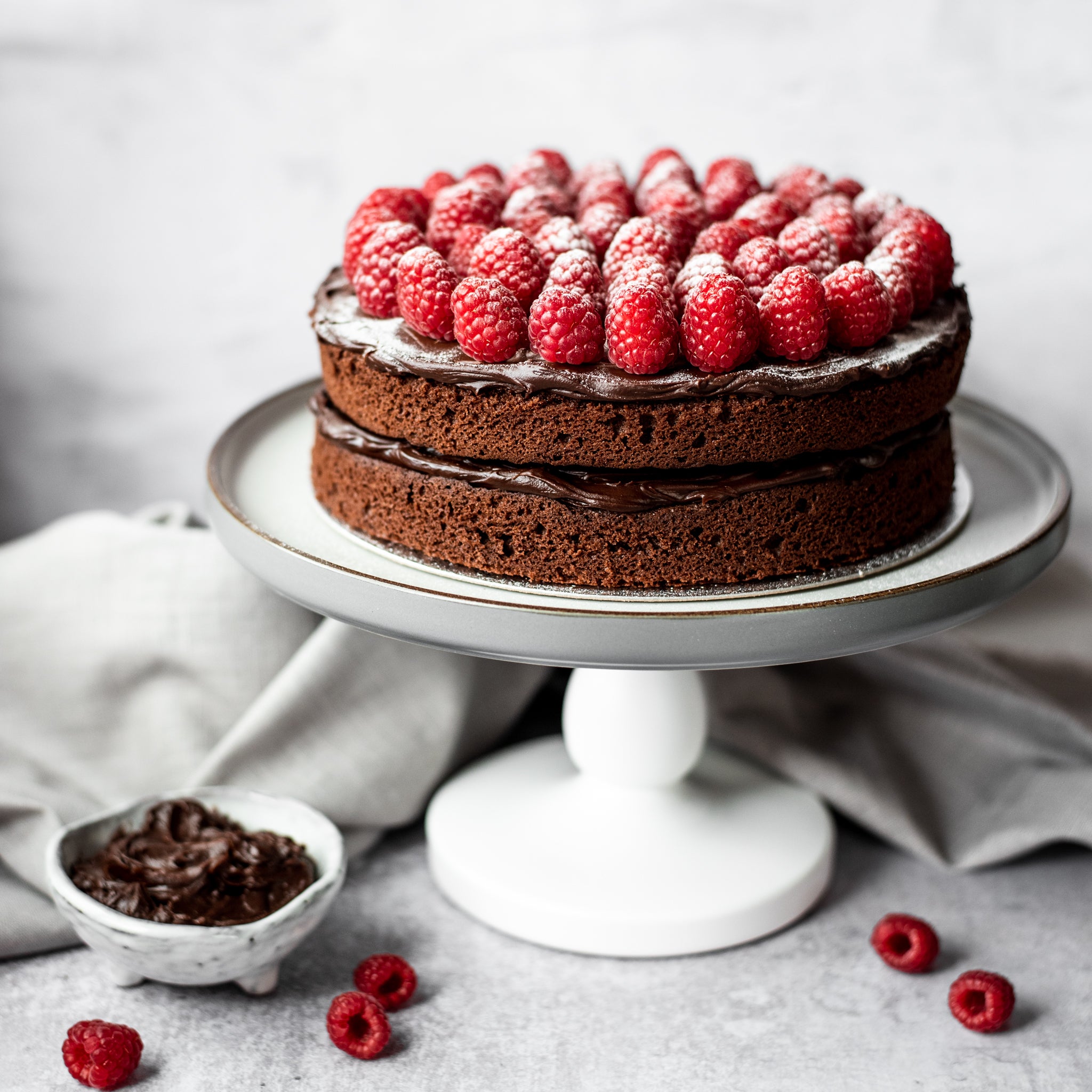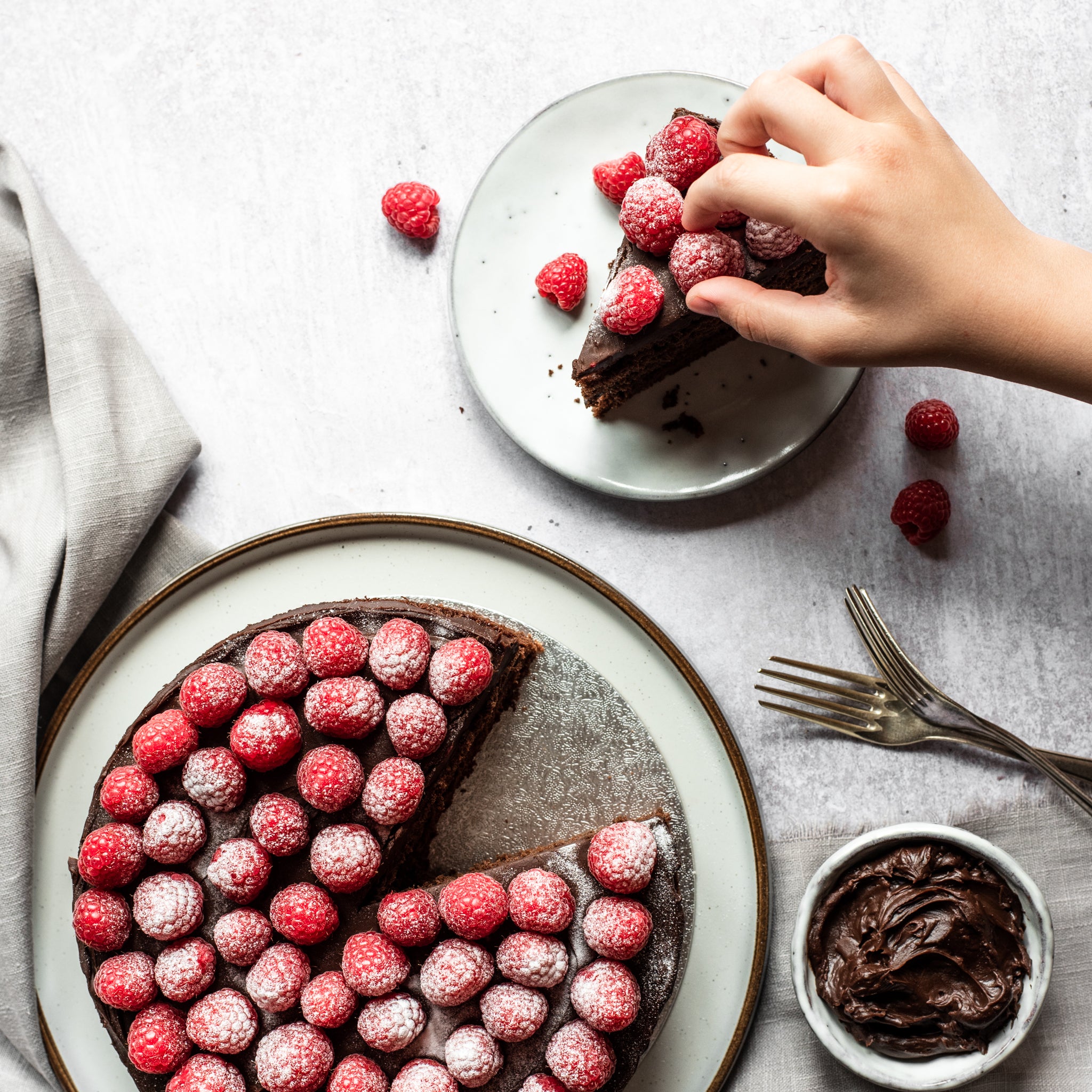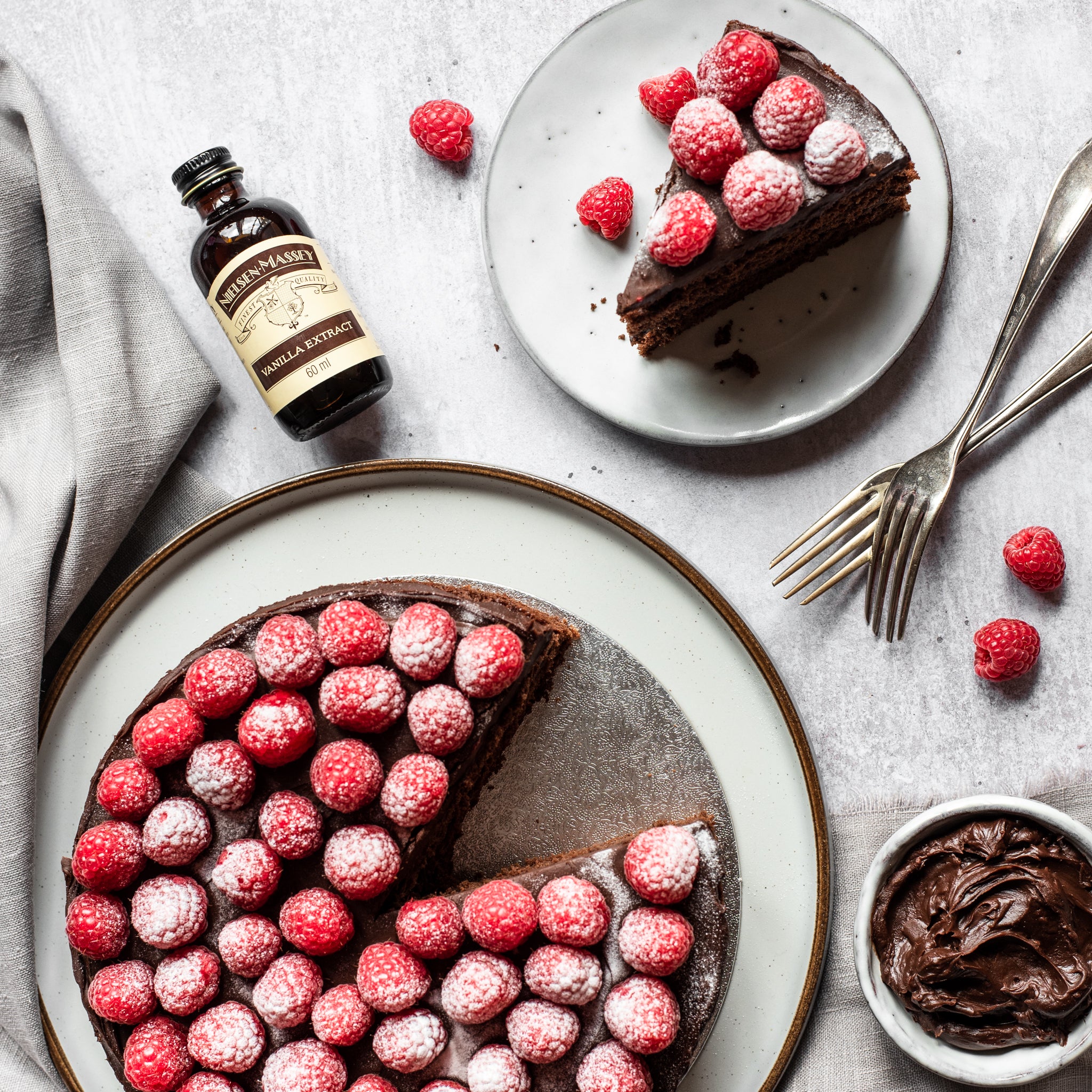 About the bake
Our simple Chocolate and Raspberry Cake recipe should be a staple for most experienced bakers. This one is ready to eat within an hour and is full of fresh raspberries.
Method
Step 1:

Preheat your oven to 180°C (160°c fan, gas mark 4) and grease and line two 8" sandwich tins.

Step 2:

Sieve the cocoa powder and flour together in a bowl and keep aside.

Step 3:

In a separate bowl, beat the butter and the sugar together until light and fluffy. Add one egg at a time to the creamed butter and sugar with a little of the flour/cocoa mix, vanilla extract and milk then beat between each addition. Fold in the remainder of the flour and cocoa - being careful not to "knock" out the air which has been beaten into the mixture.


Step 4:

Pour the mixture into the lined cake tin and bake in the oven for 30-40 minutes. Leave the cake to cool before turning out on a rack to completely cool.

Step 5:

Whilst the cake cools, prepare the ganache. Heat the cream in a saucepan until boiling point then remove from the heat and add the chocolate, leaving it to melt for a few minutes before stirring. Continue to stir until the ganache begins to thicken.

Step 6:

Once the ganache has set spread half of the mixture over the top of one sponge and sandwich the sponges together. Spread the remaining chocolate over the top of the cake and smooth around the sides.

Step 7:

To finish cover the top with raspberries and serve.
Ingredients
For The Sponge

175g

 Self-raising white flour

225g

 Billington's Unrefined Golden Caster Sugar

50g

 

Cocoa powder

1 tsp

 Nielsen-Massey Vanilla Extract

225g

 

Butter (unsalted)

3

 

Egg(s) (free range) (medium)

2 tbsp

 

Milk (whole)

For the chocolate ganache

300g

 

Dark chocolate

225ml

 

Double cream
Utensils
2x 8in sandwich tins

Sieve

Mixing bowl

Saucepan

Cooling rack
Recipe Reviews
Not good the batter was to thick so the cake led to being very dense but yeah when you taste it wait the ganache it is much better
Amazing easy to make makes brilliant use of dark chocolate
Hi,
The recipe only mentions one cake tin when you are about to put it in the tin. Is this one sponge or 2?
Hi there,
Apologies this should state cake tin(s) in the method - it is definitely a cake made in 2 separate sandwich tins. Happy Baking :)
Great cake but no mention of the vanilla extract in the method.
Hi there, thanks for pointing this out, we will get it added in. Happy baking :)
That cake was very easy to make and it was very tasty.
How long after baking will this keep? I'm cooking it today for my daughters 3rd birthday party which is Sunday!
Ingredients
For The Sponge

175g

 Self-raising white flour

225g

 Billington's Unrefined Golden Caster Sugar

50g

 

Cocoa powder

1 tsp

 Nielsen-Massey Vanilla Extract

225g

 

Butter (unsalted)

3

 

Egg(s) (free range) (medium)

2 tbsp

 

Milk (whole)

For the chocolate ganache

300g

 

Dark chocolate

225ml

 

Double cream
Utensils
2x 8in sandwich tins

Sieve

Mixing bowl

Saucepan

Cooling rack