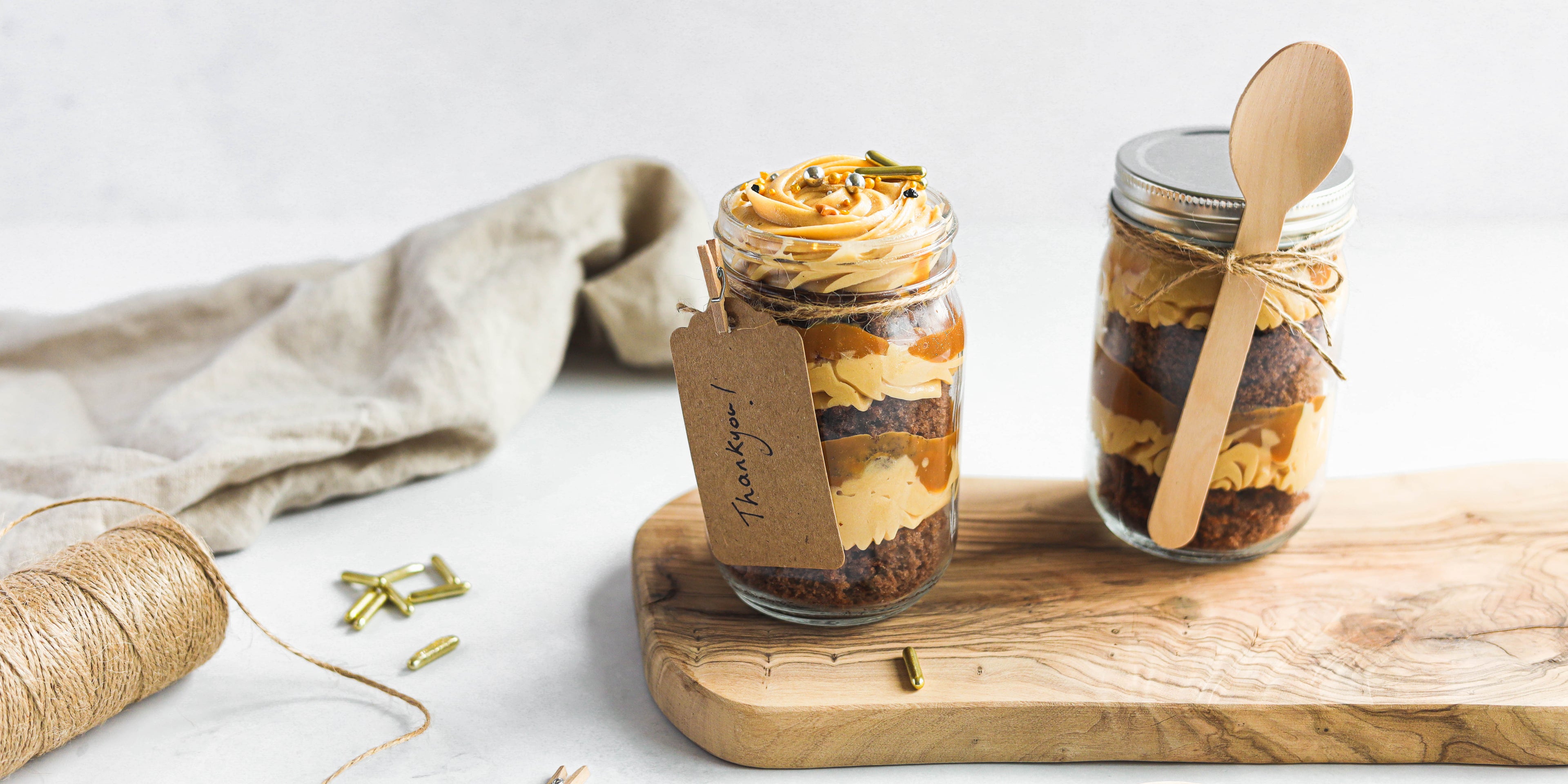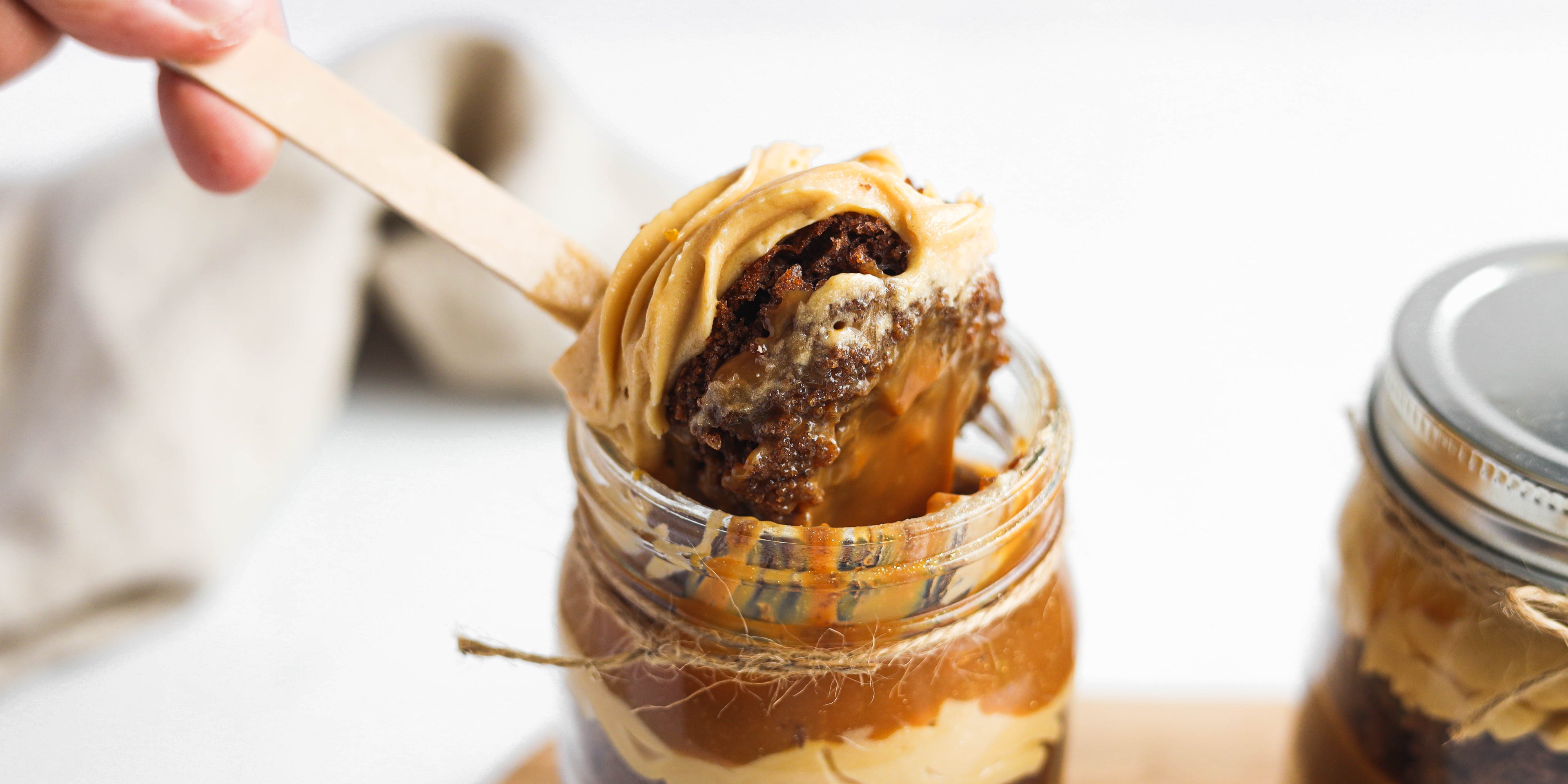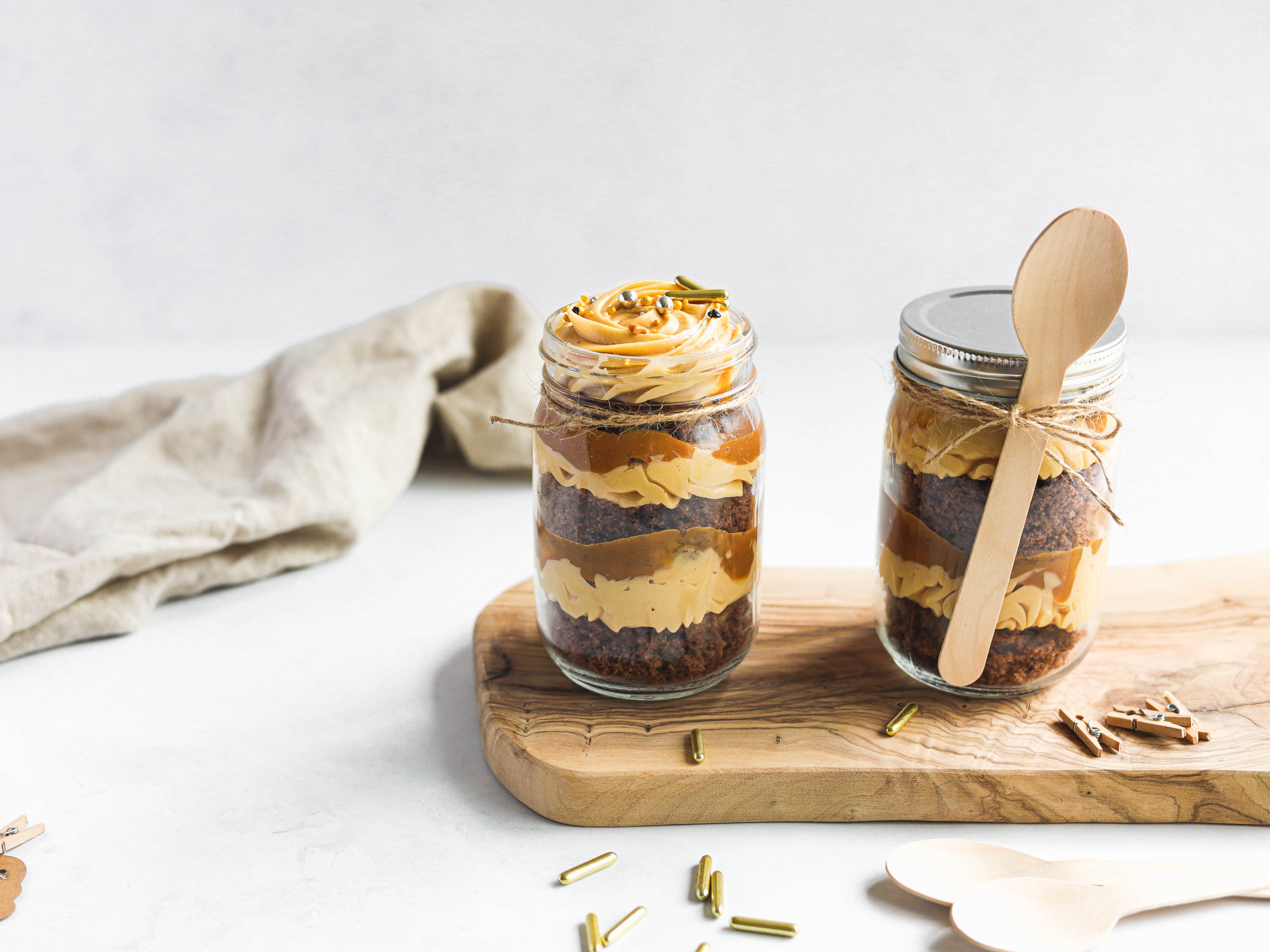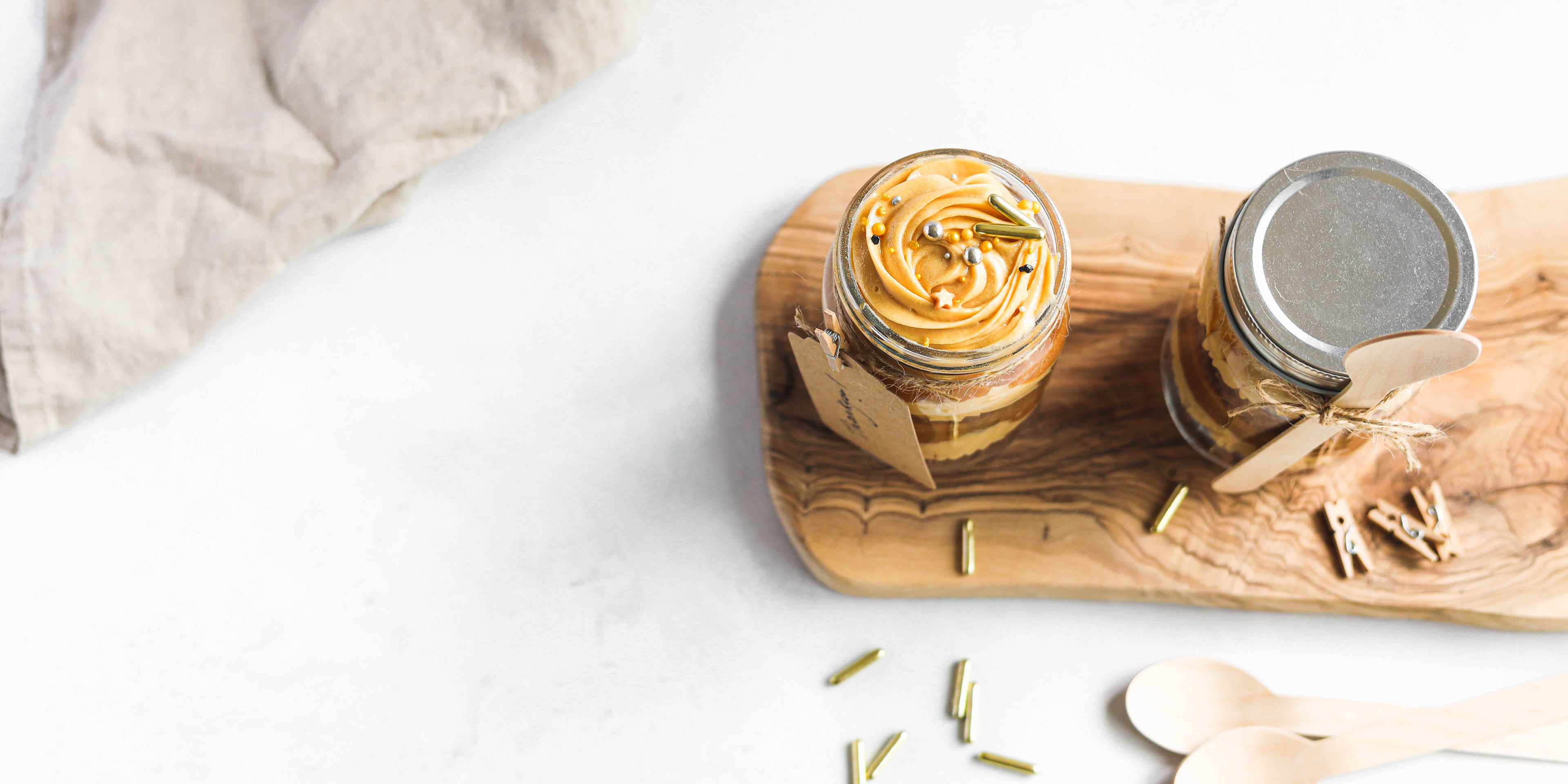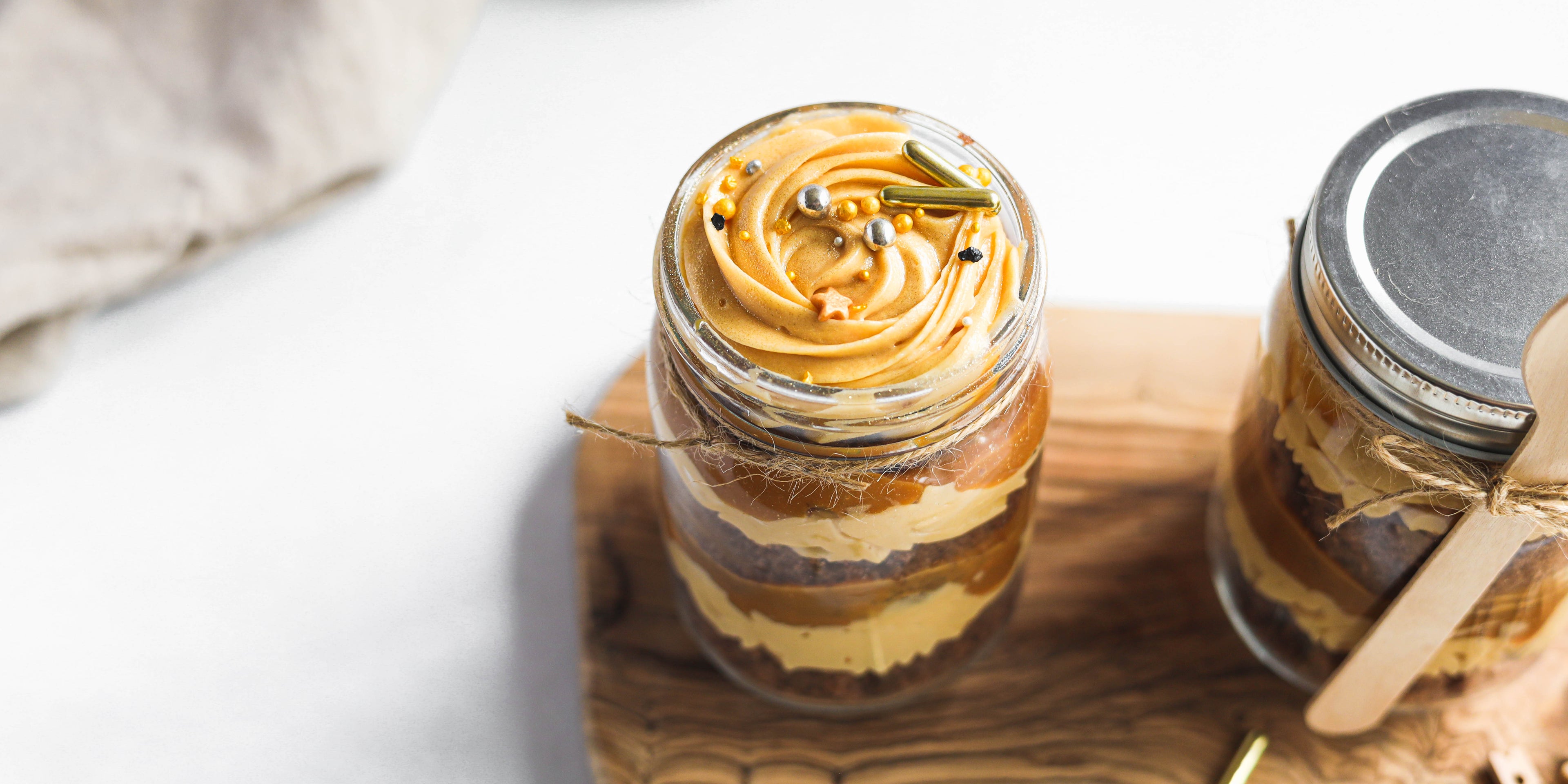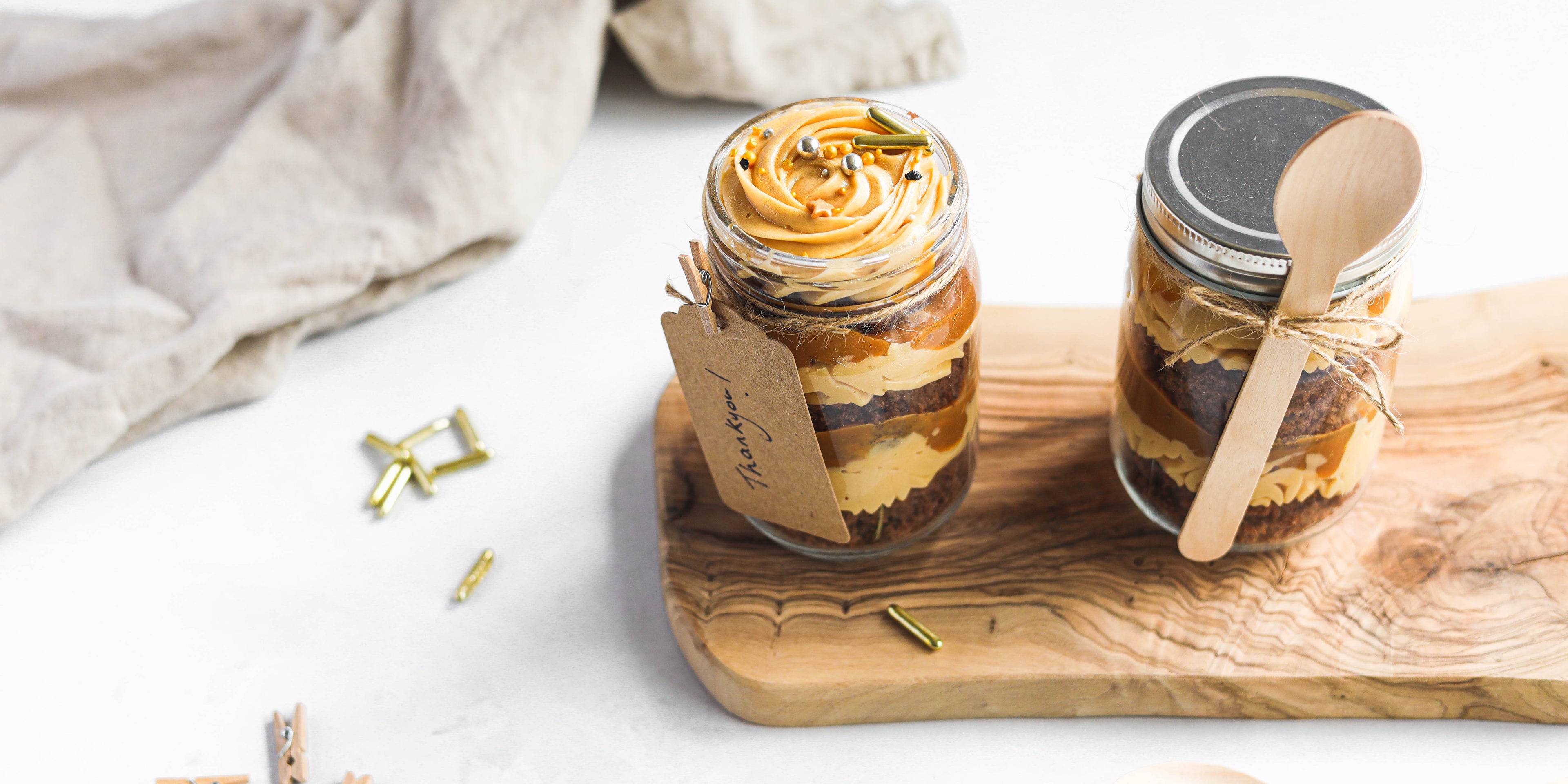 About the bake
This is such a wonderful idea for a gift. Layered chocolate sponge with salted caramel and buttercream. These cupcakes in a jar are the perfect idea for a wedding favour, or just a nice take away for any guest to a party. The undecorated cakes can be frozen. The undecorated cakes will keep in an airtight container for 2 days. The assembled cakes don't need to be kept in the fridge. Consume the assembled cakes within 3 days We made our sponge cakes but you don't have to. Any firm shop bought cake will do.
Method
Step 1:

First make the cake. Preheat the oven to 190ºc/170ºc fan/Gas 5. Grease and line 2 square 20cm/8 inch tins.


Step 2:

In a bowl, combine the ingredients for the cake. Pour this into the cake tin and bake for 25 minutes or until a cake tester comes out clean.




Step 3:

When the cake is cooked allow it to cool completely on a wire rack.


Step 4:

While the cake is cooling, make your caramel by gently warming the caramel from the tin in a saucepan until it is smooth and adding salt to your taste.


Step 5:

Make the buttercream in a clean dry bowl using a little of the caramel you just made (1tbsp).


Step 6:

When you are ready to make the cupcake jars. Cut circles from your cooled cakes with the cutter and then divide into quarters. They will easily fit through the neck of the jar to be reassembled within.


Step 7:

Make a layer of salted caramel buttercream and salted caramel with the chocolate sponge.


Step 8:

Repeat these layers and then top with your decorations before sealing with a lid and some ribbons.

Ingredients
For The Cake

150g

 

Butter (unsalted)

150g

 Billington's unrefined golden caster sugar (to dust)

135g

 

Self Raising Flour

15g

 

Cocoa powder

3

 

Eggs

1 tsp

 

Baking powder

1 tsp

 Nielsen-Massey Vanilla Extract

For The Salted Caramel

397g

 

Nestle carnation caramel

1/2 tsp

 

Sea salt flakes

For The Salted Caramel Buttercream

80g

 

Butter (unsalted)

100g

 Billington's Unrefined Golden Icing Sugar

75g

 

Salted caramel
Utensils
2x Glass jars

Ribbon

20cm/8in tin
Recipe Reviews
Too sweet! But it's good, I would recommend to put less sugar in the buttercream
Yum! I followed the recipe EXACTLY and got really great results. I'm making these for all my friends this xmas!
This recipe wasn't that good. Should be moderated more. I don't recommend this to anyone I'm afraid.
Horrible. Putting half a teaspoon gives way too much of a salty taste. The chocolate sponge leaves too much leftovers. I wouldn't recommend this recipe to anyone.
Made this and it was delicious!
Ingredients
For The Cake

150g

 

Butter (unsalted)

150g

 Billington's unrefined golden caster sugar (to dust)

135g

 

Self Raising Flour

15g

 

Cocoa powder

3

 

Eggs

1 tsp

 

Baking powder

1 tsp

 Nielsen-Massey Vanilla Extract

For The Salted Caramel

397g

 

Nestle carnation caramel

1/2 tsp

 

Sea salt flakes

For The Salted Caramel Buttercream

80g

 

Butter (unsalted)

100g

 Billington's Unrefined Golden Icing Sugar

75g

 

Salted caramel
Utensils
2x Glass jars

Ribbon

20cm/8in tin