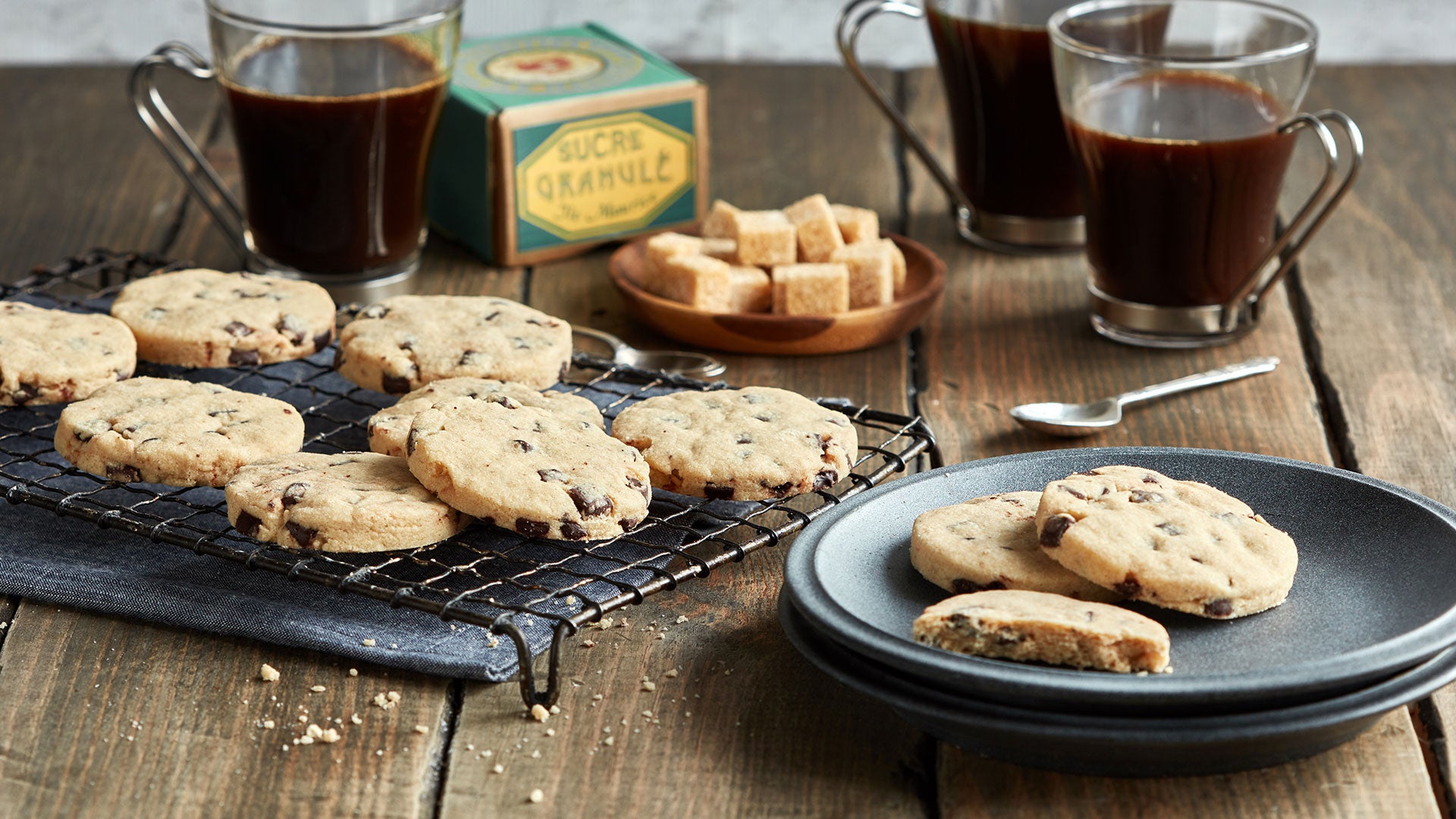 Chocolate Chunk Shortbread
About the bake
Who says that you have to go out to your local coffee shop to get the yummy treats that you love? With this Chocolate Chunk Shortbread recipe you can bring the coffee shop experience to your home and enjoy your favourite nibbles with a cup of hot Java without even having to get out of your PJ's and slippers.
Method
Step 1:

Preheat the oven to 150°C/130°Fan/Gas Mark 2. Grease and line a 2 baking trays with baking parchment.


Step 2:

Cream together the butter, sugar and vanilla extract to make a smooth soft paste.


Step 3:

Sift in the flour and add the chocolate chunks.


Step 4:

Bring together with a wooden spoon and then your hands to make firm dough. Don't overwork it or the shortbread will be tough.


Step 5:

Turn the dough out onto a floured surface and roll it out a quarter at a time until it is 5mm thick. Cut into rounds using a 6cm/2 ½ inch round cutter.


Step 6:

Place the rounds (you should have 14) on the prepared baking trays. Bake in your preheated oven for 30 minutes.


Step 7:

After 30 minutes the shortbread should still be pale. Remove from the oven and cool on the tray for 5 minutes before removing to a wire rack to cool completely.

Ingredients
125g

 

Salted butter (softened)

60g

 Billington's Unrefined Golden Caster Sugar

200g

 Plain white flour

100g

 

Dark chocolate chunks (or chocolate chips)

1 tsp

 Nielsen-Massey Vanilla Extract
Utensils
2 x baking trays

Baking parchment

Bowl

Rolling pin

6cm (2.5in ) round cutter
Recipe Reviews
I followed the tips on previous reviews and added 50G of extra butter. They turned out really nicely and I made 30 small heart shaped biscuits. Also added some orange oil for a nice flavour! Will definitely make these again!
I've made these and they taste amazing. I didn't have vanilla extract so I used golden syrup and it worked out good.😛

However, they were extremely dry so I added a slight bit more butte and gave it a thorough mix in a food processor and it turned it into a dough rather than crumbles.

I definitely will be making these in the future!😃
Great recipe and really quick and easy. Much better with the extra butter to aid rolling out. Keep well if they last that long!
Made twice now and both times couldn't roll it out as it's too dry so had to add a splash of water or milk both times. Tastes great though!
Fantastic shortbreads! I followed a tip from another reviewer and added an extra 50g's of butter. I used dark chocolate ans zested a full orange into the mix to created dark chocolate and orange zested shortbreads! Beautiful!!!
Made these biscuits on the weekend. Found the mix was to dry so I added an extra 50g of butter and hoped for the best....30 mins later....amazing results, looked great....tasted amazing. I'd like to say they lasted a few days, but they didn't even make it overnight! Looking forward to making more x
Ingredients
125g

 

Salted butter (softened)

60g

 Billington's Unrefined Golden Caster Sugar

200g

 Plain white flour

100g

 

Dark chocolate chunks (or chocolate chips)

1 tsp

 Nielsen-Massey Vanilla Extract
Utensils
2 x baking trays

Baking parchment

Bowl

Rolling pin

6cm (2.5in ) round cutter