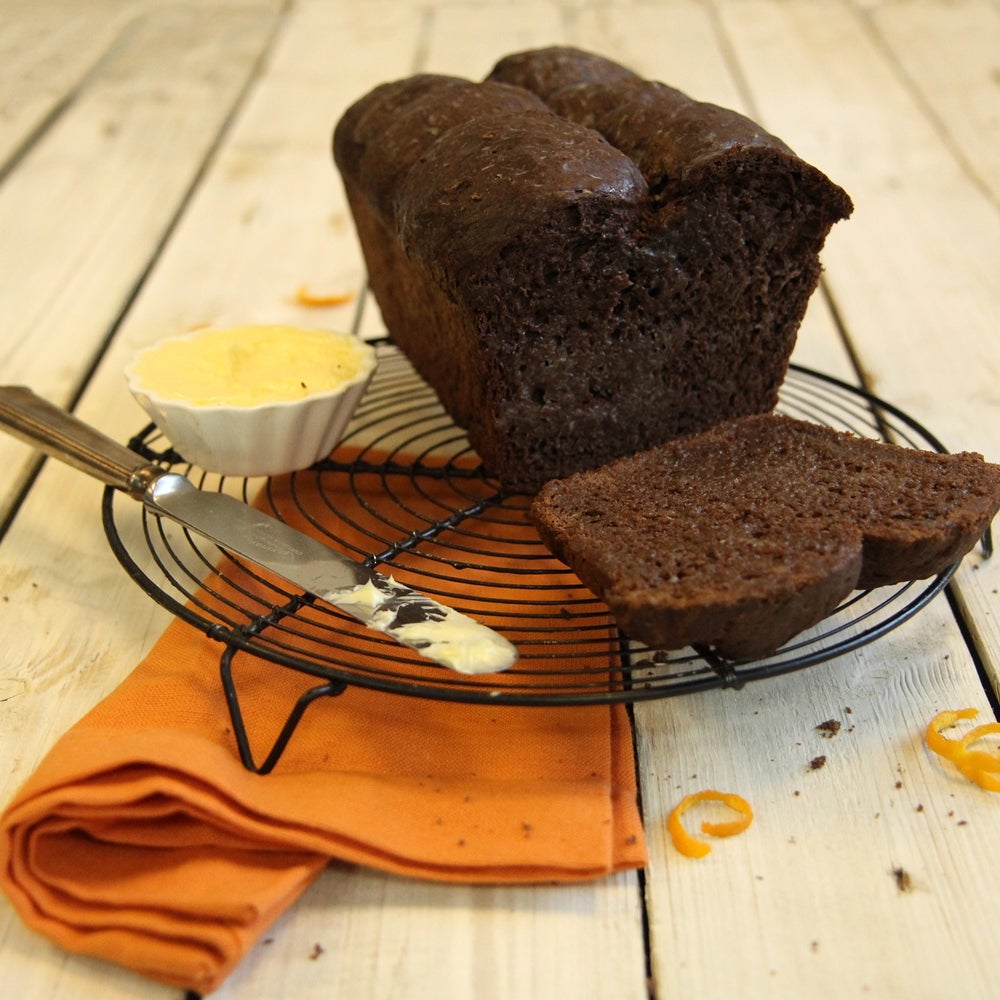 About the bake
Brioche is a beautifully light and sweet, traditional French bread. Some might say it couldn't get any better than that, but we think that this added twist of chocolate and orange really makes this brioche extra special. If you have any left over this makes a wonderful bread and butter style pudding!
Method
Step 1:

Put the flour, cocoa, salt and sugar into a bowl and mix together. Sprinkle over the yeast.

Step 2:

Add the orange zest and mix to a soft dough, adding the orange juice, eggs and butter.

Step 3:

Turn the dough onto a lightly floured board and knead for 10 minutes until smooth. Grease a 2lb / large loaf tin.


Step 4:

Break the dough into 8 equal sized pieces. Shape each piece into a smooth ball in the palm of your hands before positioning the dough balls into the tin next to each other.

Step 5:

Leave to prove until doubled in size. Meanwhile preheat the oven to 220°C (fan 200°C, gas mark 7).



Step 6:

Brush the dough with melted butter and bake for 10 minutes in the oven.

Step 7:

After this time reduce the oven temperature to 190°C (fan 170°C, gas mark 5) and bake for a further 25 minutes until well risen.

Step 8:

Once baked, carefully turn out, brush again with melted butter and leave to cool or enjoy still slightly warm!
Ingredients
375g

 Allinson's Strong White Bread Flour

50g

 

Cocoa powder

1 tsp

 

Salt

2 1/2 tsp

 Allinson's Easy Bake Yeast

3

 

Orange(s) zest

1 tbsp

 Billington's Unrefined Golden Caster Sugar

100ml

 

Orange juice

3

 

Egg(s) (free range) (medium)

125ml

 

Butter (melted, plus extra for brushing)
Recipe Reviews
Yay so good I love it it's the coolest thing ever
Ingredients
375g

 Allinson's Strong White Bread Flour

50g

 

Cocoa powder

1 tsp

 

Salt

2 1/2 tsp

 Allinson's Easy Bake Yeast

3

 

Orange(s) zest

1 tbsp

 Billington's Unrefined Golden Caster Sugar

100ml

 

Orange juice

3

 

Egg(s) (free range) (medium)

125ml

 

Butter (melted, plus extra for brushing)