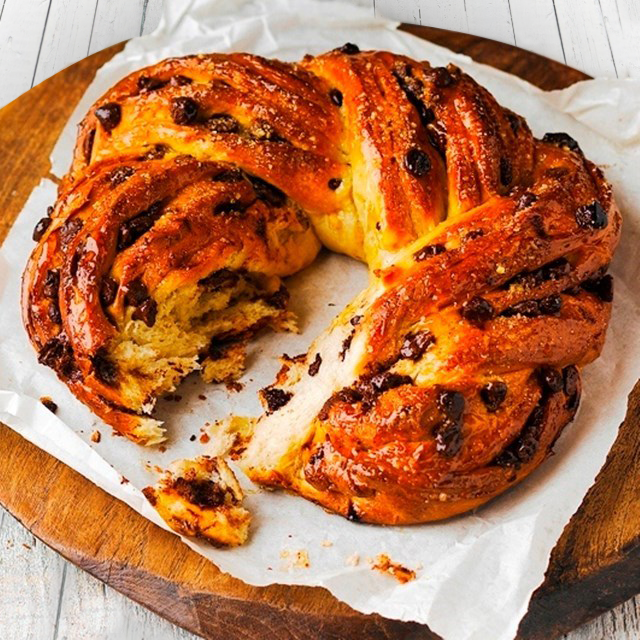 About the bake
Hearty food reigns sumpreme in Northumberland, and if this bread didn't look good enough, with its golden coating and sprinkles of chocolaye chips, then wait until you take a bite. This delicious sweet bread is infused with zesty hints of orange and balanced with rich dark chocolate chips, all twisted together into a stunning homemade Northunmberland Twist.
Is there anything more scrumpticous than chocolate orange? If Terry's is your thing, then check out indulgent Chocolate Orange Rolls by Allinson's or if you want to switch things up from dough to cake, then our Chocolate Orange Crown Cake by Eric Lanlard is a showstopper.
Method
Step 1:

Place the flour in a bowl and first mix through the sugar, followed by the yeast and then the salt. It is important that you mix through the yeast and salt separately as the salt can kill the yeast if it comes directly into contact with it in the initial stages.

Step 2:

Mix in the butter before gradually stirring in 150ml warm water using a butter knife, then with clean hands until a soft dough is formed. Add only enough liquid, you may not need it all.

Step 3:

Place the dough on a lightly floured surface and knead for 10 minutes (this can be done in a mixer with a dough hook on a medium speed for 4-5 minutes), until the dough is smooth and silky.

Step 4:

Place in a large lightly oiled bowl and cover with cling film and leave to rise to at least double in size, about 1-2 hours.

Step 5:

Meanwhile mix extract and chocolate together.

Step 6:

Tip the dough out onto a floured surface and roll out to a 35cm x 25cm rectangle.

Step 7:

With the longest edge facing you, evenly sprinkle over the chocolate mixture, pressing it down slightly into the dough.

Step 8:

Roll the dough up into a tight cylinder, rolling it to seal the edge. Cut it almost in half lengthways, leaving one end just joined so it resembles a pair of legs.

Step 9:

Twist the two dough lengths together then join the ends to form a round similar to a Christmas wreath.

Step 10:

Place on a lined baking tray and cover the dough with a tea towel and leave to prove for about an hour or until it has at least doubled in size.

Step 11:

Meanwhile heat the oven to 200C (fan 180C, gas mark 6).

Step 12:

When ready to bake, brush over the sherry and sprinkle with caster sugar. Bake in the oven for 25-30 minutes until risen and golden brown.

Step 13:

Serve warm either sliced or spread with salted butter.
Ingredients
250g

 Allinson's Strong White Bread Flour

25g

 Billington's Unrefined Golden Caster Sugar

2 tsp

 Allinson's Easy Bake Yeast

1 tsp

 

Salt

50g

 

Butter (salted, melted)

1 tsp

 

Orange extract

100g

 

Dark chocolate chips

2 tbsp

 

Sherry
Utensils
Mixing bowl

Butter knife

Cling film

Baking tray

Tea towel
Nutritional Information
per 53g
247cal

 

Energy

9g

 

Fat

5.4g

 

of which Saturates

33g

 

Carbohydrates

11g

 

of which Sugars

4.9g

 

Protein

0.73g

 

Salt
Recipe Reviews
Made this a couple of times now, it's worth having the patience to bake this as it's an absolutely gorgeous sweetbread. Beautiful bake!
Absolutely delicious !
It will definitely be a regular bake , The whole family loved it .
this was worth every last minuet of the making to eating process,
is easy enough to make and tastes gorgeous. Will be making it again. I used orange concentrated flavouring by Beau which allowed for the orange flavour to seep through. but if using cheaper versions maybe the zest of an orange would be needed.
Very easy to make and tastes nice but I would add in zest of an orange and also bake it at 180 not 200 - that made it brown too quickly.
Ingredients
250g

 Allinson's Strong White Bread Flour

25g

 Billington's Unrefined Golden Caster Sugar

2 tsp

 Allinson's Easy Bake Yeast

1 tsp

 

Salt

50g

 

Butter (salted, melted)

1 tsp

 

Orange extract

100g

 

Dark chocolate chips

2 tbsp

 

Sherry
Utensils
Mixing bowl

Butter knife

Cling film

Baking tray

Tea towel
Nutritional Information
per 53g
247cal

 

Energy

9g

 

Fat

5.4g

 

of which Saturates

33g

 

Carbohydrates

11g

 

of which Sugars

4.9g

 

Protein

0.73g

 

Salt