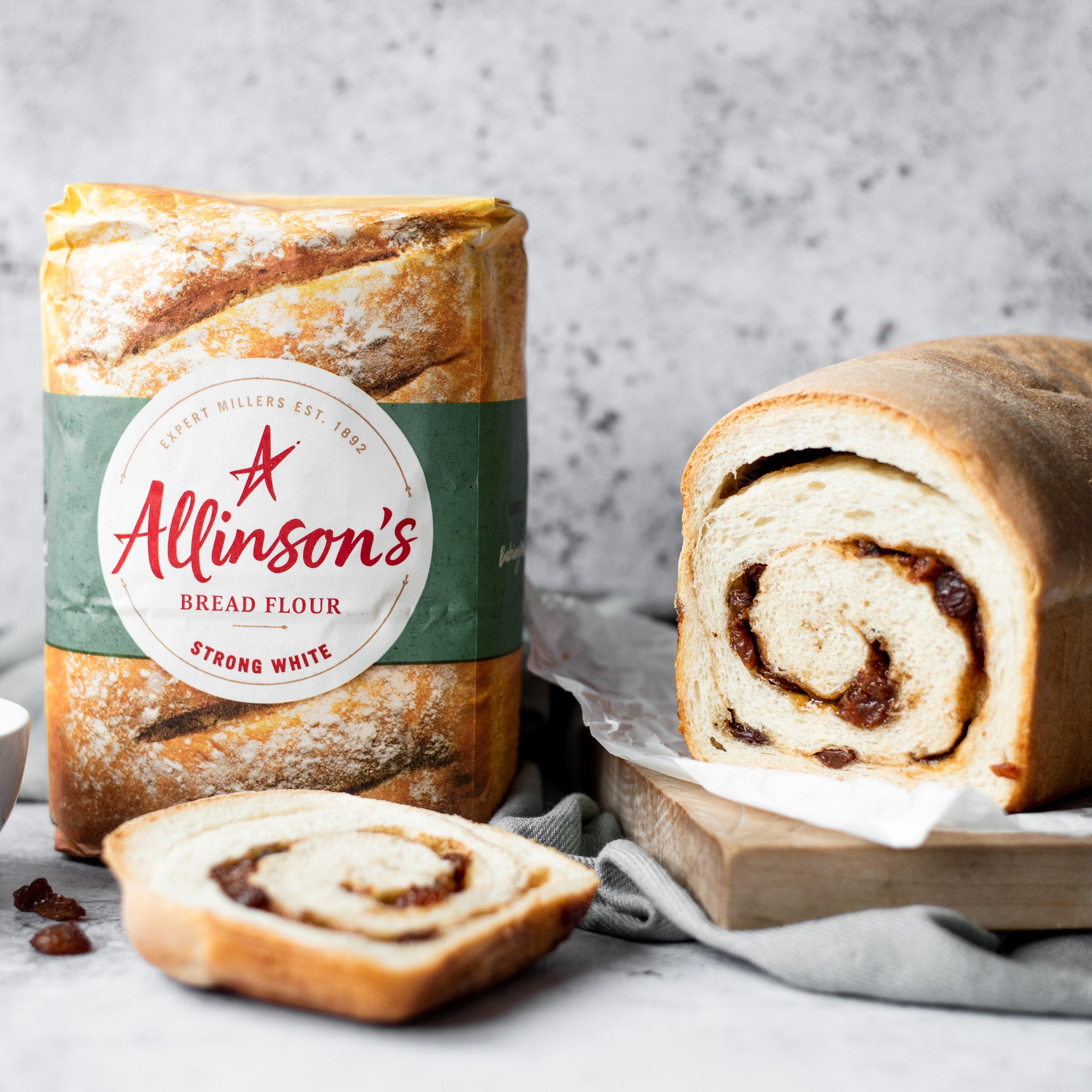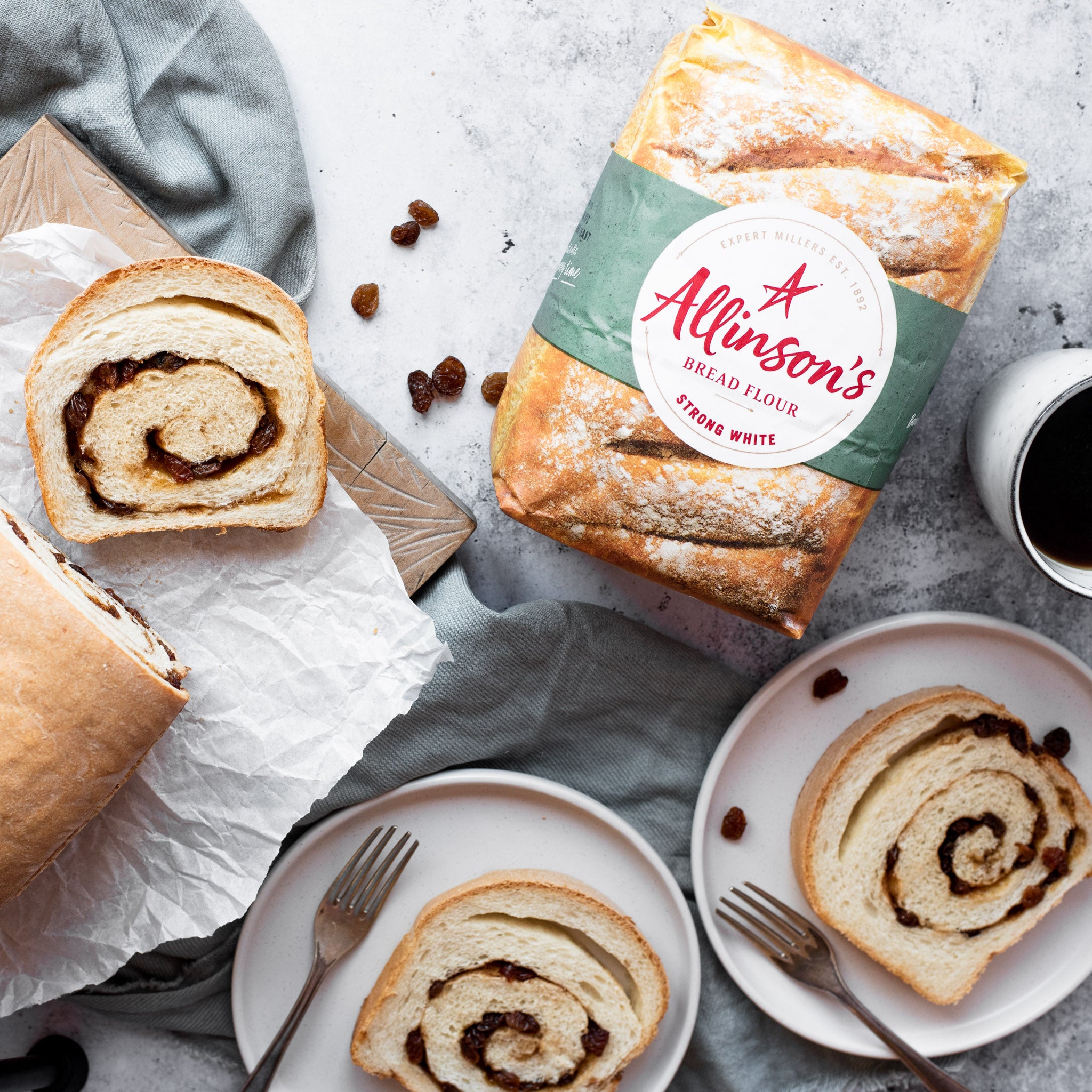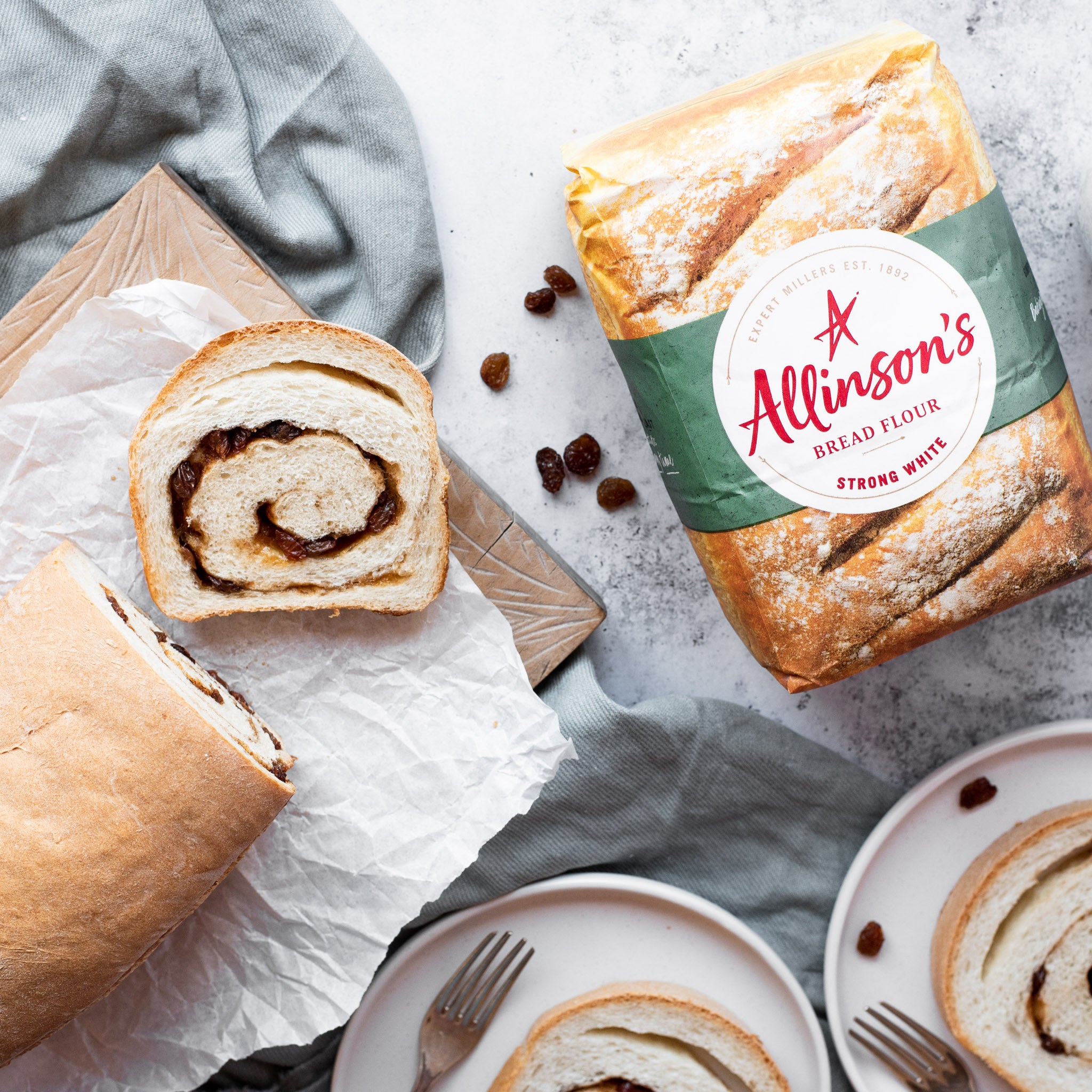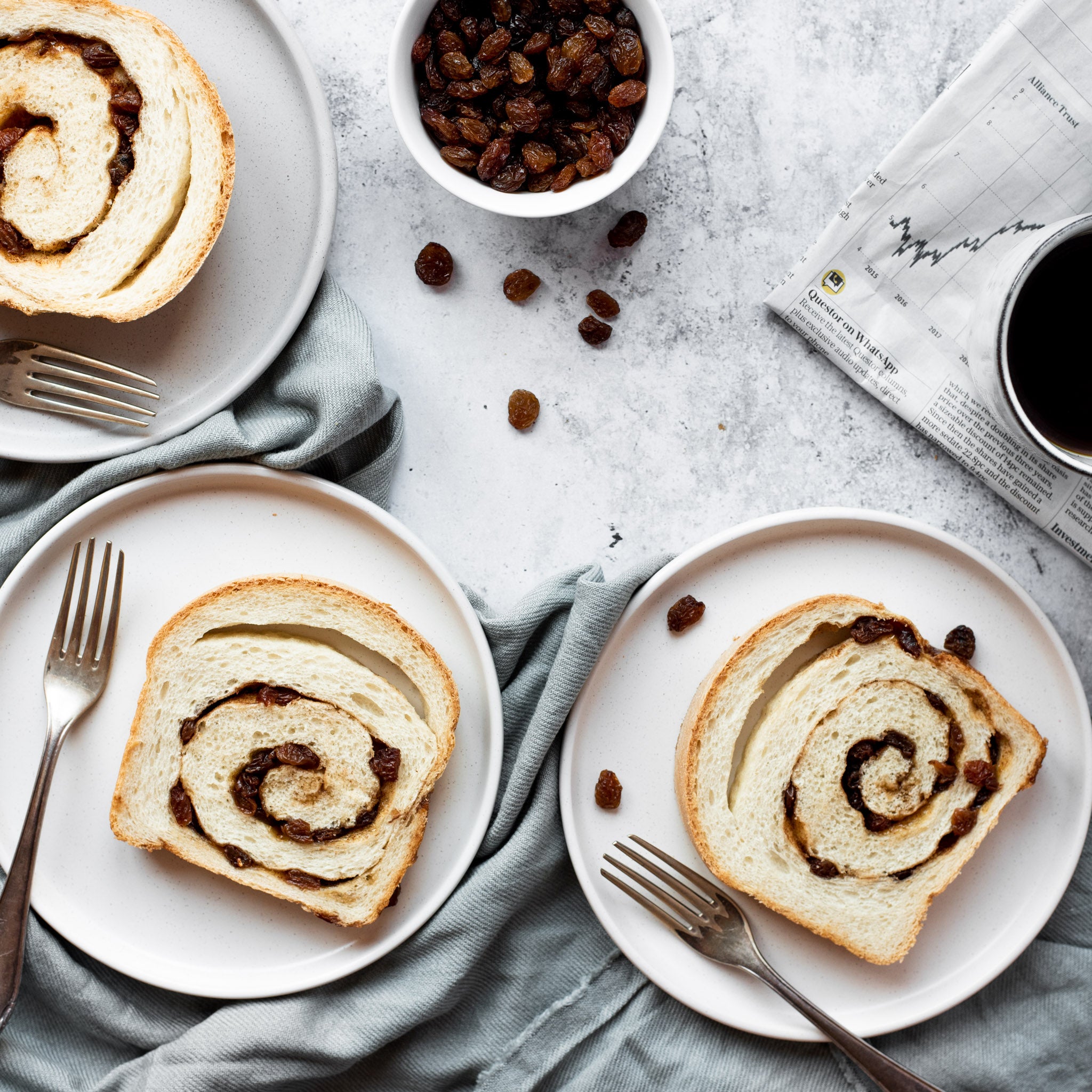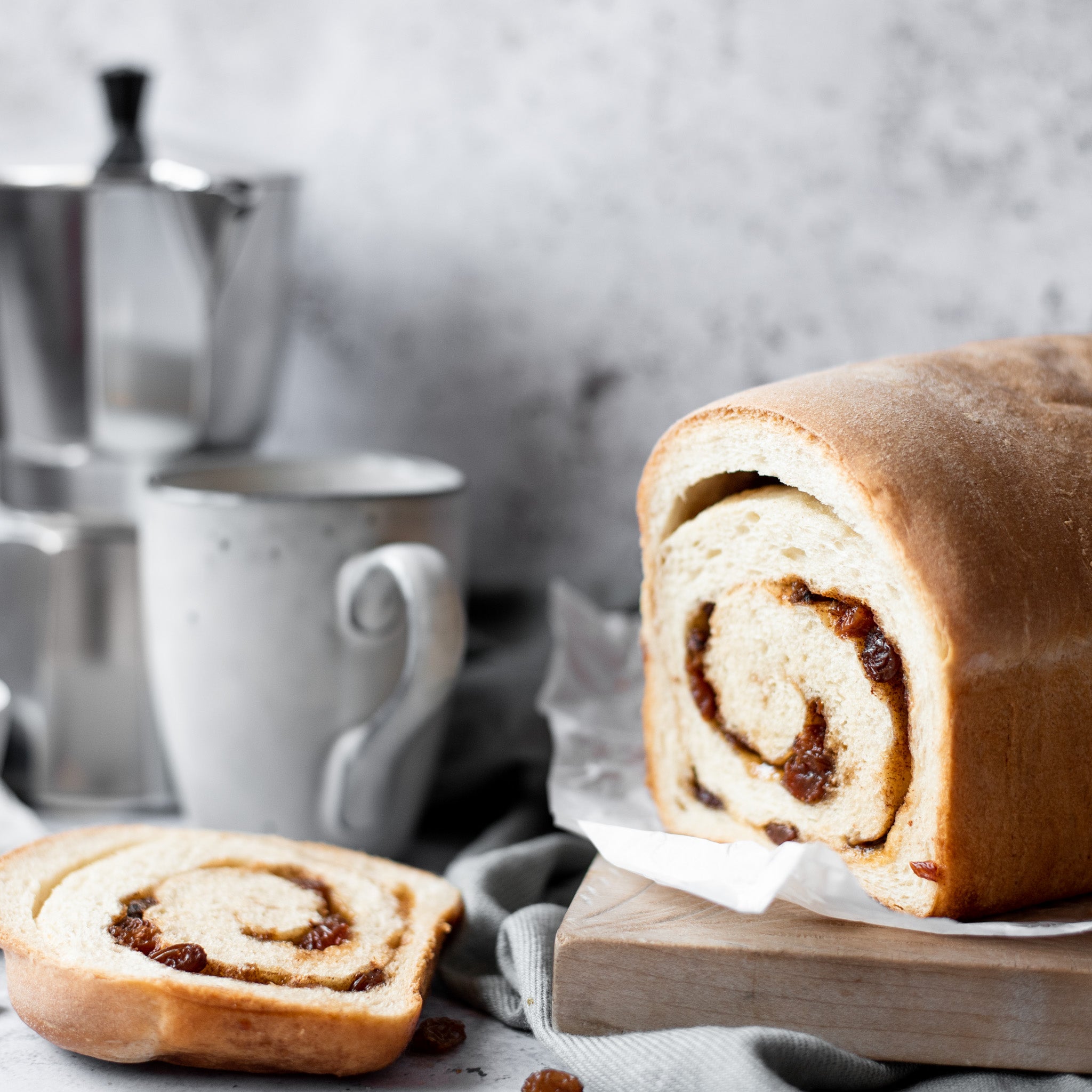 About the bake
We love sweet bread bakes and our Cinnamon and Raisin Swirl made with Allinson's white dough is a firm favourite. Great for confident bakers, we like ours with a cup of coffee, the perfect complement to the warm, spicy cinnamon and juicy sweet raisins. Fans of our Cinnamon and Raisin Swirl will be sure to love our Cinnamon Buns made with Allinson's dough.
Method
Step 1:

MIX

Mix the flour, yeast, sugar and salt in a big bowl. Using your fingertips rub in the butter until only fine 'crumbs' are left. Mix in the water with a cutlery knife.

Step 2:

KNEAD Tip onto a lightly flour dusted surface and knead for 10 minutes (or use the dough hook attachment on your mixer).


Step 3:

RISE

Lightly grease the mixing bowl with some oil. Put the dough back in, cover the bowl with a clean tea towel and leave to rise until doubled in size

Step 4:

MIX

Stir together the raisins, light soft brown sugar and cinnamon.

Step 5:

SHAPE

Roll the dough in to a rectangle keeping the width the same as the longest side of your loaf tin, but rolling it as long as you can. Brush the melted butter all over, then scatter over the raisin mixture. Roll up tightly from one of the ends that matches the tin length. Lift into a lightly oiled 900g/2lb loaf tin.

Step 6:

PROVE

Cover the dough again with a clean tea towel and leave to prove until doubled in size again. Preheat your oven to 200°C (fan 180°C, gas mark 6).

Step 7:

BAKE

Lift the tin onto the middle oven shelf and bake for 30-35 minutes, until you can lift the bread loaf from the tin and when you tap the base it sounds hollow. Cool on a wire rack.
Ingredients
For the Dough

500g

 Allinson's Strong White Bread Flour

1

 Allinson's (7g easy bake yeast sachet

1 1/2 tsp

 Billington's Unrefined Golden Caster Sugar

1 1/2 tsp

 

Salt

1 tbsp

 

Butter (soft)

300ml

 

Warm water

For the Filling

150g

 

Raisins

75g

 Billington's Unrefined Light Muscovado Sugar

1 tbsp

 

Cinnamon

50g

 

Butter (melted)
Recipe Reviews
Absolutely scrumptious. Made exactly to the recipe and it came out great. The house smells lovely and Christmassy now.
Came out great. Easy to make. Used 150ml almond milk and 150ml water. Replaced the raisins with crushed walnuts+hazelnuts. 5 minutes out the oven and half the bread was already gone. Great recipe 👍🏼
Ingredients
For the Dough

500g

 Allinson's Strong White Bread Flour

1

 Allinson's (7g easy bake yeast sachet

1 1/2 tsp

 Billington's Unrefined Golden Caster Sugar

1 1/2 tsp

 

Salt

1 tbsp

 

Butter (soft)

300ml

 

Warm water

For the Filling

150g

 

Raisins

75g

 Billington's Unrefined Light Muscovado Sugar

1 tbsp

 

Cinnamon

50g

 

Butter (melted)