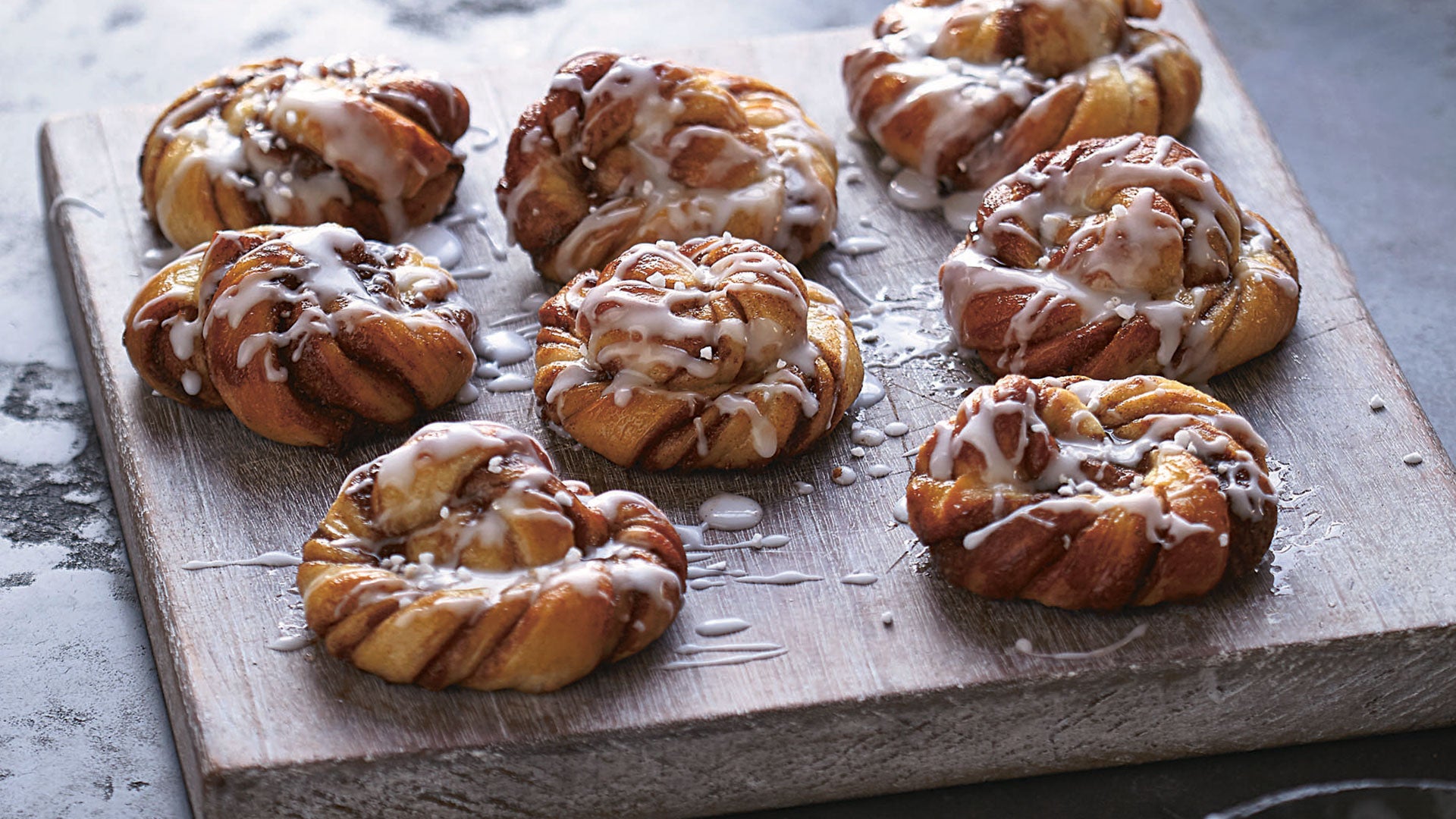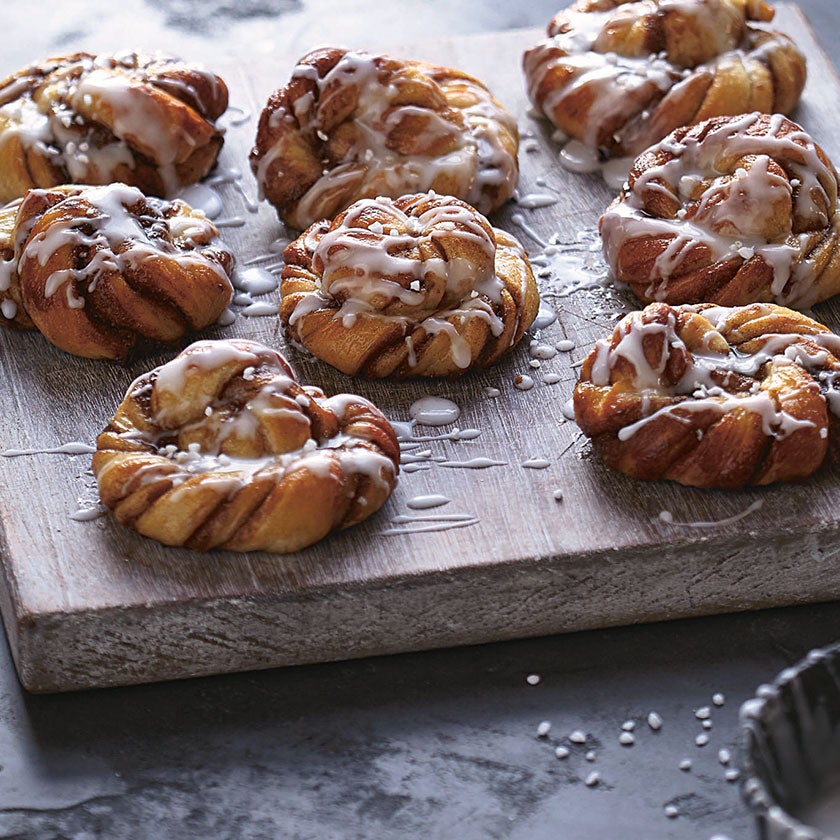 How to make cinnamon buns
Our friend John Whaite was inspired by a trip to Stockholm when he created this cinnamon bun recipe. John shares with us that it's important to include the cardamom as well as the cinnamon to get the authentic flavour. This recipe is very much like a warming cuddle in every mouthful. If you're after something carby and scrumptious, then put the kettle on, this is the perfect yummy recipe, just for you.
Don't stop here, we've plenty more spiced dough bakes for you to fall in love with, our Cinnamon Spiced Tear & Share bread is the perfect party food, or enjoy the warmth of cinnamon over Christmas with our Festive Stollen Christmas Rolls by Allinson's.
Method
Step 1:

To make the dough, put the flours and cardamom into a bowl and stir in the sugar, salt and yeast. Add the water, milk and egg and mix well with a wooden spoon or your hands until you have a scraggy dough. Squeeze in the softened butter, then knead until the mixture is smooth and elastic – about 10 minutes by hand or 5 minutes in a mixer fitted with dough hook. The dough will be fairly sticky, but under no circumstances add any more flour – just keep at it and it will become tacky rather than sticky.


Step 2:

Place the dough into an oiled bowl, cover with clingfilm and allow to rise until doubled in size – usually an hour but it could be quicker or slower, depending on the temperature of your kitchen.


Step 3:

To make the filling, beat together the butter, sugar, flour, cinnamon and cardamom until very paste-like – you will need to spread this onto the dough, so make sure it is very loose.


Step 4:

Preheat the oven to 220°C/200°C fan/gas mark 7.


Step 5:

Once the dough has doubled in size, lightly dust the worktop with flour and turn out the dough onto it.

Roll the dough into a 45cm square and spread the filling over the dough as evenly as possible. Starting with the edge closest to you, fold one third of the dough over, then fold the top third over that first piece – just like folding a business letter. Roll briefly with a rolling pin to ensure all of the dough is stuck together.

Trim the messy ends and discard them, then slice the dough into 12 slices. Take a slice of dough and twist gently until it starts to feel tight, then spiral it round itself and poke one end through the middle to form a knot. Repeat with the remaining pieces of dough, and place them, well-spaced, onto two lightly greased baking sheets. Allow to rest for another 20–30 minutes, or until they look slightly swollen.


Step 6:

Meanwhile put the caster sugar and water into a small saucepan and bring to the boil. Remove from the heat.


Step 7:

Bake the buns for 10 minutes until golden brown. Using a pastry brush, glaze the buns with the sugar syrup, as soon as they come out of the oven. Allow them to cool completely.


Step 8:

To finish the buns, beat together the icing sugar with enough lemon juice so the mixture has the consistency of golden syrup – you may need to add a drop or two of water to slacken it. Drizzle the icing over the buns and sprinkle with pearl sugar, if using.

Ingredients
For The Dough

250g

 

Plain flour

250g

 Allinson's Strong white bread flour

2 tsp

 

Ground cardamom

10g

 

Caster sugar

5g

 

Salt

7g

 

Yeast

150ml

 

Water (at room temperature)

120ml

 

Milk (at room temperature)

1

 

Egg (large)

40g

 

Butter (unsalted)

For The Filling

90g

 

Butter (unsalted)

70g

 Billington's light muscovado sugar

25g

 

Plain flour

2 tbsp

 

Ground cinnamon

0.5 tsp

 

Ground cardamom

To Finish

75g

 

Caster sugar

50ml

 

Water

100g

 Silver Spoon Icing sugar

1 tsp

 

Juice of one whole lemon

(optional)

 

Pearl sugar
Recipe Reviews
Made these with my daughter today, didn't disappoint they were a huge hit in our household. Will be a regular bake now for us!!
Great recipe and fab instructions. They can also be frozen at shaping stage then defrosted and baked fresh when you haven't got time to start from scratch
AMAZING - I dislike cardamom so took this out of the recipe but they still tasted amazing.

They where a big his with my partner and his work colleagues - this weekend i will be making some more for ME to enjoy!
The buns are very good and tasty
Very tasty, will definitely make again!
These are easy and extremely tasty, if you like cinnamon rolls this recipe is for you!
Ingredients
For The Dough

250g

 

Plain flour

250g

 Allinson's Strong white bread flour

2 tsp

 

Ground cardamom

10g

 

Caster sugar

5g

 

Salt

7g

 

Yeast

150ml

 

Water (at room temperature)

120ml

 

Milk (at room temperature)

1

 

Egg (large)

40g

 

Butter (unsalted)

For The Filling

90g

 

Butter (unsalted)

70g

 Billington's light muscovado sugar

25g

 

Plain flour

2 tbsp

 

Ground cinnamon

0.5 tsp

 

Ground cardamom

To Finish

75g

 

Caster sugar

50ml

 

Water

100g

 Silver Spoon Icing sugar

1 tsp

 

Juice of one whole lemon

(optional)

 

Pearl sugar