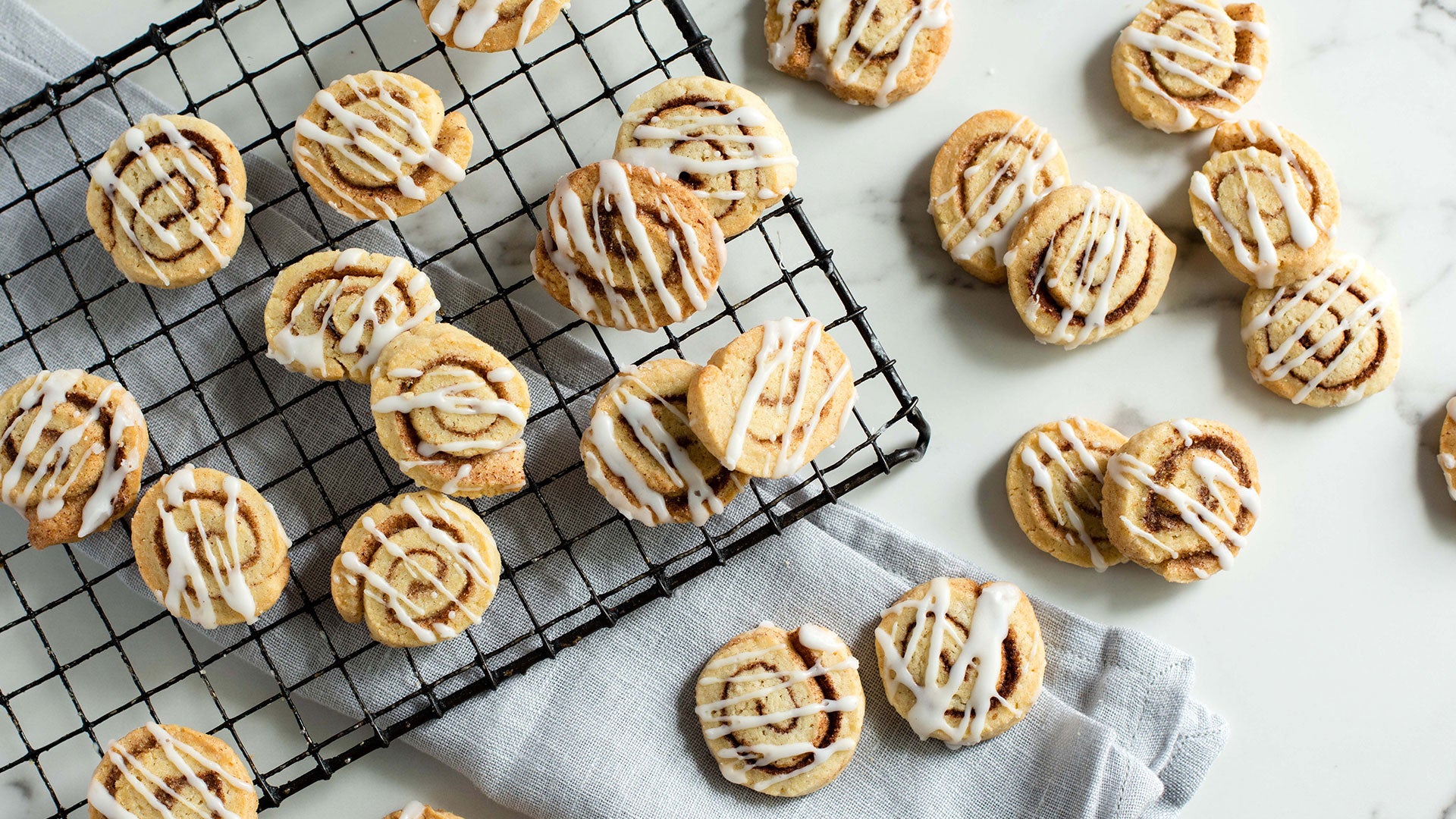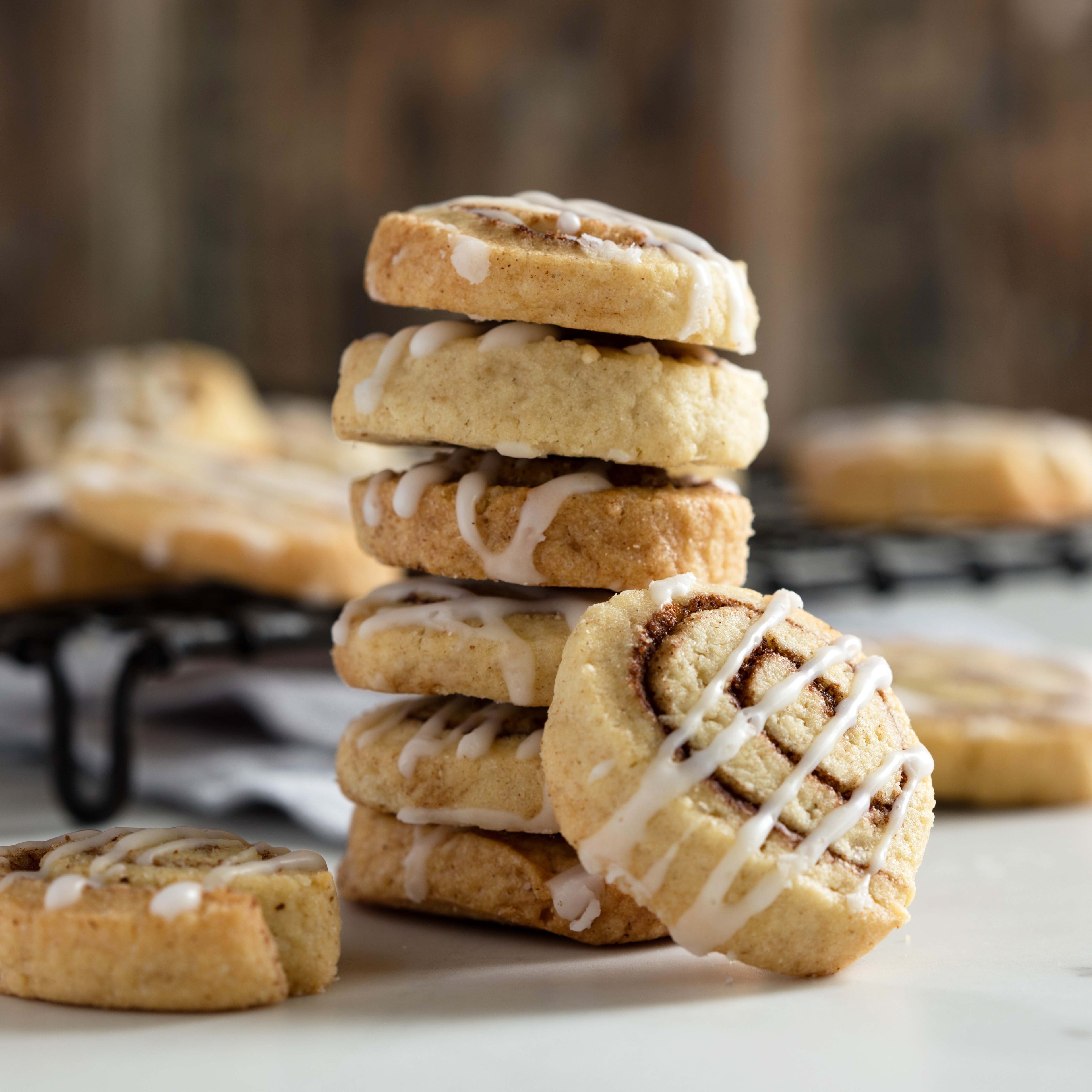 About the bake
If like us, a big squidgy Cinnamon Roll is your cake of choice when you nip to the coffee shop, you are going to love these biscuits. These bitesize treats consist of a delicious vanilla biscuit rolled up with a cinnamon and Light Muscovado Sugar centre giving them that rich depth of flavour and of course in true Cinnamon Roll style drizzled with sweet, gooey icing. The best bit is, when you bake these at home, you don't even need to get out of your pj's to enjoy this coffee shop fix.
Method
Step 1:

To make the biscuit dough, beat together the sugar and butter until smooth and creamy.


Step 2:

Add the egg and vanilla extract and beat for a few seconds before adding the flour, baking powder and salt.


Step 3:

Continue to beat the mixture until it begins to form a dough


Step 4:

Remove the dough from the bowl and wrap in cling film then chill in the fridge for 30 minutes


Step 5:

When the dough is almost ready to be removed from the fridge, melt some butter and mix your cinnamon and caster sugar together in a separate bowl.


Step 6:

Divide your dough into two and return one half to the fridge whilst you roll out the first batch.


Step 7:

Flour your surface and rolling pin before rolling your dough out into a rectangle approximately 8/9inchs long. You may want to trim the dough with a knife to create a straight rectangle shape. The remaining dough can be rolled out to make additional biscuits if you want to avoid waste.


Step 8:

Using a pastry brush, brush half of the melted butter all over the rectangle of dough and then generously sprinkle half of the sugar and cinnamon mixture on top. You can use your hands to spread out the flavour sugar to ensure that the whole of the dough is covered.


Step 9:

Once covered begin to roll the dough up (similar to a swiss roll) You will need to roll the dough horizontally so that the longer side is being rolled towards you.


Step 10:

Wrap the dough once more in cling film and return to the fridge to chill for at least a further 2 hours.


Step 11:

Repeat this process with the remaining half of the dough.


Step 12:

Once the two rolls of dough have chilled, unwrap them and using a sharp knife slice into circles approximately 1cm in thickness.


Step 13:

Place them on a baking tray, allowing plenty of room around each biscuit so that they don't touch should they spread in the oven.


Step 14:

Bake in a preheated oven at 170°c / 150°c fan /gas mark 3 for 10-12 minutes.


Step 15:

For a finishing touch, make up some icing, by mixing icing sugar, milk and vanilla extract and then lightly drizzling over the top of the biscuits.

Ingredients
For the Biscuit

170g

 

Unsalted butter (softened)

150g

 Billington's Unrefined Golden Caster Sugar

1

 

Egg

1 tsp

 Nielsen-Massey Vanilla Extract

300g

 Allinson's Plain White Flour

1/2 tsp

 

Baking powder

1/2 tsp

 

Salt

For the Filling

40g

 Billington's Unrefined Light Muscovado Sugar

1 tbsp

 

Butter (unsalted) (melted)

1 tbsp

 

Ground cinnamon

For the Icing

3 tbsp

 

Milk (whole)

120g

 Silver Spoon Icing Sugar

1 tsp

 Nielsen-Massey Vanilla Extract
Nutritional Information
per 26g
128cal

 

Energy

5.4g

 

Fat

3.3g

 

of which Saturates

18g

 

Carbohydrates

10g

 

of which Sugars

1.3g

 

Protein

0.12g

 

Salt
Recipe Reviews
I have a question - How long would these last in an airtight tin, please? I would like to send them as gifts for Christmas. Thank you.
Typically these biscuits would last well between 2-3 days in an airtight container before becoming soft. Alternatively, you could wrap and freeze the dough at step 10 and bake them the day before you gift them for optimum freshness. These would make excellent gifts and could be frozen from 3-4 months if wrapped well.
Loved them but how do you stop them spreading and coming apart in the oven.Yours on the picture look too neat?
Fab recipe. Making them for Christmas this year again.
Can I freeze them prebaked. Can anyone tell me if they've tried this
These make a fab Christmas treat. We would recommend freezing the dough and baking from frozen when you want to enjoy them, simply bake them a minute or two longer until baked thoroughly.
Loved it. Worked amazingly!!!!!!!!😀😀😀😀😀😀😀😀😀😀
Taste fantastic. They don't last long in our house. I skip the cooling stage and they still turn out great.
I took these to work with me and had many people asking for the recipe and for me to make again.
Ingredients
For the Biscuit

170g

 

Unsalted butter (softened)

150g

 Billington's Unrefined Golden Caster Sugar

1

 

Egg

1 tsp

 Nielsen-Massey Vanilla Extract

300g

 Allinson's Plain White Flour

1/2 tsp

 

Baking powder

1/2 tsp

 

Salt

For the Filling

40g

 Billington's Unrefined Light Muscovado Sugar

1 tbsp

 

Butter (unsalted) (melted)

1 tbsp

 

Ground cinnamon

For the Icing

3 tbsp

 

Milk (whole)

120g

 Silver Spoon Icing Sugar

1 tsp

 Nielsen-Massey Vanilla Extract
Nutritional Information
per 26g
128cal

 

Energy

5.4g

 

Fat

3.3g

 

of which Saturates

18g

 

Carbohydrates

10g

 

of which Sugars

1.3g

 

Protein

0.12g

 

Salt