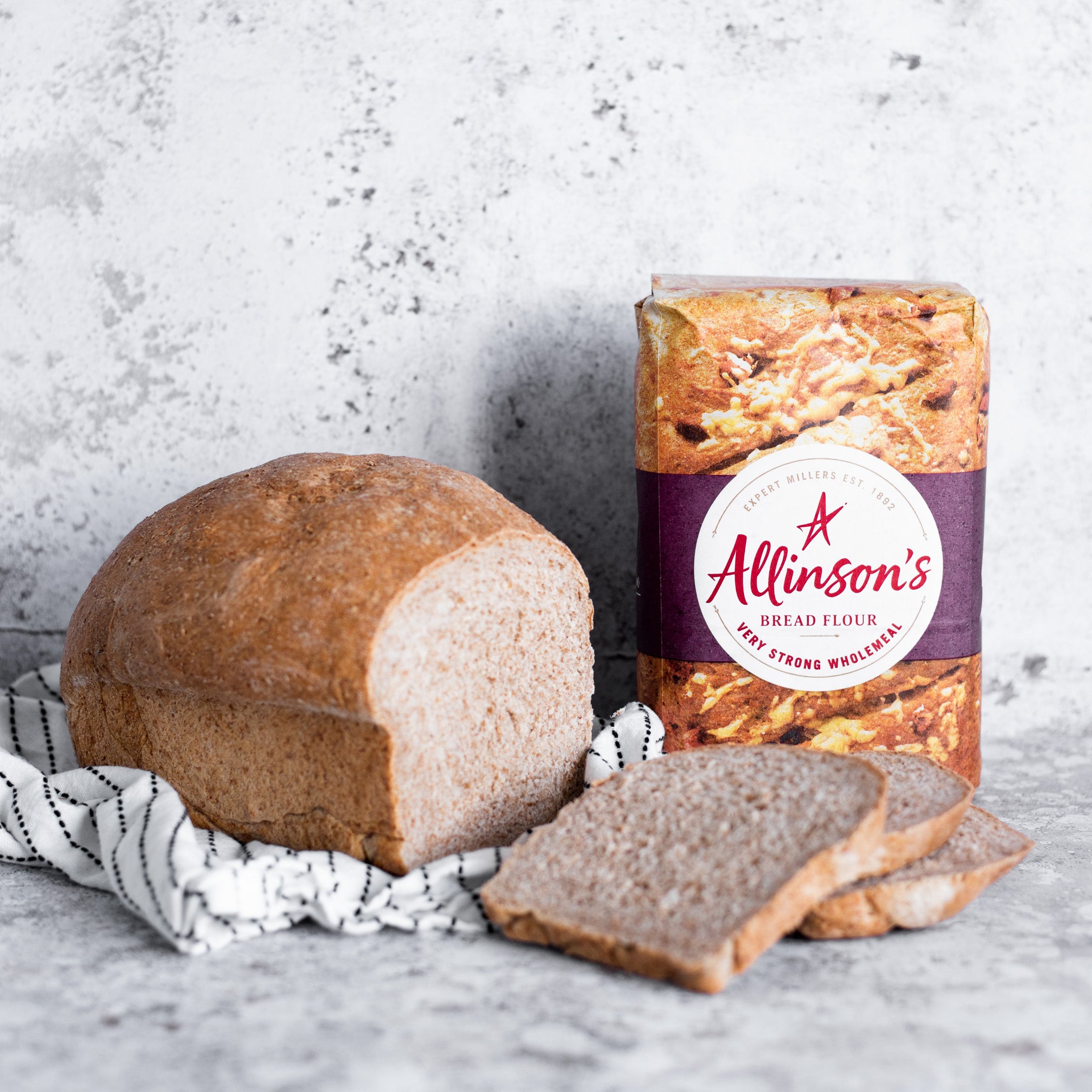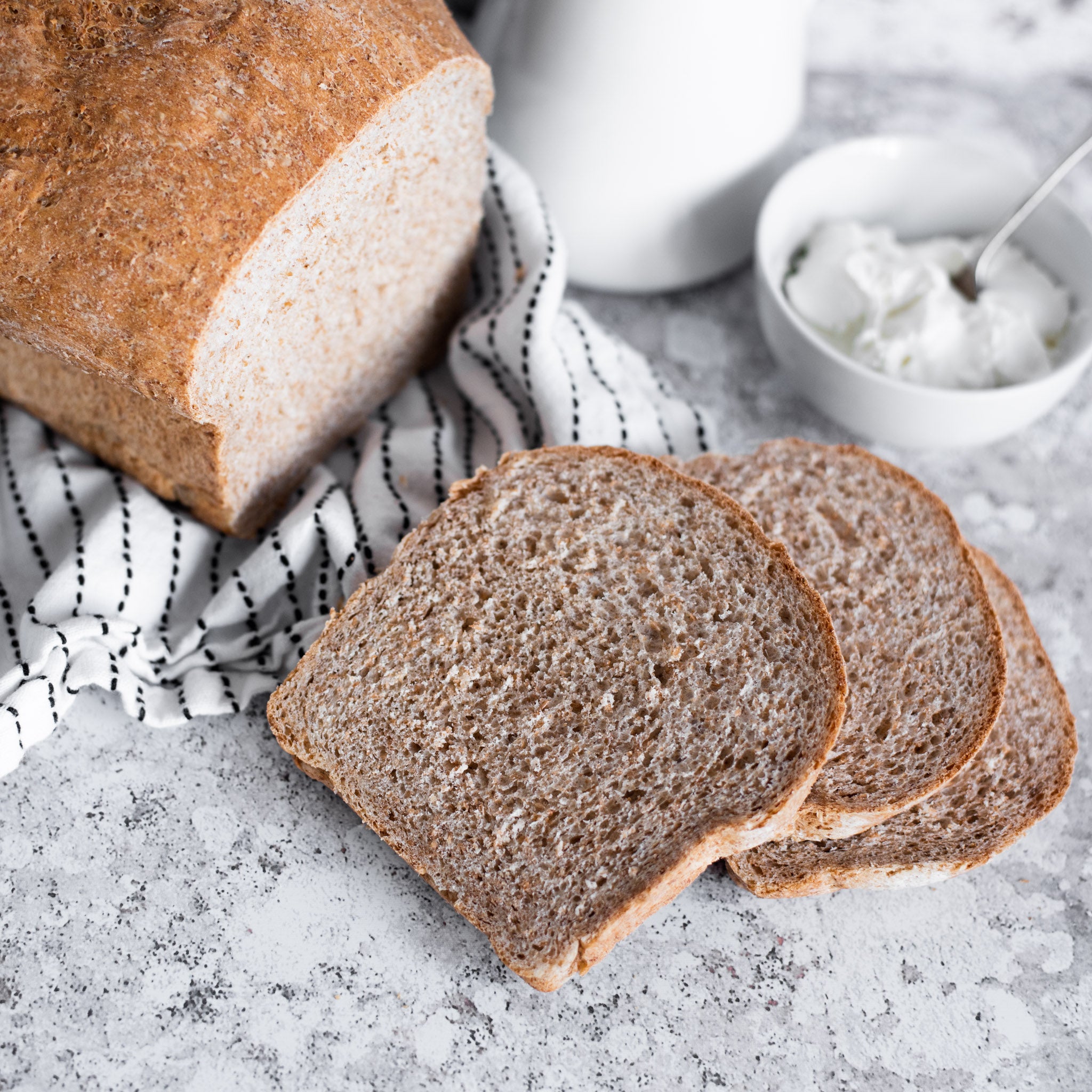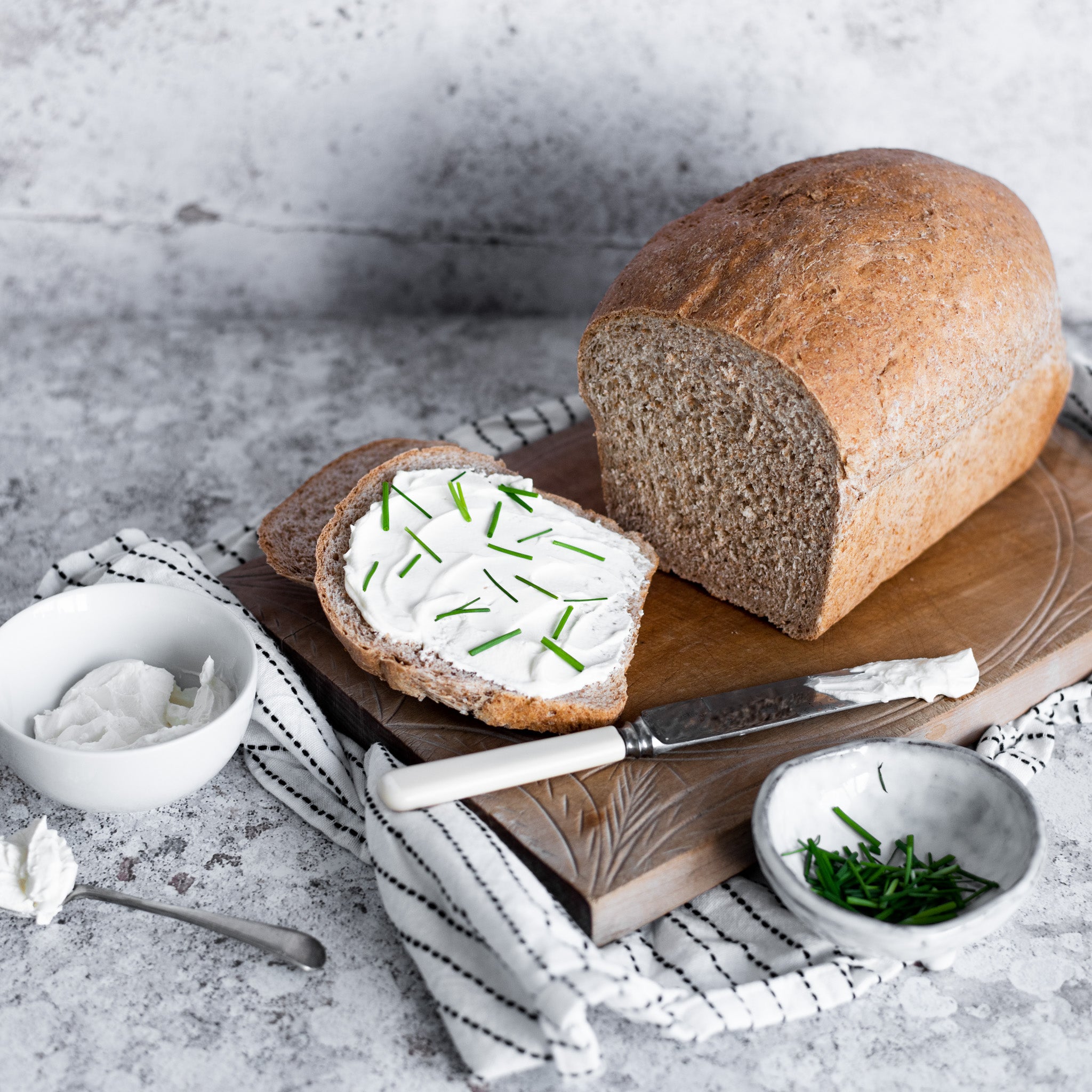 About the bake
Fans of wholemeal will love our Classic Wholemeal Loaf. A great intro recipe for those new to baking, our wholemeal loaf makes homemade sandwiches extra-special. Just follow our six-step guide using Allinson's wholemeal dough and share with the whole family. Fans of the Classic Wholemeal Loaf are likely to enjoy our Wholemeal Wreath Recipe, just as tasty and a beautiful centrepiece.
Method
Step 1:

MIX

Mix the flours, yeast and salt in a big bowl. Mix together the melted butter, sugar and water, then mix in with a cutlery knife.

Step 2:

KNEAD Tip onto a lightly flour dusted surface and knead for 10 minutes (or use the dough hook attachment on your mixer).


Step 3:

RISE

Lightly grease the mixing bowl with some oil. Put the dough back in, cover the bowl with a clean tea towel and leave to rise until doubled in size.

Step 4:

SHAPE

Knock back the dough by gently kneading just 5 times to get the air out. Mould into a smooth oval and lift into a lightly oiled 900g/2lb loaf tin.

Step 5:

PROVE

Cover the dough again with a clean tea towel and leave to prove until doubled in size again. Preheat your oven to 200°C (fan 180°C, gas mark 6).

Step 6:

BAKE

Lift the tin onto the middle oven shelf and bake for 35-40 minutes, until you can lift the bread loaf from the tin and when you tap the base it sounds hollow. Cool on a wire rack.
Ingredients
For the Dough

400g

 Allinson's very strong wholemeal bread flour

100g

 Allinson's Strong White Bread Flour

1 sachet

 Allinson's Easy Bake yeast or Allinson's Time Saver Yeast

1.5 tsp

 

Salt

50g

 

Butter (melted)

1 tbsp

 Billington's light muscovado sugar

300ml

 

Warm water
Recipe Reviews
My first attempt at making this and my first loaf made at home so wasn't sure how it would turn out but I am pretty happy with the outcome. It's a bit smaller that the tin I used so I might have to adapt the quantity of the ingredients a tad but yeah tastes good :)
I am really happy I came across this recipe - I love it! Very tasty and perfect in every way. I use it all the time.
Love this recipe! Can this loaf be parbaked and frozen? If so what timings should I use? Thanks
Yes! You can definitely freeze this bread dough. We would recommend double wrapping in cling film or foil to avoid freezer burn and can store for up to 2 months. When you are ready to bake, remove from the freezer the night before and allow to thaw in your fridge. Place the thawed dough in your bread tin and allow to prove before baking, following the bake time instructions in the recipe.
It turned out really well and tasted fabulous!
Great recipe. a top tip: if you want a crusty loaf with little extra rise, try putting a roasting tray in the oven bottom while the oven is preheating. Add boiling water to the tray and close the door immediately. The steam makes the bread crusty and adds to the rise too.
Brilliant. I've made this a few times now! I add an extra half of salt and change the flour to 300g wholemeal and 200g of the white. It looks brilliant tastes great!! :)
Ingredients
For the Dough

400g

 Allinson's very strong wholemeal bread flour

100g

 Allinson's Strong White Bread Flour

1 sachet

 Allinson's Easy Bake yeast or Allinson's Time Saver Yeast

1.5 tsp

 

Salt

50g

 

Butter (melted)

1 tbsp

 Billington's light muscovado sugar

300ml

 

Warm water