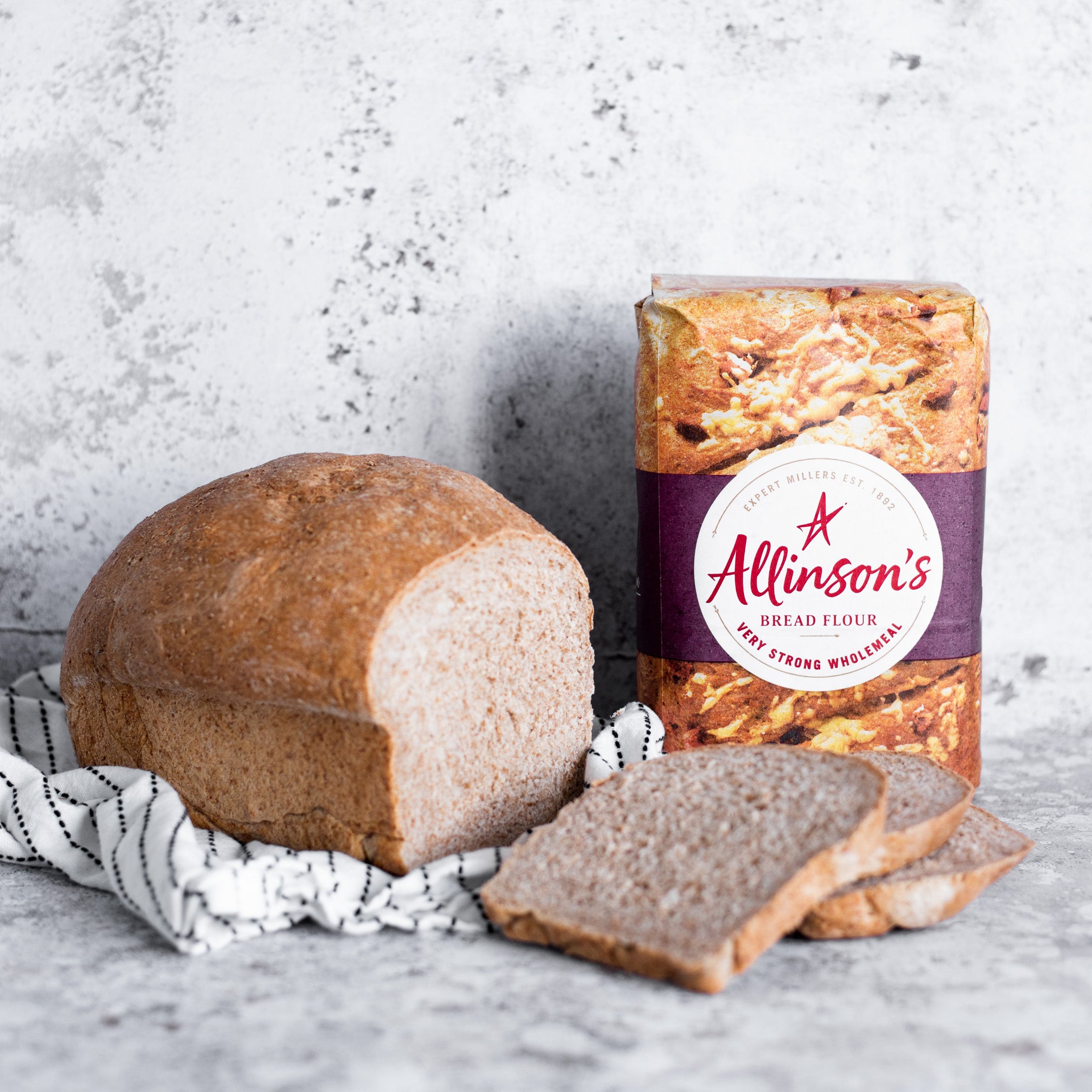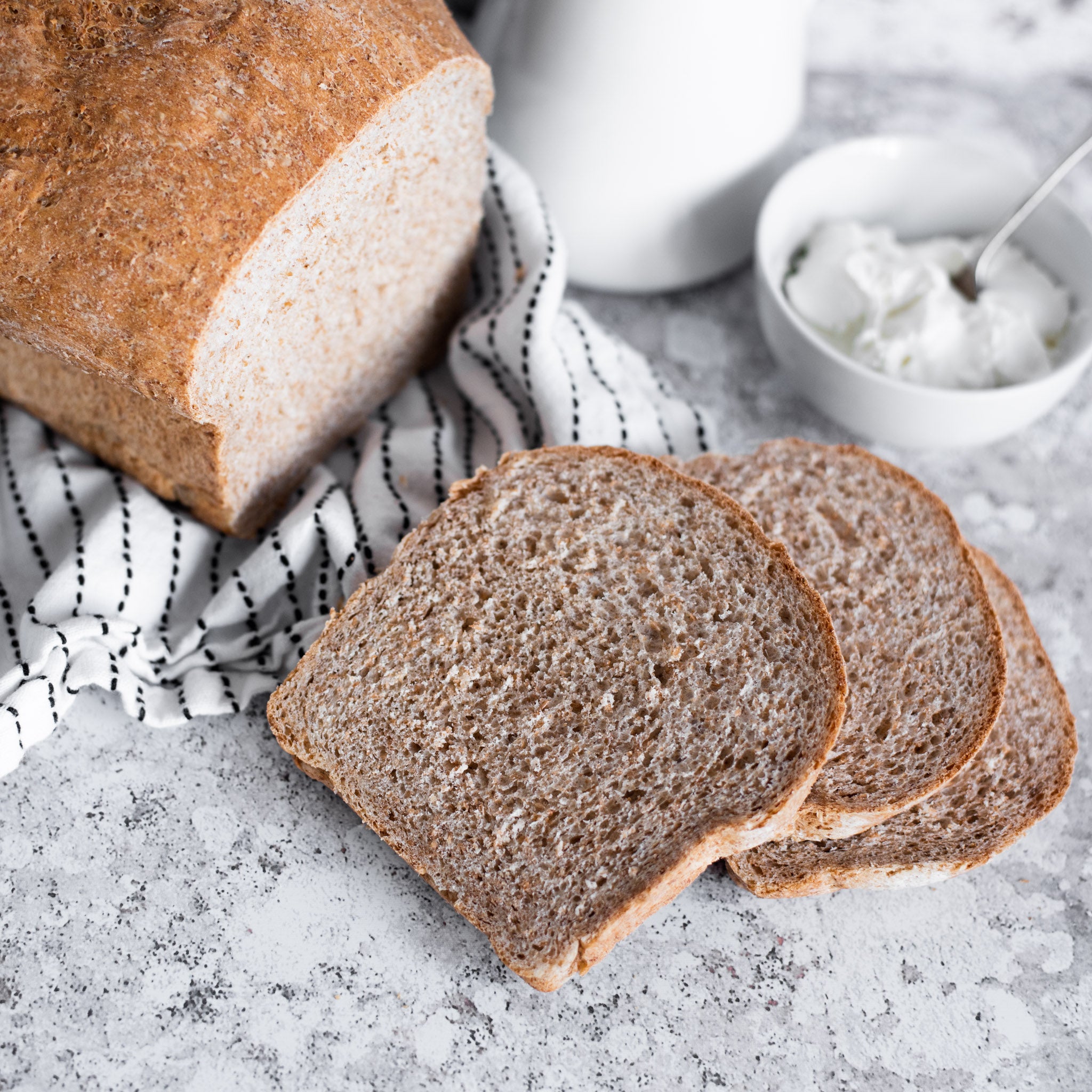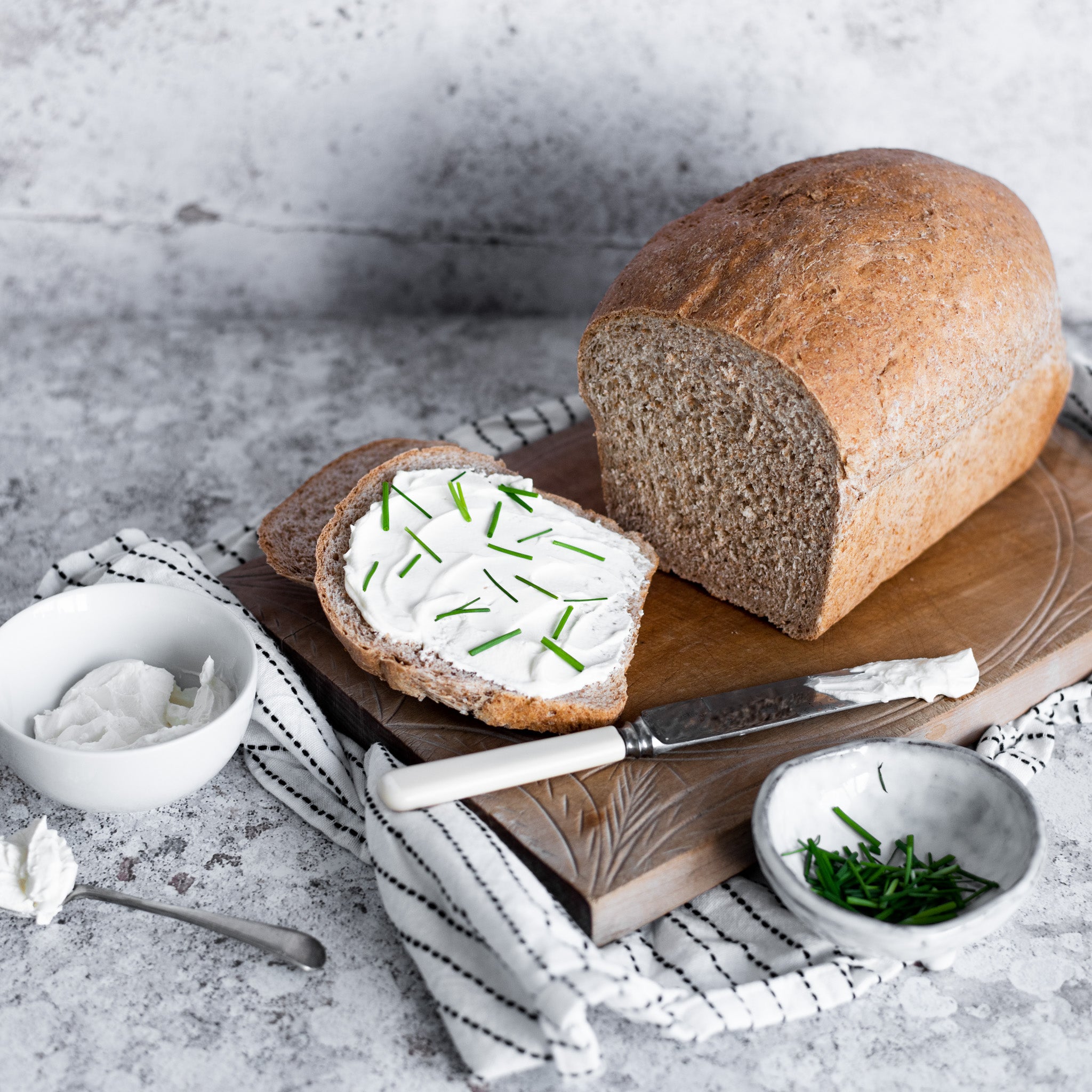 About the bake
Fans of wholemeal will love our Classic wholemeal bread recipe. A great starting point for those new to baking, our wholemeal loaf makes homemade sandwiches extra-special. Just follow our six-step guide using Allinson's wholemeal dough and share with the whole family.
Tips for making the best wholemeal bread:
Does wholemeal bread need more kneading?
Yes. Wholemeal flour absorbs more water, therefore it requires more kneading. Watch our handy video below for kneading tips.
How do you get wholemeal bread to rise?
Our trick is to add some strong white bread flour along with the wholemeal bread flour. Even just a little white flour has enough gluten to give the dough better structure.
If you enjoyed making our wholemeal bread recipe, try our Wholemeal Bagels recipe, just as tasty and a wonderful addition to a weekend brunch.
Method
Step 1:

MIX

Mix the flours, yeast and salt in a big bowl. Mix together the melted butter, sugar and water, then mix in with a cutlery knife.

Step 2:

KNEAD Tip onto a lightly flour dusted surface and knead for 10 minutes (or use the dough hook attachment on your mixer).


Step 3:

RISE

Lightly grease the mixing bowl with some oil. Put the dough back in, cover the bowl with a clean tea towel and leave to rise until doubled in size.

Step 4:

SHAPE

Knock back the dough by gently kneading just 5 times to get the air out. Mould into a smooth oval and lift into a lightly oiled 900g/2lb loaf tin.

Step 5:

PROVE

Cover the dough again with a clean tea towel and leave to prove until doubled in size again. Preheat your oven to 200°C (fan 180°C, gas mark 6).

Step 6:

BAKE

Lift the tin onto the middle oven shelf and bake for 35-40 minutes, until you can lift the bread loaf from the tin and when you tap the base it sounds hollow. Cool on a wire rack.
Ingredients
For the Dough

400g

 Allinson's very strong wholemeal bread flour

100g

 Allinson's Strong White Bread Flour

1 sachet

 Allinson's Easy Bake yeast or Allinson's Time Saver Yeast

1.5 tsp

 

Salt

50g

 

Butter (melted)

1 tbsp

 Billington's light muscovado sugar

300ml

 

Warm water
Recipe Reviews
Baked a lovely loaf today tasty too be making it again soon thanks for the help and recipe
I've used this recipe a few times now and it's my favourite. I sometimes use olive oil rather than butter and usually add a few mixed seeds. I've also melted a dessertspoon of marmite in the liquid (usually whey from lockdown yoghurt making) and that adds an extra yum!
Had to add a rating even though I've never made this bread recipe exactly as written?!
Has anyone tried replacing the white flour with sieved wholemeal flour instead? Will the loaf still rise? I believed it was the bran that's the issue when using wholemeal flour - that's what needs the most water and extra kneading (over the endosperm or is wheat germ that's left in the flour after you have sieved the bran?). I'm basically worried about making a loaf that will become an inedible brick fit for the bin. Thanks for any help :)
Hi, you can switch the white bread flour for wholemeal if you prefer. We find that the blend of the two flours provides a lovely light loaf which is why our recipe recommends this. It will still taste delicious using wholemeal, you might need to a touch more water at the mixing stage if you find it is a little dry. I hope that this helps. Happy Baking x
Easy Peasy: just add 75g of sunflower seeds. Perfect recipe.
I stir sugar and yeast togather in the 300ml of warm water, letting it sit for 15 to 20 mins in order to let the yeast feed/expand. I use Lurpak, not the general low quality supermarket varieties, as this makes a big difference; or Stork Block. Salt kills yeast so silly to mix together.
Beautiful brown loaf on my first attempt.
Thank you
Ingredients
For the Dough

400g

 Allinson's very strong wholemeal bread flour

100g

 Allinson's Strong White Bread Flour

1 sachet

 Allinson's Easy Bake yeast or Allinson's Time Saver Yeast

1.5 tsp

 

Salt

50g

 

Butter (melted)

1 tbsp

 Billington's light muscovado sugar

300ml

 

Warm water