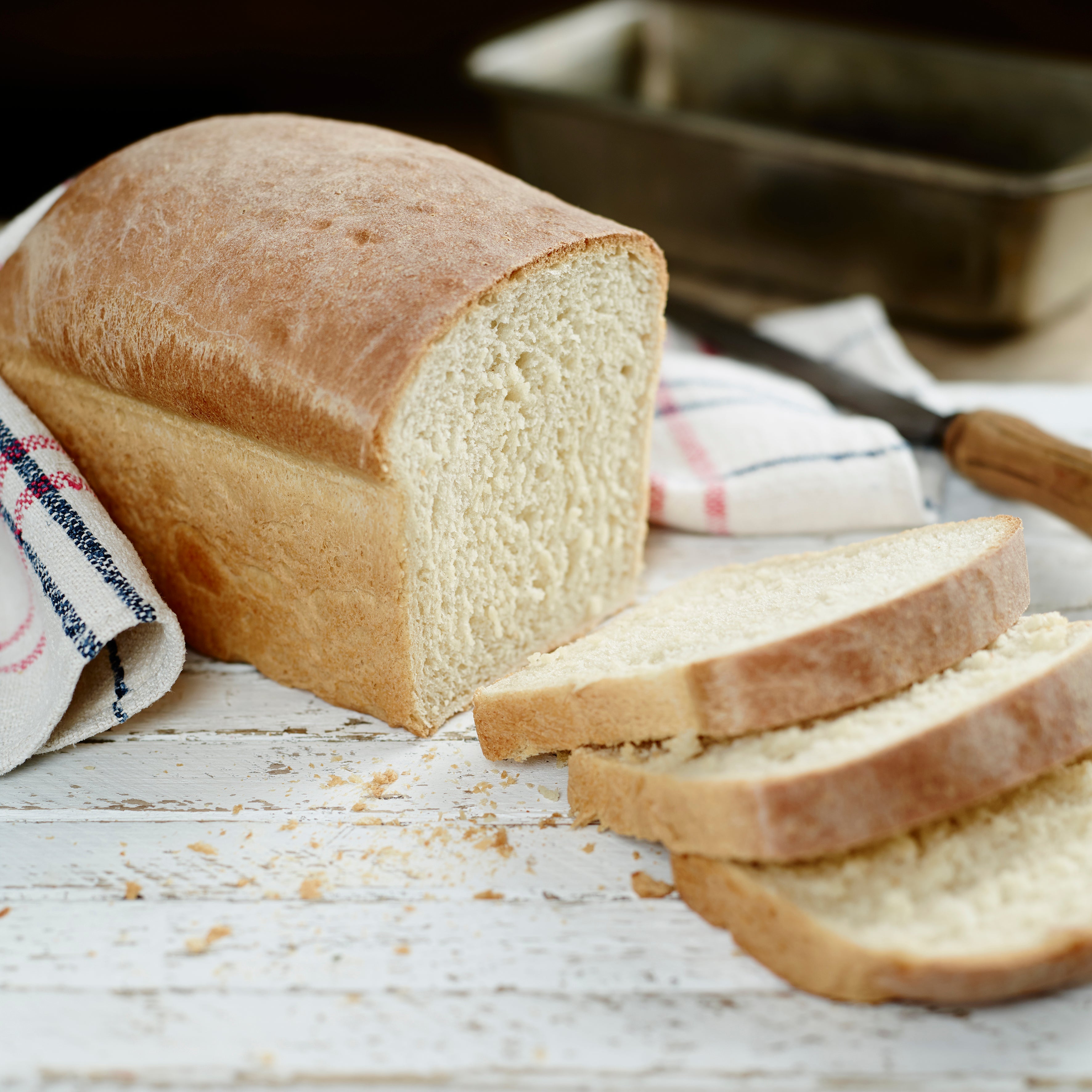 About the bake
Our classic white bread loaf is an all-round crowd pleaser. We like it sliced with soups and sandwiches or popped in our packed lunches for a mid-week treat.
A great yeast bread recipe for beginner bakers, the classic white loaf is an Allinson favourite.
What are the 4 main ingredients in bread?
The four main ingredients in our white bread recipe are flour, yeast, water, and salt. All the other ingredients in this recipe are there to add flavor, nutrition, color, and to change the characteristics of the crumb.
If you like this recipe, you could try our seeded knot rolls recipe – all made using Allinson's white dough.
Method
Step 1:

MIX Mix the flour, yeast, sugar and salt in a big bowl. Using your fingertips rub in the butter until only fine 'crumbs' are left. Mix in the water with a cutlery knife.


Step 2:

KNEAD Tip onto a lightly flour dusted surface and knead for 10 minutes (or use the dough hook attachment on your mixer for 5 minutes).


Step 3:

RISE

Lightly grease the mixing bowl with some oil. Put the dough back in, cover the bowl with a clean tea towel and leave to rise until doubled in size.

Step 4:

SHAPE

Knock back the dough by gently kneading just 5 times to get the air out. Mould into a smooth oval and lift into a lightly oiled 900g/2lb loaf tin.

Step 5:

PROVE

Cover the dough again with a clean tea towel and leave to prove until doubled in size again. Preheat your oven to 200°C (fan 180°C, gas mark 6).

Step 6:

BAKE

Lift the tin onto the middle oven shelf and bake for 30-35 minutes, until you can lift the bread loaf from the tin and when you tap the base it sounds hollow. Cool on a wire rack.
Ingredients
For the Dough

500g

 Allinson's Strong White Bread Flour

7g

 Allinson's Easy Bake Yeast

1.5 tsp

 Billington's Unrefined Golden Caster Sugar

1.5 tsp

 

Salt

1 tbsp

 

Butter (softened)

300ml

 

Warm water
Recipe Reviews
I made this bread and it was fantastic. Very easy recipe. After reading other reviews I did 400 white and 100 wholemeal. Very tasty. I did reduce the salt to 1tsp as I don't like salty bread. Thankyou for a great recipe.
I have just made this for the 1st time. It is so easy. Next time I will plait it as I do with Challah bread and give it an egg wash after the 1st prove and just before I bake it. ( 1 whole egg + 1 Tbs of water). I used a stand mixer with a dough hook. The finished result was fantastic. I As others have doneI used 400 white and 100 wholemeal bread flour.
Ive made this to the first rise and had to go somewhere unexpected, I covered the dough and put it in the fridge. Can I get it out tomorrow, let come to room temp punch it down and second rise in the tin and bake?
Yes you can prove over night in your fridge, you will need to bring up to room temperature when you are ready to bake with it.
Made the dough in the Bosch mixer and the loaf turned out perfect in the rise and texture but the taste was salty. Does one use salted or unsalted butter. I had used salted butter.
Personally we would use unsalted butter for this bake and your choice of butter on this occassion may be why your dough had a salty taste.
Nice easy recipe to follow, the bread turned out fantastic alot nicer tasting than your mass produced loaf and the lovely aroma around the house of baked bread you can't beat it.
I am a novice bread maker. This recipe is simple and effective and my first attempt turned out a perfect loaf, even though I chose not to add the sugar and butter (nor olive oil). I used Allison's yeast and did the second proving (which I would advise is necessary).
Ingredients
For the Dough

500g

 Allinson's Strong White Bread Flour

7g

 Allinson's Easy Bake Yeast

1.5 tsp

 Billington's Unrefined Golden Caster Sugar

1.5 tsp

 

Salt

1 tbsp

 

Butter (softened)

300ml

 

Warm water