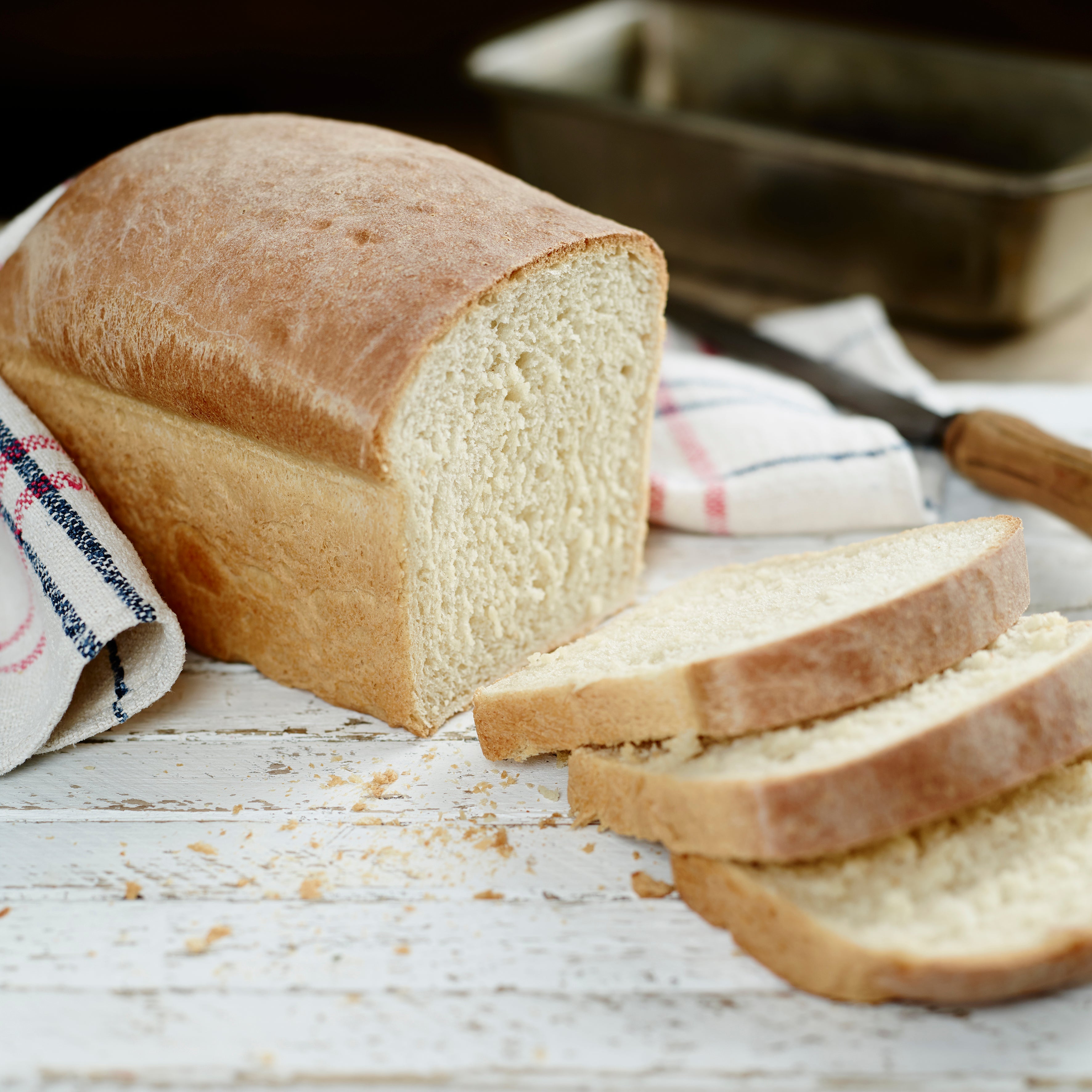 About the bake
Our classic white bread loaf is an all-round crowd pleaser. We like it sliced with soups and sandwiches or popped in our packed lunches for a mid-week treat. A great recipe for beginner bakers, the classic white loaf is an Allinson favourite. If you like this recipe, you could try our seeded knot rolls recipe – all made using Allinson's white dough.
Method
Step 1:

MIX Mix the flour, yeast, sugar and salt in a big bowl. Using your fingertips rub in the butter until only fine 'crumbs' are left. Mix in the water with a cutlery knife.


Step 2:

KNEAD Tip onto a lightly flour dusted surface and knead for 10 minutes (or use the dough hook attachment on your mixer for 5 minutes).


Step 3:

RISE

Lightly grease the mixing bowl with some oil. Put the dough back in, cover the bowl with a clean tea towel and leave to rise until doubled in size.

Step 4:

SHAPE

Knock back the dough by gently kneading just 5 times to get the air out. Mould into a smooth oval and lift into a lightly oiled 900g/2lb loaf tin.

Step 5:

PROVE

Cover the dough again with a clean tea towel and leave to prove until doubled in size again. Preheat your oven to 200°C (fan 180°C, gas mark 6).

Step 6:

BAKE

Lift the tin onto the middle oven shelf and bake for 30-35 minutes, until you can lift the bread loaf from the tin and when you tap the base it sounds hollow. Cool on a wire rack.
Ingredients
For the Dough

500g

 Allinson's Strong White Bread Flour

7g

 Allinson's Easy Bake Yeast

1.5 tsp

 Billington's Unrefined Golden Caster Sugar

1.5 tsp

 

Salt

1 tbsp

 

Butter (softened)

300ml

 

Warm water
Recipe Reviews
I absolutely love this recipe. It's so easy and results in a tasty perfect loaf every time !!
Easy, quick, and extremely tasty bread. No need to look further, this is perfect.
Really easy and tasty, I recommend this recipe!
This is a great recipe. I made it vegan with a tablespoon of olive oil to replace the butter. It's also worth mentioning that I started this loaf off with a poolish starter I had previously made.
I always use this Allinsons recipe because it always turns our perfect.No need to look anywhere else.
Best loaf made to date. Was very easy to follow and tasted lovely.
Ingredients
For the Dough

500g

 Allinson's Strong White Bread Flour

7g

 Allinson's Easy Bake Yeast

1.5 tsp

 Billington's Unrefined Golden Caster Sugar

1.5 tsp

 

Salt

1 tbsp

 

Butter (softened)

300ml

 

Warm water